Los Angeles Harbor Holiday Afloat Parade
December 3, 2016 @ 6:00 pm
Free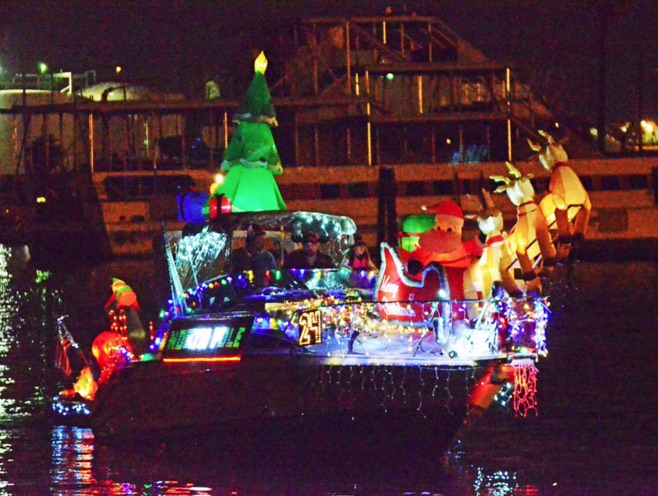 Photo by LA Harbor Holiday Afloat
---
The Los Angeles Harbor Holiday Afloat parade is back for its 54th edition with a special 2016 theme of 'Hollywood at the Harbor', to be held on Saturday, Dec. 3.
Jaina Lee Ortiz, co-star of Rosewood, will lead this year's parade as Grand Marshal, which once again will feature dozens of ships (of all shapes and sizes) participating.
Parade-watchers should keep mind that prior to the parade they can enjoy holiday festivities at Banning's Landing Community Center in Wilmington, all starting at 4 p.m.
Below are the best estimated viewing times for locations along the parade route:
6 to 6:30 p.m. –  START – E. Basin proceeding up Cerritos Channel, past Wilmington Marinas.
6:15 to 7:00 p.m. – Banning's Landing (Judges Station, TV Broadcast) proceeding down Main Channel towards Vincent Thomas Bridge.
6:45 to 7:30 p.m. – Cruise Ship Plaza, Battleship Iowa (Judges Station), LA Maritime Museum, Port Police Dock proceeding towards Ports O' Call
7 to 8 p.m. – Ports O' Call Viewing Areas
7:45 to 8:15 p.m. – Warehouse 1, SS Lane Victory
8 to 8:30 p.m. – Cabrillo Marinas (Judges Station, filming), 22st Landing, END