8th Annual Beyond Wonderland Festival March 16-17 in San Bernardino
March 16, 2018 @ 5:00 pm
$169 – $269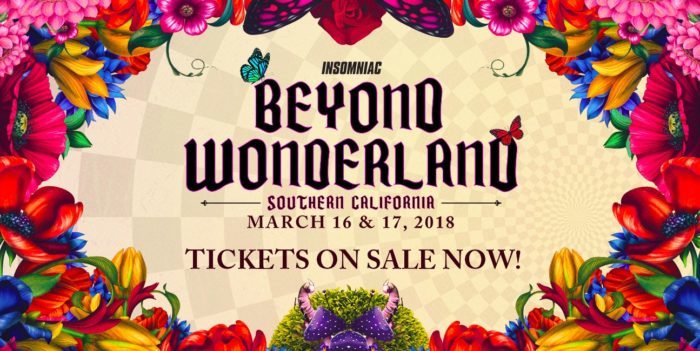 Image via Beyond Wonderland
---
The famous two-day festival returns on March 16-17 to the San Bernardino NOS Events Center for another year of otherworldly experiences.
In case you're unfamiliar, Beyond Wonderland is an annual music festival, with a whimsicality influenced by Alice in Wonderland, that will feature over 70 performances this year (headliners to be announced soon). The festival also features four unique stages with immersive experiences including Queen's Domain, Caterpillar's Garden, Mad Hatter's Castle and Cheshire Woods. Accompanying the music performances will be art, pyrotechnics and other expressive art forms.
For a look into this year's event, watch the trailer below.
The festival will begin each day at 5 p.m. Tickets for the event are currently available with the following packages:
2-Day General Admission (18+): $169
2-Day VIP Admission (21+): $269
VIP admission is limited to 21-and-over festival goers and includes dedicated dance areas at the stages, a VIP booth, kandi bracelet making station, complimentary beauty and glitter bar, complimentary Mad Hatter tea party and pastries, dedicated entrance and more.
Visit the event website below for additional information on performances and activities.