Block Party 2018: Celebrating Los Angeles Theatre with 3 Great Shows
April 20, 2018 @ 8:00 pm
$25 – $70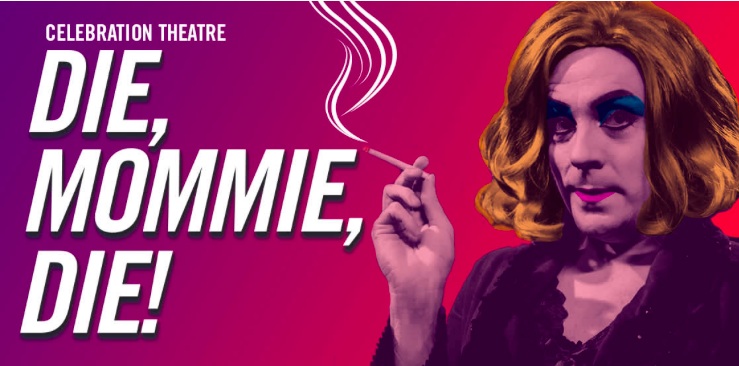 Image from Die, Mommie, Die! via Center Theatre Group
---
Center Theatre Group's second annual Block Party shines a spotlight on remarkable theater works created throughout L.A. with new productions of three previously staged shows. See all three works at Culver City's Kirk Douglas Theatre from March 29-May 20.
Playwrights' Arena's Bloodletting is the story of Farrah and Bosley, two Filipino American siblings who recently lost their father. After arriving on an island to scatter his ashes, a typhoon hits and they seek shelter at a tiny café. The café's unusual owner and his granddaughter share tales of aswangs (witches) with the pair — until Farrah discovers she has a few peculiarities of her own. With previews March 29-30, the show continues from March 31-April 8.
Critical Mass Performance Group's Ameryka shines a light on the promises and pitfalls of democracy, from the American Revolution to the global war on terror, from the struggle for civil rights to the fight against communism, with the use of found texts, movement, original music and exuberant spectacle. Previews are April 19-20, with regular shows from April 21-29.
Die, Mommie, Die!, written by the amazing Charles Busch, is an uber-campy noir classic originally produced by Celebration Theatre that follows the devious actions of aging Hollywood star Angela Arden (played by Drew Droege in drag). Trapped in an unhappy marriage, she plots to kill her husband so she can be with her young lover. When Angela's children learn of her plot and seek revenge, madness ensues in this over-the-top comedy. Previews are May 10-11, followed by shows from May 12-20.
Tickets for each show are $25-70. Theater-loving cocktailians might want the Block Party's very best deal: use the promo code PARTY PASS to see all three shows, with cocktails, for $75. For more information, check the link below.