'Dirty John Live' at the Theatre at Ace Hotel
December 11, 2017 @ 7:00 pm
$20 – $25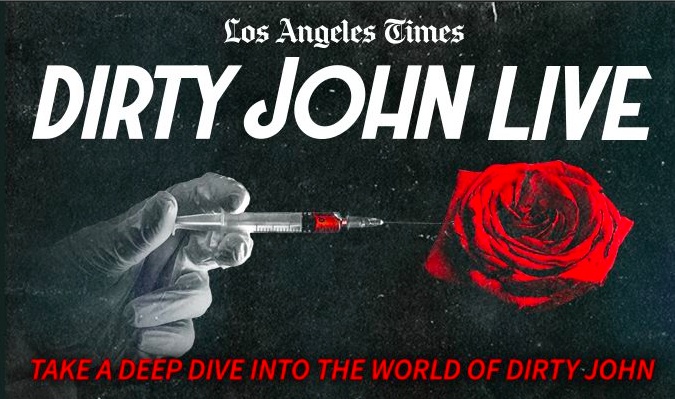 Dirty John is a fascinating Los Angeles Times podcast and long-form news story that recently held the rapt attention of numerous Angelenos and others — in fact, it was the #1 iTunes podcast for a solid 31 days. This chilling story is now the focus of Dirty John Live at the Theatre at Ace Hotel on December 11.
Dirty John is the true-crime story of a diabolical con man who married Debra Newell, a rich Newport Beach woman he met online, after just two months of dating. Over time, John's sociopathy is revealed as we learn about his disturbing past of stalking, prison time, restraining orders and more. These dark deeds alienated Debra's adult children, but Debra insisted on his innocence. John's eventual quest for revenge against one of Debra's daughters changed the course of all their lives.
Dirty John Live will feature L.A. Times reporter Christopher Goffard, who wrote the story, along with moderator Carolina A. Miranda of The Times, Executive Director/CEO of Peace Over Violence Patti Giggans, and special guests Debra Newell, Terra Newell (Debra's daughter) and Tonia Bales (one of John's previous wives).
This group will share inside info about the Dirty John story. Listen to never-before-heard audio, previously unseen material and more as they discuss the mind of a sociopath, the psychology of control and the damage of domestic abuse.
Tickets are $20-25 and can be obtained via the link below.