Kick off Memorial Day Weekend at Fiesta Hermosa May 28-30
May 28, 2016

-

May 30, 2016

Free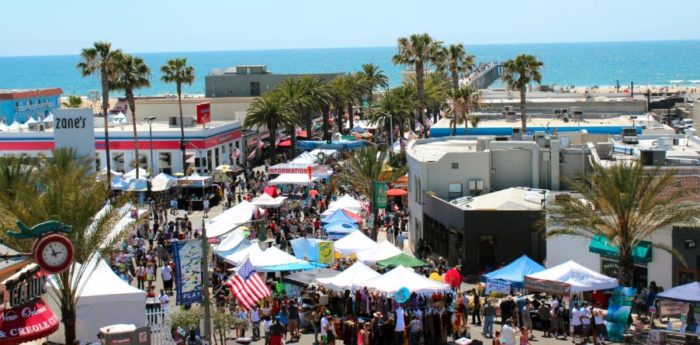 Image via Fiesta Hermosa
---
Fiesta Hermosa boasts itself as the "Largest Arts & Crafts Fair in Southern California," with more than 300 artists, sculptors, photographers and handcrafters expected to participate in this three-day affair.
The Memorial Day weekend event takes place in downtown Hermosa Beach between 10th and 14th streets on Hermosa Avenue and east to Manhattan Boulevard.
There will be 18 food options at the food court from Thai to Greek to Mexican and with the savory comes the sweet with crepes, funnel cakes, and shaved ice, plus a charity beer and wine garden and a special kiddie carnival area.
The festival will run all three day of Memorial Day weekend from 10 a.m. – 6 p.m.
Free parking, free shuttles, and free bike valets are all available.
There are two main stages for live performances plus a new  satellite stage situated outside Java Man with the following artists set to perform:
BEER GARDEN STAGE
May 28
11:30 a.m.- 2:30 p.m.
Queen B & The Wannabes
Hits from 70s, 80s, 90s & today
3:30 p.m.- 6:30 p.m.
Soul Shot
Energetic Soul/Motown Revue featuring the Amazing Charis Rey
May 29
11:30 a.m.- 2:30 p.m.
Barley
Hermosa's Own performing Covers & Originals
3:30 p.m.- 6:30 p.m.
Safety Orange
SoCal Beach/Rock/Reggae
May 30
11:30 a.m.- 2:30 p.m.
Shari Puorto
Award Winning Hermosa Resident Blues Artist
3:30 p.m. – 6:30 p.m.
Scott Whyte
California Native TV & Voice Actor performs Eclectic Hits from All Eras
MAIN STAGE
May 28
11 a.m. – 2 p.m.
Jack Tracy and Feed the Kitty
Ukulele and American Rock
3:00 p.m. – 6:00 p.m.
Dog'n'Butterfly
Heart Tribute Band
May 29
11 a.m. – 2 p.m.
Graceband
Elvis Tribute Band
3 p.m. – 6 p.m.
ThundHerStruck
All Girl Tribute Band to AC/DC
May 30
11 a.m.-2 p.m.
Pretzel Logic
Steely Dan Revue
3 p.m.- 6 p.m.
Space Oddity
David Bowie Tribute Band