L.A. Nature Fest at The Natural History Museum L.A. March 17-18
March 17, 2018
$7 – $15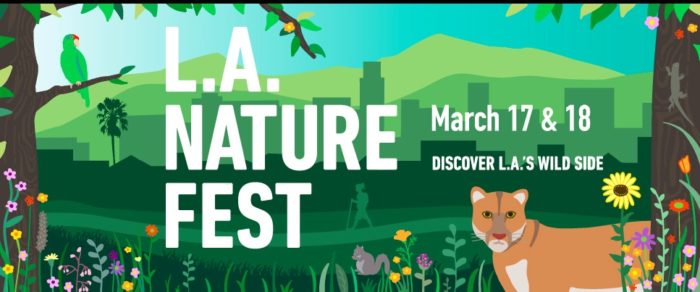 Image via NHMLA
---
L.A. Nature Fest comes to The Natural History Museum Los Angeles (NHMLA) March 17-18 for a special visit with some of our coolest animal neighbors!
L.A. Nature Fest will take place in DTLA in the Nature Gardens, the outdoor space where museum scientists do their research and educators share some of nature's interesting stories. Inspired by everything from the Griffith Park mountain lion to the birds in the Nature Gardens, NHMLA opens its doors to all who are curious about the "wild side" of Los Angeles. Say "hello" to an opossum, have lunch with a rattlesnake, and take a walk with a desert tortoise. Museum scientists will also be available to answer your questions about snails, bugs, birds, and all of your other questions regarding the city's nature. Both days will be filled with performances, hands-on activities, and presentations. Other highlights include 30+ exhibitor booths in partnership with local organizations, live animal presentations, stage performances and nature walks, expert tips on how to attract wildlife to your garden, nature crafts​, and early-morning bird walks. See the full schedule of activities.
Activities run from 9:30 a.m. to 5 p.m. on both days. Museum admission is $15 for adults, $12 for seniors, youth and students, and $7 for children 12 and under.