The Second Annual Los Angeles Bread Festival at Grand Central Market is June 4-5
June 4, 2016

-

June 5, 2016

Free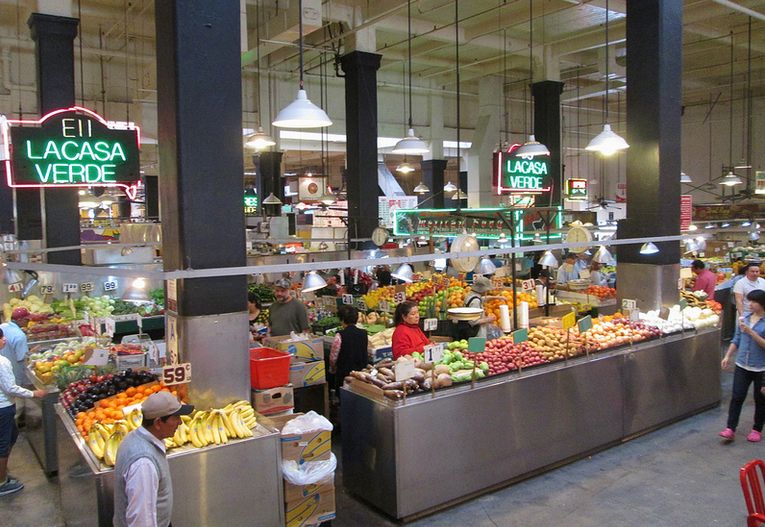 Photo credit: Heather Harvey vis flickr cc
---
All you knead is carbs at this FREE, two-day event in celebration of SoCal's artisanal breads on June 4-5 at Grand Central Market from 9 a.m. – 6 p.m.
Throughout the two-day event vendors will line GCM offering one-time only specials including hearth-baked loaves from Clark Street Bread, cornbread from Horse Thief BBQ, flatbread specials from Madcapra, handmade tortillas from Chiles Secos, "butter flights" from DTLA Cheese, cultured butter and Bruce Kalman's signature giardiniere from Knead & Co. Pasta Bar + Market.
The festival will also include a pop-up marketplace showcasing local bread bakers and jam and nut butters vendors, as well as bread-centric workshops and demonstrations. Among those expected to set up shop will be Milo & Olive, local miller Grist & Toll, Superba Food + Bread, Lodge Bread Co., Antigua Artisan Bread, Seed Bakery, The SpeakEasy Bakery, Bub & Grandma's and Los Angeles Bread Bakers. Jam and nut butter purveyors include IndieJams, Spread the Love and LemonBird.
DEMO/CLASS SCHEDULE
Saturday, June 4
9 a.m. – 6 p.m.- Pop-Up Bread Marketplace
10 a.m.- Pita with Clemence Gossett
11 a.m.- Biscuits with Nicole Rucker of Rucker's Pie
Noon- No-Knead Bread Demo
1-2pm: Feel the Churn Butter Aerobics
1 p.m.- Sourdough Starter 101
2 p.m.- Baking with Heritage Grains at Home
3 p.m.- Muesli Making and DIY Flavor Bar with Roe Sie of The Kings Roost
3-4 p.m.- Feel the Churn Butter Aerobics
4 p.m.- Grain and Cats Lecture with Los Angeles Bread Bakers co-founder Erik Knutzen
Sunday, June 5
9 a.m. – 6 p.m.- Pop-Up Bread Marketplace
10 a.m.- Matzah Making Workshop: Presented by NuRoots
11 a.m.-  Challah Making: Presented by NuRoots
Noon: Tortilla making with Chiles Secos and Carlos Salgado of Tacos Maria
1 – 5 p.m.- Community Bread Bake (baking times are on the hour every hour)
ALSO: Guests can bring homemade unbaked loaves to bake at the mobile wood-burning over for free.