The Music Center Presents Max Richter's 'Sleep' in Grand Park
July 27, 2018

-

July 28, 2018

Free – $80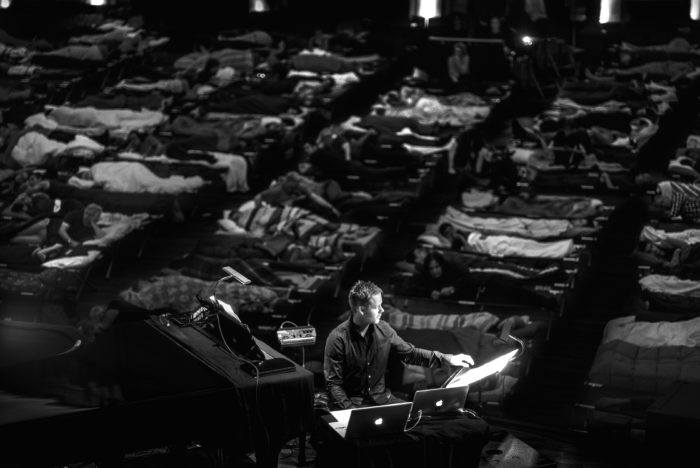 Photo credit: Rahi Rezvani
---
Get ready for one of Los Angeles' most unique cultural events of 2018 when two live, eight-hour performances of composer Max Richter's Sleep lull Angelenos into slumber on July 27-28.
This Music Center event will take place at Grand Park. Concertgoers will be able to rest on cots (provided with the purchase of a ticket within the Main Performance Area in Grand Park's Sections A and B). Tickets are $60 to $80.
If your budget is more limited or you're unable to get one of those sought-after Section A and B tickets, there will also be a special Listening Area (Section C). Cots will not be provided in Section C. Though Listening Area tickets do have a $6 handling fee, the fee will be waived for tickets purchased at the Music Center box office.
Richter calls Sleep a "personal lullaby for a frenetic world." One of the longest classical pieces ever written, Sleep will be performed live by Richter on piano and keyboard. He'll be joined by American Contemporary Music Ensemble, the musicians who played on Richter's 2015 Deutsche Grammophon recording of Sleep, along with soprano Grace Davidson.
Sleep has played to great acclaim in New York City, at SXSW, and in Berlin, London, and Sydney. Feel free to doze and drift away as you listen to the music called "trance-inducing" by the Wall Street Journal.
The performance will begin at 10:30 p.m. each evening and continue until 6:30 a.m., timed to coincide with the sun rising over City Hall to the east.
Though tickets for sections A and B are currently sold out, more tickets are planned for release in both sections. To get ticket alerts, click here. For more info, click the event link below.