Miyazaki Art Tribute Show at Mid-City Arthouse August 6-7
August 6, 2016

-

August 7, 2016

Free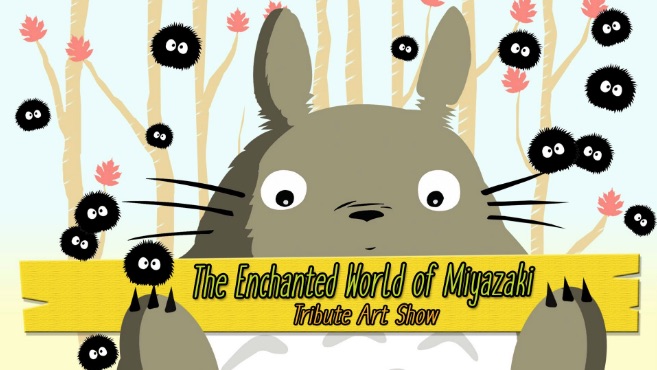 Photo Credit via The Enchanted World Of Miyazaki: Tribute Art Show Facebook Events Page
---
Hayao Miyazaki the iconic Japanese animation director who brought us critically acclaimed films like Spirited Away,  My Neighbor Totoro and Princess Mononoke creating characters unique and beloved around the world will have a limited engagement tribute art show fully dedicated to the world of Miyazaki August 6-7 at The Mid-City Arthouse.
You can check out original art work from the following artists: Theresa Huynh, Rayna Lo, Renee Lawter, Madison Hodges, Erin Chow, Menh Voong, Zard Apuya, Vince Chang, Henry Liao, Crystal Curtis, Sophie Diao, Aleta Lee, Lily Wang, Pat Mao, Debbie Chen, Lena Lieu, Dominick Zheng, Zach Wong, Melissa Nhan, Kevan Hom, Donavon Brutus and Shirley Lee Chen.
If you've ever seen a Miyazaki film, you know how important the theme of co-exhisiting with nature is. So its super awesome that a portion of the proceeds from the show will go to benefit Welcome Home Sanctuary, a grassroots initiative whose mission is to provide a nurturing space for animals and people to coexist.
The event is free and open to all ages, takes place 1 to 7 p.m. both days for all ages viewing. Please note Saturday August 6 from 7 to 11 p.m. the age requirement turns 21+.