Obscura Day 2016 to Bring a Massive Day Of Cool Events to L.A. on April 16
April 16, 2016
$20 – $25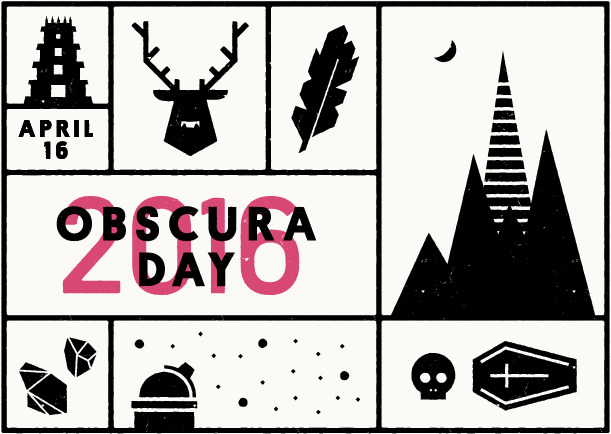 Image credit Atlas Obscura
---
Looking for a great excuse to see parts of Los Angeles you've never dared to discover for yourself?
Check it.
Put on by Atlas Obscura, Obscure Day 2016 provides angelenos a collaborative and crowd-sourced guide to the world's "wondrous and curious places," including 15 L.A. events of exploration all scheduled for April 16, 2016.
Have great memories of your childhood rock tumbler? Explore space rocks at UCLA's meteorite collection, one of the world's largest collections of extraterrestrial materials. Cosmochemist Alan Rubin will conduct an exclusive tour (10:00am-11:30am) of UCLA's vast collection, highlighting specimens from the Moon and Mars, and some found in California. (595 Charles E. Young Dr., Geology Building Room 3697, Los Angeles, California, 90095; tickets $20 + service fee)
If you're into typography (or just hate Papyrus), check out The Church of Type (11 am-12:30 pm) in Santa Monica for a tour of some rare and archaic letterpress and printmaking accoutrements (3215 Pico Blvd, Santa Monica, California, 90405; tickets $25 plus service fee).
Pay homage to David Bowie's black velvet painting during an exclusive tour at Velveteria, a Chinatown museum of over 3,000 black velvet paintings from around the world. (12:30pm-1:30pm, at 711 New High Street, Los Angeles, California, 90012; tickets $20 + service fee).
Other awe-inspiring events in LA on April 16th:
After you've checked out all the events the day has to offer, join the Atlas Obscura team and fellow LA explorers at the after party at Valley Relics in Chatsworth (tickets $25 + service fee).
Check out the complete schedule of events at locations throughout LA (including Culver City, La Crescenta-Montrose, Santa Monica, Altadena, and City of Industry) at the Obscura Day 2016 homepage.
Keep in mind some events are kid-friendly; be sure to check out the details on each individual event's page.
Tickets are selling fast to many of these exclusive events, so buy early!