Old Pasadena Summer Cinema 2018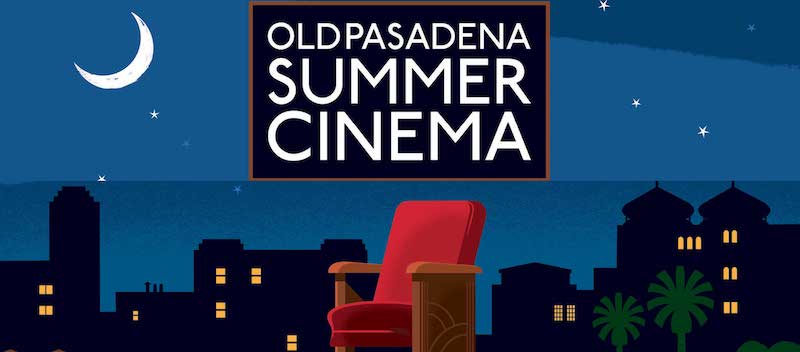 Starting on July 5, Old Pasadena Summer Cinema returns with a lineup of 17 films screened over 24 days at four unique Old Pasadena locations. And the best part? Each screening event is FREE and open to the public!
The series includes three special nights at Pasadena Central Park featuring DJ sets, free family activities, costume contests and themed-giveaways. You can check out the full list of venues and film screenings below, and be sure to go to Old Pasadena's official website for additional details on attending each screening.
Old Pasadena Summer Cinema 2018 Schedule
There's Something About Mary
CTRL Collective, 45 S. Arroyo Pkwy
Thursday, July 5, 2018 8:00pm–10:00pm
Departures
Distant Lands, 20 S. Raymond Avenue
Friday, July 6, 2018 8:00pm–10:15pm
Sunset Boulevard
One Colorado, 41 Hugus Alley
Friday, July 6, 2018 8:30pm–10:30pm
La La Land
One Colorado, 41 Hugus Alley
Saturday, July 7, 2018 8:30pm–10:45pm
Pee-wee's Big Adventure
Central Park, 141 S. Raymond Avenue
Saturday, July 7, 2018 6:30pm–10:00pm
One Week
Distant Lands, 20 S. Raymond Avenue
Friday, July 13, 2018 8:00pm–10:00pm
Back to the Future
One Colorado, 41 Hugus Alley
Friday, July 13, 2018 8:30pm–10:30pm
Star Wars Episode VII
One Colorado, 41 Hugus Alley
Saturday, July 14, 2018 8:30pm–10:45pm
Mars Attacks!
Central Park, 141 S. Raymond Avenue
Saturday, July 14, 2018 6:30pm–10:15pm
A Quiet Place
CTRL Collective, 45 S. Arroyo Pkwy
Thursday, July 19, 2018 8:00pm–9:30pm
In Bruges
Distant Lands, 20 S. Raymond Avenue
Friday, July 20, 2018 8:00pm–10:00pm
The Incredibles
One Colorado, 41 Hugus Alley
Friday, July 20, 2018 8:30pm–10:30pm
Wonder Woman
One Colorado, 41 Hugus Alley
Saturday, July 21, 2018 8:30pm–11:00pm
How Much Further
Distant Lands, 20 S. Raymond Avenue
Friday, July 27, 2018 8:00pm–9:30pm
500 Days of Summer
One Colorado, 41 Hugus Alley
Friday, July 27, 2018 8:30pm–10:00pm
The Princess Bride
One Colorado, 41 Hugus Alley
Saturday, July 28, 2018 8:30pm–10:00pm
The Muppet Movie
Central Park, 141 S. Raymond Avenue
Saturday, July 28, 2018 6:30pm–10:00pm