The Pop-Up Magazine Tour is Coming to the Ace Hotel
February 24, 2017 @ 7:30 pm
$32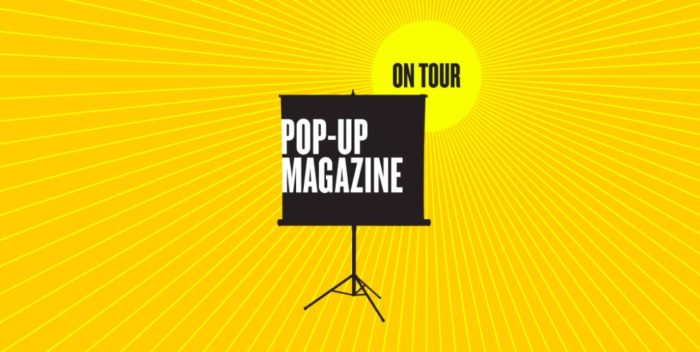 Image via Pop-Up Magazine on Facebook
---
Get ready for some laughs, or maybe even contemplate a new perspective on life, because the Pop-Up Magazine tour is coming to the Ace Hotel on February 24.
In case you're unfamiliar with this unique show, Pop-Up Magazine is a night filled with true, multimedia storytelling with stunning visuals, film, and live music. Listen to writers, filmmakers, photographers and producers share true stories from their daily lives. Featured contributors include Wendy MacNaughton (illustrator and columnist with The California Sunday Magazine), Pat Walters (editor, Gimlet Media), Kelley L. Carter (Emmy Award–winning writer, ESPN's The Undefeated) and more.
After the show, mingle with some of your favorite performers and perhaps swap stories over some celebratory drinks.
Tickets for the event are currently available at $32, and seating is now limited. For more information on their winter tour, check out the event site below.