Silent Night, Silent Disco at FIGat7th
December 2, 2016 @ 6:00 pm
Free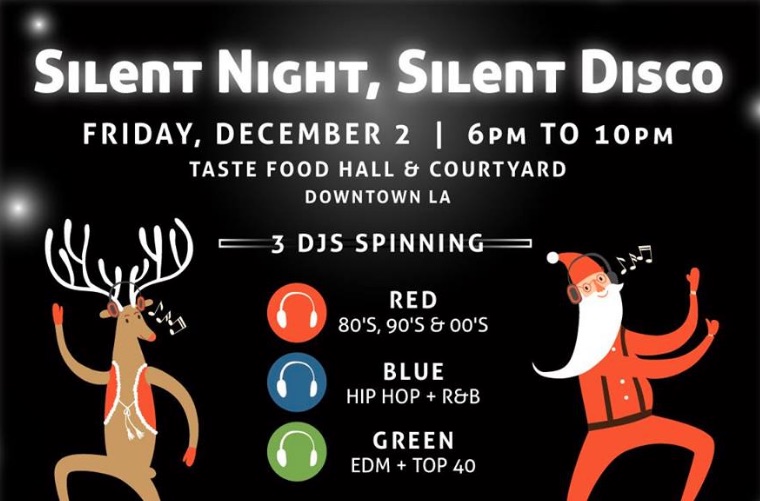 ---
The folks at Quiet Clubbing are bringing their act to FIGat7th for a special holiday-inspired dance party on Friday, Dec. 2.
It's called Silent Night, Silent Disco and the festivities for the evening include Glow in the Dark Gear, indoor and outdoor dance floors on the Lower Level M1 of FIGat7th, food & drink in TASTE Food Hall, plus three live DJ's battling for your attention.
Never been to a Quiet Clubbing event? Here's how it works:
Attendees are provided headphones to listen to the DJ-spun music. At this specific event, three separate DJs will be spinning their best holiday-inspired sets in the following genres:
DJ 1 (Green): EDM and top 40 hits.
DJ 2 (Red): The best of the 80's, 90's and 2K music
DJ 3 (Blue): Hip hop and R&B
Attendance at the dance party is free IF you bring a donation in the form of a can of food or a new, unwrapped toy. Donations are required for entry.
Also bear in mind that you might have a credit or debit card for the check-in process. If the headphones are not returned, there will be a $100 charge to your credit or debit card after the event.
Headphones at the event will be limited, so be sure to get there early!
RSVP via link provided below.