Son of Monsterpalooza is Coming to Burbank in September
September 14, 2018

-

September 16, 2018

$25 – $60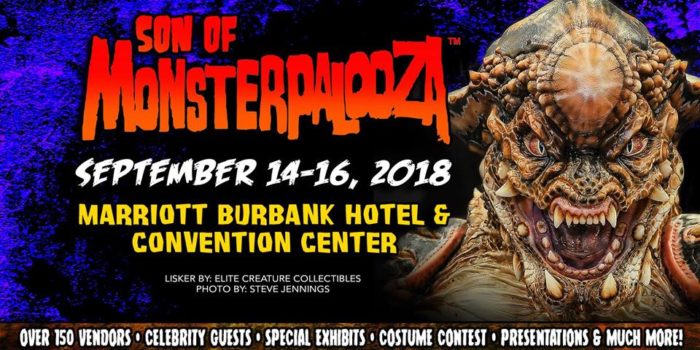 Image via Monsterpalooza on Facebook
---
Get ready to scream, experience amazement and awe, or simply turn away in fright, because Son of Monsterpalooza is coming to Burbank from September 14-16.
Son of Monsterpalooza will feature over 150 vendors, presentations, special exhibits and costume contests. This autumnal version of the ultimate scary convention (which takes place in spring) will take over The Marriott Burbank Convention Center. It's the perfect place for fans and professionals in the areas of film, makeup, special effects, collectible art, and monsters to converge.
Highlights include a chance to meet experts in the industry, live makeup demonstrations, an exhibit featuring original sculpture creations, and cash prizes for best costumes. There will also be special guests such as Joanna Cassidy (Blade Runner), Jake Busey (Starship Troopers) and Lance Henriksen (Aliens).
The convention hours run from 6 to 11 p.m. on Friday, as well as 11 a.m. to 6 p.m. on Saturday and Sunday.
One-day admission for the event is only $25. Three-day admission is also available for $60.
So ring in the fall season and start your Halloween celebrations early with Monsterpalooza!