The Classic Auto Show at the L.A. Convention Center March 2-4
March 4, 2018 @ 10:00 am
$5 – $200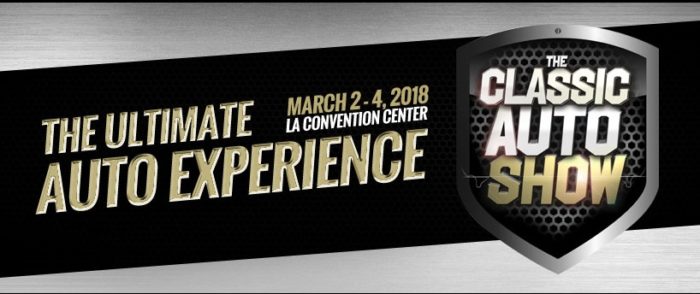 The Classic Auto Show returns to the L.A. Convention Center March 2-4 for the largest three-day indoor classic car show in the United States!
This is the place where every car roars its own story, as the entire classic car community gathers for a celebration of all kinds of automobiles. Check out the cars you love, meet some of your favorite auto celebrities, see live restoration and auto detailing demos, and browse the vendor marketplace featuring memorabilia and the parts, products, and services you need to restore and care for your own set of wheels.
The two-floor show will exhibit over 1,000 classics, including rare, museum-quality classics showcased on the Grand Boulevard, celebrity builds, and hundreds of classics from local car clubs. This year, some of the new exhibit areas will include Hot Rods, Lowriders, Japanese Classics, Vintage Off Roaders, Porsche, Women Builds, and Motorcycles.
Show hours are below:
Friday, March 2:
Noon to 8 p.m.             Open to the public (Registration opens 11:30 a.m.)
8:00 p.m.                      Marquee Event:  Movie Under the Cars "Bullitt"
Saturday, March 3:
10 a.m. to 8 p.m.         Open to the Public  (Registration opens 9:30 a.m.)
Sunday, March 4:
10 a.m.  to 6 p.m.        Open to the Public  (Registration opens 9:30 a.m.)
One-day general admission begins at $20 and goes up in price up to the start date. Two-day general Admission is $32.50 to $52.50. One-day kids admission is $5-10. Check for discounted tickets before via Goldstar before making your purchase.
Three-day VIP package admission ticket is $200, and includes early admission, preferred front row seating at the Celebrity Stage, cocktail reception (Saturday evening) with available celebrities, mini-tour with a celebrity (Saturday morning), fast pass for celebrity photo/autograph signings (during show hours), an official goody bag, and official CAS merchandise (tee, hat, poster).