'This is (Not) L.A.' — Book Launch & Panel Discussion at Natural History Museum
September 20 @ 5:00 pm

-

9:00 pm

Free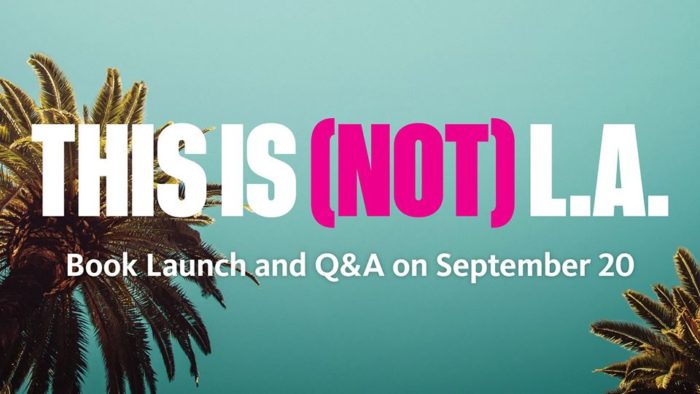 Image via NHM on Facebook
---
Featuring a foreword by the late, beloved Jonathan Gold, This is (Not) L.A.: An Insider's Guide to the Real Angeles is a brand-new book by Jen Bilik. Celebrate its launch at the Natural History Museum in Exposition Park on September 20.
Written by Jen Bilik, this guide reexamines our city and smashes many of the cliches about the City of Angels (a few examples: L.A. has crappy food; L.A. is full of airheads; L.A. is full of freaks and flakes; L.A. has no history) to share — and applaud — what the city is really about.
The book also focuses on architectural innovation in Los Angeles, our lesser-known civil rights heroes, what insiders know about the city and much more.
The event will feature Jen hosting a lively discussion about her book and loving L.A. with a group of prominent Angelenos, including KCRW Good Food host Evan Kleiman (reading Gold's foreword), Grammy-winning author Lynell George, award-winning journalist Ed Leibowitz (of Los Angeles magazine and The Atlantic), Curbed LA editor Alissa Walker, and producer/author Patty Rodriguez. Food trucks will also be on site.
This free event is related to the NHM's celebrated Becoming Los Angeles exhibit. That impressive exhibit will be viewable this evening from 6 to 9 p.m. In addition, museum collections related to the discussion will be on view from 6 to 7 p.m., and books will be available for purchase.
The event schedule is as follows:
5 p.m. – Food truck opens
6 p.m. – Doors open
7 p.m. – Talk, followed by Q&A
9 p.m. – Program concludes
You can RSVP here. More info can be found via the link below.