Urban Death Tour of Terror at Zombie Joe's Underground Theater
October 28, 2016 @ 7:30 pm
$15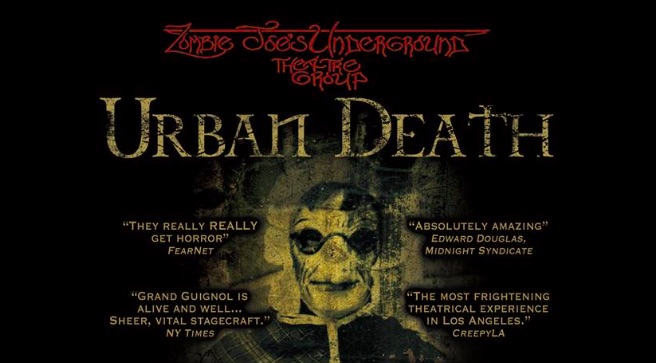 Photo Credit via Zombie Joe's Underground Theatre Facebook
---
Zombie Joe's Underground Theatre hosts a intensely immersive haunted house experience called Urban Death Tour of Terror on Fridays and Saturdays starting Oct. 7 and running through Nov. 5 in North Hollywood with shows every hour from 7:30 p.m. through 11:30 p.m.
Armed with a muted flashlight, guests walk through a maze surrounded by monsters until they arrive in the theater where the flashlights are taken away before a 20-minute performance. When the show is over they are handed the flashlight again and go back through the maze, now with new monsters lurking around.
The maze will also be open on Oct. 31 for special Halloween performances.
Tickets are $15. Keep in mind our friends at Goldstar (affiliate) have discount tickets for select dates while supplies last. Be sure to shop and compare before purchase!
Check out this video for a snippet of the experience.