The Venice Afterburn: An Official Burning Man Event
September 22, 2017

-

September 23, 2017

Free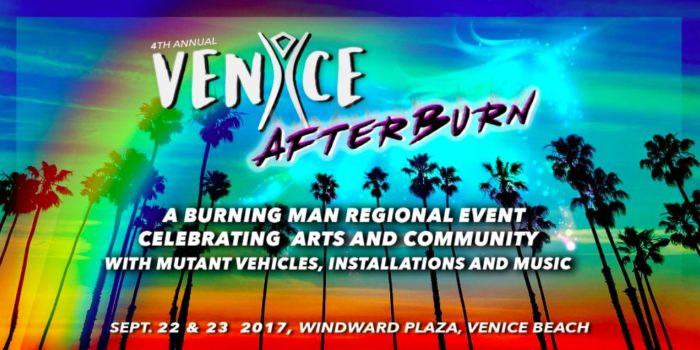 An official Burning Man regional event, the Venice Afterburn comes to Venice Beach's Windward Plaza on September 22 and 23.
The Venice Afterburn, from the people behind the Venice Art Crawl, offers a less hectic — not to mention less dusty — place to continue enjoying art and creativity after days on the playa.
Open to burners and non-burners alike, this creative community gathering merges burner art with the vibrance of the Venice Beach art community.
This surreal event will feature art cars and numerous art installations fresh from the 2017 edition of Burning Man, including gummy bear pyramid sculptures, black-light 3D environments, kinetic art and more.
The DJ lineup will includes Jeremy Sole, Anthony Valadez, Lonelyboy, Patricio, Henry Pope, Loboman, Massio and more to be announced.
While the event is free, donations to this sponsor-free event are welcome. You can donate here.
Hours each day are 2 p.m. to 10 p.m. Come feel the burn!