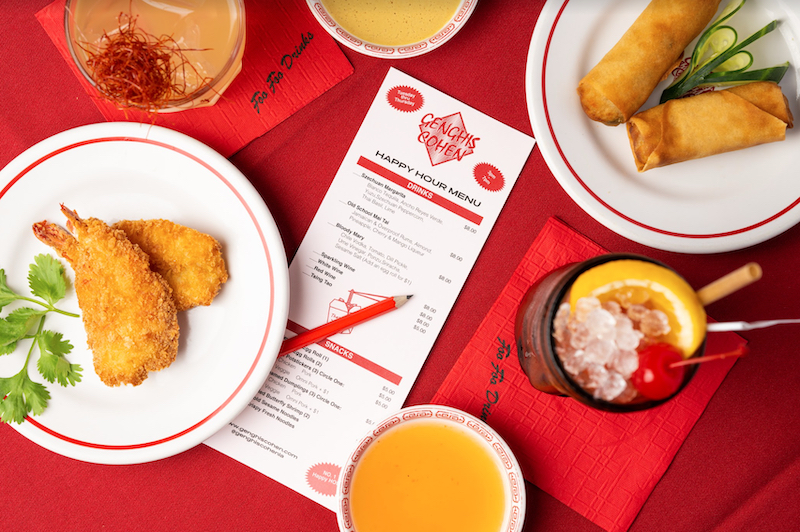 [LIST UPDATED 11/14/2022]
We can all do with a little "pick me up" and I have just the thing: An absurdly comprehensive guide for happy hours in Los Angeles. The list that follows contains some 40 options located in over a dozen different neighborhoods and incorporated cities across Los Angeles County. Why so many, you ask? Simply put, because you guys F$*@!-ing deserve it.
Consider this guide a playbook put together by an Angeleno who simply can't pass up a good deal and knows a thing or two about good food. And in that spirit, next time you're planning a happy hour hang, I hope this post is the first link you share with your friends.
ALSO: Remember that lists like this are living organisms. Never quite complete, always being updated, trimmed, or expanded. So if you feel like we need to consider a new spot, be sure to DM us on Instagram your suggestion and I'll gladly conduct further "research." It would, in fact, be my pleasure. But for now… enjoy the list!
West Hollywood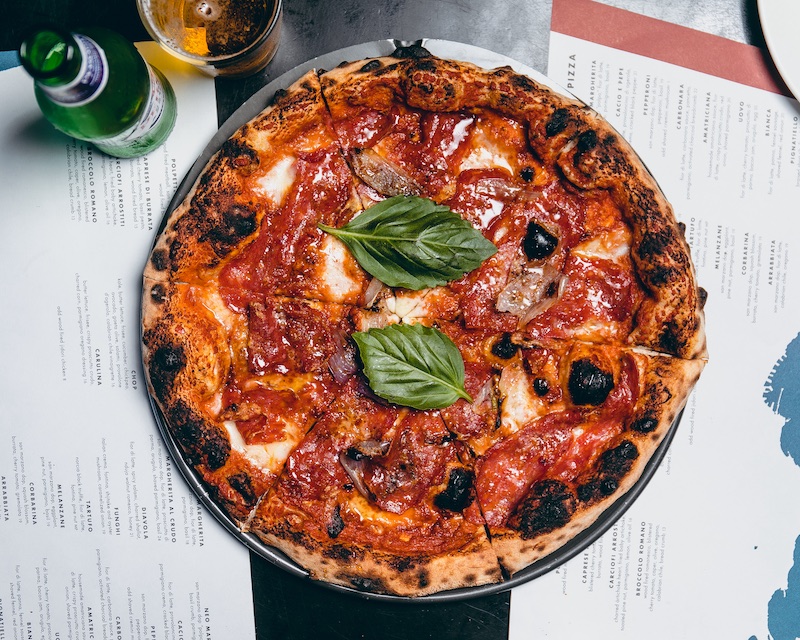 Pizzana West Hollywood
The West Hollywood location of Pizzana has a fantastic special where $35 gets you a pizza of your choice and any two cocktails or wines by the glass. Happy hour runs Monday through Thursday from 4 to 6 .p.m. Cocktails are fresh takes on classic Italian cocktails such as Tramonto Rosso with Tito's vodka, Aperol, lemon, Angostura bitters and lime, and Spritz Al Limone with limoncello, orange curacao, lemon, orange bitters, prosecco and mint.
Genghis Cohen
Iconic New York-style Chinese restaurant Genghis Cohen is launches a happy hour this Tuesday offering guests a selection of $8 cocktails such as the Szechuan Margarita or Bloody Mary (add an eggroll garnish for $1) alongside $5 Tsing Tao beer and a special menu of $5 snacks like egg rolls, dumplings, butterfly shrimp and cold sesame noodles. Happy hour will be available every Tuesday through Thursday from 3 to 7 p.m.
Soulmate
Soulmate's happy hour runs Monday through Friday from 4:30 to 6:30 p.m. Available at the bar, guests can expect $8 and $10 cocktails such as Soulmate's Signature Gin & Tonic, and WeHo Daiquiri. On the food menu are elevated shared plates including $2 oysters, $10 Wagyu Steak Tartare, $10 Scallop Crudo Tostadas and $12 Roasted Pork Belly Brioche Sliders.
L.P. Rooftop
L.P. Rooftop's daily happy hour runs Monday through Friday from 4 to 6 p.m. Menu highlights include a $9 cheeseburger, $10 EP Froze, $12 cocktails and more. Stop in on Tuesdays for taco night where you can score two Baja Fish, Asada and or Mushroom tacos for $8.
Madre (West Hollywood, Palms and Torrance)
Oaxacan food can be hard to find in some parts of the city, and a Oaxacan focused happy hour is rarer still. At Madre, savor a menu of over a dozen small plates including $5 chicken mole enchilada, $6 tacos and grilled oysters topped with chapulines $12 (four.) Happy hour cocktails are a mix of mezcal and reposado libations for $11, beers are $6 a pop and wine by the glass are $6 and micheladas are $7. Happy hour is available at all three locations of Madre from 3 to 6 p.m., Monday through Friday.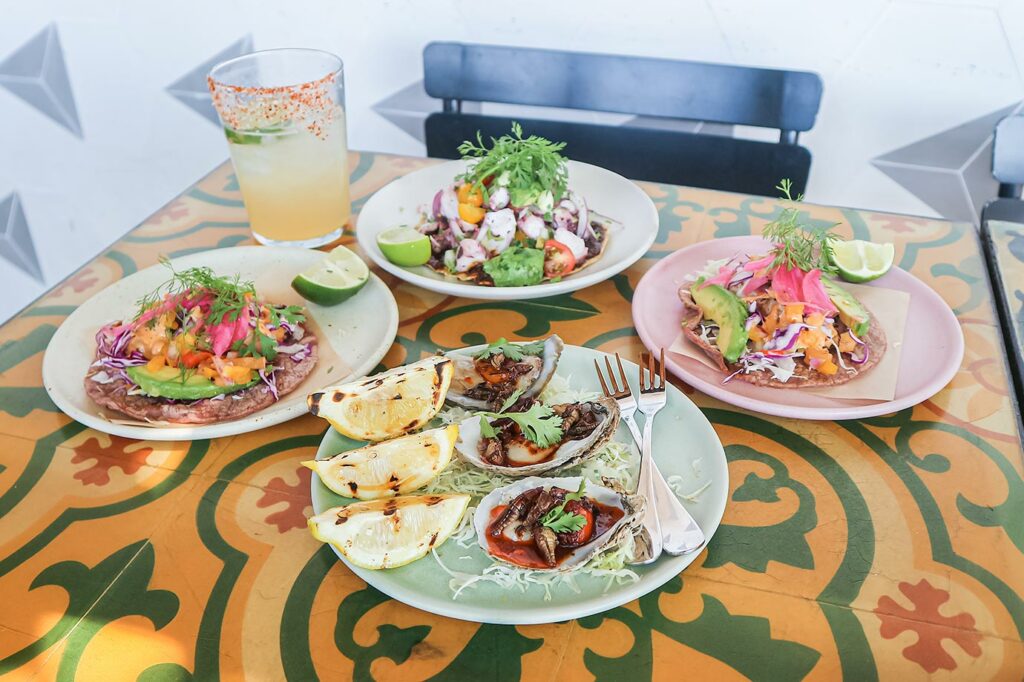 Employees Only
Employees Only is offering a 'Golden Hour' Tuesday through Sunday from 6 to 8 p.m. The one hour happy hour menu is a reinvention of classic bar snacks like Fried Pickles, Prosciutto Grissini and Market Crudo. A number of apéritifs are also available during this time. Prices range $8 to $16.
Gracias Madre
West Hollywood's plant-based restaurant Gracias Madre hosts happy hour on weekdays from 3 to 5 p.m. Almost everything on the menu is $7-$8 including nachos, soy chorizo empanada and tacos. Their classic Purista Margarita also $9 while house wines are $8 a glass and draft beer is $6. Gracias Madre also hosts a Taco Tuesday special where $25 gets you three tacos and a Purista Margarita. Salud!
Theia
Mykonos-inspired restaurant Theía hosts one of the liveliest weeknight happy hours in the city featuring local DJs, belly dancers, and energetic napkin-waving dances. Monday through Friday from 5 to 7 p.m. the restaurant offers a happy hour menu of Greek mezzes as well as eye-catching cocktails. Prices range $3 to $12 on the food menu, $10 for select cocktails and $5-$6 on beer and wine.
Culver City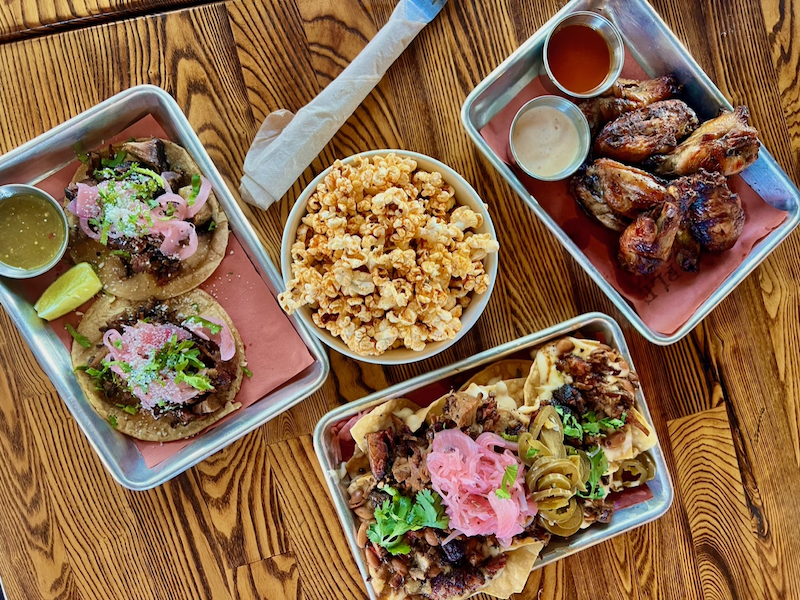 Maple Block Meat Co.
Maple Block's "Happy Hour and a half " menu includes a whole lot of brisket! Find brisket in tacos, topped on nachos, and stuffed in grilled cheese. Other tasty items include BBQ popcorn and Maple Block's signature peach wood smoked chicken wings. Food prices range $4 to $12. On the beverage side guests can take advantage of $5 draft beers, wines by the glass for $6, and $5 mix drinks. A six-pack of Calidad beer delivered to your table in an Igloo cooler packed with ice and fresh limes is also available for $24. Happy Hour and a half runs Monday through Friday from 4 p.m. to 6 p.m.
Ugo
If Italian food is your personal fave, Downtown Culver City's Ugo's happy hour menu brings a bit of everything to the table. Available Monday through Friday from 2:30 p.m. to 6:30 p.m. the menu includes $8 starters like Portobello Fries, Neapolitan Pizzas for $10 and small plates such as Calamari, Meatballs to pasta served in a bread bowl for $11. Well drinks, wine and beers run $6-$7 and fancier sips like a Negroni or Aperol Spritz will only cost you $8.
Vamonos Tacos
Vamonos Tacos in Culver City runs a happy hour Monday, Wednesday and Thursday from 5 to 7 p.m. and Sunday from 4 to 7 p.m. Happening exclusively at the bar and front patio the menu includes tequila and mezcal flights for $18 and food items that range $6-8 such as tacos, taquitos and mini quesadillas. Look out for daily specials at Vamonos too. During Margarita Mondays guests can order a 21 oz cocktail bowl for just $16 and Thursdays hosts an $11 Shot & Beer special.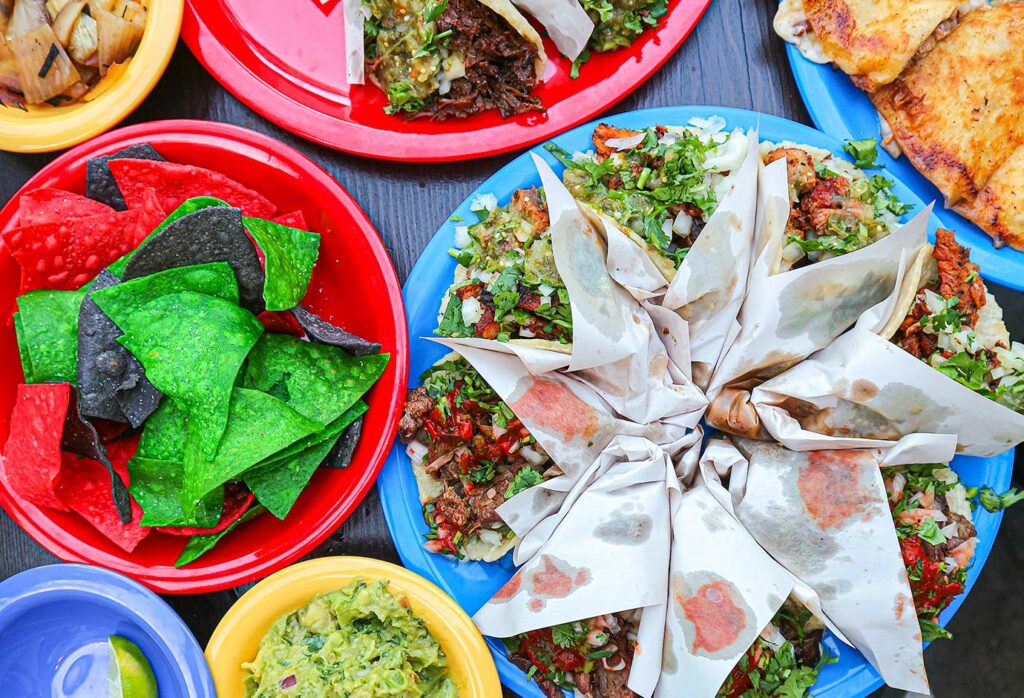 Downtown Los Angeles
Rossoblu
Rossoblu's daily pizza happy hour from 5 to 6 p.m. is held only at the bar, the one hour promotion includes a choice of either a margherita or cheese pizza and a drink (house wine, spritz or a cocktail) for $25 per person.
Everson Royce Bar
Everson Royce Bar is shaking up $10 craft cocktails during happy hour Tuesday through Friday from 4-6 p.m. and Saturday and Sunday from 2-6 p.m. ERB's epic burger and fries is $13 durning this time and a spicy shrimp cocktail is $10. A selection of beers and wines are $6-$8, Boilermakers are $10 and if you're feeling adventurous, ask for a $6 mystery shot.
Redbird
Chef Neal Fraser's modern American restaurant Redbird is offering a happy hour menu at the bar where everything is $11-$12. On Wednesday through Friday from 5 to 7 p.m. guests can mix and match craft cocktails while sampling elevated bar bites from crudo to crispy duck wings.
LOAM
LOAM at Ace Hotel DTLA hosts a "Golden Hour" every Wednesday through Sunday from 4 to 6 p.m. Diners can feast on $1.50 oysters, $5 deviled eggs and $10 burgers. On the beverage side guests can take advantage of $10 specialty cocktails, $8 house wine and $6 draft beers.
Little Llama Peruvian Tacos
Little Llama Peruvian Tacos weekday happy hour runs Monday through Friday from 4 to 6 p.m. During this two-hour window, guests can indulge in pollo a la brasa, pork belly, shrimp, plantain and potato in taco form for $4.50 to $5.50 each. American Lager as well as wines by the glass for $5 that can be requested as a carafe or entire bottle ($20) to share for the table.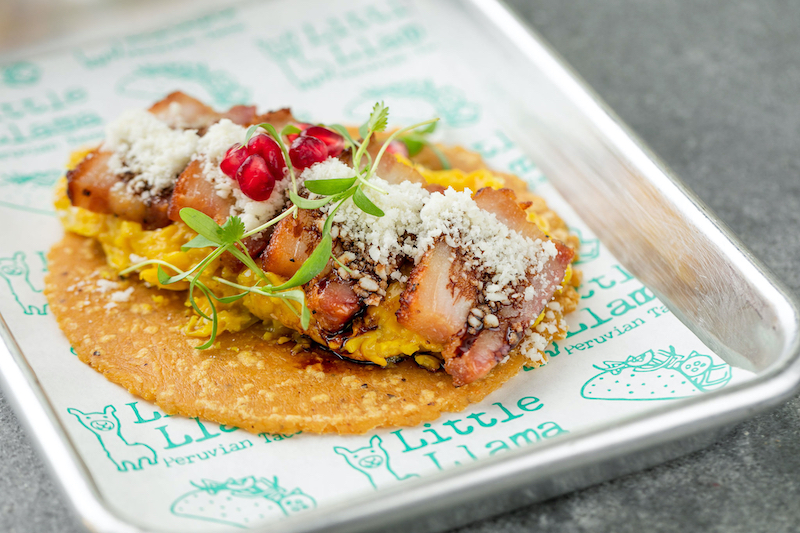 Good Clean Fun
Natural wine bar Good Clean Fun runs a daily Toasty Time every Tuesday through Sunday from 3 to 6 p.m. Diners can take advantage of food and wine specials like $10 glasses of wine, $5 spritz, $2 oysters, a giant pizza roll stuffed with mozzarella, sausage, pepperoni for $7 and a scrumptious rotating grilled cheese special for $14.
Nick + Stef's
Elevated steakhouse Nick + Stef's happy hour takes place on weeknights Monday through Friday, from 4 to 7 p.m. in both the outdoor and indoor lounges. Bar snacks like smoked deviled eggs, steakhouse sliders, and sweet potato fries are all under $10. A number of featured specialty cocktails are $12 during happy hour, a selection of wines by the glass are $10 each and beers run $6 to 7.
Bar Magnolia
Located inside the historic Hotel Figueroa Bar Magnolia hosts a daily happy hour Monday through Friday from 3 to 6 p.m. in the lounge and bar area. Snack on Truffle Fries ($10), Tuna Tartare Tostada ($14) and Crispy Chicken Sliders ($12) durning this time. On the beverage side guests can sip on $10 cocktails, $8 glasses of wine and $7 beers.
Filipinotown
Genever
James Beard nominated and winner of North Americas 50 Best Bar, women owned Genever is creating some of the most exciting cocktails in the city. Everyday the bar hosts a happy hour from 6 to 8 p.m. where a number of cocktails are $8, including an excellent Martini. A selection of wines, beers, seltzers and hard kombucha are also available for $5- $10. If you need snacks with your drink, order up a charcuterie plate for $15, there's also an Adobo marinated egg sandwich from Hi-Fi Kitchen for $10.
Atwater Village
Momed
Momed's happy hour runs Monday through Thursday from 5 p.m. to 6:30 p.m. Here you can save $5 off a special menu of bar bites, cocktails, beer and wine, with a focus on drink deals. Find sparkling wines from Lambrusco to Prosecco for $10, classic cocktails $11, and Momed's signature creations such as the "Naked & Famous" for $11. If you decide to go for the full dinner experience in Momed's dining room, the Cornish Hen stuffed in saffron rice is a must.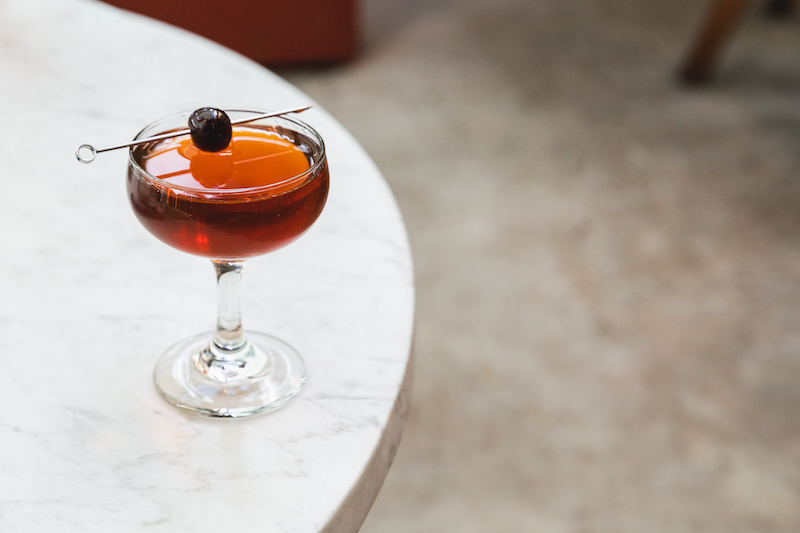 Highland Park
Otoño
It's Siesta Hour at Chef Teresa Montaño's Spanish restaurant Otoño Monday through Friday from 4:30 to 6:30 p.m. and then again on the weekends from 2:30 to 6:30 p.m. Available at the bar and patio area tapas range from $5 to $12 and include Pan Con Tomate, Frito Mixto and a Jamon Croqueta. An excellent selection of Spanish sandwiches on house-made stecca bread run $10 to $15 during this time as well. Wash it all down with a $9 sangria, or for those looking to try something from the Basque Country, they have an excellent $11 Atxa white vermouth.
The Greyhound
It's easy to unexpectedly walk into The Greyhound in Highland Park when happy hour is happening. The happiest of hours is held 3 to 5:30 p.m. everyday, all day on Mondays and a late night version takes place Monday through Thursday from 10 to 11 p.m. Food deals include an onion smash burger for $9, boneless wings for $8 and more. Happy Hour drinks during this time cost $8 for well drinks, $8 for wines and $6 for draft beers.
ETA
Highland Park's neighborhood cocktail spot ETA offers $1 happy hour oysters daily from 4 to 6 p.m. (or until they run out) along with a number of cocktails like Old Fashioned and Daiquiris for $11 and $2 off wines by the glass. Check ETA's Instagram to see what kind of oysters are featured for the day and for live music nights.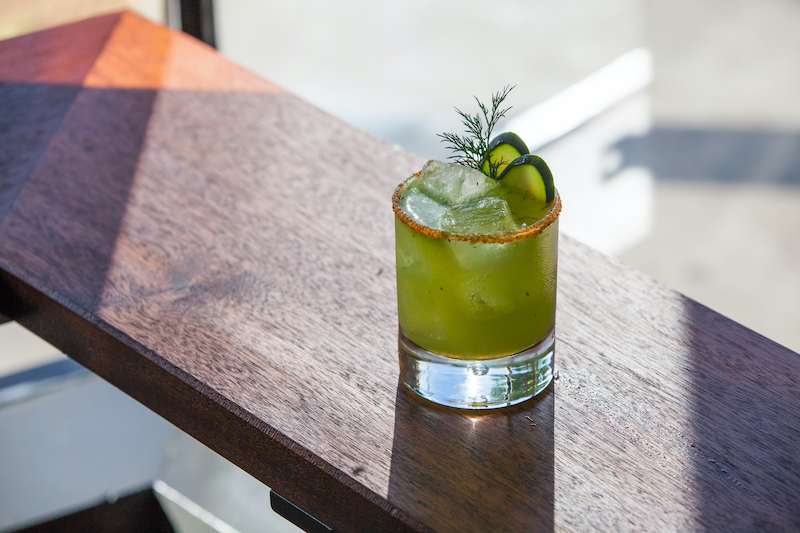 Long Beach
San Pedro Fish Market
San Pedro Fish Market Long Beach location hosts a happy hour featuring a number of seafood specials and cocktails. During this time Chowda Fries, Fish Tacos and Ceviche Tostada are all under $10, draft beers are $5, wine by the glass is $6 and specialty cocktails cost $7. Happy hour runs Monday through Thursday from 3 to 7 p.m., exclusively at San Pedro Fish Market Long Beach. Additionally the restaurant hosts several deals throughout the week. Find the list of specials here.
Selva.
Colombian Chef Carlos Jurado's Selva. features a Colombian and South American inspired menu with a vibrant happy hour the runs Wednesday through Sunday from 4 to 6 p.m. A selection of drinks are $6 and bites such as arepas, ceviche, chicharron, sweet plantains, mushroom croquettes and chicken "wangs" range $7-$12.
Los Feliz
Atrium
Atrium's happy hour runs daily from 4 to 6 p.m. Stop in for freshly shucked oysters, open face toasts ($8), an Apero Plate ($12) or Atriums signature burger ($12.) A number of specialty cocktails by Beverage Director Ornella Ashcraft are just $9 during this time too.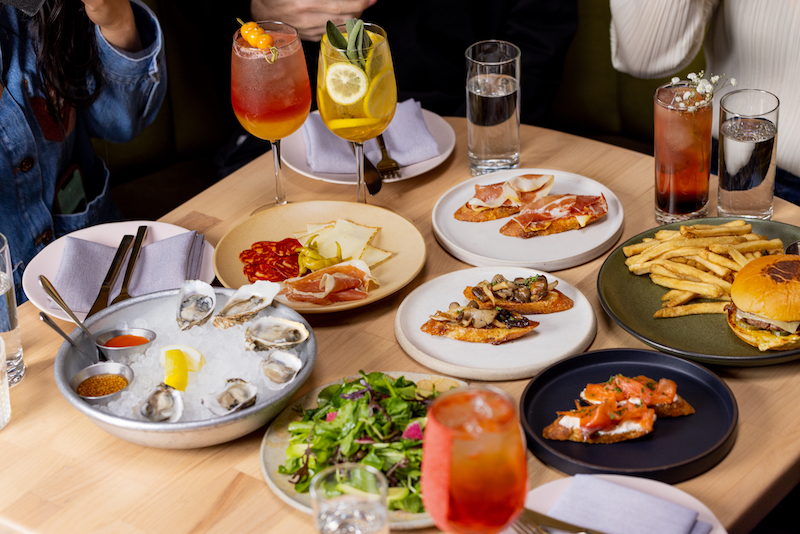 Little Dom's
Not exactly a happy hour but Monday Night Supper at Little Dom's has been going on for years. Happening weekly the popular special offers a three-course meal for just $25 every Monday. The rotating menu is listed on the restaurants website as well as on Little Dom's Instagram stories every week. Diners also have the option to add a bottle of Little Dom's House Blended Drago Red or White Wine to their meal for $25. Draft beers will set you back a cool $5.
Santa Monica
Birdie G's
Birdie G's "Early Birdie's Happy Hour" is offered daily from 5-6 p.m. in the "The Bird's Nest" bar and lounge area. The menu includes bar snacks and shared plates like Rueben Fries, Corned Beef Tongue to Chicken Liver Mousse all priced between $5 to $14. Larger plates such as Birdie's famous Pickle Chick is offered during this time for $34. Most beers, wines and cocktails are $12 and a featured mocktail is $4.
Citrin
Chef Josiah Citrin's Santa Monica restaurant Citrin hosts a happy hour called "Evening Glass Off" every Tuesday through Saturday from 5:30 p.m. to 7 p.m. Available only at the bar, the menu does not include bar bites. Far from it. At Citrin dishes during happy hour range from a Lobster Bolognese in a Brown Butter Truffle Froth for $15 to a Wagyu Sirloin from Snake River Farms for $22. A selection of wines are $10 during this time, a list of nine cocktails are all $11 and select beers are available for $7.50.
dono
Head to dono for Tapas Tuesday from 5 to 7 p.m. and choose three items from the tapas menu for $22. Prepared by Chef Brendan Collins, the shareable dishes include Croquetas Jamón, Manchego Stuffed Bacon-Wrapped Dates, and fried cod with crispy potatoes. Also on the menu are wines for $7, Estrella Pilsner for $8 and well drinks for $9.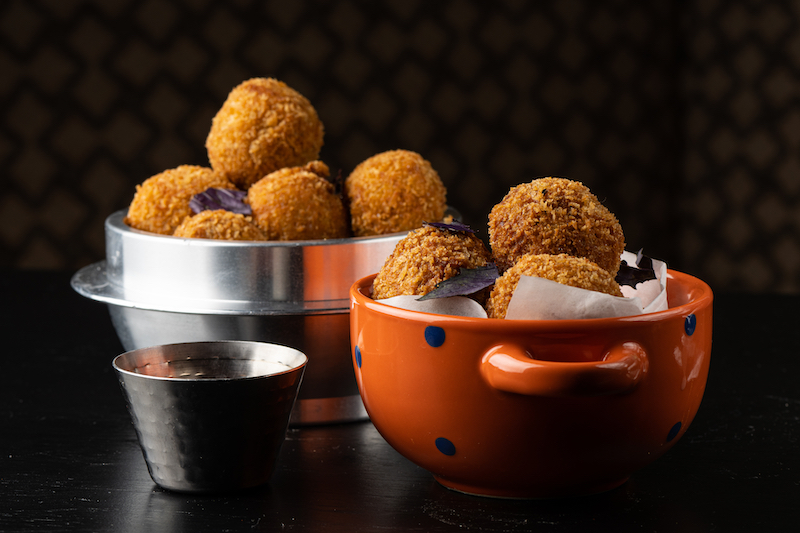 Milo + Olive
Aperitivo Hour at Milo + Olive runs Monday through Thursday between 3 to 5 p.m. The menu features a selection of cicchetti (small snacks) that include Whipped Peads & Barnett's Lardo with local stone fruit, Roasted Grape Toast, a Cheese & Charcuterie Plate and more. Prices range from $3 for bites to $22 for the charcuterie. $11 glasses of wine as well as Italian cocktails like Americano, Negroni and more are also part of the deal.
FIG Restaurant
Sometimes it pays off to be an early diner. That's certainly the case at the Fairmont Miramar's FIG Restaurant when happy hour means the entire dinner menu (with some exceptions) is half off. Happy hour at FIG takes place Tuesday through Saturday from 5 to 6 p.m.
Lunetta
Golden Hour at Lunetta runs Tuesday through Friday from 4 to 7 p.m. with tasty bar snacks that range $9-$14 that includes Salmon Sliders, Baked Brie, Octopus Tacos to a Meatball Sandwich. During Golden Hour a selection of cocktails, beers and wines by the glass are all $2 off. Cheers to that!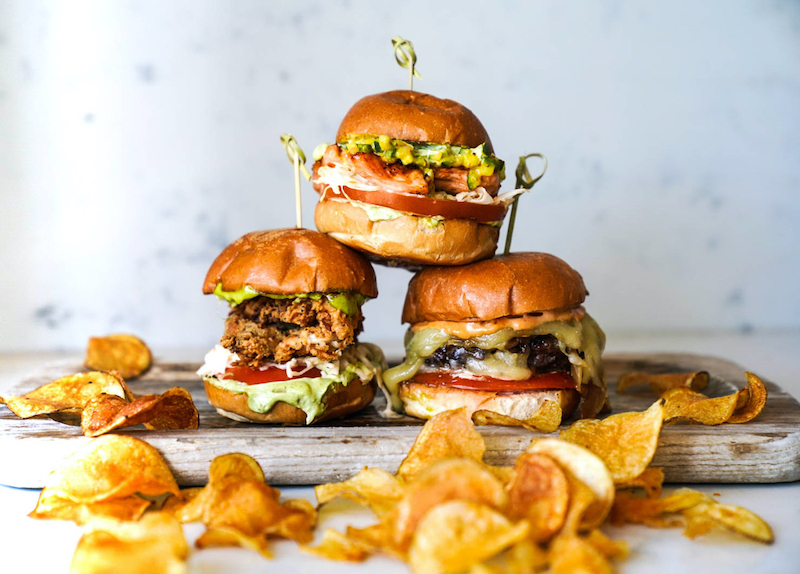 Esters Wine Shop & Bar
Esters Wine Shop & Bar's happy hour runs daily from 4 to 6 p.m. A selection of wines are $10 by the glass, featured beer is $5 and the happy hour cocktail of the day is $10. To start, nibble on a snack plate of lavender almonds, marinated olives, curry cashews, and toasted pepitas for $15 or a $20 charcuterie plate. A half dozen oysters ($20) are also on the happy hour menu.
Tallula's
Coastal Mexican restaurant Tallula's has a happy hour Monday through Friday from 4 to 6 p.m. During this time guests can enjoy oysters on a half shell for $2.50, nachos for $9 and tacos for $7. Palomas and Margaritas are just $10, rotating beers are $6 and wines by the glass are $9. Stop in from 4 to 9 p.m. on Taco Tuesdays to take advantage of Happy Hour pricing all-night long on snacks, drinks and tacos.
Venice
Charcoal
The Glass Off menu at two-star Michelin Chef Josiah Citrin's Charcoal is almost too good to be true. Available at the bar daily between 5:30 p.m. to 7 p.m., the menu features elevated bites including smoked lamb ribs, chicken wings, skewers to grilled calamari all priced between $4-$7. You'll also find more substantial offerings, including steak frites, a Charcoal Burger and a Crispy Charred Potato Bowl with marinated steak for $12-$16. Happy hour cocktails go for $12, while highballs are $11.
Belles Beach House
Catch some island vibes at Belles Beach House. During happy hour (Monday through Thursday from 4 to 6 p.m.) a selection of Tiki cocktails and wines are $10, tropical slushie shots are $4, beers are $6 and bites such as Crispy Rock Shrimp and Mochiko Chicken Nuggets are $10.
Marina Del Rey
Whiskey Red's
Spend a Wednesday or Thursday feasting, drinking and admiring the dockside views of Marina Del Rey. Whiskey Red's happy hour runs 3 to 6 p.m. and the deals are truly worth it. There's a half off food menu where diners can get a fantastic Beer Battered Fish & Chips plate for $10, Truffle Butter Parmesan Fries for $4.50, Half Dozen Oysters for $12 and much more. On the drinks side beers, cocktails and glasses of wine are priced at either $5, $7 or $9. Happy Hour goers have to sit in the bar and lounge area to take advantage of the deals.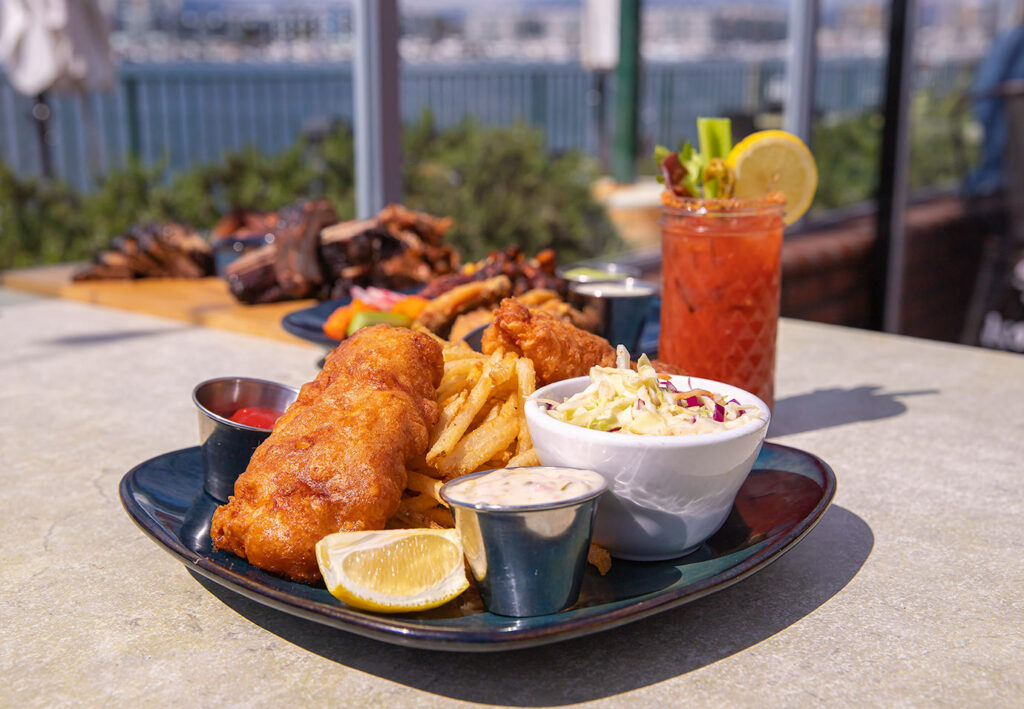 Silver Lake
Red Lion Tavern
This old school German beer garden and restaurant has served the Silver Lake neighborhood for over 60 years. Red Lion's extra long happy hour runs Monday through Friday from noon to 6 p.m. During this time you can score German beers, wine and well drinks for $6 to $7. Order the sausage platter that features three kinds of German sausages for $9.75 and fried German pickles $6.50. Prost!
North Hollywood
Idle Hour
Happy hour is everyday at Idle Hour. Happening Mondays through Fridays from 3 to 6 p.m. and then once more on Sundays. Stop in for $6 bites, $7 cocktails like a Collins or Old Fashioned, $6 well drinks and wine and $2 off all beer. If day drinking is your thing come by on Saturdays when happy hour runs 1 to 6 p.m.
Glendale
The Greyhound
There's a lot going on at the newly opened Glendale location of The Greyhound. Happy hour includes $2 oysters, discounts on beer and wine every Thursday through Sunday from 3:30 to 6:30 p.m. And a Wing Wednesday promo is also put into place where patrons can get 75 cent wings from 4-10 p.m. every week.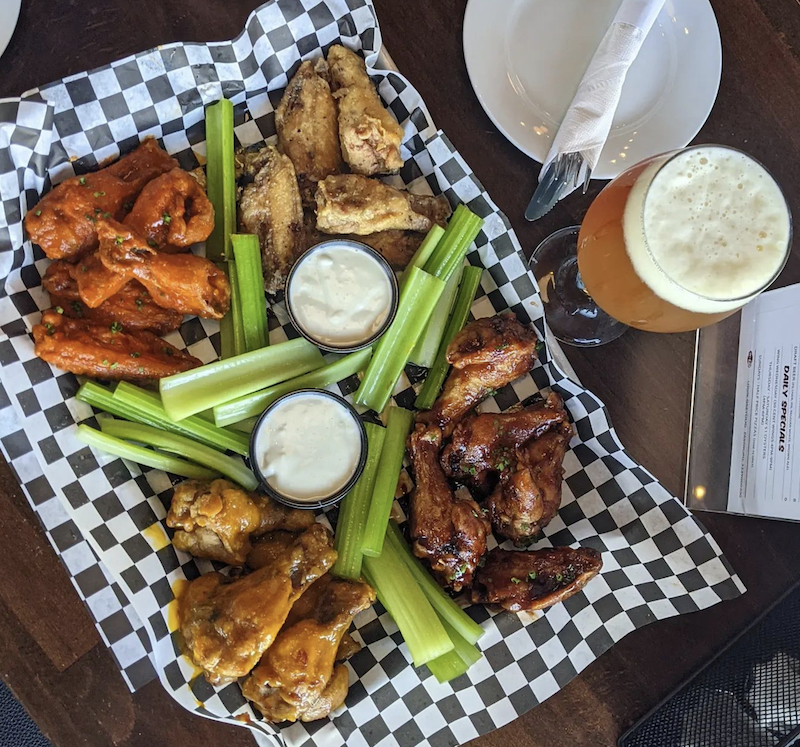 Hollywood
Mama Shelter
Mama Shelter's downstairs lobby bar is offering $3 oysters every Wednesday from 4 to 6 p.m. in addition to their daily food and drink happy hour. Sips during this time range from beers, wines to cocktails priced between $3 to $8 and food such as Cottage Fries for $6 and Baby Back Ribs for $15.
Koreatown
Escala's Colombian Korean happy hour menu includes two for $5 empanadas stuffed with kimchi fried rice or beef and potato, $3 street corn, $5 chicken tamales and more. On the drinks side, an Old Fashioned is $7, pints of beer $5, a whole bucket of beers is only $22 and well drinks at $7 each. Happy hour runs daily from 4 to 7 p.m. and a late night version happens Sunday through Thursday from 11 p.m. to 1 a.m.
Little Tokyo
Far Bar
Far Bar hosts happy hour Tuesday through Friday from 3 to 7 p.m. with a number of drinks on special like $9 cocktails and a Sapporo & Sake shot for $6. Happy hour food specials range $6-$13 and include tacos, wings, loaded tots, sliders and a burger specials where $13 gets you a burger, fries and either a soda or Sapporo beer.
Studio City
Banditos Tacos & Tequilas
Taco Tuesday at Banditos is the spot for $3 tacos, diners can choose from eight different fillings including brisket, chipotle chicken and carne asada. You can also get $3 tequila shots and $7 margaritas
---
Got a suggestion for our happy hour update? Want to let us know about a change on one of the menus mentioned above? Feel free to write in to [email protected], subject line 'happy hours in L.A.'