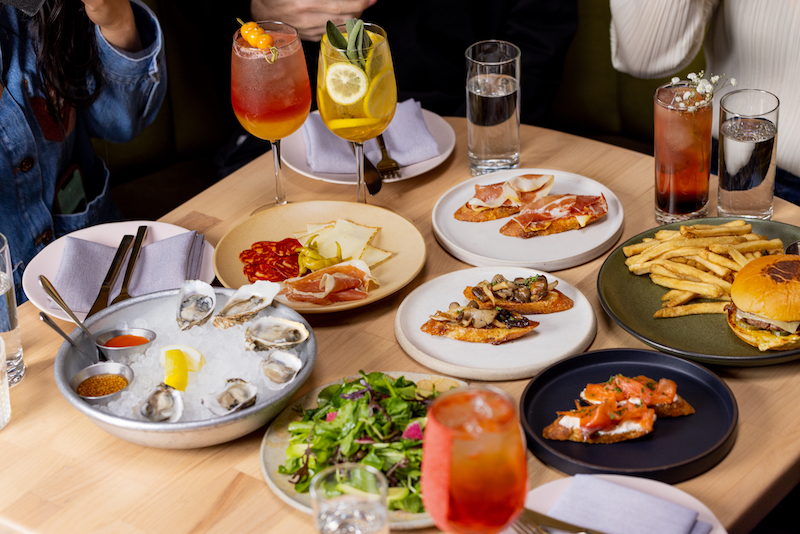 The past two years have been rough. We can all do with a little "pick me up" and I have just the thing: An absurdly comprehensive guide for happy hours in Los Angeles. The list that follows contains some 40 options located in over a dozen different neighborhoods and incorporated cities across Los Angeles County. Why so many, you ask? Simply put, because you guys F$*@!-ing deserve it.
Consider this guide a playbook put together by an Angeleno who simply can't pass up a good deal and knows a thing or two about good food. And in that spirit, next time you're planning a happy hour hang, I hope this post is the first link you share with your friends.
ALSO: Remember that lists like this are living organisms. Never quite complete, always being updated, trimmed, or expanded. So if you feel like we need to consider a new spot, be sure to DM us on Instagram your suggestion and I'll gladly conduct further "research." It would, in fact, be my pleasure. But for now… enjoy the list!
Burbank
The Burbank Pub
The pirate-themed Burbank Pub has a three-hour special on food and drinks they've dubbed the "High Seas Happy Hour"every Tuesday through Saturday from 2 to 5 p.m. Food ranges $3-$7 and includes tasty bar bites like crispy brussels sprouts in Caribbean spices, SPAM sliders on Hawaiian buns, fish tots and a smashburger. Happy hour beer, wine and well drinks are all just $5 and a number of featured tiki cocktails run $8-$9.
Yakumi
Yakumi is offering $5 drinks and 20% off all combination boxes during happy hour, Monday through Friday, from 3 to 6 p.m. That means sushi lovers can a Light Box (regular $16) to the Yakumi Plus (regular $37) at a fraction of the price.
Culver City
Vamonos Tacos
Vamonos Tacos in Culver City runs a happy hour Monday through Thursday from 5 to 7 p.m. and Sunday from 4 to 7 p.m. Happening exclusively at the bar and front patio the menu includes tequila and mezcal flights for $18 and food items that range $6-8 such as tacos, taquitos and mini quesadillas. Look out for daily specials at Vamonos too. During Margarita Mondays guests can order a 21 oz cocktail bowl for just $16 and Thursdays hosts an $11 Shot & Beer special.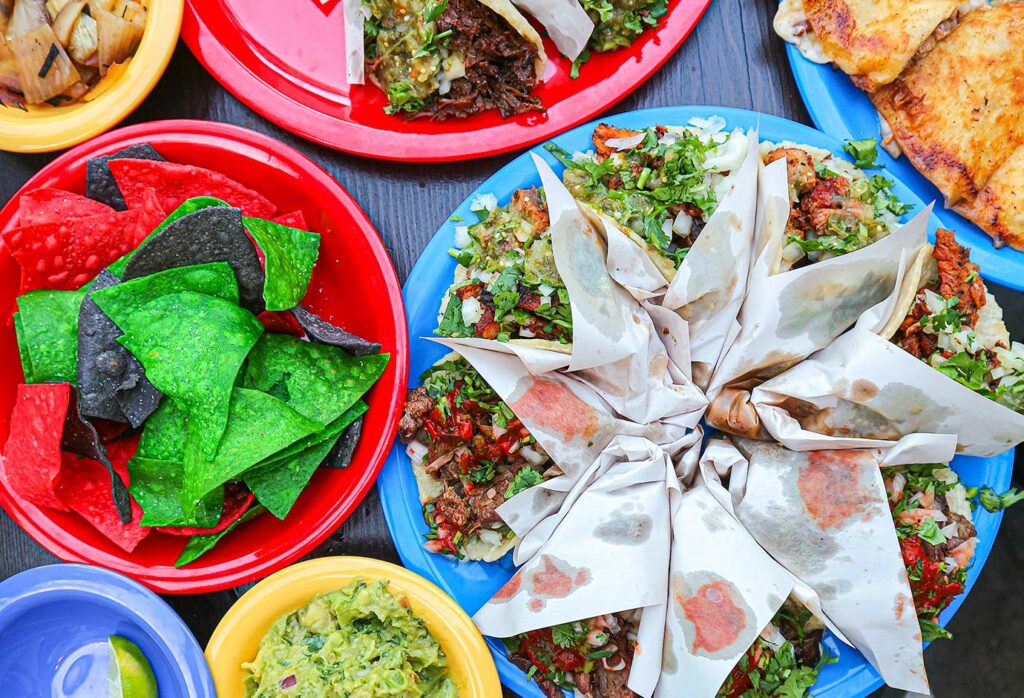 Piccalilli
Happy hour is available every day at Piccalilli from 4:30 to 6 p.m. and then again from 11 p.m. to close. On the "California Asian" inspired menu are snack-able items such as Popcorn Chicken for $10 and Smashed Cucumber Salad for $7, cocktails during this time range from $8-$12 while beer and wine run $5 to $9.
Downtown Los Angeles
Gusto Green
The 420 happy hour at Gusto Green happens Tuesday through Friday from 4:20 to 6 p.m. where you can get a sourdough pizza and a pint of beer for just $20. Keeping with the theme of 420, Gusto Green is one of the rare restaurants in the city where edible hemp leaves can be found in multiple dishes, including Loaded Sweet Potato Fries, Hemp Leaf Pizza, Hemp Leaf Calo Verde, and Hemp Wilted Market Greens Salad. Treat yourself.
Smoke City Char Bar
Smoke City Char Bar in the Arts District in Downtown Los Angeles hosts Sundown Happy Hour from 9 p.m. to close Thursday through Saturday. The reverse happy hour menu includes $1 wings, $3 sliders, $5 nachos, $5 chili cheese fries, $10 smokey sangria and $1 off all local drafts and wine.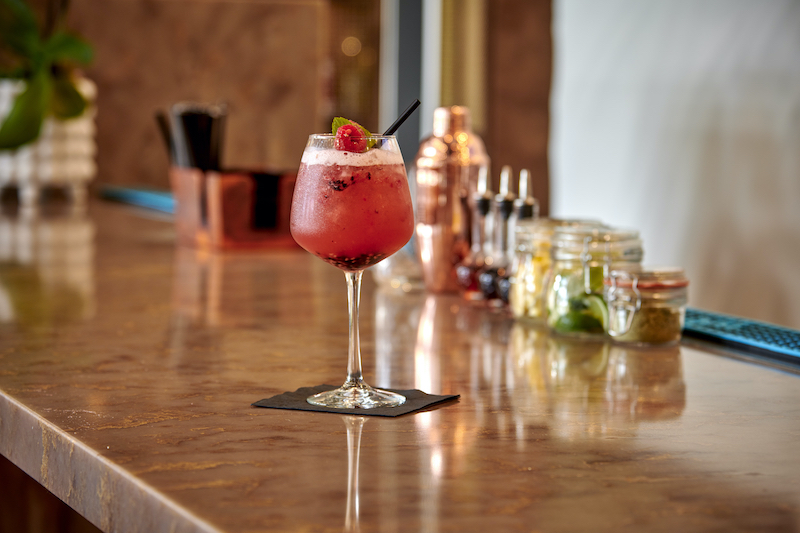 Redbird
Chef Neal Fraser's modern American restaurant Redbird is offering a happy hour menu at the bar where everything is $10. On Wednesday through Friday from 5 to 7 p.m. guests can mix and match craft cocktails while sampling elevated bar bites like scallop crudo in a passionfruit yuzu and duck wings with hot sauce beurre blanc.
LOAM
LOAM at Ace Hotel DTLA hosts a "Golden Hour" every Wednesday through Sunday from 4 to 6 p.m. Diners can feast on $1.50 oysters, $5 deviled eggs and $10 burgers. On the beverage side guests can take advantage of $10 specialty cocktails, $8 house wine and $6 draft beers.
Nick + Stef's
Elevated steakhouse Nick + Stef's happy hour takes place on weeknights Monday through Friday, from 5 to 7 p.m. in both the outdoor and indoor lounges. Bar snacks like smoked deviled eggs, steakhouse sliders, and sweet potato fries are all under $10. A number of featured specialty cocktails are $12 during happy hour, a selection of wines by the glass are $10 each and beers run $6 to 7.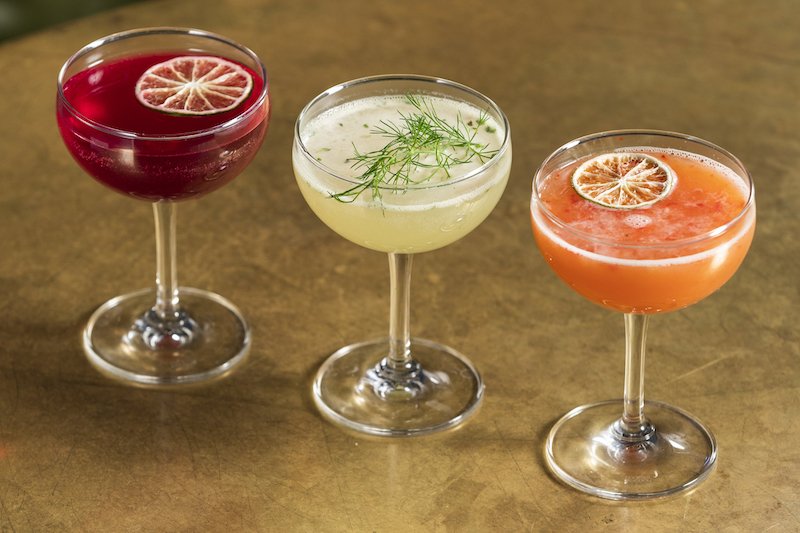 Good Clean Fun
Natural wine bar Good Clean Fun runs a daily Toasty Time every Tuesday through Sunday from 3 to 6 p.m. Diners can take advantage of food and wine specials like $10 glasses of wine, $5 spritz, $2 oysters, a giant pizza roll stuffed with mozzarella, sausage, pepperoni for $7 and a scrumptious mole grilled cheese for $12.
Bar Magnolia
Located inside the historic Hotel Figueroa Bar Magnolia hosts a daily happy hour Monday through Friday from 3 to 6 p.m. in the lounge and bar area. Snack on warm olives ($6), a spinach and artichoke dip ($10), Tuna Tartare ($14) and Crispy Chicken Sliders ($12) durning this time. On the beverage side guests can sip on $10 cocktails, $8 glasses of wine and $7 beers.
Little Llama Peruvian Tacos
Little Llama Peruvian Tacos weekday happy hour runs Monday through Friday from 4:30 to 6:30 p.m. During this two-hour window, guests can indulge in pollo a la brasa tacos on non-GMO corn tortillas ($4), pork belly tacos ($4), shrimp tacos ($5) and American Lager as well as wines by the glass for $5 that can be requested as a carafe (for a fee) to share for the table.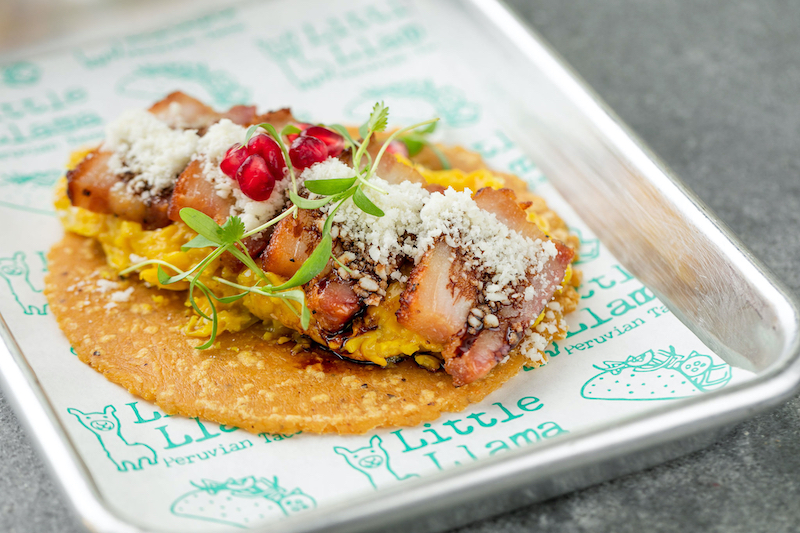 Filipinotown
Genever
James Beard nominated and women owned bar Genever hosts happy hour everyday from 6 to 8 p.m. A number of cocktails as well as wines are $8 during this time including a daily riff on the gimlet and G&T. A selection of beers, seltzers and hard kombucha are also available for $5- $9. If you need snacks with your drink order up a charcuterie plate for $15. Then on your way out put a frozen pizza on your tab to take home. Trust me, it's the right move.
Glendale
The Greyhound
There's a lot going on at the newly opened Glendale location of The Greyhound. Happy hour includes $1 oysters, discounts on beer and wine every Thursday through Sunday from 4 to 6 p.m. And a Wing Wednesday promo is also put into place where patrons can get 75 cent wings from 4-10 p.m. every week.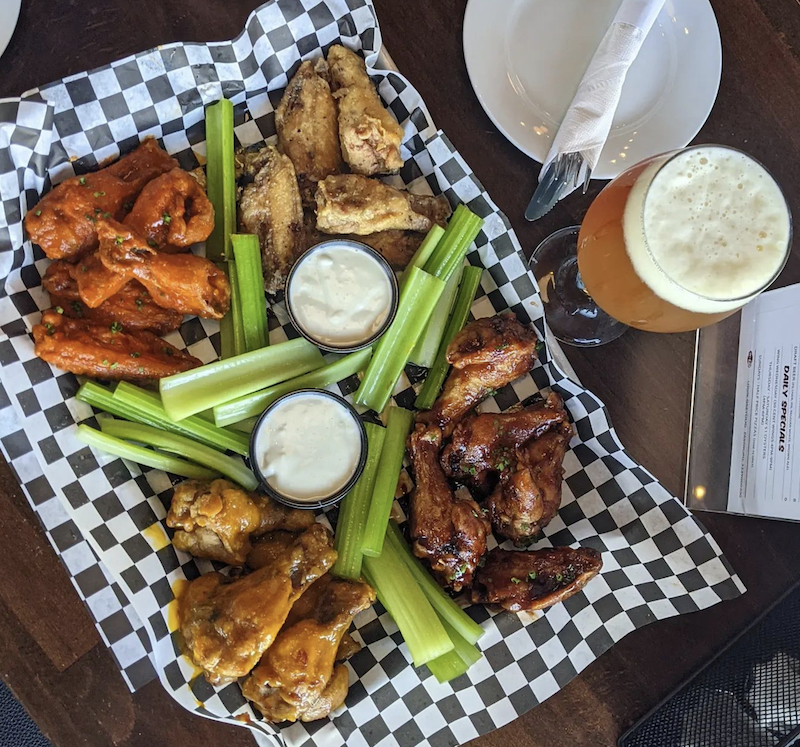 Highland Park
Otoño
It's Siesta Hour everyday from 4:30 to 6:30 p.m. at the bar and patio area of Chef Teresa Montaño's Spanish restaurant Otoño. Tapas range from $5 to $12 and include Pan Con Tomate, Frito Mixto and a Jamon Croqueta. An excellent selection of Spanish sandwiches on house-made stecca bread run $10 to $16 during this time as well. Wash it all down with a $9 sangria, or for those looking to try something from the Basque Country, they have an excellent $11 Atxa white vermouth.
The Greyhound
It's easy to unexpectedly walk into The Greyhound in Highland Park when happy hour is happening. The happiest of hours is held 3 to 5:30 p.m. everyday, all day on Mondays and a late night version takes place Monday through Thursday from 10 to 11 p.m. Food deals include personal pan pizzas for $8.50, a burger for $9, boneless wings for $7 and more. Happy Hour drinks during this time cost $8 for well drinks, $8 for wines and $6 for draft beers.
ETA
Highland Park's neighborhood cocktail spot ETA offers $1 happy hour oysters daily from 5 to 8 p.m. (or until they run out) along with a number of cocktails like Old Fashioned and Daiquiris for $10 and featured wines for $10 a glass. Check ETA's Instagram to see what kind of oysters are featured for the day and for live music nights.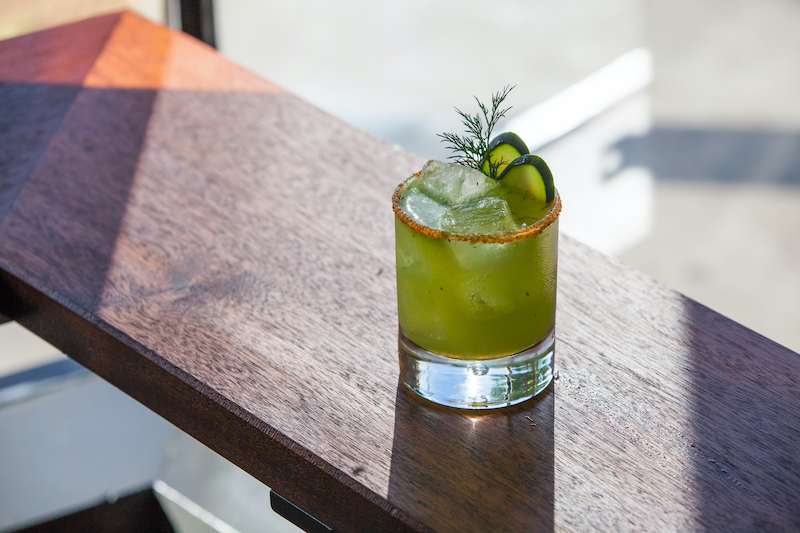 Hollywood
Mama Shelter
Every Wednesday from 4 to 6 p.m. Mama Shelter's downstairs lobby bar is offering $1 oysters and $5 Martinis in addition to their daily drink happy hour where sips range from $3-$4. An absolute steal in Hollywood!
Koreatown
Escala's Colombian Korean happy hour menu includes two for $5 empanadas stuffed with kimchi fried rice or beef and potato, $3 street corn, $5 chicken tamales and more. On the drinks side, an Old Fashioned is $7, pints of beer $5, a whole bucket of beers is only $22 and well drinks at $7 each. Happy hour runs daily from 4 to 7 p.m. and a late night version happens Sunday through Thursday from 11 p.m. to 1 a.m.
Little Tokyo
Far Bar
Far Bar hosts happy hour Tuesday through Friday from 3 to 7 p.m. with a number of drinks on special like $5 Guinness, $9 cocktails and a Sapporo & Sake shot for $6. Daily food specials include a Taco Tuesday where you can get two tacos for $5-$7; Wednesday Wings night ($8 for five); Thursday TOTS night $5 to $8 and Fridays are all about burgers where $13 gets you a burger of your choice, fries and either a soda or Sapporo beer.
Long Beach
Roe Seafood
Coastal casual restaurant Roe's happy hour runs Monday through Friday from 3 to 6 p.m. Designed for seafood lovers, the happy hour menu includes oysters for $3, Peruvian Scallops for $3.50 as well as whole meals like a $10 Poke Bowl and $8 Shrimp Fried Rice. A selection of cocktails, wines and beers all range $5-$8 during happy hour.
San Pedro Fish Market
San Pedro Fish Market Long Beach location hosts a happy hour featuring a number of seafood specials and cocktails. During this time Chowda Fries, Shrimp Toast and Seafood Tostada are all under $10, draft beers are $5, wine by the glass is $6 and specialty cocktails cost $7. Happy hour runs Monday through Thursday from 3 to 7 p.m., exclusively at San Pedro Fish Market Long Beach. Additionally, stop by on Wednesdays for "Margarita Wednesdays" where all margaritas are $7 and specialty tacos are $2.99.
Selva.
Colombian Chef Carlos Jurado's Selva. features a Colombian and South American inspired menu with a vibrant happy hour the runs Wednesday through Sunday from 4 to 6 p.m. A selection of drinks are $5 and bites such as arepas, ceviche, chicharron, sweet plantains, mushroom croquettes and chicken "wangs" range $7-$12.
Los Feliz
Big Bar
Happy hour at Big Bar includes $2 off beers, $8 wines by the glass, a $10 cocktail of the week and an Afternoon spritz for $10. Bar bites like Yukon gold fries ($5) tempura battered crispy cauliflower ($8) and a very solid burger ($12) are provided by Alcove which shares the space and garden patio with Big Bar. Stop in Monday through Friday from 2 to 7 p.m. to enjoy the specials. Big Bar is also conveniently located near The Greek Theatre, making it an ideal spot for a pre-show drink.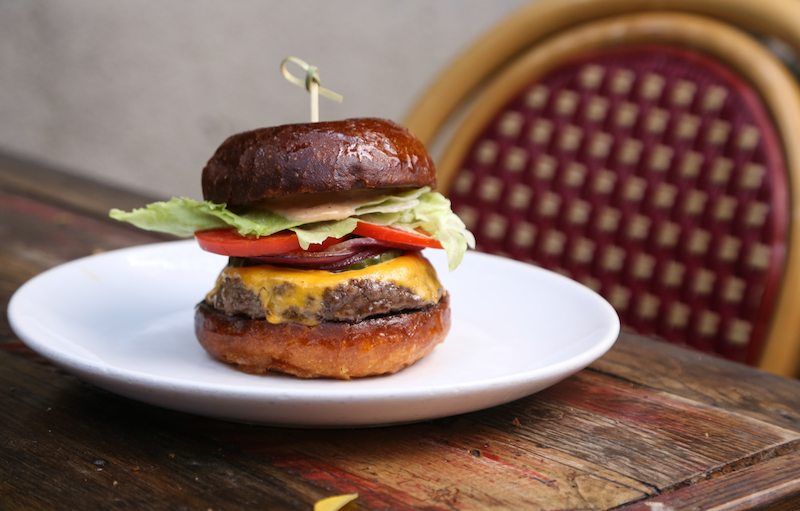 Atrium
Atrium's happy hour runs daily from 4 to 6 p.m. Stop in for freshly shucked oysters, open face toasts topped with smoked salmon ($8), an Apero Plate ($12) or Atriums signature burger ($10.) A number of specialty cocktails by Beverage Director Ornella Ashcraft are just $8 during this time too.
Little Dom's
Not exactly a happy hour but Monday Night Supper at Little Dom's has been going on for years. Happening weekly the popular special offers a three-course meal for just $25 every Monday. The rotating menu is listed on the restaurants website as well as on Little Dom's Instagram stories every week. Diners also have the option to add a bottle of Little Dom's House Blended Drago Red or White Wine to their meal for $20. Draft beers will set you back a cool $4.
Marina Del Rey
Whiskey Red's
Spend a Thursday feasting, drinking and admiring the dockside views of Marina Del Rey. Whiskey Red's happy hour only runs for one day for three hours (3 to 6 p.m.) but the deals are truly worth it. There's a half off food menu where diners can get a fantastic Fish & Chips plate for $10, Truffle Parmesan Fries for $4.50, Half Dozen Oysters for $12 and much more. On the drinks side beers, cocktails and glasses of wine are priced at either $5, $7 or $9. Happy Hour goers have to sit in the bar and lounge area to take advantage of the deals.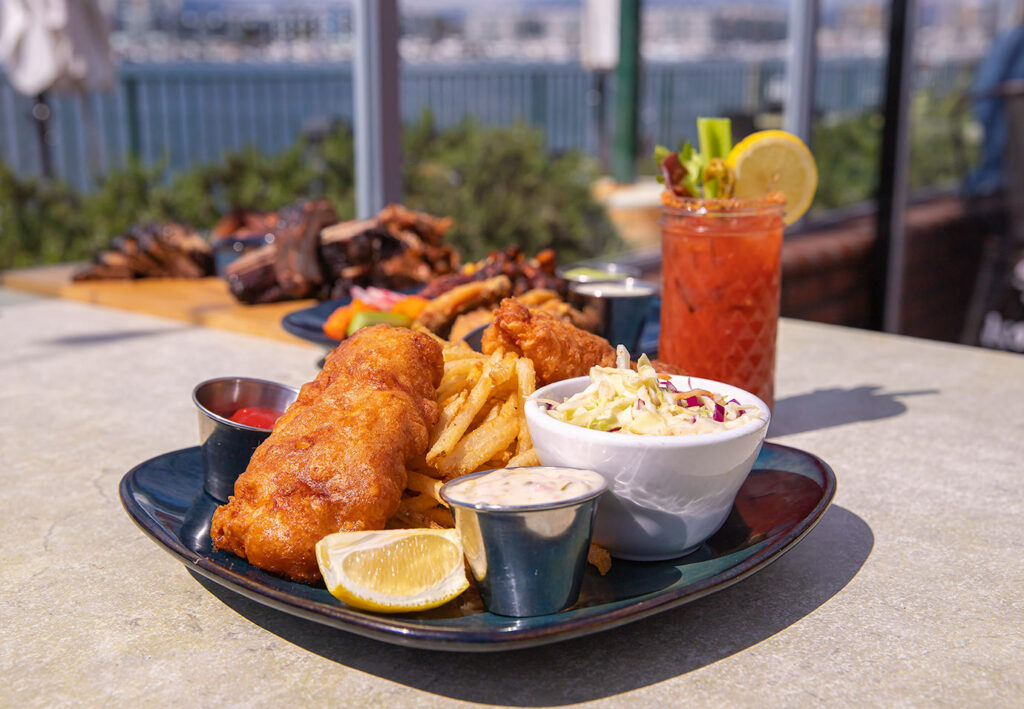 North Hollywood
Idle Hour
Happy hour is everyday at Idle Hour. Happening Mondays through Fridays and then again on Sundays stop in from 3 to 6 p.m. for $6 bites, $7 cocktails like a Collins or Old Fashioned, $6 well drinks and wine and $2 off all beer. If day drinking is your thing come by on Saturdays from 1 to 6 p.m. for happy hour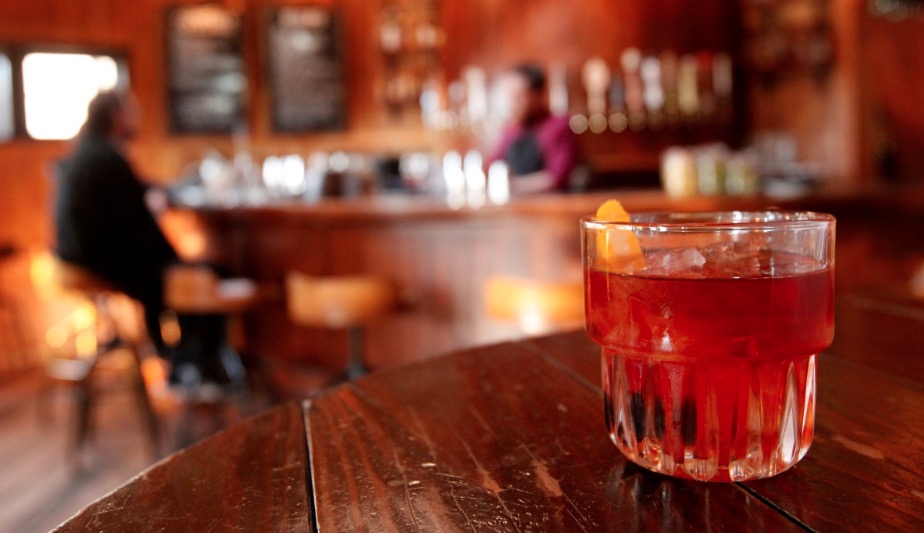 Playa del Rey
Playa Provisions
Brooke Williamson's Playa Provisions happy hour runs Monday through Friday from 5 to 6 p.m. in Dockside (the restaurant's sit-down seafood-focused spot) and 6 to 7 p.m. in Grain (the hidden whiskey bar in the back of Playa Provisions). Happy Hour snacks include shareable plates of Garlic & Pepper Fried Calamari, Pretzel Bites with Jalapeño Beer Cheese, Smoked Trout Dip and Sweet Corn Hush Puppies. Cocktails on special during this hour include classics like a French 75, Old Fashioned and Dirty Martini to name a few.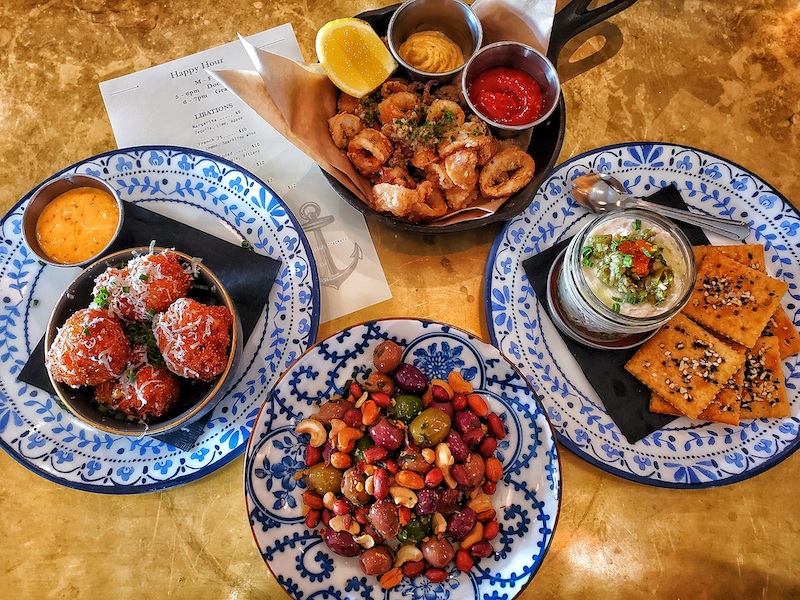 Playa Vista
Bull & Butterfly
California ranch style steakhouse Bull & Butterfly hosts a daily happy hour from 3 to 5 p.m. that features $9 craft cocktails, $9 wines by the glass, beer deals, and rotating food specials only available during happy hour. Dishes like roasted artichokes, jalapeño mac and cheese and beef sliders with house made potato chips have all appeared on the menu. It's kind of a surprise with the happy hour food but if you must know, try checking the restaurants Instagram for details.
Santa Monica
Citrin
Chef Josiah Citrin's Santa Monica restaurant Citrin hosts a happy hour called "Evening Glass Off" every Tuesday through Thursday from 5:30 p.m. to 6:30 p.m. Available only at the bar, the menu does not include bar bites. Far from it. At Citrin dishes during happy hour range from a Lobster Bolognese in a Brown Butter Truffle Froth for $15 to a Wagyu Sirloin from Snake River Farms for $22. A selection of wines are $10 during this time, a list of nine cocktails are all $11 and select beers are available for $7.50.
FIG Restaurant
Sometimes it pays off to be an early diner. That's certainly the case at the Fairmont Miramar's FIG Restaurant when happy hour means the entire dinner menu (with some exceptions) is 50% off. Happy hour at FIG takes place Tuesday through Saturday from 5 to 6 p.m.
Lunetta
Golden Hour at Lunetta runs Wednesday through Friday from 4 to 7 p.m. with tasty bar snacks that range $8-$14 that includes Mezcal Mussels, Grass-Fed Sliders and House Made Potato chips with a side of French Onion Dip. During Golden Hour a selection of cocktails, beers and wines by the glass are all $2 off. Cheers to that!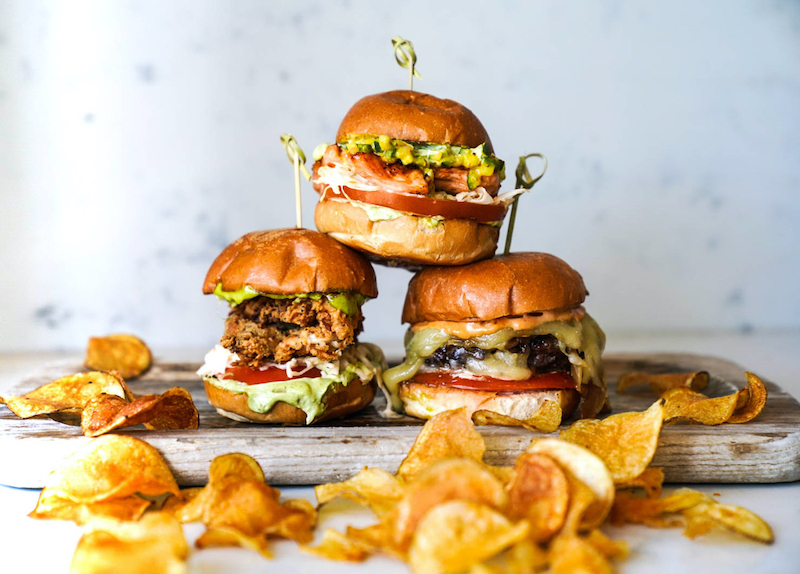 Esters Wine Shop & Bar
Esters Wine Shop & Bar's happy hour runs daily from 4 to 6 p.m. A selection of wines are $10 by the glass, featured beer is $5 and the happy hour cocktail of the day is $10. To start, nibble on a snack plate of lavender almonds, marinated olives, curry cashews, and toasted pepitas for $13 or a $20 charcuterie plate. A half dozen oysters ($20) are also on the happy hour menu.
Tallula's
Coastal Mexican restaurant Tallula's has a happy hour Monday through Friday from 4 to 6 p.m. During this time guests can enjoy oysters on a half shell for $2.50, nachos for $9 and tacos for $7. Palomas and Margaritas are just $10, rotating beers are $6 and wines by the glass are $9.
Sawtelle
Hermanito
Sawtelle's Hermanito is a Mexican bar and eatery that infuses Japanese inspired ingredients into their eclectic menu. Stop in for the "Off-Hour Menu" Thursday through Sunday from 3 to 5 p.m. Specials during this time include al pastor tacos, sharable nachos and crispy lemongrass wings for $8 to $11. A selection of craft cocktails including a High Ball, and Margarita are specially priced at $10. And, if you are looking for a place to dine outdoors, Hermanito can't be beat with three patio spaces, each distinguished by unique decor.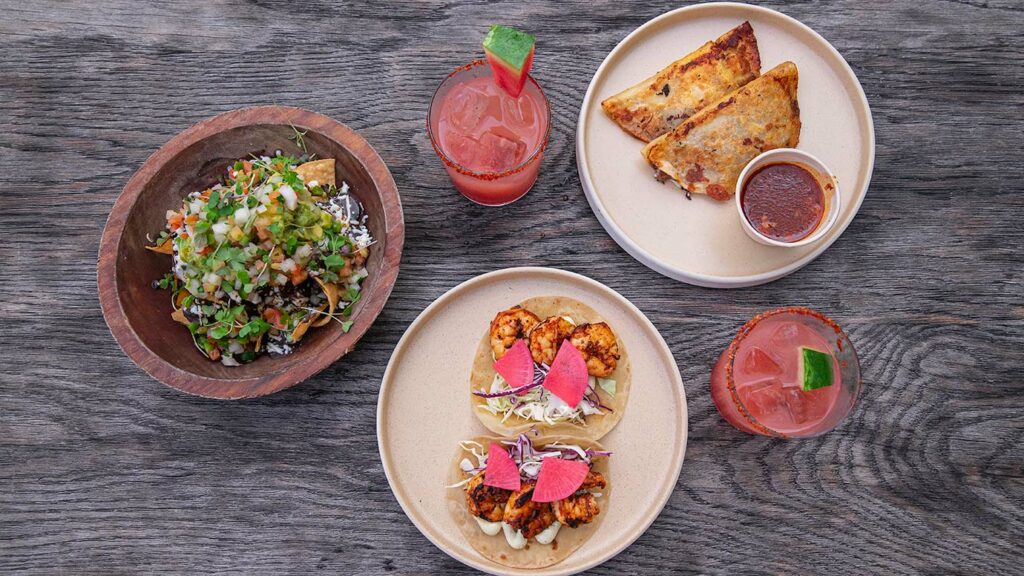 Sherman Oaks
Boneyard Bistro
Take advantage of 25% off draft beers and wine by the glass, $6 well drinks and food specials from Monday through Friday from 4:30 to 6:30 p.m. For late night eaters, Boneyard Bistro's 9 p.m. till close deal is 25% off the barbecue menu as well as discounts on drinks. And Mondays at the bbq bistro is 25% draft beers all day long.
Silver Lake
Red Lion Tavern
This old school German beer garden and restaurant has served the Silver Lake neighborhood for over 60 years. Red Lion's extra long happy hour runs Monday through Friday from noon to 6 p.m. During this time you can score German beers, wine and well drinks for $6 to $7. Order the large warm pretzel for $5.50 and a large sausage platter that features three kinds of German sausages plus pickles, peppers and mustard for $9.75. Prost!
Hyperion Public
Happy hour at Hyperion Public takes place everyday from 3 to 6 p.m. Divided into three pricing tiers, $3 can get you items like a PBR Tall Boy or fries, at the $6 mark are well drinks as well as crispy shrimp tacos and a grilled cheese sandwich; and $9 gets you a cocktail like a margarita or beef sliders.
Studio City
Banditos Tacos & Tequilas
Taco Tuesday at Banditos is the spot for $2 tacos, diners can choose from eight different fillings including brisket, chipotle chicken and carne asada. Shrimp tacos are $4, tequila shots are $3 and margaritas are $5. There's also a 2-4-1 happy hour that runs Monday, Wednesday, Thursday and Friday from 4 to 7 p.m. on all drinks.
Venice
Belles Beach House
Catch some island vibes at Belles Beach House. During happy hour (Monday through Thursday from 4 to 6 p.m.) a selection of Tiki cocktails are $10, beers are $6 and bites such as Crispy Rock Shrimp and Mochiko Chicken Nuggets are $10.
West Hollywood
Madre (West Hollywood, Palms and Torrance)
Oaxacan food can be hard to find in some parts of the city, and a Oaxacan focused happy hour is rarer still. At Madre, savor a sizable menu of over a dozen small plates including $6 mole chicken nachos, $6 seafood tacos and Queso Fundido with chorizo and tortillas for $9. Happy hour cocktails are a mix of mezcal and reposado libations for $9, beers are $5 a pop and wine by the glass as well as micheladas are just $6. Happy hour is available at all three locations (Torrance, West Hollywood, Palms) of Madre from 3 to 6 p.m., Monday through Friday.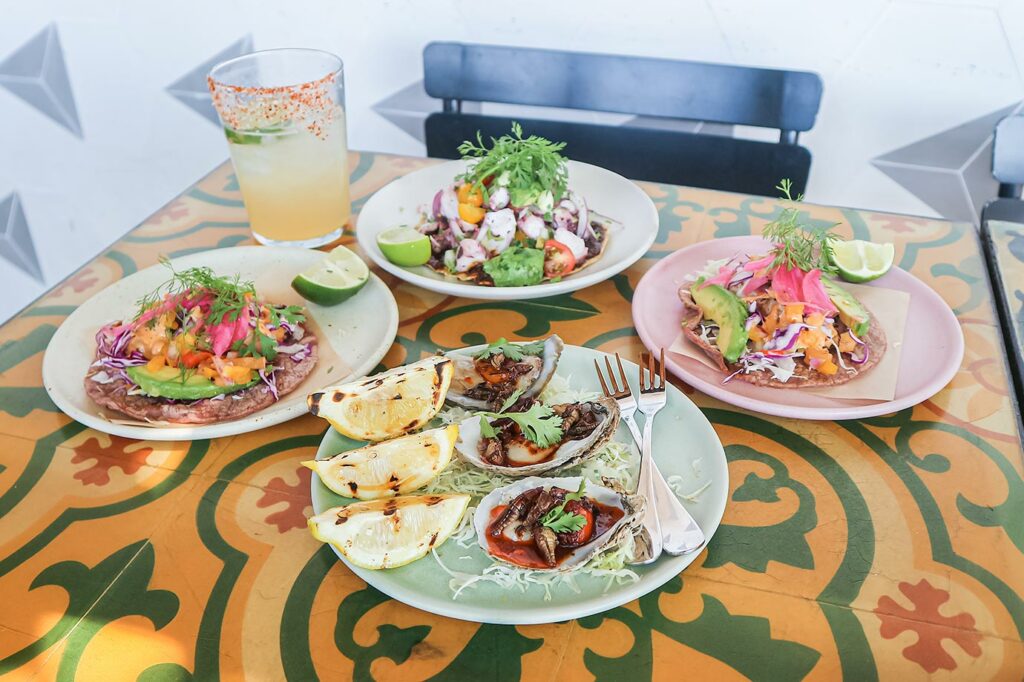 Employees Only
Employees Only is offering a 'Golden Hour' Tuesday through Sunday from 6 to 7 p.m. The one hour happy hour menu is a reinvention of classic bar snacks like fried Potatoes & Pickles, Stuffed Burrata, Prosciutto Grissini and Market Crudo. A number of apéritifs are also available during this time. Prices range $8 to $16.
Gracias Madre
West Hollywood's plant-based restaurant Gracias Madre hosts happy hour on weekdays from 3 to 5 p.m. Almost everything on the menu is $9 including nachos, soy chorizo empanada and tacos (big fan of the "al pastor" here.) Their classic Purista Margarita is also $9 while house wines are $8 a glass and draft beer is $6. Gracias Madre also hosts a Taco Tuesday special where $25 gets you three tacos and a Purista Margarita. Salud!
Theia
Mykonos-inspired restaurant Theía hosts one of the liveliest weeknight happy hours in the city featuring local DJs, belly dancers, and energetic napkin-waving dances. Monday through Friday from 5 to 7 p.m. the restaurant offers an all-vegetarian happy hour menu of Greek mezzes as well as eye-catching cocktails. Prices range $3 to $6 on the food menu, $10 for select cocktails and $5-$6 on beer and wine.
L.P. Rooftop
L.P. Rooftop's daily happy hour runs Monday through Friday from 4 to 6 p.m. Menu highlights include a $9 cheeseburger, $10 calamari, $10 EP Froze, $12 cocktails and more. During summer and fall L.P. also hosts a popular movie screening series on their rooftop, so if you dig the food then consider a dinner-and-a-movie night sometime in the future.
---
Got a suggestion for our happy hour update? Want to let us know about a change on one of the menus mentioned above? Feel free to write in to tips@welikle.com, subject line 'happy hours in L.A.'