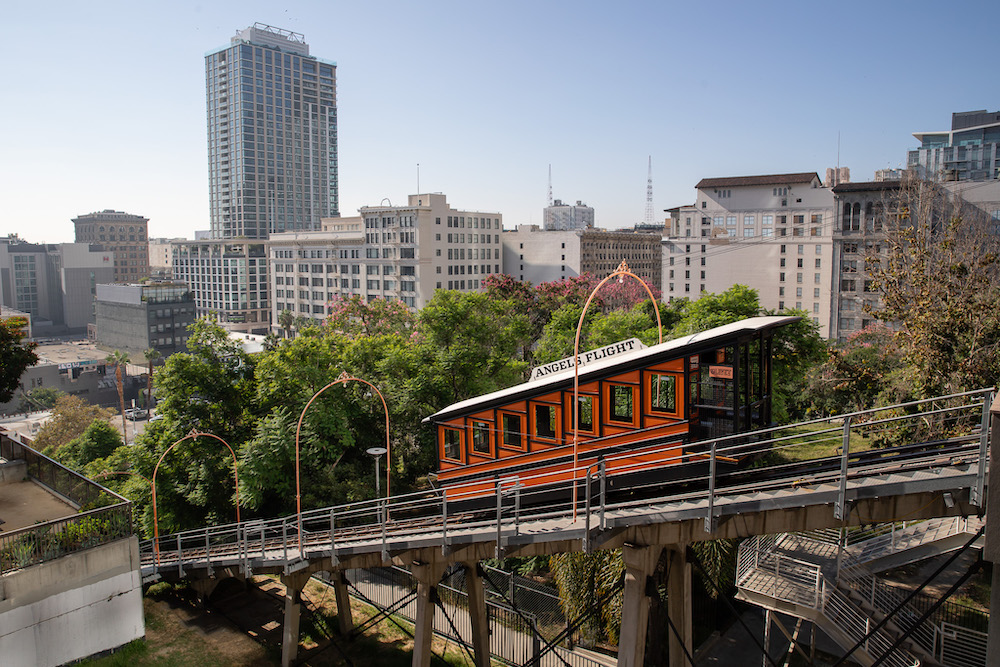 Sometimes the best way to see a city is to literally see a city. And if you know where to look and how to get there, you don't need an admission ticket. Heck, you don't even need a car.
To that end, we've pieced together a quick list of 5 of the most scenic spots in Los Angeles to take in the beauty of the Downtown skyline, and they're all shockingly easy to get to, especially by public transit. Maybe you'll tackle them one at a time, or maybe you'll try to catch them all in a single day. But if you want to you could, and Metro will help you get there (and skip the DTLA parking costs too!).
So grab your TAP card, and let's see what we can see.
City Hall Observation Deck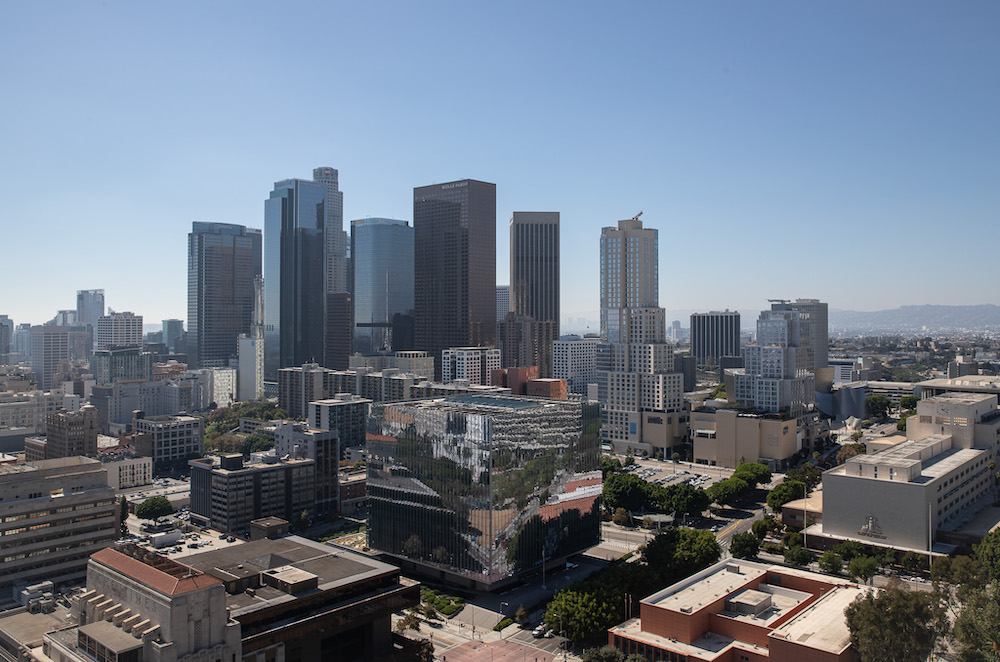 Thanks to a municipal height ordinance enacted in 1905, Los Angeles City Hall was the tallest building in the city for over three decades, from 1928 to 1964. Eventually that ordinance was lifted and Downtown entered its skyscraper era. But even amidst an expanding collection of high rises, City Hall has remained an ideal perch to get an eye-level view of the growing skyline. The 27th floor observation deck offers an almost 360-degree view, showcasing the the Sixth Street Bridge, the 101 freeway, Grand Park, the Hollywood Sign, and many other landmarks. You can visit for free Monday to Friday from 9 a.m. to 5 p.m. Just make sure you bring a photo I.D. to check in at security. More info here.
Go Metro: Take B, D, or J Line to Civic Ctr/Grand Park station, or take the A or E Line to Historic Broadway station.
Vista Hermosa / Lovers Bench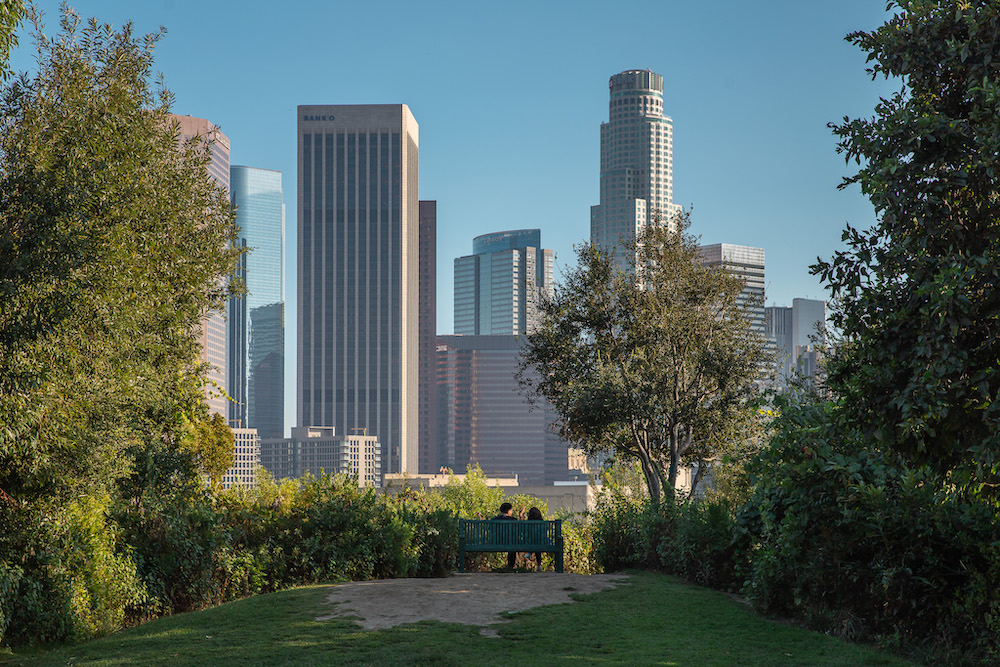 Located just northwest of DTLA between the 110 and 101 freeways, Vista Hermosa Park lives up to it's name, and then some. On the east side of the 10-acre space is the money spot. Here you'll find a gentle hill capped by a pair of benches where parkgoers can head for an up close and personal view of DTLA's tallest offerings. And if you snag the view at golden hour in the afternoon, it's absolutely magical. More info here.
Go Metro: Take 14/37 Line to 1st / Beaudry
Los Angeles State Historic Park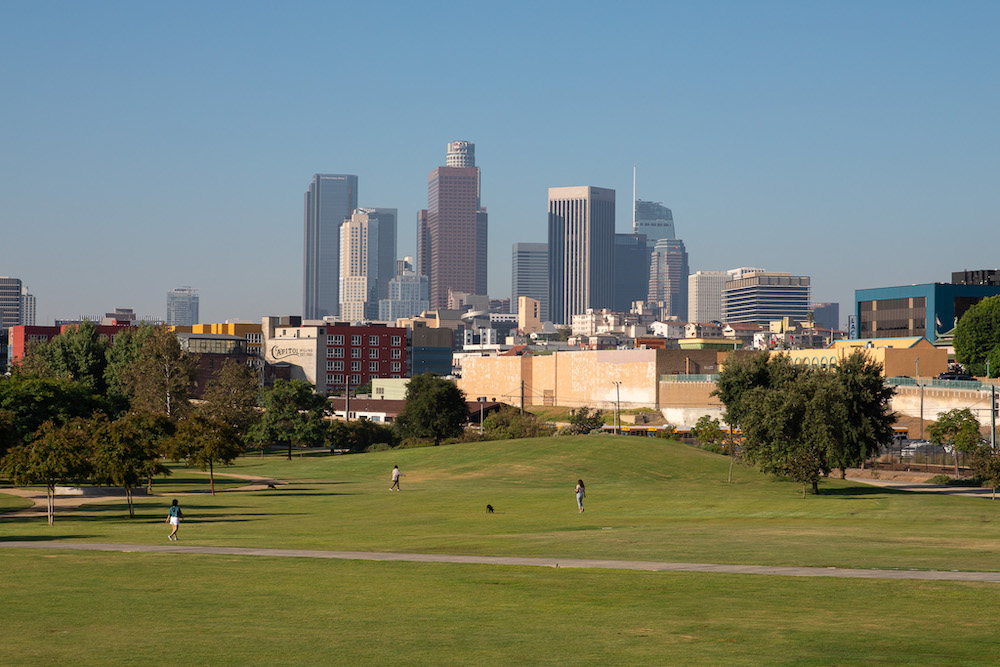 This 32-acre park on the north edge of Chinatown has become a signature venue for some of the city's biggest events, from an annual kite festival and Cinespia outdoor movie screenings to international concert series like Primavera Sound. On any weekday or weekend, you'll find plenty of locals enjoying the sloping green hills and looping trails, but if you're angling for a view of the DTLA skyline make sure to check out the raised walkway that runs across the middle of the park. More info here.
Go Metro: Take the A Line to Chinatown Station
California Plaza / Top of Angels Flight Railway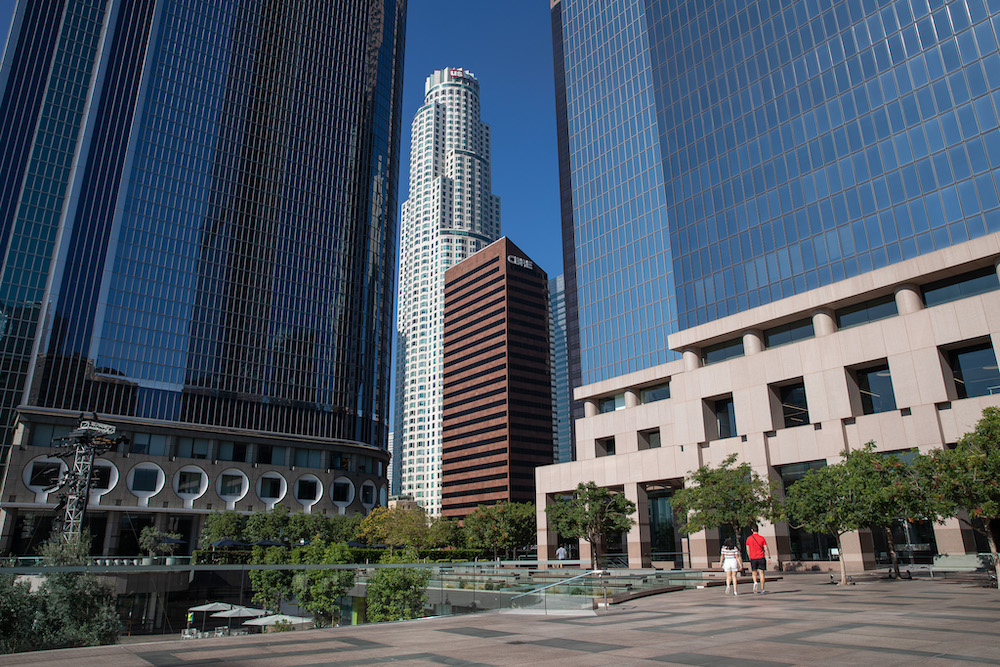 California Plaza's Bunker Hill location offers a sweet view facing the southern side DTLA from near the top of Angels Flight Railway. This viewpoint was popularized in the 2009 film 500 Days of Summer, and although Angels Knoll (the location of the bench where Joseph Gordon-Levitt sits in the movie) has been closed indefinitely, you can still catch a lovely view of the funicular backdropped by some of the mid-rises popping up along Historic Broadway. Also, as you wander through the plaza itself you'll gaze up at a pair of skyscrapers (1 Cal Plaza and 2 Cal Plaza) squeezing the frame of the U.S. Bank Tower that'll make you feel like you're truly in the heart of the city. More info here.
Go Metro: Take the A or E Lines to Grand Av Arts/Bunker Hill station.
Griffith Observatory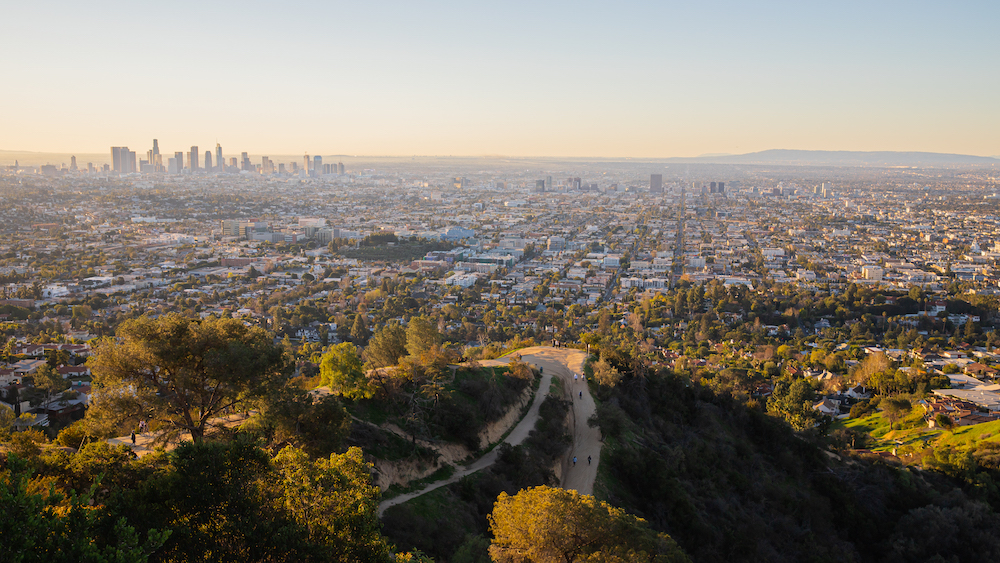 Griffith Observatory needs no introduction, but this list is a good time to remind that the building's location on the south-facing slope of Mount Hollywood in Griffith Park offers a brilliant viewpoint for taking in the Los Angels basin as a whole, including the DTLA skyline to the southeast. Make sure you turn around enjoy a view of the Hollywood Sign, and bonus points if you incorporate a morning walk up the Observatory Trail from Fern Dell into your visit (the golden morning light really is something else). More info here.
Go Metro: Take the B Line to Vermont/Sunset station then ride the DASH Observatory Shuttle (free to ride) to Griffith Observatory.
---
Want to get the best things to do in L.A. sent straight to your inbox? Join over 60,000 Angelenos who subscribe to our twice weekly email newsletter!
By subscribing, you agree to our terms of use and privacy policy and consent to receive emails from We Like L.A. about news, events, offers, and partner promotions.