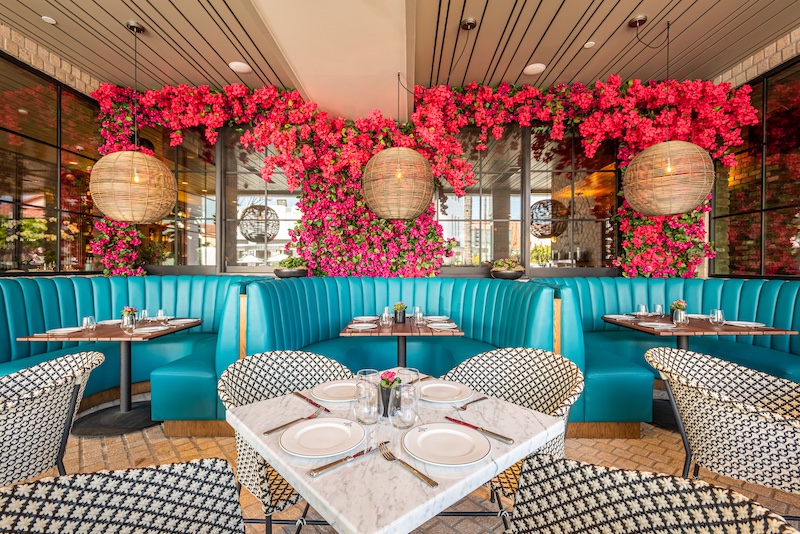 Dining outdoors is the quintessential SoCal experience. Permanent sunshine means al fresco meals are enjoyed all year long, whether it's at rooftop terraces, garden spaces, open-air courtyards, or seaside perches. And while there are countless outdoor options in Los Angeles, some truly rise above the rest.
Browse below to get the skinny on the best places for outdoor dining in L.A..
TATEL (Beverly Hills)
Spain's TATEL expanded their footprint to Beverly Hills back in 2021, bringing along Michelin Star Chef Luigi Fineo to give guests a decadent taste of Spanish cuisine. The best seat in the house is in the the front patio, where sea foam green booths accented by fuchsia florals invite a view of Canon Drive and the bustle of Downtown BH. Open for tapas hour and dinner, highlights from the menu include the famed Arroz Carabinero (red prawn paelle), imported Jamón ibérico served with alongside Pan con Tomate and a massive Veal Milanese with black truffles shaved table-side. TATEL also hosts a bottomless brunch on Sundays in their newly constructed "El Patio." Located behind the main dining room, the space includes its own outdoor bar in a lush greenery space. -> More information
Angry Egret Dinette (Chinatown)
Chef Wes Avila's Angry Egret Dinette has a patio marked by natural light in the day and luminous twinkling lights after sundown. Located in Chinatown's Mandarin Plaza, the casual space is peppered with potted trees and give off an island vibe that pairs well with Avila's eclectic menu. Open for breakfast, lunch and dinner, mornings are dedicated to breakfast burritos and sandwiches, while lunch and dinner items change often. Expect the menu to run the gamut. Soft Shell Crab Po Boy, Oxtail and Fries, Baja style whole fried fish and seafood tostadas are currently on offer. -> More information
Superba Food + Bread (Hollywood)
Superba Food + Bread took over the sprawling and historical Cat & Fiddle space along Sunset Boulevard this past October. The courtyard is 2,000 square feet and include a carefully restored wishing well from the late 1920's. Ample greenery, French bistro chairs and massive yellow striped patio umbrellas make diners feel like they are on a Mediterranean vacation. Open all day, the restaurant includes a walk-up coffee and pastry counter, raw bar serving up freshly shucked oysters, as well as a full dinner menu and cocktail program. Look out for daily dinner specials offered once a week like Fried Chicken on Sundays. Superba also makes a fantastic double cheeseburger and some of the best bread in the city. -> More information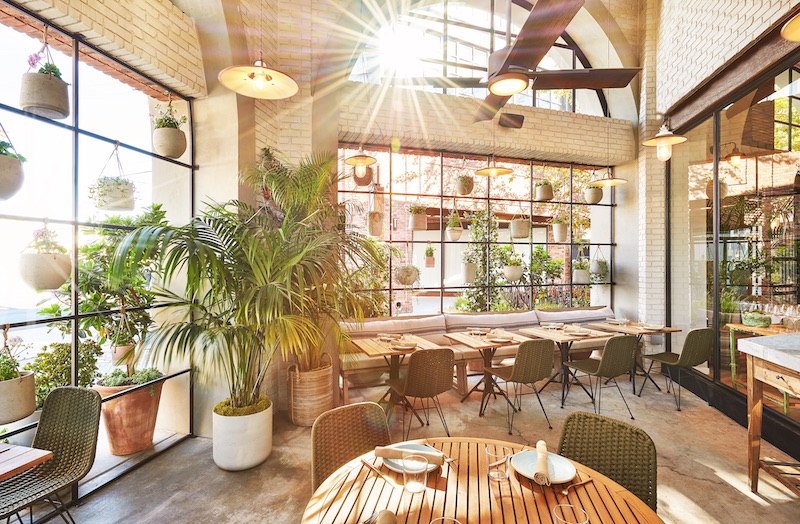 Girl & the Goat (DTLA in the Arts District)
With two gorgeous outdoor spaces to dine at, it might be hard to choose where you want to sit when you arrive at Girl & the Goat. Walk in and you'll notice a bright open air room with hanging plants and glass-less window framed walls that take full advantage of the breezy California weather. Tucked away from street view is a shaded side patio lined with rows of potted greenery and string lights hung above the red brick building. Guests at Girl & the Goat are treated to a globally inspired menu created by James Beard award-wining Chef and Owner Stephanie Izard. Highlights include a goat liver mousse board served with warm crumpets, Thai sweet n' sour grilled whole branzino and a mango sticky rice dessert surrounded by a coconut cloud topped with a tangy green mango tamarind ice cream. -> More information
Causita (Silver Lake)
Ricardo Zarate's Japanese-Peruvian restaurant has a charming patio in the back with hanging globe lanterns, wrapped wood seating, vibrant title floors and an ivy trellis ceiling. Start by treating yourself to a cocktail at Causita. The drinks here are sublime. Don't be shy to ask your waiter to guide you through the drink program, as there are a diverse list of ingredients utilized in each cocktail. The Pucara Pisco Punch made with Peruvian pisco and spiced grape is refreshing. Another drink of note, Girl from Lobitos includes Mazatecan rum and shiso foam. Both are delicious. On the dinner menu, Zarate's ceviches make the perfect starter. Order Chocolatas Clams served in the shell and diced up with apples in a zesty leche de tigre sauce. Other highlights include the Causita Nigiri where Zarate replaces sushi rice with a Peruvian staple, papa a la huancaína. Lobster Dumplings drizzled in charred jalapeño oil and the Seared Steak Tartare Crispy Rice grilled table side are also winners. -> More information
Ballast Point Brewing (Long Beach)
The San Diego brewery has built a seaside restaurant in Alamitos Bay Landing, and the two-story space features several outdoor patios with fire pits, and over 60 beers on tap. More than just a beer spot, Ballast Point Brewing also offer an all day menu. Wings, tacos, salads, flatbreads as well as mains such as BBQ pork ribs and Fish & Chips are all on the menu. -> More information
Alcove & Big Bar (Los Feliz)
The conjoined cafe and award-winning bar is housed in a charming cottage in Los Feliz. Flora supply the entire patio with a sort of garden-in-the-countryside vibe that was hip enough to make an appearance in the most recent season of HBO's Hacks. Serving breakfast, lunch and dinner, the American-style menu includes classic morning eats, hearty salads, craft burgers and more. Simply order at the counter and make your way to an available table. If you're coming for a drink, ask the bartender for cocktail recommendations, as new drinks are created almost daily by the team. -> More information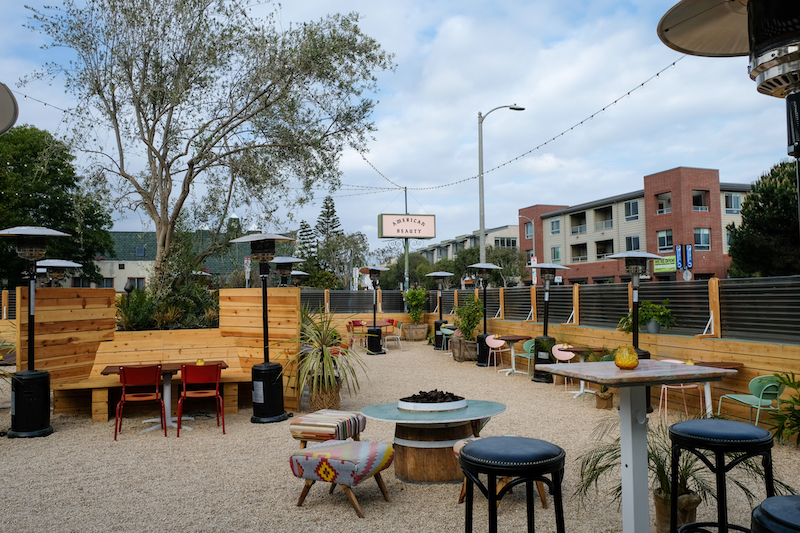 American Beauty (Venice)
No place in Venice has a better outdoor space to enjoy a fire-grilled steak than American Beauty. The L.A.-meets-Joshua Tree aesthetic offers plenty of seating around fire pits, in wooden booths and tables that accommodate both small and large parties. Chef Elisha Ben-Haim showcases a wide range of beef cuts, grades, and aging techniques on the steak menu. Aside from steaks highlights include the Half Bird seasoned in an asado rub, Stuffed Hash Browns packed with melted onion, cubed potatoes and sour cream, and a Wood Grilled Flatbread served with smoked honey and labneh. Really though, if you come here you'll want to order a steak. -> More information
NOBU (Malibu)
Overlooking Surfrider Beach and Malibu Pier, NOBU is a stunning beachside restaurant. The minimalistic style architecture blends seamlessly into the surroundings and outdoor seating commands spectacular views of the adjoining Malibu coastline. The modern Japanese menu designed by chef Nobu Matsuhisa is perfect for special occasions or when you just want to treat yourself. -> More information
Lunetta (Santa Monica)
Chef Ralphael Lunetta's restaurant is open all day, offering breakfast, brunch, lunch and dinner. Opt to dine outdoors in their patio where fig vines creep up along pink walls and wood benches wrap around the entire space. It's the perfect spot for a date night. Look out for "The Taste of Lunetta," a monthly menu which highlights the seasons best through an ever-changing multi-course tasting experience. -> More information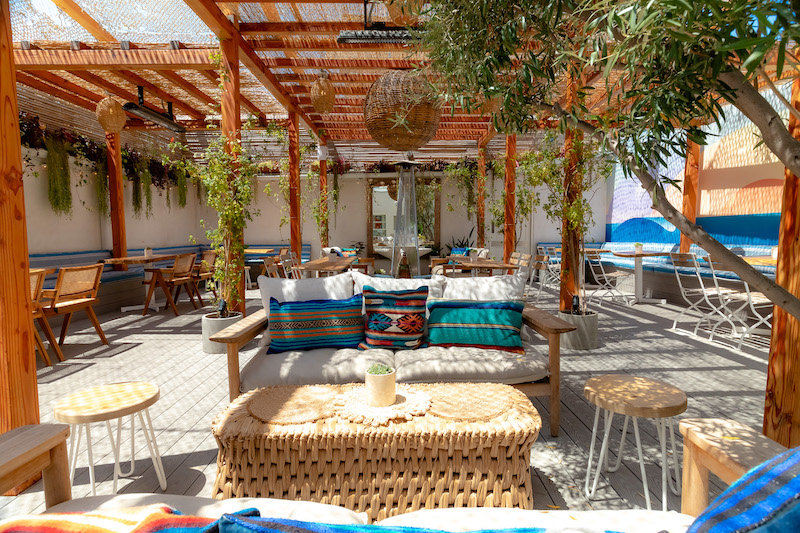 The Waterfront (Venice)
Several outdoor spaces connect to comprise the layout at The Waterfront. Located just steps from the beach, this is a great spot to refuel or wind down after a day on the sand. There's dog friendly spots like the pub seating area with astro turf, a beautiful back patio offering guests privacy with lots of shade, and additional open air spaces in between to tuck into for a beer or a quick bite. Open all day, The Waterfront is also one of the few place to serve brunch Wednesday through Sunday (until 2 p.m.) Menu highlights include freshly baked soft pretzels, hot wings and a massive Chicken Pot Pie (serves several people) that takes 30 minutes to prepare. -> More information
Gracias Madre (West Hollywood)
Dine on vegan Mexican cuisine on the patio of Gracias Madre. The al fresco space is lined with 80-year-old olive trees and hosts its own outdoor bar. When the sun sets candles are lit to add a touch of romance to the patio. On the menu a good place to start is the Taco Trio of chicharron, carnitas and al pastor. The Potato Pimento Flautas is also a winner. But remember, no visit would be complete without one of Gracias Madre's signature drinks. The Slushie made with watermelon, mezcal cupreata, amaro and lime is absolute perfection on sunny days. -> More information
A.O.C. (West 3rd.)
Suzanne Goin's market-driven wine bar features a rustic European-inspired patio with walls lined by ivy, a brick fireplace and several small balconies that over look the outdoor space. On the menu are cheese plates, wood-fired clams, wagyu beef cheeks and a very popular Spanish fried chicken. -> More information
Casita del Campo (Silver Lake)
Rudy del Campo and family opened Casita del Campo in 1962, serving Mexican classics in a vibrant and colorful atmosphere. The unmistakably pink building features a patio space donning every color in the rainbow. Enjoy refreshing margaritas as well as generous plates of comfort food like tacos, enchiladas and tamales. -> More information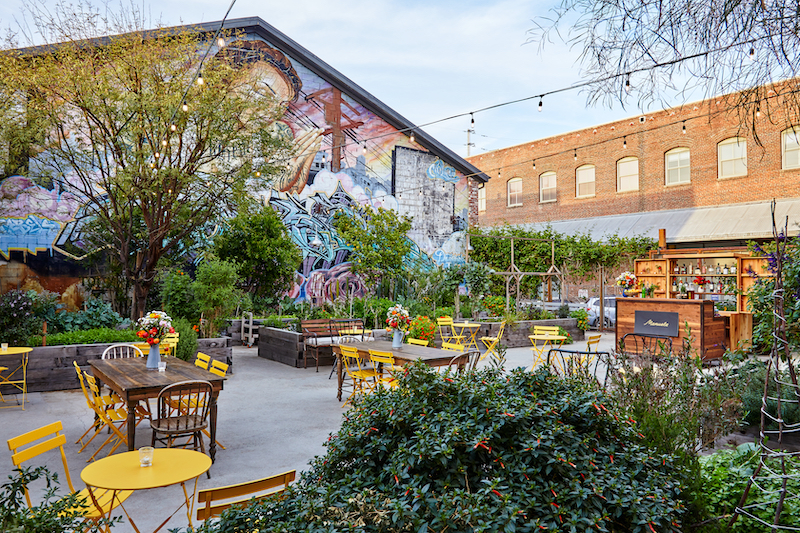 Manuela (DTLA in the Arts District)
Housed in the courtyard of the Hauser + Wirth complex, Manuela's Chef Kris Tominaga's menu is inspired by the season but a constant is the Cream Biscuits with Steen's butter and Col. Newsom's country ham. Spotted on every table, you would be wise to order one as well. Allocate some spare time to roam the industrial chic spaces which include several gallery rooms, an artsy gift shop and Manuela's own garden. -> More information
Avant Garden Bistro (Fairfax District)
Walk up a set of narrow stairs into Avant Garden Bistro's enchanted forrest-inspired patio and you'll find bubbling wall fountains, dreamy murals, and plant life filling up the outdoor space. Just like its east coast counterpart, this version of Avante Garden (brought here by Overthrow Hospitality) contains ample flavor-driven vegan options such as Avant Garden's signature Crimini Toast with walnut puree, sliced grapes and Calabrian chili as well as new items created by Chef Sarah Stearns. Award-winning Master Mixologist Sother Teague has created an exciting line-up of low-ABV cocktails using fortified wines like pommeau, vermouth and sherry, as well as sake and beer. And if you like mocktails, the ones here are among the best I've tried. -> More information
etta (Culver City)
Chicago's hearth-focused restaurant etta expanded to Los Angeles in 2021 to much acclaim. The space here includes a large patio surrounded by greenery and two dining rooms. Highlights from the California-Italian menu include wood fired pizzas, a bubbling shrimp starter and a fire-baked focaccia served with a side of ricotta, honey and truffle whip. -> More information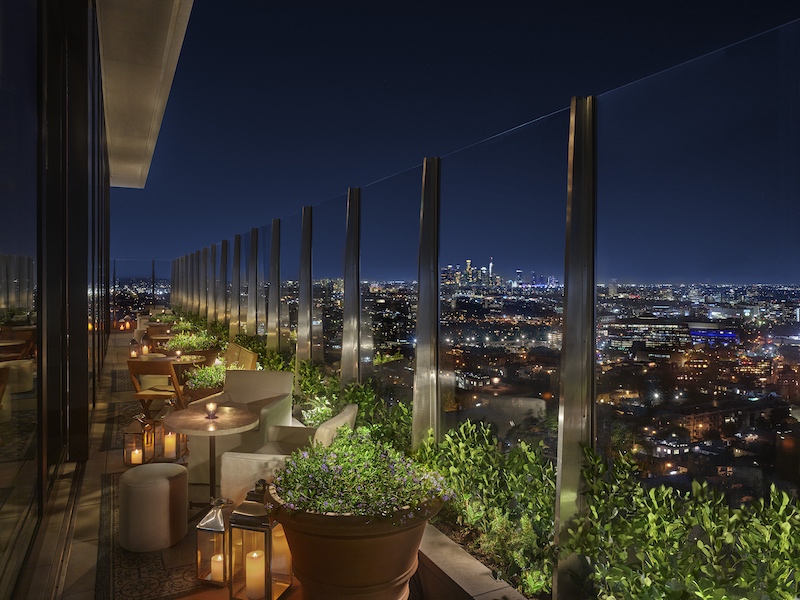 The Roof at The West Hollywood EDITION (West Hollywood)
Rooftop dining with panoramic views of the city never goes out of style, and that's exactly what you'll get at The Roof. The Latin-inspired menu crafted by Chef John Fraser includes crab nachos with cheese poured table-side, and a must-have Lomo Saltado topped with crispy potato sticks. Pair your meal with a number of tropical forward cocktails. Reservations are highly recommend, especially during the sunset hour. -> More information
L'Antica Pizzeria da Michele (Hollywood)
Walk into this world renown Neapolitan pizzeria and the first thing you see is the stunning brick patio, bracketed by tree planters which frame an open view to the wood-fired oven. Guests can watch pizza being made from start to finish, and that's all part of the charm. There's just something so satisfying about watching your meal be prepared, and then taking that first patiently-awaited bite. -> More information
L.P. Rooftop Bar (West Hollywood)
L.P. offers sweeping views of the Hollywood Hills in a chic but casual setting. As the largest rooftop bar in the area, there are no reservations for this hot spot, simply pull up and find a seat. On the menu are globally inspired bar bites and cocktails. -> More information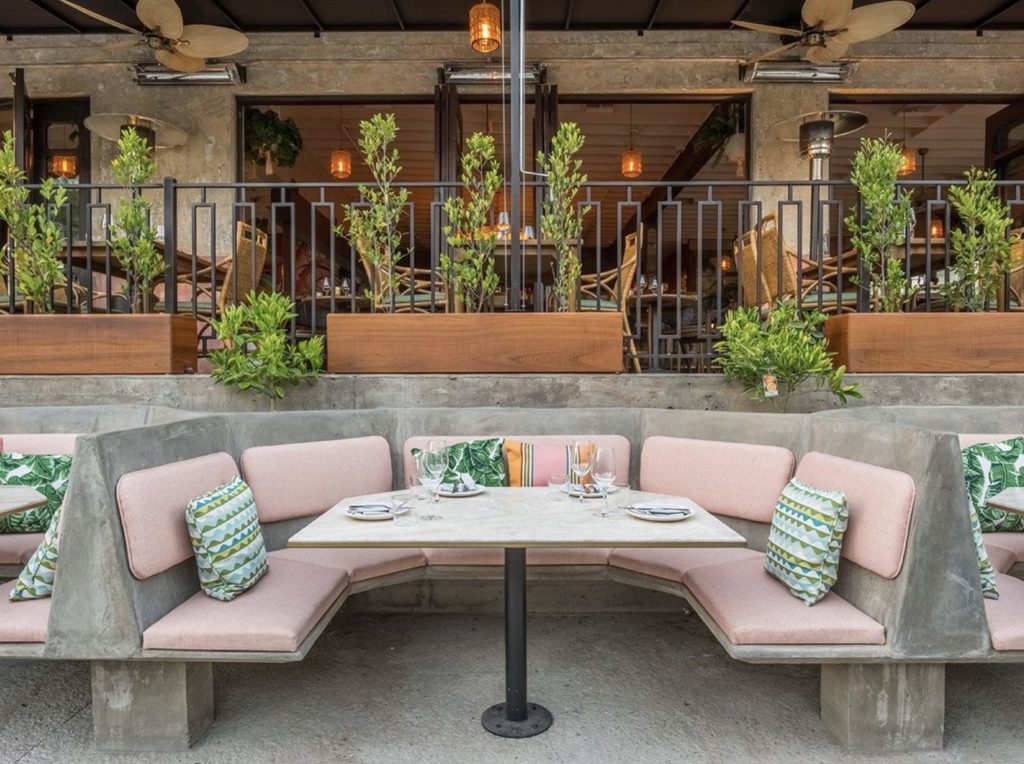 DAMA (DTLA in the Fashion District)
Chef Antonia Lofaso's Latin-inspired DAMA has one of the chicest patios in the city. The 5,000 square foot space features an indoor lounge, three private terraces and a large outdoor patio with pink seating and pops of green accents. -> More information
Post & Beam (Baldwin Hills)
Ample greenery and a flourishing succulent wall encircle the cozy patio at John and Roni Cleveland's award-winning California soul food restaurant. Guests can sit at several tables with sunshade sails overhead and string lights that provide illumination to evening diners. A seat by the fireplace on 60's print vinyl patio furniture is also an option and a great spot to take a photo. On the menu you'll find shrimp and grits, crab cakes, mac n' cheese and short rib with shaved horseradish. The Hurricane cocktail made with three types of rum, real passionfruit and fresh juices, is basically a party in a glass. -> More information
Michael's (Santa Monica)
The patio at Michael's is a garden oasis bursting with bright green trees, ferns and palms. Savor a California centric menu featuring local farmers market produce in an intimate atmosphere that feels a world away from the bustling streets, despite being only steps away from the 3rd Street Promenade. -> More information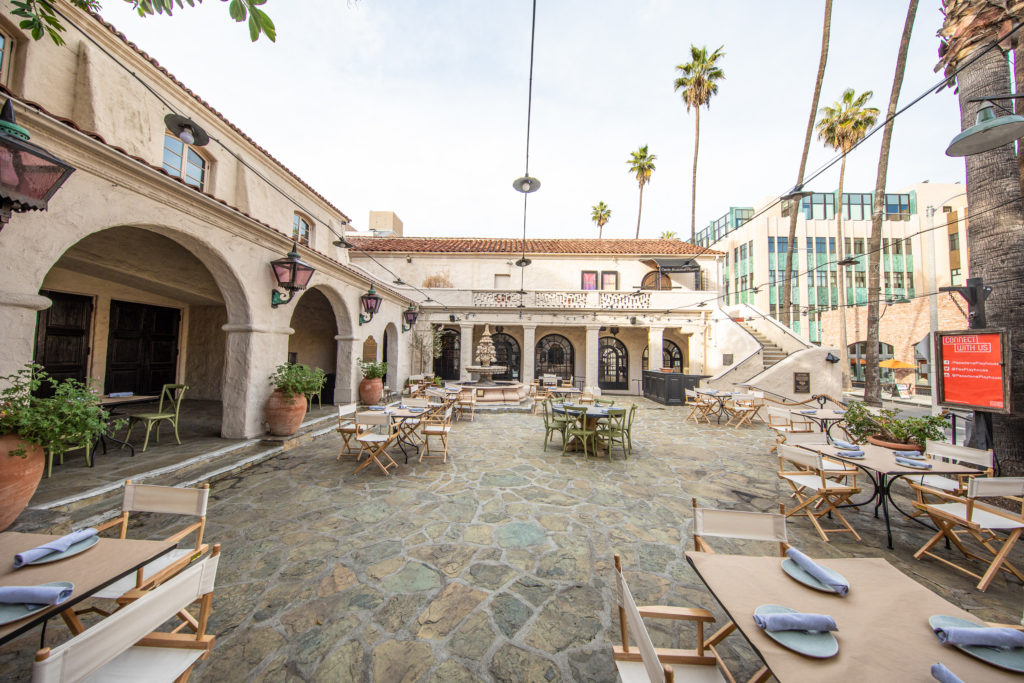 Saso (Pasadena)
Chef Dominique Crisp's Basque-inspired bistro is housed in the beautiful courtyard of the historic Pasadena Playhouse. Cobblestone floors, trees, twinkling string lights overhead and a soothing water fountain gives this spot its charm. A large-scale mural from local artist Tim Biskup and a modern floor plan add contemporary touches to the century-old historic structure. On the menu you'll find seasonal pintxos (Spanish bar bites) crudo, and larger plates like the bone-in wagyu steak, whole fish and Pasta Saso a handmade duck egg-yolk pasta with shellfish, fin fish, prawns, and ginger. -> More information
Terra (Century City)
Enjoy rooftop views, wood-grilled dishes and botanical cocktails at Terra the rooftop restaurant at the Eataly Complex. Request a seat at one of several dining tables or opt for a more casual experience at the stand alone bar situated at the center. -> More information
Malibu Farm Restaurant & The Malibu Farm Cafe (Malibu)
This pair of farm-to-table oceanside restaurants sit right on the Malibu Pier. Malibu Farm Restaurant is located at the start of the pier and offers a full-service day to night menu and a full bar. The more casual Malibu Farm Cafe is situated at the end of the pier and operates on a day time menu ordered at the counter. -> More information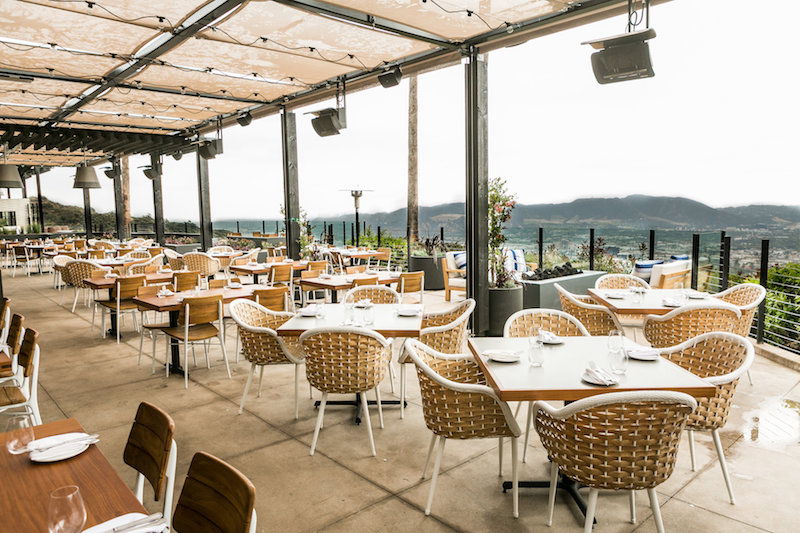 Castaway (Burbank)
There's not a bad seat in the house on the patio of Castaway. Sprawling views and twinkling city lights from both Burbank and Downtown Los Angeles makes this place an absolute hot spot during the sunset hour. This decades old restaurant has changed drastically with a modernized look and elevated American menu. Dine on caviar topped fries, table side scorched wagyu, or a 30-day dry aged ribeye. Cocktails here are next level, and some even fall under the label of "immersive," such as Beauty & The Beast-inspired "Belle." A must for any aspiring Disney princess. -> More information
Esperanza Cocina de la Playa (Manhattan Beach)
Located in the heart of Downtown Manhattan Beach, Esperanza gives off the kind of luxury coastal vibe you might expect in Cabo San Lucas. Designed by award-winning architecture team Gulla Jonsdottir, the restaurant features a modern open-air space to sip margaritas and a Baja-inspired menu. You can't go wrong with the seafood dishes such as the Shrimp Taquitos, Langosta Fajitas, or seafood stuffed Chiles Rellenos. The restaurant is also walking distance from the Manhattan Beach Pier, which makes it a great spot for a date night. -> More information
Oste (West 3rd.)
Grab a slice of Europe on the charming patio of Oste, where golden gates separate the sidewalk from the cafe, which is encased by blue walls adorned with leafy plants. The menu features traditional Italian dishes like steamed mussels, fresh globes of burrata, and decadent pastas. But the main attraction is the Roman-style pizza, called pinsa. A highly digestible version of pizza, the fermented pinsa dough is made of 80 percent water and a variety of premium gluten free flours resulting in an airy dough strong enough to haul generous portions of pepperoni, mortadella, and prosciutto. -> More information
---
Want to get the best things to do in L.A. sent straight to your inbox? Join over 60,000 Angelenos who subscriber to our twice weekly email newsletter!
By subscribing, you agree to our terms of use and privacy policy and consent to receive emails from We Like L.A. about news, events, offers, and partner promotions.