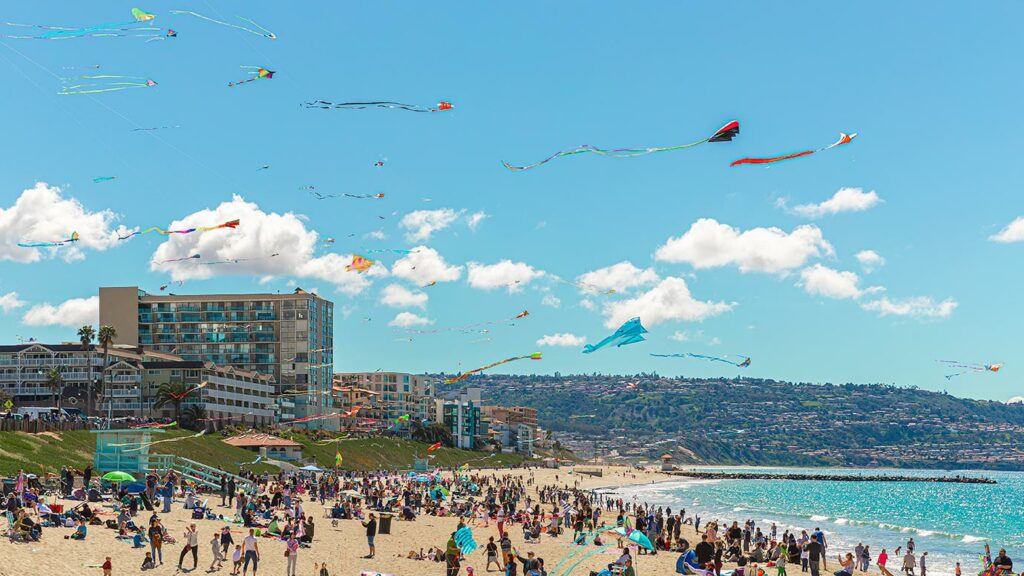 A rainy (and blizzardy?!!) February in Los Angeles is just about in the books. So what does March have to offer?
In the month to come, Angelenos will find Puppy Yoga at PetSpace, ArtNight in Pasadena, Festival of the Kite in Redondo Beach, Festival de la Primavera at LA Plaza, a Late Night at Skirball, Tam O'Shanter St. Patty's Day Bash, First Friday at NHM, a Vegan Street Fair in NoHo, or a Cherry Blossom Festival in Torrance. Start your plan by exploring the options below, and enjoy your March!
Things To Do This March
Taste of Eataly ( March 2) -> To kick off Eataly's annual Restaurant Fest (March 3-19) the Italian complex will host Taste of Eataly the night before on March 2 with an evening of bites and sips stationed around the marketplace. Tickets are $70 per person and include an all-access bracelet, as well as a 10% discount off all Eataly marketplace purchases. If you can't make the kick off party, Restaurant Fest runs for two weeks and features two course menus from restaurants Capri and La Pizza & La Pasta that start at $22 plus Italian wines starting at just $10 a glass.
The Groundlings Theatre 30th Anniversary of "Cookin' with GAS" (March 2, 9, 16, 23, 30)-> The Groundlings all-improv show Cookin' with GAS has been going strong for the last thirty years. To celebrate this huge milestone the comedy troupe hosts weekly Thursday night anniversary performances throughout the month of March. More info here.
First Fridays at NHM (March 3) -> Natural History Museum's signature monthly series returns on March 3 with Witches, Wizards and Magical Powers. The evening includes live music, DJ sets in the nature garden, pop-up experiences throughout the museum and a discussion between Dr. Yewande Pearse and creature and character designer Jordu Schell and biologist, paleontologist, and multimedia consultant Dr. Stuart Sumida. First Fridays run 5 to 9 p.m. Tickets are $20. Cosplay is encouraged! More info here.
Late Night! Fabric of a Nation (March 3)-> Skirball Cultural Center opens late for drinks, dancing and DJ sets, all to highlight the soon-to-close exhibition Fabric of a Nation: American Quilt Stories, which ends on March 12. The evening includes food trucks, crafting, and the chance to add your very own square to a Skirball community quilt. Runs from 6:30 and 10:00 pm. GA tickets are $10. More info here.
First Fridays in Bixby Knolls -> The March edition of First Fridays along Atlantic Ave in Long Beach puts a special a focus on Women's History Month. Expect live music, extended hours at participating businesses, and special discounts. Runs 6:30 to 9:30 p.m. More info here.
10 Days RE:Her Festival (March 3-12) -> Regarding Her's 10 Days RE:Her Festival (March 3-12) brings together female-owned hospitality operations to collaborate on special culinary events across Los Angeles County. Explore special menu items, virtual events and dinners prepared by chefs from some of the most influential restaurants in the city. See the full schedule of events and how to get tickets here.
Hitting New Heights (March 4) -> Lisa Smith Wengler Center for the Arts at Pepperdine University welcomes a pair of broadway stars to the stage to kickstart their March run of cultural programming. Mandy Gonzalez and Javier Muñoz (both alums of In The Heights and Hamilton) headline Hitting New Heights, a raucous evening of song featuring tunes from West Side Story, Sunset Boulevard, Ain't Too Proud, Springsteen on Broadway, Pippin, All Shook Up, Wicked, Hamilton, In the Heights, and more. Tickets start at $32.50. More info here.
Puppy Yoga PetSpace (March 4) -> Khylie Heins of Sweat Yoga Playa Vista leads a pair of yoga sessions at Annenber PetSpace where attendees can strike their practice their best downward facing dog even as adoptable pups from PetSpace prance and bop around the room. Will your session end with the addition of a new member to your pack? Tickets for the classes are $30. Must be 18+. More info here.
NHM Butterfly Pavilion (Opens March 5) -> The Butterfly Pavilion at Natural History Museum of Los Angeles returns on March 5, offering guests the chance to admire hundreds of butterflies, native plants, and caterpillars all in one place. Tickets to the Pavilion are $8, which is on top of regular museum admission (starting at $15 per adult). Runs through August 13, 2023. More info here.
AirTalk's FilmWeek Oscar Preview (March 5) -> Host Larry Mantle and contributing FilmWeek critics come to The Orpheum in DTLA for an afternoon of Oscar talk. The panel will swap hot takes on the best performances, opine on the year's biggest snubs, and handicap all the close races at the forthcoming 2023 Academy Awards. Tickets start at $15. Get more info here.
Sunday Funday at The Wallis (March 5) -> The next edition of Sunday Funday comes to The Wallis with a lineup that features kid-friendly performances by Parker Bent and Spring Groove, plus a Hip-Hop dance session by the Debbie Allen Dance Academy. The event starts at 10 a.m. on the Promenade Terrace. Free to attend. No RSPV necessary. More info here.
Strong Words: Voices of the City at the Autry (March 9) -> Join the Autry, in partnership with Strong Words, for an evening of storytelling and music inspired by the theme Migration and Movement. Tickets cost $10. More info here.
ArtNight Pasadena (March 10) -> ArtNight Pasadena bands together a group of local institutions and historic locations for an evening of free admissions, and arts and culture programming. Participants include the Pasadena City Hall, Gamble House, Kidspace Museum, USC Pacific Asia Museum, and the Armory Center for the Arts. More info here.
Free Family Art Day at The Weisman Museum (March 11) -> Pepperdine University's Weisman Museum (always free admission) hosts a Free Family Art Day on March 11 that features a day of nature walks, crafting, tours, and readings all built around the museum's To Bough and To Bend exhibition. More info here.
Black History Month Festival on 3rd Street Promenade (March 11)-> After a rain delay postponement in February, Downtown Santa Monica in partnership with Santa Monica Black Lives Association celebrates Black History Month with an afternoon event featuring live music, educational exhibits, and local vendors, headlined by a performance by rapper Krayzie Bone of Bone Thugs-N-Harmony. Free to attend. Runs 4 to 10 p.m. Be sure check back to the Eventbrite page for updates on any schedule changes due to inclement weather. More info here.
POPSHIFT HOLI (Festival of Colors) presented by TOYOTA (March 11) -> The first-ever PopShift HOLI presented by TOYOTA will bring the Festival of Colors to Downtown Los Angeles. Dance to live music performances and DJ sets, snack on South Asain eats and drinks, and celebrate the new year in color. Tickets start at $35. More info here.
Paint & Sip at Museum of Latin American Art (March 11) -> Join MOLAA for an outdoor painting class led by LA-based artist Priscilla Ortiz. Learn tips and techniques for painting figures based on a live model drawing inspiration from Chicana artist, Yolanda Gonzales. Tickets cost $25 and you must be 21+ to attend because there will be wine! More info here.
Hermosa Beach St. Patrick's Day Parade (March 11) -> The City of Hermosa Beach celebrates St. Patrick's Day a few days early with a parade along Pier Ave. In conjunction with the parade, there will be special activities set up at the Hermosa Beach Pier including a photo booth and live music. More info here.
Festival of the Kite (March 12) -> The 49th Festival of the Kite brings a colorful day of activations to the Redondo Beach Pier, including contests with category-specific kite flying prizes, DJ'd tunes, live music, and even a hot dog eating contest. Runs noon to 5 p.m. Free to attend. More info here.
Festival de la Primavera at LA Plaza de Cultura y Artes (March 12) -> This family-friendly festival celebrates the vibrancy of the state of Oaxaca through music, traditional dances, gastronomy, and crafts. Co-organized by the Regional Organization of Oaxaca (ORO) the festival commemorates the most prominent Mexican president of the 19th century, Don Benito Juarez Garcia's birthday and the first week of Spring. Free to attend. More info here.
Shanghai Sonatas (March 16-18) -> The Wallis welcomes the world premiere of Shanghai Sonatas, a compelling story of the Jewish refugee musicians who found sanctuary in the Jewish Ghetto of Shanghai in the 1940's, using music as a unifier to bridge cultural divide. Tickets start at $39. Get more info here.
Tam O'Shanter St. Patty's Day Bash (March 17) -> Tam O'Shanter throws an epic St. Patty's Day celebration in the parking lot of their 100 year old establishment. The day includes Irish food, live bands, Guinness Kegs, green beer, raffles and more. There is a $10 cover to enter the tent this year. VIP tickets cost $149 and include a separate patio, drink tickets, complimentary food and an exclusive bar featuring Tullamore Dew and Guinness on the patio with hourly $2 drink specials. More info here.
St. Patrick's Day Festivities at The Original Farmers Market (March 17) -> The annual St. Patrick's Day celebration at The Original Farmers Market is a day-long event featuring Irish fare from select vendors, drink specials and traditional Irish musical performances including a strolling Bagpiper! More info here.
Holi Beach Music Festival (March 18) -> This seaside Color Carnival will include DJ's spinning Bollywood, American pop and Afro Beat a music plus bursts of non-toxic color powder/water and pop-up food stalls. Tickets start at $15. More info here.
Women's History Zine Workshop (March 18) -> To help celebrate Women's History Month, California African American Museum hosts a zine and collage workshop led by educators from Able ARTS Work. All ages are welcome. Free to attend. Get more info here.
Sounds of L.A. Presents Pajaros Ante Un Espejo (March 18-19) -> The Getty's Sounds of L.A. concert series returns this March with a pair of performances by vocalists Lucía Gutiérrez Rebolloso and Sandino González-Flores. The series is free to attend, but reservations are required for each concert. Parking is $20 per car or motorcycle. More info here.
Sierra Madre Wistaria Festival (March 19) -> The 2023 Wistaria Festival returns to Sierra Madre with an up-close of "The World's Largest Blossoming Plant." The main festival takes place in Downtown Sierra Madre, with over 100 arts, crafts and food vendors alongside The Sierra Madre Auto Show. A shuttle (ticketed) will be available to take visitors up to see the record-breaking vine. More info here.
Latina Fest at LA Plaza de Cultura y Artes (March 19) -> Celebrate the Latina entrepreneurial spirit at Latina Fest. The day includes a packed schedule of over 100 exhibitors, a fashion show, morning yoga session, kids zone, experiential activations and more. Tickets start at $10. More info here.
LA Marathon (March 19) -> The Los Angeles Marathon is a weekend-long experience that includes a two day Health & Fitness Expo at Dodger Stadium (March 17-18), a Saturday 5K, the LA Big 5K, plus the Charity Half Marathon and of course the big race on Sunday, March 19. More info here.
New Moon Forest Bathing at The Huntington (March 20) -> Welcome the new moon by joining certified Forest Therapy Guide Debra Wilbur for a guided nature immersion in the Palm Garden of The Huntington. Tickets cost $45 a person. More info here.
New Exhibitions at TAM (March 25) -> Torrance Museum of Art (always free) hosts an opening reception for their two newest exhibitions, including CO/LAB 5 – LOS ANGELES AND THE WORLD, a team-up of artist run galleries that includes four international spaces paired with four from Los Angeles. Exhibitions remain on view through May 6. More info here.
¡Jotería! at LA Plaza (March 25)-> LA Plaza de Cultura y Artes and Salvies Who Lunch team up to present ¡Jotería!, a one-day event highlighting queer Latinx Culture through music, panels, and performances, capped by a free evening screening of Bamby Salcedo's documentary QueenCiañera. The event starts at 4 p.m. and is free to attend. More info here.
Yoga On The Mountain (March 25) -> On the last Saturday of the month, the Santa Monica Mountains Fund hosts a morning of outdoor yoga and live acoustic music at the King Gillette Ranch in the heart of the Santa Monica Mountains. All skill levels are welcome. Free to RSVP, and reservations are required to attend. More info here.
Cherry Blossom Celebration at Shoseian Teahouse (March 26) -> Head to the Shosian Teahouse at Brand park for the annual Sakura Matsuri (Cherry Blossom Celebration) featuring tea ceremonies, martial arts, bonsai, music, and plenty of family-friendly fun. All proceeds from the event go to the non-profit Friends of Shoseian. Attending the event is free, but seating for the tea ceremony requires a paid reservation costing $25. Runs from 9:30 a.m. to 3 p.m. More info here.
Vegan Street Fair Los Angeles (March 26) -> Vegan Street Fair Los Angeles returns to North Hollywood with a massive array of vegan-friendly vendors. It's free to enter the fair and delicious bite-size portions of plant-based eats will be available for $4 or less. The Vegan Street Fair takes place from 11 a.m – 7 p.m on Chandler Avenue between Tujunga and Vineland. More info here.
The Torrance Cherry Blossom Cultural Festival (March 26) -> The Torrance Cherry Blossom Cultural Festival comes to Columbia Park for a unique blend of cultural performances with a fun variety of crafts by local artisans, centered around the blooming cherry blossom. Free to attend. Runs 11 a.m. to 4 p.m. More info here.
César Chávez Family Day at LA Plaza de Cultura y Artes (March 26) -> Celebration activist and labor leader, César Chávez with a day of dance and art, culinary and garden workshops and guest performances by Xipe Totec, Ballet Folklorico Y Arriba Mexico, and Tierra Blanca Arts Center. Free to attend. More info here.
Dog Walking Hours at South Coast Botanic Garden (March 26) -> Once a month dogs are welcomed at the South Coast Botanic Garden for a morning garden stroll with their owners. Adult tickets are $15, and dogs are $5 each. More info here.
Topanga Vintage Market (March 26) -> Happening on the fourth Sunday of every month, the Topanga Vintage Market is packed with close to 200 sellers from antiques to vintage clothing and local artisan goods. Runs 7 a.m. to 2 p.m. $5 to get in. More info here.
The Other Art Fair (March 30 to April 2) -> The Other Art Fair returns to Los Angeles with a four-day event featuring thousands of original art works, immersive installations, DJ'd music, and drinks. Tickets for opening night are $45, and general admission for Friday to Sunday are $18. More info here.
PaleyFest (March 31 to April 4) -> Back live at The Dolby Theater, PaleyFest is five-days of special panels and discussions featuring the cast and crew of some of T.V.'s top shows, including Abbot Elementary, Mandalorian, Yellowstone and more. Tickets available for individual sessions or as multi-event passes. More info here.
---
Want to get the best things to do in L.A. sent straight to your inbox? Join over 60,000 Angelenos who subscribe to our twice weekly email newsletter!
By subscribing, you agree to our terms of use and privacy policy and consent to receive emails from We Like L.A. about news, events, offers, and partner promotions.