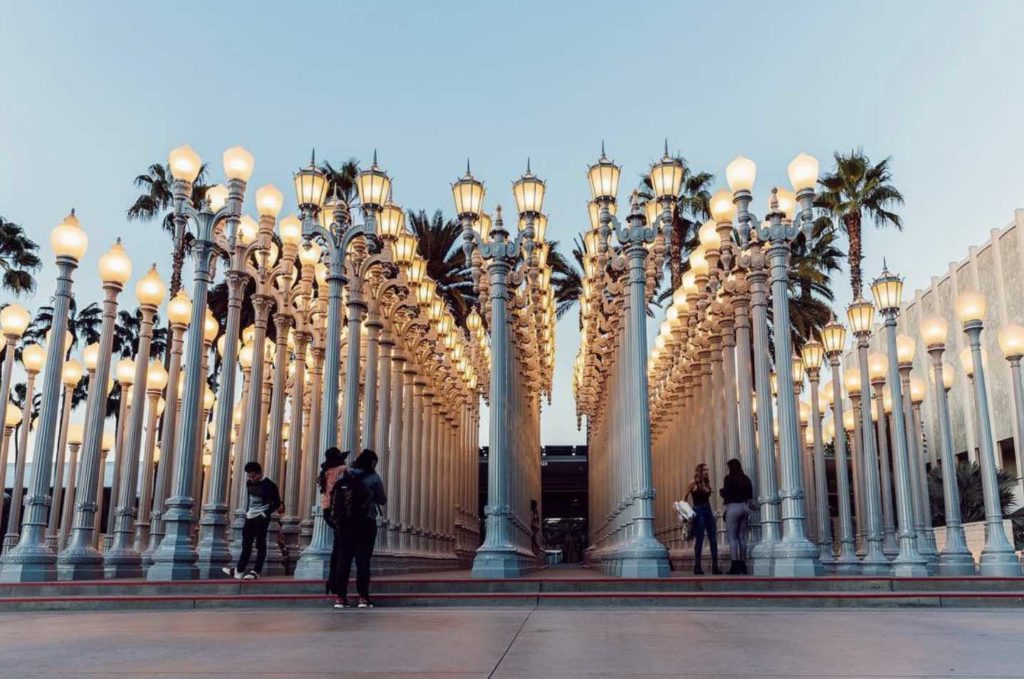 We're almost a month into the summer. Are you already running out of ideas for you and the little ones to do together? Do you need ways to beat the heat? Stay on budget? Educate and entertain?
All good. I've got some fresh suggestions below, hopefully some of which were totally off your radar. Hope it helps.
Things To Do With Kids in L.A. This Summer
Free Kids Admission at LACMA (ongoing)-> One of the best deals in town for kids is a free membership at the Los Angeles County Museum of Art courtesy of NexGenLA. The program is free to enroll for any child (even infants) 17 or younger who resides in L.A. County (they HAVE to be county residents). Benefits include free admission to the museum plus a ticket for a guest (like a parent or friend), along with special discounts on camps and classes. If you've never heard of the NexGenLA membership, I suggest browsing this FAQ to get familiar. A fantastic program.
$5 Tuesdays Tickets at AMC Theaters (through October) -> Five bucks for theatrical new release makes me think it's 1997 all over again and I'm driving my 16-year-old self to the matinee at the local Edwards Cinema. But now, AMC is offering a summer deal on Tuesdays that I'm calling my own personal time machine. To take advantage of the throwback pricing, you'll need to sign up to be an AMC Stubs Insider, which is free. Also, you'll be charged extra for premium seating or special events, so keep that in mind. The deal runs through the end of October, so you'll want to get on it during the summer to get the most value. Get more info here.
Free First Fridays at Kidspace (various dates) -> Kidspace Children's Museum, the educational and interactive recreation space in Pasadena is now offering free admission every First Friday of the month. Tickets for the free slots are limited, and can be reserved starting two weeks in advance. If you aim to go, make sure to set a reminder on your calendar so you can scoop up tix.
Echo Park Lotus Festival (July 9-10) -> The 41st annual Lotus Festival honors the people and culture of India for 2022 with a special pavilion, live music, children's activities, a lantern launch, a dragon boat parade, and more. Free to attend. A great walk-around spot for you and the family. Runs 11 a.m. to 6 p.m. both days. More info here.
CicLAvia South L.A. (July 10) -> CicLAvia's next open-streets event comes to South L.A. on July 10 with a route that covers portions of Vermont Square, Harvard Park, Chesterfield Square, Exposition Park, and King Estates. With the streets closed off to vehicular traffic, guests of all ages can bike, skate, run, walk, or skateboard at their leisure, and check out pop-up activities along the route. Runs from 9 a.m. to 3 p.m. Free and open to the public. More info here.
¡FIESTA! at Bob Baker Marionette Theater (July 9 to Sep. 18) -> Bob Baker's south-of-the-border marionette extravaganza was performed more than a half century ago, and starting this month a newly reimagined production of the one-hour show pops up featuring a brand new Día de Muertos sequence and a newly outfitted marionette mariachi band. Should be a ton of fun. Tickets go for $20, and shows run on weekends through September 18. Get more info here.
The Getty Summer Programming -> The Getty Center has Garden Concerts for Kids scheduled for three weekends in August, but what especially caught my eye was the Middle Ages-themed programming in support of the exhibition The Fantasy of the Middle Ages. Among these include Medieval Martial Arts sessions where knights from Chivalry Today will be demo-ing Medieval weapons and answering questions about fighting techniques. That sounds like something 10-year-old me would be love.
Getty 25 Festivals (various dates) -> Can't make it to The Getty? Make the Getty come to you this summer through a series of free pop-up community festivals held throughout Los Angeles County. Each event highlights curated experiences reflective of the host community, including interactive workshops, live music and performances, an artisan marketplace, food trucks, giveaways, photo booths, and more. Still upcoming are weekend-long events in Reseda (July 9-10), San Gabriel Valley (July 16-17), Wilmington (July 30-31), Crenshaw (August 13-14), and Watts (August 27-28). Get more info here.
Summer With the Library -> The Los Angeles Public Library has a ton of kid, toddler, and teen-friendly activities this summer including LEGO builds, take-home art projects, live story readings, movie screenings, mini golf and more. I'm just going to come out and say it's shocking how many free programs they provide. Take advantage! Events run through August 6 at branches around the city. More info here.
Kids Programming at The Hammer (various dates) -> The Hammer Museum has three kid-specific programs coming up on the calendar including a pop-up workshop from L.A. Zine Fest artists (July 9) plus a pair of Family Flicks matinee screenings: Wolfwalkers on July 17 and Wadja on August 14. All free to attend, and no ticket required. More info here.
Parks After Dark -> The L.A. County Department Parks & Recreation has a massive slate of family-friendly programming running at 34 parks across Los Angeles through August 6 . Events include fitness classes, free concerts and movie nights. Get more info on Parks After Dark here, and since we're on the topic of free outdoor happenings make sure you check out these cheatsheets of free concerts and free movie screenings to expand your potential options over the summer.
Sand Castle Contest (through July 24) -> When it comes to sand castles, do you have skills? If you're headed to the beach this summer with the kiddos, maybe you'll want team up for an epic build, photograph the creation then enter it into the Round House Aquarium's Summer Sand Sculpture Contest. Entry is $30, so if you'd rather just build the castles and skip the contest, I won't tell anyone. If you're up the challenge, entry ends on July 24. More info here.
Museum Days (various dates) -> If LACMA, Kidspace or The Getty aren't your jam, there are still dozens of great cultural institutions in the the county to explore. Among those that I'd point you to if you've got little ones in tow are Skirball Cultural Center (the Noah's Ark exhibit is great) and the California Science Center. If you end up doing the Science Center, the Exposition Park campus also features the Natural History Museum and the California African American Museum, so it's easy to plan a whole day there. Get more info on all your free museum options here.
Skirball Family Amphitheater Performances (July 10, 17, 24, 31) -> Speaking of Skirball, they're launching a series this month spotlighting artists who use music, dance, and storytelling to keep their cultural traditions and family histories alive. The shows are interactive, with performers encouraging audiences to sing, dance, and interact. The series is included with general admission tickets on the dates referenced above. More info here.
---
Want to get the best things to do in L.A. sent straight to your inbox? Join over 60,000 Angelenos who subscriber to our twice weekly email newsletter!
By subscribing, you agree to our terms of use and privacy policy and consent to receive emails from We Like L.A. about news, events, offers, and partner promotions.