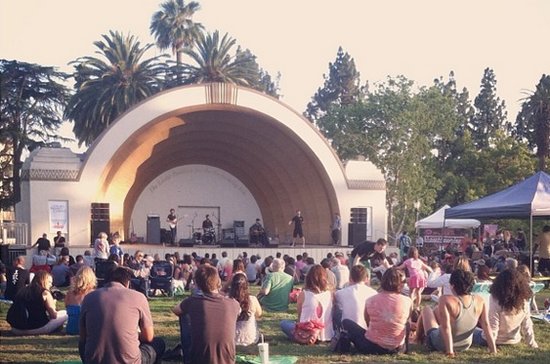 What better way to spend the summer nights than chilling out at a beautiful park setting and listening to music?
Well fortunately for us every year since 2002 the folks over at the Levitt Pavilion in Pasadena put on a summer festival of 50 free shows over the course of June, July and August.
That said, below you'll find a complete list of all the free concerts being put on this summer.
If you decide to go, be assured the Pavilion is a great venue to bring a picnic, set up a lawn chair, and listen to some tunes at no cost. And, weather abiding, it should be a glorious summer of shows. Just get there early cause it can get a little crowded!
NOTE: Musical genre for each artist (who you may or may not have heard of) is italicized. 
[Photo Credit: http://instagram.com/risksylvan]
JUNE
SUN, June 15 · 7:00pm
Barbara Morrison
jazz
WED, June 18 · 7:00pm
Pasadena Symphony
children's classical
THURS, June 19 · 8:00pm
Dublab: The Album Leaf* &
Bell Gardens
eclectic
FRI, June 20 · 8:00pm
Marley's Ghost
bluegrass
SAT, June 21 · 8:00pm
Afro Funké: Featuring Jungle Fire & Batala Los Angeles
latin afrobeat
SUN, June 22 · 7:00pm
Lao Tizer
smooth jazz
WED, June 25 · 7:00pm
Funky Punks
children's circus clowns
THURS, June 26 · 8:00pm
Janiva Magness
blues
FRI, June 27 · 8:00pm
Levitt National Tour Presents: Playing For Change
world
SAT, June 28 · 8:00pm
Pistolera
latin alternative
SUN, June 29 · 7:00pm
Kenny Burell Big Band
jazz
JULY
WED, July 2 · 7:00pm
Rhythm Child
children's interactive rock
THURS, July 3 · 8:00pm
The Duhks
fusion folk
FRI, July 4 · 8:00pm
Night Train Music Club
rock folk blues
SAT, July 5 · 8:00pm
Vaud & the Villains
cabaret jazz
SUN, July 6 · 7:00pm
Billy Mitchell & Friends
jazz
WED, July 9 · 7:00pm
The Party Animals
children's interactive rock
THURS, July 10 · 8:00pm
Cecilia Noël
sal-soul
FRI, July 11 · 8:00pm
BMI Summer Nights:
David Garza
Opener: Irene Diaz
latin
SAT, July 12 · 8:00pm
Carlos Nuñez
celtic
SUN, July 13 · 7:00pm
Dr. Bobby Rodriguez Latin Jazz
latin jazz
WED, July 16 · 7:00pm
Lythgoe Family Productions: Princess & Pirate
children's theater
THURS, July 17 · 8:00pm
Dublab: Kamasi Washington & Teebs Band
jazz experimental
FRI, July 18 · 8:00pm
Johnny Tillotsen & Bryan Hyland
country
SAT, July 19 · 8:00pm
Jimmy LaFave
americana
SUN, July 20 · 7:00pm
Open Hands
jazz
WED, July 23 · 7:00pm
Kiddle Karoo
children's rock puppets
THURS, July 24 · 8:00pm
Richárd Bernard's Oy!Stars
klezmer
FRI, July 25 · 8:00pm
David Lindley
americana
SAT, July 26 · 8:00pm
The Four Preps
SUN, July 27 · 7:00pm
Pete Escovedo
latin jazz
WED, July 30 · 7:00pm
Steve Songs
children's singer songwriter
THURS, July 31 · 8:00pm
Upstream
caribbean
AUGUST
FRI, August 1 · 8:00pm
Dustbowl Revival
americana
SAT, August 2 · 8:00pm
Laith Al-Saadi
blues rock
SUN, August 3 · 7:00pm
Scott Healy
jazz
WED, August 6 · 7:00pm
Bob Baker Marionettes
children's puppets theater
THURS, August 7 · 8:00pm
Echocell
armenian synthpop
FRI, August 8 · 8:00pm
BMI Summer Nights: Ceci Bastida
Opener: Raquel Sofia
latin
SAT, August 9 · 8:00pm
Mariachi Divas
latin traditional
SUN, August 10 · 7:00pm
Hot Club of Detriot
jazz
WED, August 13 · 7:00pm
Lucky Diaz & the Family Jam Band
children's interactive bilingual
THURS, August 14 · 8:00pm
Dublab: Dwight Trible Ensemble & SK Kakraba
eclectic
FRI, August 15 · 8:00pm
Blame Sally
americana
SAT, August 16 · 8:00pm
Ricardo Lemvo & Makina Loca
afro latin
SUN, August 17 · 7:00pm
Richard Smith
tango
WED, August 20 · 7:00pm
Birdies' Playhouse
children's interactive bilingual
THURS, August 21 · 8:00pm
Omega String Quartet / Classic Rock
classic rock
FRI, August 22 · 8:00pm
Brothers Joscephus & the Love Revolution
soul rock gospel
SAT, August 23 · 8:00pm
John Fullbright
americana folk rock