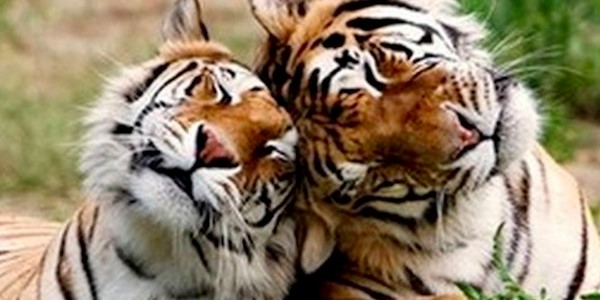 Do you ever go to the zoo and stare in awe at the incredible cats on display? You know, the big ones. With the teeth, and the manes, and the claws the size of a baseball mitt.
Well, there's place in Los Angeles where you can get even closer to these marvelous animals. Probably closer than you thought you ever would.
The Roar Foundation Shambala Preserve has a mission to "To educate the public about exotic animals and to advocate for legislation to protect them. To provide sanctuary for exotic animals, who have suffered from gross mistreatment and neglect so they can regain their physical and mental health and live out their lives in dignity."
Lions, tigers, leopards, panthers… there are over 40 bigs cats in all living at the sanctuary, most rescued from road side shows, circuses, or private owners who could no longer care for these animals (and in many cases badly mistreated them).
And you know the best part? On one special weekend a month, the Preserve opens its doors to the public. Those 18 years and over can get up close and personal with these majestic beasts, learning more about them while appreciating their incredible beauty.
The tours are normally three hours long and require a $50 donation per person. The donations, however, are tax deductible!
See more info below for planning a a visit after the jump.
[Photo Credits: shambala.org]
Planning a Visit to the Shambala Preserve
– You MUST be 18 or over to visit the preserve. Sorry, no kids 🙁
– The Preserve is in Acton, CA, about one hour north of downtown Los Angeles.
– Standard Sarfari tour (offered monthly), and takes about three hours. Tour reservations are REQUIRED. You'll also be required to sign a waiver.
– Go to the Shambala Preserve website to make your reservation and get additional information.
Location of the Shambala Preserve
6867 Soledad Canyon Rd
Acton, CA 93510
(661) 268-0380