The following is a sponsored collaboration between Hilton and We Like L.A.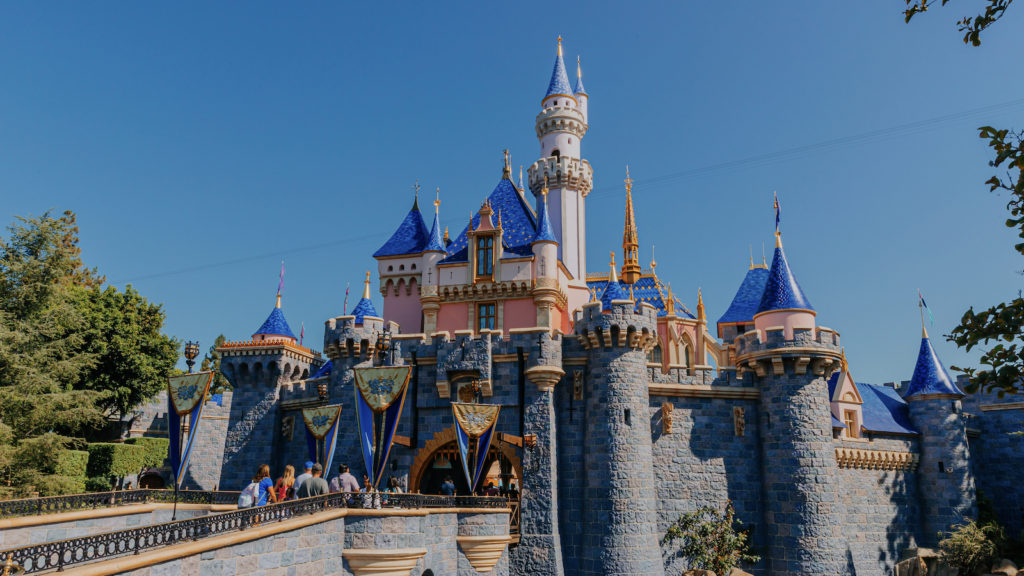 Every year millions of people make a summer pilgrimage to the happiest place on earth. As two thirty-somethings who haven't been to Disneyland® Resort since their teens, a trip to the mecca of the mouse is as much about reconnecting with childhood memories as it is about exploring new attractions. And to be 100% honest, with so much to see, so many options available, and so many people all in one place at one time, it can all be a bit overwhelming.
But if you go at your own pace, prioritize what you want to do, and take advantage of some of the premium services offered, it truly is an experience you won't soon forget.
This is how our perfect day of Disney unfolded.
Planning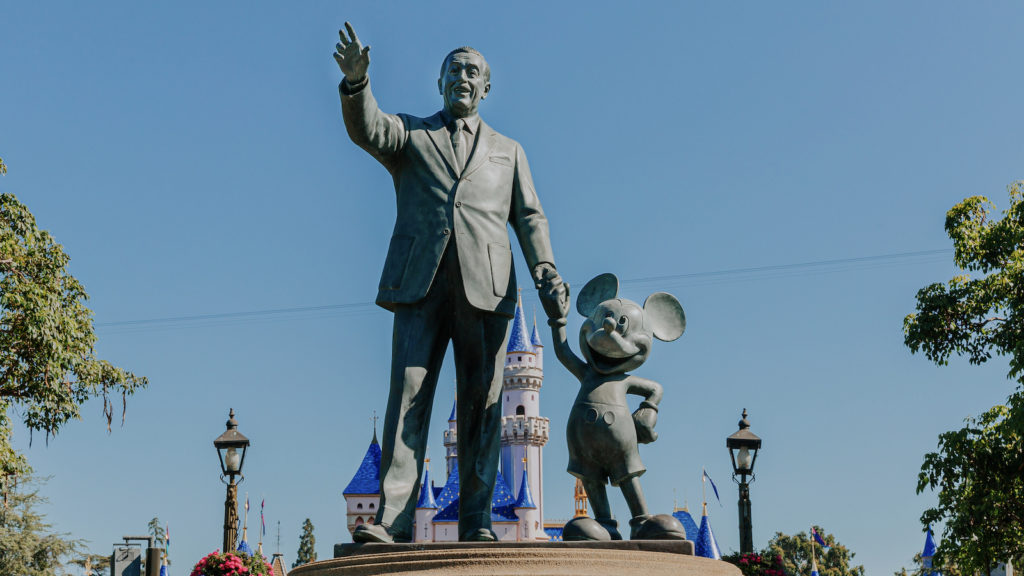 As an adult couple visiting the Disneyland® Resort without kids, our plan probably deviates a bit than most park guests, but one thing that helps everyone is planning ahead to maximize your visit. Summer is a popular time to visit Disneyland, so using all the tools at your disposal makes a world of difference.
This is probably the biggest the reason we decided an overnight stay made sense. We wanted the flexibility to hop from park to hotel and back if need be, and have the peace of mind to know at the end of a long day we could simply crash out just a few minutes away rather than drive another hour to get back to L.A. That's where Hilton has a great hookup.
If you book at least 2 nights in 2019 at participating Hilton hotels in Southern California you can receive a Magical Discount on your park admission to Disneyland® Resort. Guests who book this special offer will have the opportunity to purchase single-day and multi-day Disneyland® Resort Park Hopper® Tickets and Disney MaxPass at a 5% discount off the non-discounted price of the same ticket at the Disneyland® Resort Main Entrance Ticket Booth.
For our visit we arrived before 8 a.m. at the Homewood Suites in Anaheim, had the front desk hold our bags, and then headed off for our day of Disney. The hotel is adjacent to the Toy Story Parking Area, so we simply walked five minutes to the free shuttle and we were on our way!
Something New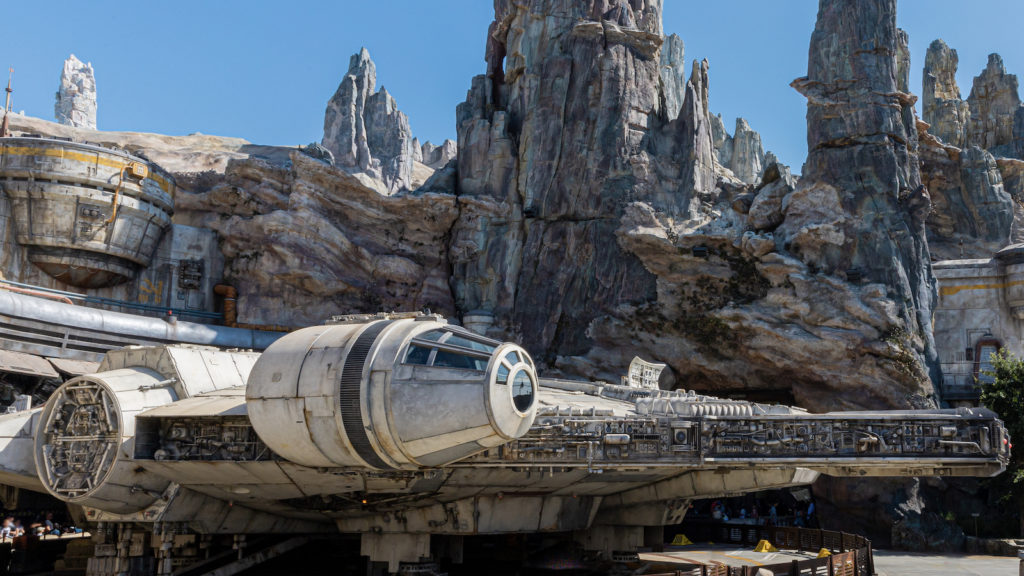 Nostalgia was a big theme for the day, but to begin we wanted to see what was new, which meant our first destination within the park was Star Wars: Galaxy's Edge. It did not disappoint.
The star attraction at Star Wars: Galaxy's Edge is Millennium Falcon: Smuggler's Run. The experience puts a crew of six park guests into an immersive arcade-style ride where you 'borrow' the Millennium Falcon as part of a cargo heist. It's a lot of fun, but of course there's more to Star Wars: Galaxy's Edge than just Millennium Falcon: Smuggler's Run.
Guests can snap a selfie with storm troopers or rub elbows with bounty hunters at Oga's Cantina while trying an expansive menu of exotic concoctions suitable for adults and children. If you're hungry grab some Outpost Mix from Kat Saka's Kettle or fuel up on galactic provisions at Docking Bay 7 Food and Cargo housed in a working hangar bay.
Rides, Rides, Rides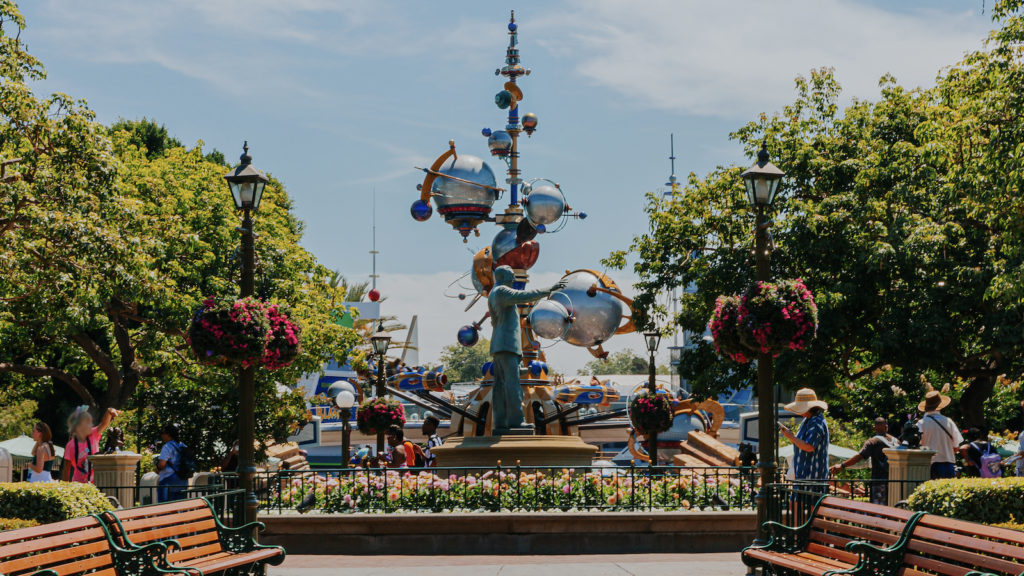 After Star Wars: Galaxy's Edge our goal for the next four hours was to get through as many rides as possible. In order to make this happen, we enlisted the help of Disney MaxPass.
Disney MaxPass costs $15 to add to our one-day Park Hopper® tickets (that's $15 per ticket – but remember, you can get 5% off when you book with Hilton), and it was money well spent. The service allowed us to make reservations using the Disney FASTPASS® service directly from a phone, meaning we could plan out and book reservation windows on rides even as we were in line for others. There were a bunch of old-school rides on our to-do list: Haunted Mansion, Indiana Jones Adventure, Space Mountain, Pirates of the Caribbean, Big Thunder Mountain Railroad, and more. Fortunately we were able to get to just about all our targets with the help of Disney MaxPass.
A couple of tips we advise for using Disney MaxPass:
First, stagger your ride selections so you've queued up a couple with short wait times, and then another that might be a few hours away.
Second, bring a portable phone charger because having the app open all day will drain your battery fairly quickly.
Dining at Disneyland® Resort
If you're going to eat at Disneyland® Resort then Main Street provides the richest array of options. For something quick we'd advise a stop by Little Red Wagon located next to the Plaza Inn where you can get a hand-dipped corn dog. This corn dog is legendary at the park due to a super thick and delicious cornbread batter. You can also get the corn dog at Corn Dog Castle in Disney California Adventure® Park, which offers a cheese filled option as well.
For something a bit more substantial, opt for a friend chicken plate at aforementioned Plaza Inn. Each plate comes with mashed potatoes, vegetables, and a biscuit, and the portion is fairly sizable. We were able to share one fried chicken plate and add a couple of side salads and it squared out to a perfectly sized meal for two, at a cost of less than $30. It also left a little room for sweets!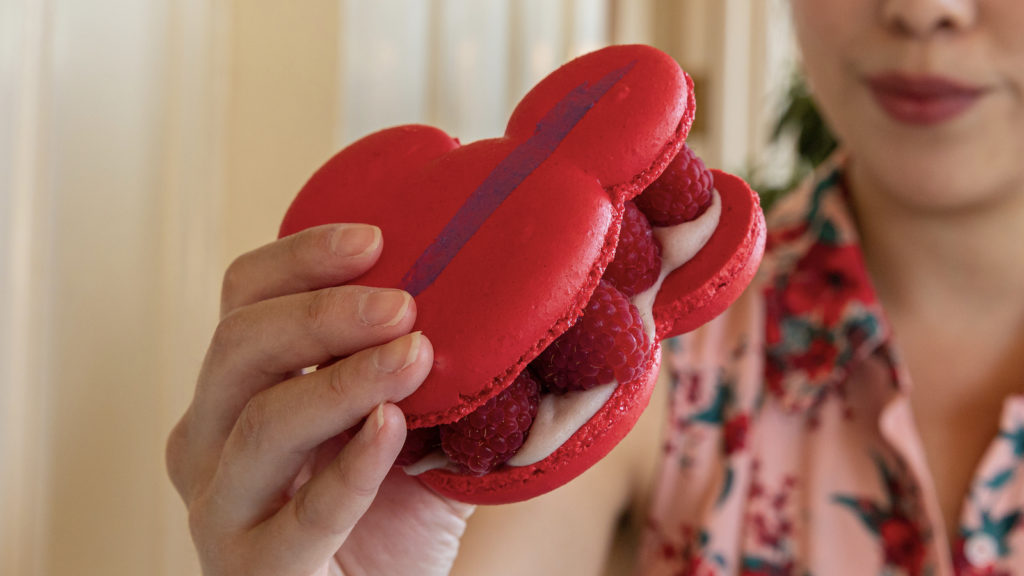 Across the from the Plaza Inn is Jolly Holiday Bakery Cafe, where you'll find the adorable raspberry rose Mickey macaron. Fresh raspberries and raspberry mousse are sandwiched between two Mickey macarons. It tastes as sweet as it looks.
As you make your way through Disneyland®Resort cool off with a DOLE WHIP® or a DOLE WHIP® Float at the Tiki Juice Bar, a counter outside of Walt Disney's Enchanted Tiki Room located in Adventureland. DOLE WHIP® is essentially a dairy-free pineapple soft serve. If you are looking for something more substantial to go with your DOLE WHIP® step inside The Tropical Hideaway located next to Walt Disney's Enchanted Tiki Room. There you can enjoy a selection of baos from bulgogi beef to spiced vegetables and lime chicken. A variety of fresh fruit, sweet lumpia and an assortment of whip flavors are also available.
The Disney Pop-Up Experience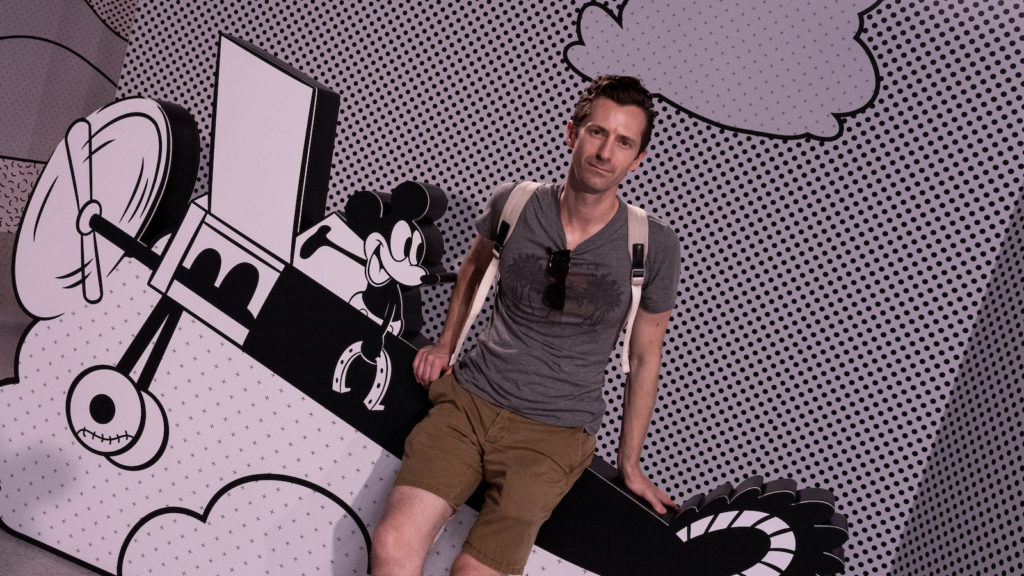 After grabbing a bite we exited the park and headed over to Downtown Disney® District where we had afternoon reservations for Pop-Up Disney! A Mickey Celebration.
This pop-up experience is housed inside the former home of ESPN Zone, where the upstairs has been built out into a series of rooms featuring hyper-colorful displays, each showcasing Mickey in a variety of themes, from a look at the early years of Mickey to a Fantasia tribute and everything in between. The oversized backdrops and Instagrammable installations provide plenty of photo-ops, so if Mickey and the 'gram are two of your favorite things, then Pop-Up Disney! A Mickey Celebration is a must.
Tickets start at $30 for a weekday visit but keep in mind it's open only until September 2, so if you want to visit, it'll have to be before summer ends.
More Photo Ops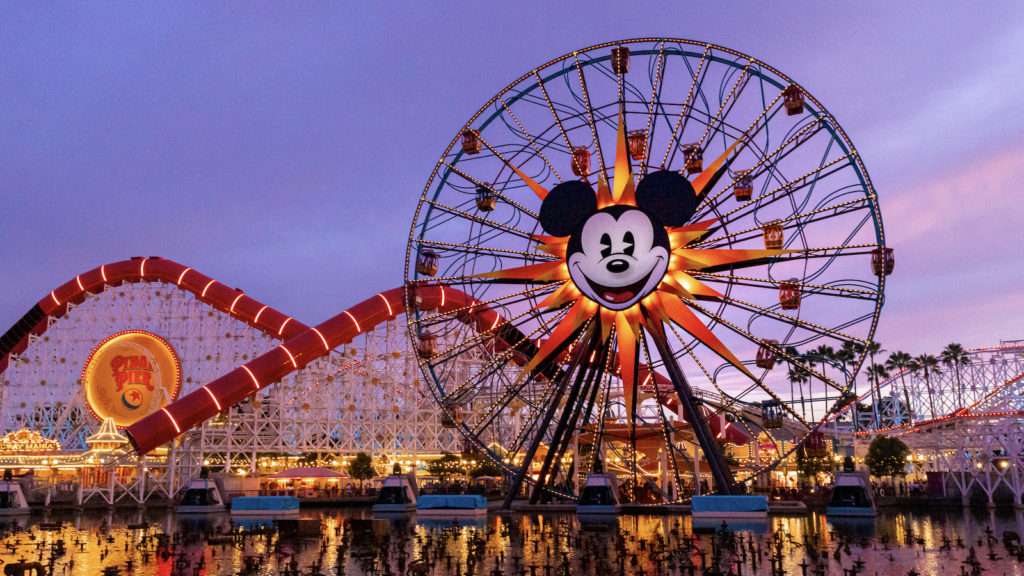 Some SoCal locals might have annual passes, while others visit Disneyland® once every few years. Still for others this might be a once-in-a-lifetime experience. In almost every case, people want to take great photos to capture the memory. Here are a few suggested spots for such a shot:
Sleeping Beauty Castle
Walt Disney and Mickey Mouse statue
The whimsical oversized teacups at the Mad Tea Party ride
In front of the Millennium Falcon at Star Wars Galaxy's Edge
Outside of "it's a small world"
Next to one of the Main Street Vehicles
Mickey's Toontown
Disneyland Forever® fireworks in front of the Sleeping Beauty Castle
In front of the Pixar Pal-A-Round at Disney California Adventure® Park
Pixar Pier at Disney California Adventure® Park
Capping it Off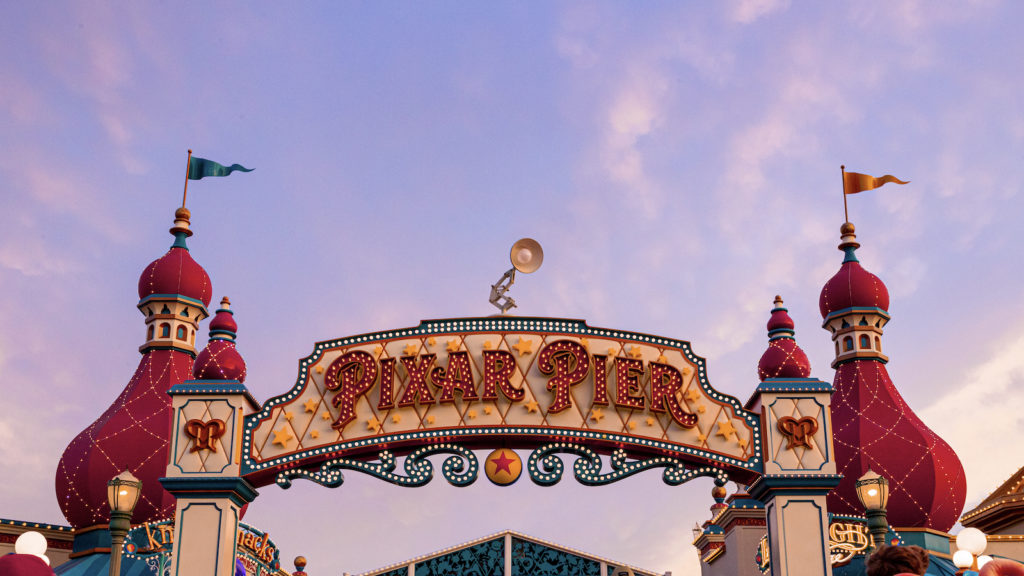 By late afternoon we were getting tired, so it was a great time to shuttle back to the hotel, check in, and catch a quick breather. A short while later we were ready for round two, and this time we were headed to Disney California Adventure® Park.
There is no way to get through all of Disney California Adventure® Park in just a couple short hours, but we settled for a ride on the Incredicoaster, a walk on Pixar Pier, and a sunset view of the Pixar Pal-A-Round (formerly Mickey's Fun Wheel). After the sunset photos it was time to go back to the Disneyland® Park for one last thrill.
By just after 9 p.m. a crowd had gathered in a column on Main Street with Sleeping Beauty Castle standing in the distance. Minutes later fireworks filled the night sky as a soaring medley of Disney's most iconic scores played throughout the park. It was quite a moment, a culmination of experiences both past and present, calling back not just to things we'd seen that day, but also movies and experiences we'd had as children. And as we glanced around to the faces of those around us it was hard not to notice the awe and wonder captured in the eyes of both kids and adults. There really is something about this place, isn't there?