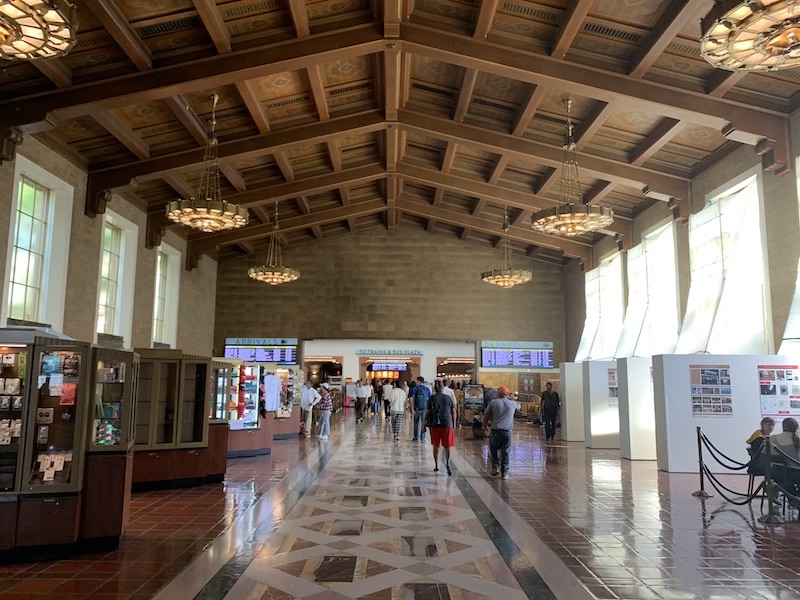 Need a little fun for your Sunday?
Today in Los Angeles, you'll find a a Tortilla Tournament at Smorgasburg, a rare book fair at Union Station, the 5th Annual Disability Pride Parade and Festival, a Mahjong League social in Chinatown, the Family Style Food Festival, Oddities Flea Market, and much more.
Make Metro Part of Your Weekend
HERE: Arts & Culture Along the K -> October 8 marks the one-year anniversary of Metro's K Line, and to celebrate the transit agency is teaming up with the Museum of African American Art to host a multimedia art exhibition at Baldwin Hills Crenshaw Plaza showcasing the Metro Art K Line art program, and works from over a dozen contributing artists. HERE: Arts & Culture Along the K, which opened yesterday, will remain on. view through December 30. Open hours are Wednesday-Sunday from 11 a.m. to 5 p.m. More info here.
Go Metro: Take the K Line to Martin Luther King Jr. station.
Three Top Picks To Do This Sunday
M = Less than .5 miles from an L.A. Metro Station, FA = Free Admission
Gustavo's Great Tortilla Tournament – FA TP > L.A. Times columnist Gustavo Arellano has teamed up with KCRW to host the Great Tortilla Tournament, coming to Smorgasburg LA on Sunday for a day of friendly competition, a I Love Micheladas beer garden, food pairings, live music and tortilla centered entertainment. More info here.
Rare Books LA – M > Explore antiquarian books, maps, and photography at Rare Books LA this Saturday and Sunday. Taking place at LA's historic Union Station in the Ticket Concourse the public can view rare literary gems and collectibles, sit in on a slate of conversations, be entertained by marionette performances from Bob Baker Marionette Theater and view a collection of California's cest cocktail napkins by Patrick Quinn. Plus, it's easy to get there using Metrolink, Metro Rail, or Amtrak. Tickets range from $15 to $25. More info here.
Mahjong at Steep LA – M-> This Sunday join the Los Angeles Mahjong League and Steep LA as they present 吃碰會館, the Eat & Touch Social Club, for an educational and playful Taiwanese Mahjong session. It's a first-come, first-play event with two tables dedicated to teaching newcomers the game and one table for those ready to jump right in. Happening from 4 p.m. to 6 p.m. guests will also have the opportunity to purchase a variety of beverages including beer, sake, and makgeolli, along with some delicious food options. More info here. 
Six More Things To Do in L.A. Today
---
Want to get the best things to do in L.A. sent straight to your inbox? Join over 60,000 Angelenos who subscribe to our twice weekly email newsletter!
By subscribing, you agree to our terms of use and privacy policy and consent to receive emails from We Like L.A. about news, events, offers, and partner promotions.