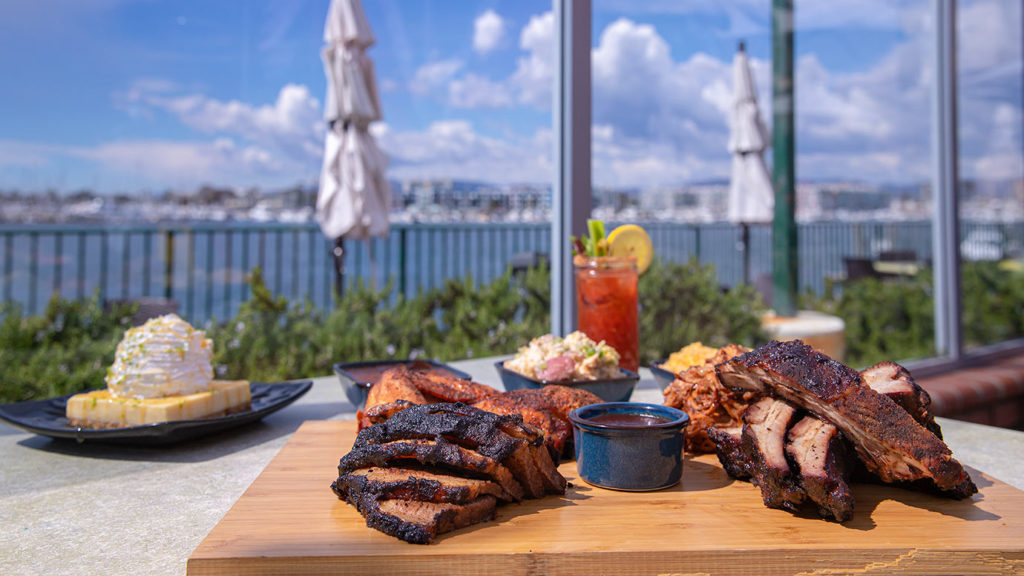 Ghost kitchens or "cloud kitchens" are the way of the future. It's just like ordering takeout from a restaurant, but most of these kitchens don't have a storefront or dining room. During the pandemic, several chefs and members of the hospitality industry turned hardship and uncertainty into fully-fledged businesses by making the ghost kitchen concept a trend that's here to stay.
With so many ghost kitchens popping up on delivery platforms, it might be difficult to decide what's actually worth spending your money on. For this list, we've vetted our picks—and in-turn gained a few pounds in the process—so rest assured you won't be fooled into accidentally ordering from Pasqually's Pizza & Wing a.k.a. Chuck E. Cheese. Yikes.
So when you've exhausted all your regular go-to dining options, turn your attention to these exciting ghost kitchens operating exclusively for delivery and pickup.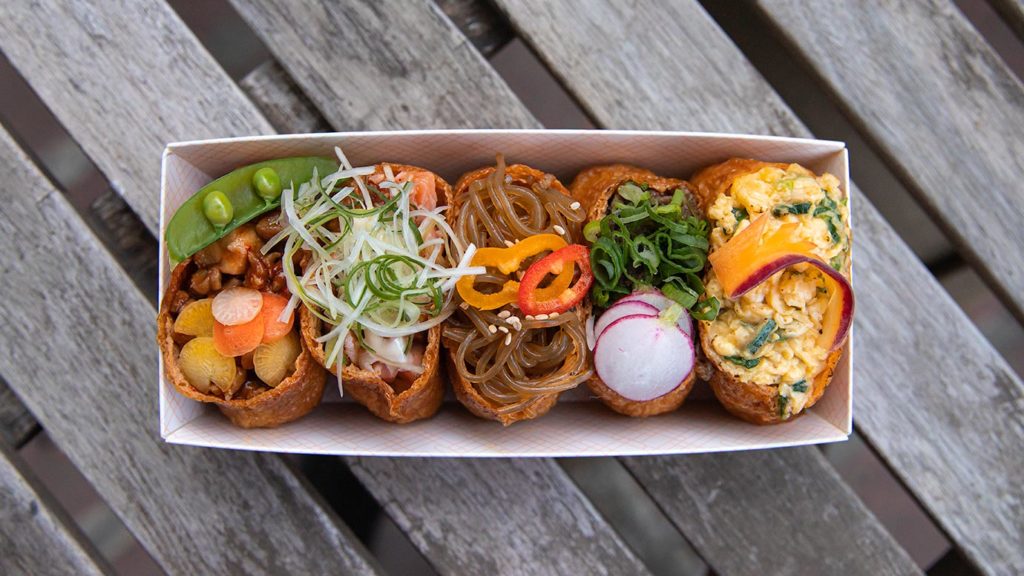 Korea's SM Entertainment has landed in Los Angeles with an online-only version of its popular restaurant and club, SMT. The global company already has locations in Korea and Tokyo, and has plans to open a two-story operation in the heart of Koreatown later this year. For now, the public can get a taste of what's to come through delivery from DoorDash, GrubHub, and Fantuan. The introductory menu includes an assortment of yubuchobap, a multi-color veggie & bulgogi bowl, japchae fried dumplings, bulgogi puff pies, and more.
Orso Pasta delivers handmade pasta and gourmet sauces straight to your door. Current seasonal sauces include Saffron Turmeric Buttersauce, Bolognese, and Cacio E Pepe. Choose from Cavatelli, Tagliatelle, Gnocchi, and Maltagliati as pasta options. There is very little prep time. Boiling the pasta and simmering the sauce just takes five minutes, so even novices can look like a pro. Each order serves two and costs around $30.
Red's Smokin Texas BBQ from Marina Del Rey's oceanfront restaurant Whiskey Reds is serving slow-smoked meats infused with hickory, apple, and pecan wood. Choose from brisket, ribs, chicken, and pulled pork, all hand-rubbed with a custom blend of spices and punctuated with their signature bourbon BBQ sauce. Order by phone, online, or conveniently at the new walk-up bar for pickup on the colorful boardwalk. Communal tables are also dotted along the walkway for those who wish to eat their food with an ocean view. Open Wednesdays through Sundays. Available for pickup and delivery.
We Love Wingz is another newcomer by Whiskey Reds featuring 14 wing flavors each inspired by the variety of cuisines we have right here in Los Angeles. Favors include Al Pastor, Bahamian Jerk, Nashville Hot, Honey Harissa, and many more. Pair the wings with waffle fries or veggie sticks, but don't sleep on the Aji Verde dipping sauce. In fact, douse everything with it. Order by phone, online, or at Whiskey Reds new walk-up bar for pickup on the boardwalk. Communal tables are also available for those who want to sink their teeth into the wings asap. Open Wednesdays through Sundays. Available for pickup and delivery.
From restauranteur Tancredi Deluca comes sandwich concept Delucatessen at EMILIA. Inspired by the northeastern Italian port city of Tieste, the hot and cold sandwich menu includes classic Italian subs such as Chicken Parmesan alongside sandwiches unique to the Tieste region like the Tramezzino Tostato, a panini with Leoncini ham, imported fontina, provolone, and spicy giardiniera. Open Monday through Friday for delivery and takeout.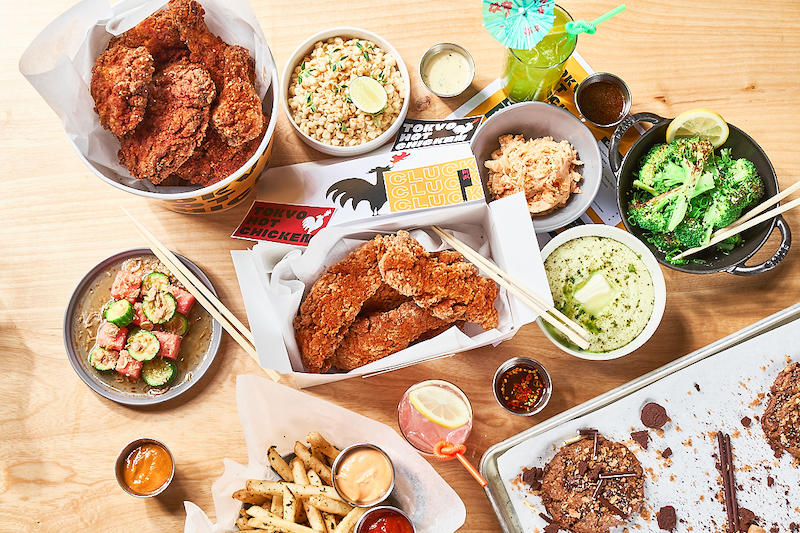 Micheal Mina's Bourbon Steakhouse is hiding a hot chicken operation in its kitchen. Tokyo Hot Chicken fuses traditional fried chicken and the bold flavors of Japanese cuisine. Chicken is brined and then fried karaage style, while the skin is dashed with togarashi and other hot spices. Sides include fries and rice sprinkled with furikake, wasabi mashed potatoes, dashi braised kale, miso corn, and a variety of dipping sauces. Available for delivery and pickup.
Bourbon Steakhouse, known for serving up delicious steaks inside its beautiful Glendale restaurant, has also expanded its burger options through a ghost kitchen named Bourbon Burger Bar. The burgers are made with prime dry-aged steak patties clocking in at half a pound. Elevated toppings include black truffle, au poivre sauce, and applewood smoked bacon. Burgers can also be turned into burger salads for the carb conscious. If tempted to get extra fancy with your meal, order the Caviar Creme Fraiche Fries—it's Bourbon Steak's famous duck fat fries paired with a dipping sauce made of creme fraiche topped with 1/4 oz of caviar.
A group of displaced cooks have banded together to form Tasty Food 626, an R+D kitchen with an ever-changing menu found through Instagram. It's a hodgepodge of delightful eats; previous dishes have included Seared Furikake Bluefin bento boxes, Scallop Tartare, and "Land Chirashi." They also have extremely popular reoccurring items that pop up often, including an extra creamy foie gras terrine served with a seasonal jam and cornichons, Island Crunch Jerky, and snacking waffles in a variety of flavors.
Sushi Del Rey offers premium sushi and gorgeous omakase boxes out of a commercial kitchen designed for low-contact pickup and delivery. A variety of boxes ranging from $35 to $55 are on the menu, and each includes a mix of rolls, nigiri, and sashimi. The omakase comes with 16 different items for $70 and there are over a dozen specialty rolls to order a la carte. From 11 a.m. to 5 p.m., Sushi Del Rey also offers $14-$16 lunch sets of grilled proteins and Tonkatsu.
Luther Bob's magic comes from the local California chicken and produce farmers they support. The menu is solely focused on fried chicken in a "sammie" or a "tendie," and both can be made into a meal with seasoned waffle fries. Chicken is antibiotic-free, never frozen, and fried with certified non-GMO rice bran oil. All sauces are made from scratch, with no added preservatives. Add the Jasmine Sweet Tea to your order, made in-house daily with organic jasmine tea and real cane sugar.
South Asian pickup and delivery concept Jungli recently opened in the commissary space Crafted Kitchen. It offers a weekly rotating menu the takes traditional South Asian flavors and reinterprets them for the modern palate. Options have included arancini stuffed with spinach and paneer, Bombay Hot Chicken served with white bread and pickles, and a Meatball Masala with rice and mustard greens. Order a la carte or go big and opt for family-style feast, which feeds four to six people. Available via Postmates, Wednesday through Friday.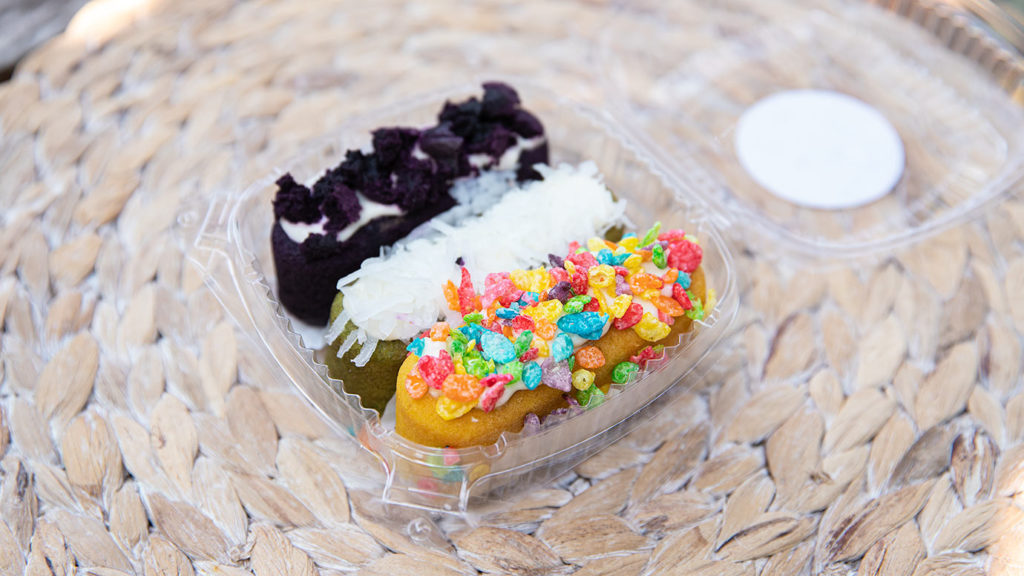 Keyks owner Jae Javier de Castro's passion for nostalgic treats inspired her to reimagined the Twinkie with a global twist. Baked from scratch and sold in packs, there are several different flavor themes on the menu. The Halo Halo Keyks pack gives you three Filipino-inspired Twinkies made of Ube, Pandan, and Jackfruit filled with buttercream. Available for local delivery in the Los Angeles and Orange County areas or nationwide shipping.
Dominique Crenn, the first female three-star Michelin Chef in the United States, started a plant-based super foods meal delivery company during the pandemic. VitaBowl offers nourishing meals for $13 a pop. Find tasty creative options like spicy jackfruit or a lentil flax falafel on the menu. Each bowl is created with a specific health benefit in mind, such as anti-inflammatory, micro biotic, or gut health. Available on Postmates, GrubHub, and DoorDash. Mean plan delivery service Territory Foods has also recently included Crenn's VitaBowls on its menu.
The Burrito Lab by Tocaya offers huge 14-inch stuffed burritos. Choose from five flavors including spicy beef, cajun shrimp, and grilled al pastor chicken. Order via Postmates.
The Crispy Cuban food truck has converted into a delivery-only concept. In addition to Cuban sandwiches, bowls, and sides, they've also got family meals that feed four. Delivery can be accessed through a number of apps. Curbside pick-up is also available by calling (213) 271-9381.
Eric Greenspan opened a virtual food court called Alt Grub Faction with four new concepts available through most food order apps. They include: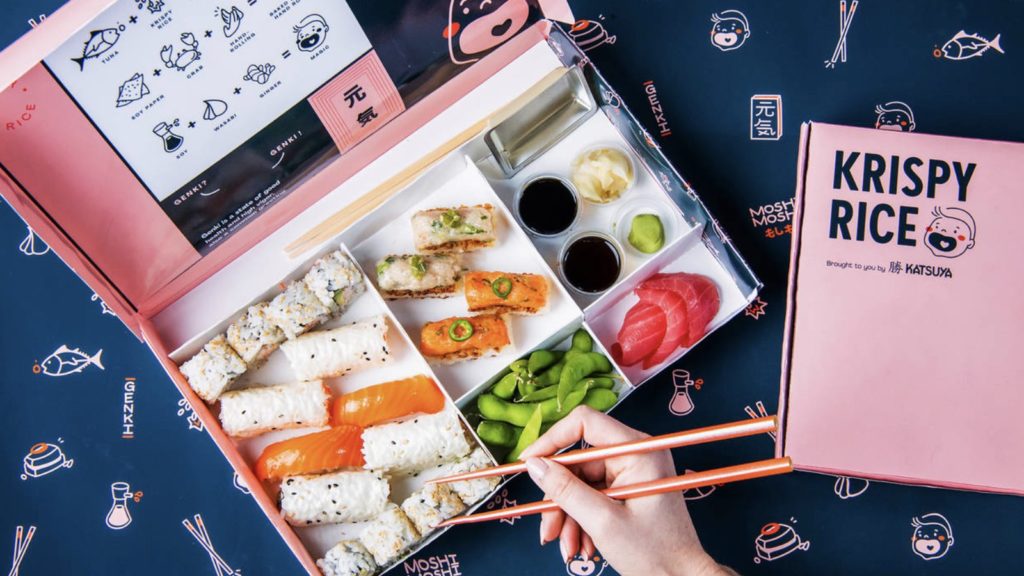 SBE is using Umami Burger locations to offer two additional delivery and takeout brands. From the team behind Katsuya is the new sushi concept Krispy Rice. It offers nigiri, handrolls, maki, and several items on Katsuya's signature crispy rice, such as spicy tuna or King Salmon with yuzu. Order a la carte or from one of many combination box sets.
The culinary team at Umami created Sam's Crispy Chicken offering chicken sandwiches prepared in all kinds of ways, including the original with pickle and slaw, Nashville Hot, or the very spicy Diablo. Pair with waffle fries, mac & cheese, or lemonade milkshakes for an extra treat.
This Smorgasburg vendor Burmese, Please! pivoted to a twice-a-month takeout business offering multi-serving curry kits, tea leaf salad, and noodle soups. DM your order. Pickup takes place on select Tuesdays in downtown Los Angeles.
Wing Squad's saucy wings are available for delivery through all the major delivery apps. The menu carries five wing flavors, sides like salads and mac & cheese, and even desserts.