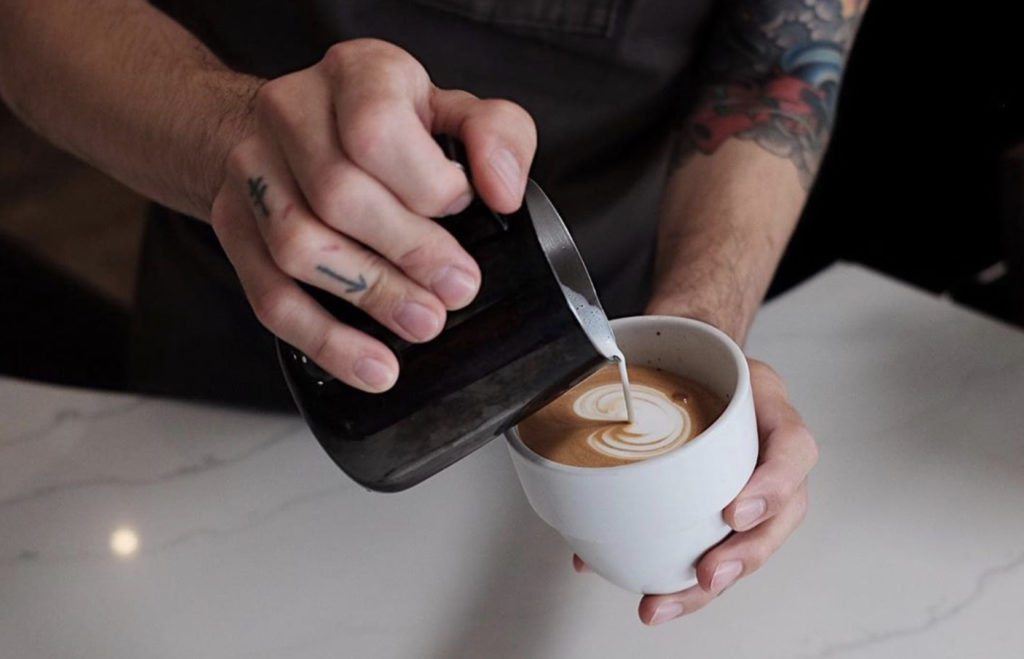 One thing that hasn't changed during the pandemic is that a good cup of coffee makes everything better. Fortunately, Los Angeles is obsessed with coffee. Our thriving coffee culture has attracted many talented baristas slinging brew at a number of stand-out cafes and coffee bars. So where does one go for the best cup of Joe in L.A.? Consider heading to one of the following 25 coffee shops.
Bloom & Plume Coffee (Westlake)
Los Angeles-based artist Maurice Harris opened and designed one of the coolest spots to sip a latte. Part-cafe and part-flower shop, Bloom & Plume prepares coffee and espresso with beans from Oakland-based Red Bay Coffee Roasters. Fans of fancy toasts need to order the avocado toast—it's the prettiest one in the city. On Wednesdays, the shop collaborates on sandwiches with Wax Paper. –> More information.
Muddy Paw (Silver Lake & Eagle Rock)
"Have A Cup Save A Pup!" is the motto at this paw-friendly coffee shop. Buying a drink here supports a number of animal shelters and charities, but that's not the only reason to visit. Muddy Paw makes really tasty drinks, like the Mexican Mocha and the Salty Old Dog—a latte made with dark chocolate, caramel, and sea salt. If you have a dog or just like being around them, the flagship Eagle Rock location has a dog park! –> More information.
Hilltop Coffee & Kitchen (View Park, Inglewood & Eagle Rock)
Founded by Los Angeles natives Yonnie Hagos and Ajay Relan, Hilltop Coffee not only serve looks (they are super cute inside) but also tasty house-made almond milk lattes, espresso, and tea beverages. You won't find a bland food menu here either. They serve things you actually want to eat, like Crispy Chicken Sandwiches, Short Rib Grilled Cheese, and Beignets. Look out for their Eagle Rock location opening soon. –> More information.
Swork (Eagle Rock)
Open since 2001, Swork introduced several quality roasters like Stumptown to Angelenos. Their Vanilla Bean Latte and Mexican Mayan Mocha are some of the most addictive drinks in the city. Before the pandemic, their shop was a great space to do some work on your laptop. Parents also appreciated the cozy children's play area in the back. –> More information.
Menotti's Coffee Stop (Culver City & Venice)
Cold brew ice cubes? YEP, that's a thing here. If you're looking for that extra dose of caffeine order the Heavy Metal Jack Jack, cold brew with maple syrup, half and half, and activated charcoal, then chilled with the brew cubes. Fun fact about Menotti's: the head barista Christopher "Nicely" Abel Alameda is a three-time Latte Art World Championship winner. –> More information.
Jameson Brown Coffee Roasters (Pasadena)
Jameson Brown has served small-batch coffee roasted in-house since 2006. The beans come from South America to Ethiopia. Classic coffee beverages can be found at the shop, but don't overlook the specialty drinks. Several creations are seasonal, like the Pumpkin Latte (made with real pumpkin) and Orange Blossom Latte. Popular specialty drinks that are offered year-round include The Lavender Vanilla Breve and Cardamom Rose Latte. –> More information.
Commodity (Long Beach)
Coffee, beer, wine, and food. This place has it all. On the caffeinated side, Commodity offers several espresso drinks and barrel-aged coffee. –> More information
Demitasse (Little Tokyo, Mid-Wilshire & Santa Monica)
Run by self-proclaimed "coffee geeks," Demitasse offers small-batch roasted beans from a variety of regions. Owner Bobby Roshan encourages all baristas to experiment and some have developed signature drinks in the past, including a strawberry ginger latte and the Black Mamba latte made with Okinawan black sugar and ginger. –> More information.
Patria Coffee (Compton)
This small-batch coffee roaster sources beans from "Cooperativas," which empower communities of small coffee growers to form their own enterprises. Beans are roasted on-site at the shop and the menu offers a number of interesting drinks including Café de olla, a Mexican-spiced coffee made with cinnamon and Piloncillo. Mexican chocolate fans should definitely order the Ibarra Mocha. –> More information.
Alfred's (Multiple Locations)
Perhaps the most Instagrammed coffee in all of Los Angeles, Alfred's take its drinks as seriously as its aesthetic. Iced vanilla lattes are so popular here that Alfred's now sells the house-made syrup (made with real vanilla beans) in bottles. Alfred's also carries its own shade-grown, single-origin matcha blend. –> More information.
Endorffeine (Chinatown)
Literally operated by a scientist, Endorffeine is one of Food & Wine's 2019 Best Coffee Shops in America. The tiny shop serves unique caffeinated sips like Vanilla Pandan Latte and coconut matcha. They also use some of the most sought after beans from around the world, including Drop (Stockholm), Sey (Brooklyn), and Cognoscenti Coffee (Los Angeles.) Drinks are grab-and-go for the moment with free delivery on select days. Double filtered, 36-hour steeped cold-brew growlers are also available. –> More information.
Verve Coffee Roasters (Multiple Locations)
Founded in 2007 in Santa Cruz, Verve believes in sourcing high-quality coffee that's cultivated through sustainable growing practices. They work with farmers around the globe and pay them a premium. Coffee aficionados can find single-origin and heirloom coffee varieties to sip on in the shops and seasonal whole beans to take home. –> More information.
Intelligentsia Coffee (Multiple Locations)
Open since 2007, Intelligentsia checks all the boxes for serious coffee drinkers. Baristas whip up drinks with precision and beans are all single-origin, direct trade, and organic. –> More information.
G&B & Go Get Em Tiger (Multiple Locations)
G&B is an award-wining, bar-style coffee stand located inside Grand Central Market. Recognized for having some serious coffee skills, the success of the stand allowed them to expand across Los Angeles under the name Go Get Em Tiger. With nine locations in the city, the shop brews its own beans and make an excellent almond macadamia milk in-house. Order the famous Business and Pleasure, a flight with espresso, almond macadamia milk, and fermented cold tea. –> More information.
Silverback Coffee (Echo Park & DTLA)
Rwanda native Jack Karuletwa sources his beans from family farms and woman-owned co-ops in Rwanda. On the menu are several flavored nitro coffees, classic espresso drinks, and lots of teas. A portion of the sales is donated to Rwandan organizations so you can feel extra good as you sip your coffee. FYI, the Downtown location is currently closed. –> More information.
Sightglass (Hollywood)
The first location outside of San Francisco, Sightglass in Hollywood offers an extensive single-origin coffee menu alongside espresso drinks and a food menu with Roman-style pizzas, bagels, and more. –> More information.
Caffe Luxxe (Multiple Locations)
Owners Mark Wain and Gary Chau travel the world in search of the best beans. Inspired by an artisan approach to coffee, beans are all hand-roasted in small batches by their master roaster. Here you'll find carefully prepared lattes, cappuccinos, and other caffeinated beverages. –> More information.
Tierra Mia (Multiple Locations)
A South L.A. original, Tierra Mia's menu reflects the Latin roots of founder Ulysses Romero. A dulce de leche latte, Cafecito Cubano, Mocha Mexicano, or Horchata Latte are all fantastic choices. Grab some guava cheese pastries and tres leches muffins, baked in-house. Several locations also have a drive-thru for quick pickup. –> More information.
Dayglow (Silver Lake & West Hollywood)
Sitting at the #2 spot of Food & Wine's 2019 "Best Coffee Shops in America," Dayglow is not only every Instagrammer's dream but also a place to find a tightly curated list of coffees from acclaimed global roasters. Beans from Hong Kong's Cupping Room, Montreal's Kittel, Oslo's Solberg & Hansen, and more have appeared on the menu. Featured roasters are always changing, so drop in often to explore what the rest of the world is sipping. Give the signature drink, The Warhol, a try. It's made with espresso seasoned with vanilla, cinnamon, lime, and nutmeg. –> More information.
VanillaBlack (Echo Park)
Vanessa Butler's small coffee shop offers a variety of drinks like bestseller the Layla Latte, an espresso infused with lavender and vanilla, and the double shot espresso drink Vanilla Bomb. –> More information.
House Roots Coffee (Granada Hills)
This valley coffee shop offers drip, pour-over and nitro brewed coffees, plus specialty espresso drinks like Lavender and Autumn Spiced Lattes –> More information.
Little Amsterdam (Mid-City)
Owner Joshua Mock turned his coffee shop into a local hangout space for people to enjoy some art and music. On the menu are lattes, teas, LAmonades, and health-boosting beverages like mushroom coffee. –> More information.
Dinosaur Coffee (Silver Lake)
An airy neighborhood spot, Dinosaur serves coffee from roasters like Dagwood Coffee Co. (Minneapolis), Terrain Coffee Project (Portland), and Fourbarrel (San Francisco). They also offer tasty seasonal shrubs and teas. –> More information.
The Palm Coffee Bar (Burbank)
Home of the Glitter Latte, this super Instagram-able coffee shop is owned and operated by Ben and Joanna Heart Milliken. The shop offers traditional coffee beverages and deliciously over-the-top drinks. If you are looking for a sugar fuel, order an Iced Cinnamon Toast Crunch made with espresso, oat milk, caramel syrup, and topped with cereal. For an extra fee, people can top any drink with Lucky Charms, glitter, flowers, and rainbow sprinkles too. –> More information
LAMILL Coffee (Silver Lake)
One of the originators of artisanal lattes in the city, LAMILL also roasts a wide variety of coffees. The shop offers pour-over coffee, Japanese iced coffee, a Valrhona Mocha, and more. There's also a full food menu of small plates and entrees like the LAMILL breakfast plate and smash burger, plus several sweets. –> More information.