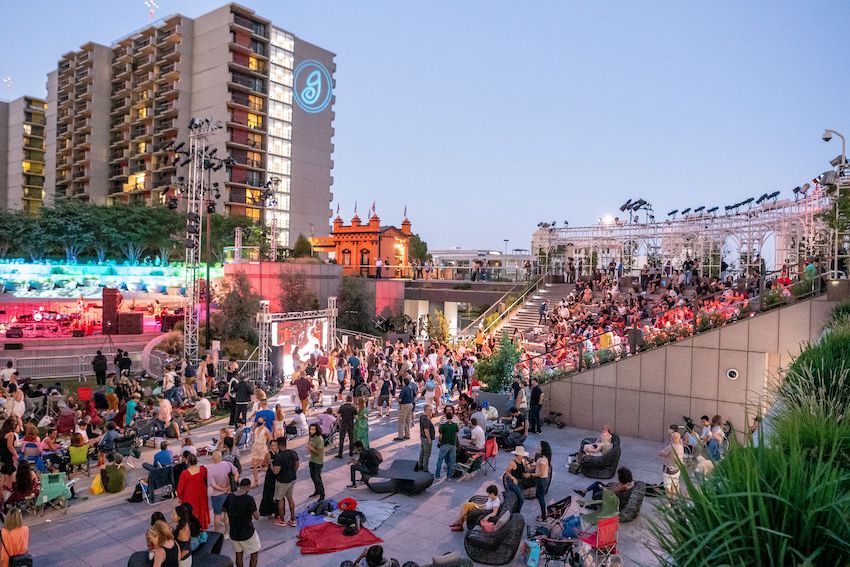 May isn't even over, but we've got our eyes trained on the summer. And that means June to-dos in the city of angels.
Below is the best of what we see on deck for the month to come in Los Angeles. It's a big list, maybe the biggest list we've made so far this year. But that's ok. Options are great. And great is exactly the kind of summer we hope you have. Enjoy the rundown!
Things To Do This June
[REMEMBER: If free museums are your bag, check our Cheatsheet of Free Museum Days in June]
Grunion Fish-tival (June 1) -> Grunion season is in full swing, and Cabrillo Marine Aquarium in San Pedro is celebrating with an evening affair featuring grunion arts and crafts, grunion hatchings, and after-hours access to exhibits, all capped by a trip to the beach to (hopefully) observe a spawning in real-time. Adult tickets are $7, children are $3. More info here.
Will Americans Ever Be In This Together? (June 1) -> Heather McGhee, winner of the 2022 Zócalo Book Prize, will be at Zócalo Public Square to start the month with a special discussion examining the racial roots of American inequality, and what it will take to grow a better nation, together. The event, which takes place at the ASU California Center in DTLA, is free to attend and includes a post-talk reception. More info here.
SaMo PRIDE (June 1-30) -> For 2022, Santa Monica Pride Month features a new light installation called Miles of Pride, a rainbow colored spectacle that spans multiple miles in and around Downtown Santa Monica. Pride month also includes a slate of events throughout the city, including a PRIDE Marketplace every Friday through Sunday in June, a Queer Prom at Water Garden on June 18, and a sunset swim at the Annenberg Community Beach House on June 24. Check the full schedule of events and get more info here.
Beverly Hills Pride at The Wallis (June 2) -> Beverly Hills Pride at the Wallis is a free event featuring musical performances, special guest appearances, DJ'd music, and drag, all hosted by Tolliver and KCRW's Novena Carmel. RSVP and get more info here.
San Pedro Artwalk Tour (June 2) -> On the first Thursday of every month, the San Pedro Waterfront Art District provides free tours of galleries participating in in the San Pedro Art Walk. For June, the tour takes guests through a selection of galleries along Pacific Avenue, including the National Watercolor Society, Gallery Azul, Blue Water Clay, and others. Free with RSVP. More info here.
The Bungalow Santa Monica's Night Market (starting June 2) -> The Fairmont Miramar Hotel and KCRW are bringing back The Bungalow Santa Monica Night Market just in time for summer. Free and open to the public, guests should except brand activations, family-friendly activities, live DJ performances, and celebrity guest bartenders. Runs every Thursday through Sep. 1. More info here.
The Music Center's Dance DTLA (June 3, June 17) -> Free evening dance parties return to The Music Center's Jerry Moss Plaza starting on June 3 with a night of Motown. The series continues on 11 select Fridays throughout the summer. Dance instructors will be on hand to teach guests easy-to-follow steps, allowing everyone to get into the groove right from the jump. Very family-friendly and very free. No reservation required. More info here.
Drive-In Movie Nights at The Roadium (June 3, June 10, June 17, June 24)-> The Roadium returns every Friday evening this month to revive your favorite films in a classic 1950s drive-in setting. Movies this month include Rush Hour, Reservoir Dogs, True Lies and Caddyshack. Tickets are $25 per vehicle. More info here.
First Fridays at NHM (June 3) -> Natural History Museums series of plant-centric First Fridays events continues on June 3 with the theme of Seed Sovereignty. Expect special discussions and educational presentations, a digital art pop-up by James Merry, and musical performances by Claud and Alix Page. Tickets start at $20 for adults. More info here.
The Electrify Expo (June 3-5) -> This three-day event at the Long Beach Convention Center showcases the latest in the world of electric vehicles, offering guests test drives on demo courses, special exhibits, a lineup of experts to chat with, and even a kids zone. Tickets for the public days (Saturday and Sunday) run $20, but you can save $5 using the special promo code EEWLA25. More info here.
WeHo Pride (June 3-5) While the city's official LA Pride event has moved east for 2022 (see June 11-12 blurb below), West Hollywood is still putting on its own event featuring a street fair, freedom festival, music festival, and Pride parade. Get more info here.
PCH Movies & Moonlight (June 3) -> 2nd & PCH in Long Beach continues their free Movies & Moonlight series with a screening of Hairspray (2007). Complimentary seating is based on first-come, first-served attendance. Pets on leashes are welcome too. More info here.
Killer Klowns from Outer Space Cosplay Dance Party (June 3-4) -> Zombie Joe Underground Theatre Group is known for pushing the live horror envelope, but it's hard to imagine anything freakier than a full-on cosplay dance party themed to the 1988 cult classic Killer Klowns from Outer Space. Each evening includes a synth-metal DJ set by Killer Klowns composer John Massari plus special prizes for air guitar, air drum, best costume and best tattoo. Tickets are $20 online, or $25 at the door. More info here
Pride Pawty (June 3) -> To start June, Healthy Spot host a dog friendly Pride Pawty benefiting the Los Angeles LGBT Center. Taking place beachside at Loews Santa Monica Beach Hotel, the evening includes complimentary drinks as well as puptails, temporary flash tattoos for humans and dogs, a DJ and a photo booth. More info here.
Opera on The Beach, Park & Fairgrounds (June 4) -> How about an evening of free opera under the stars to start your summer? Grab some friends and a few picnic supplies to catch LA Opera's free simulcast of Aida live-to-screen at three locations throughout Los Angeles on June 4, including the Santa Monica Pier, Newhall Park, and Pomona Fairplex. More info here.
Grand Performances (June 4, 11, 18, 25) -> The signature free summer music series at California Plaza kicks off on June 4 with a performance by 2022 COLA Artist Fellows Najite Agindotan, Jibz Cameron, Shonda Buchanan and Suchi Branfman. Free shows continue on Saturdays through Aug. 25. More info here.
Venice Pride Festival (June 4-5) -> Celebrate Pride by the beach at the Venice Beach Recreation Center with a two-day event featuring live performances, DJ sets, art installations, LGBTQ+ vendors, food trucks and eye candy lifeguards on duty. Tickets cost $20 per day. More info here.
Drag me to the Loews (June 4) -> Loews Santa Monica Beach Hotel and LA Pride presents the inaugural Drag me to the Loews event hosted by the one and only Lady Bunny. Enjoy the art of drag with performances by Willam, Lauren Banall, Meatball, Shannel, Derrick Barry, Paris Sukomi Max, Nebraska Thunderf*ck, Mimi Marks, Stasha Sanchez and Lady Bunny herself. DJ Taj will also be spinning tunes for the festivities. Tickets prices are $45 for standing room, $75 for general admission, and $125 for VIP which includes access to a private reception with the queens. More info here.
Last Remaining Seats (June 4, June 12, June 18) -> The Los Angeles Conservancy's annual series Last Remaining Seats features classic film screenings in some of Los Angeles' most beautiful and historic movie theaters, including Regency's Village Theatre, the Orpheum Theatre, and Los Angeles Theatre. Tickets start at $22 for GA. More info here.
Getty 25 Community Festivals (June 4-5, 11-12, 25-26) -> This summer, The Getty celebrates its 25th anniversary via a series of free pop-up community festivals held throughout Los Angeles County. Each event highlights curated experiences reflective of the host community, including interactive workshops, live music and performances, an artisan marketplace, food trucks, giveaways, photo booths, and more. For June, the series lands in Long Beach, Koreatown, and Pacoima. More info here.
Music Under The Stars (June 4) -> Catch a free concert in front of Pasadena City Hall put on by the Pasadena Symphony and POPS, preceded by a performance from Bob Baker Marionette Theater and plenty of kid-friendly activities. No reservations required. Seating is first-come, first-served. More info here.
Hollywood Fringe (June 9-26) -> Dozens of venues, including The Broadwater, The Hudson and Three Clubs, host a huge slate of comedy, ensemble theatre, dance and immersive performances during the the three-week run of the annual Hollywood Fringe Festival. More info here.
Summer of Salsa (June 10) -> The LA Plaza de Cultura y Artes Summer of Salsa series runs one Friday each month through the end the summer, highlighting some of city's best salsa and Cuban bands in the process. On June 10, the series continues with TROMBOR along with DJ Willie. Free to attend. More info here.
Spicy Green Book Food Market (June 11) -> Spicy Green Book returns for their second annual Food Market in Manhatten Beach featuring an all Black lineup of vendors. Support Black businesses while exploring delicious food, shopping indie and taking advantage of family friendly entertainment including a carnival. Free to attend. More info here.
American Indian Arts Marketplace (June 11-12) -> This weekend-long showcase of vendors at The Autry features more than more than 200 Native American artists representing more than 40 tribes. In addition to shopping for one-of-a-kind arts and goods, guests will enjoy live performances from Native Voices, the Autry's resident theatre company. Single-day admission starts at $14 per adult. More info here.
Little Tokyo Flea Market (June 11) -> This monthly flea at Terasaki Budokan puts the focus on vintage street fashion, accompanied by DJ'd tunes and food trucks. Free admission. Runs 3 to 9 p.m. More info here.
Summer Evening Stroll at The Huntington (June 11) -> Enjoy the gardens during twilight hours on select evenings at The Huntington from June through September. Advance tickets ($20 per adult) are required.
LA Pride (June 11-12) -> The official LA Pride event relocates this year to within the city limits of Los Angeles, where you'll find a pair of big events scheduled for the second weekend in June. Day one features a ticketed concert at L.A. State Historic Park headlined by Christina Aguilera. Day two brings the annual LA Pride Parade, a free event that will include over a hundred floats spanning the heart of Hollywood Blvd. More info here.
Future Lovers Block Party (June 12) -> Following the official LA Pride Parade, an all-day music event brings three stages of music to the area near Hollywood and Vine. Tickets start at $40 per person. More info here.
Trans Pride LA (June 16-18) -> This year, Trans Pride Los Angeles returns virtually and in-person with a dance party, timely discussions, a job fair and more. More info here.
KTOWN Night Market (June 17-18) -> Inspired by the lively night markets in Asia KTOWN Night Market is a vibrant street party with live music performances from local and international talent, plus a large selection of food and merchandise vendors over one single weekend. Tickets are $10 for a weekend pass. More info here.
Don't Tell Comedy Anniversary Shows (June 17-18, 24-25) -> The secret is out on Don't Tell Comedy's lineup of fifth anniversary shows. From June 17-25, catch "secret" lineups of comedy excellence at locations in Silver Lake, Santa Monica, Venice, Playa Vista, Pasadena, Hermosa Beach, and Hollywood. Tickets are $20. More info here.
Outdoor Movies at The Skirball (June 17) – The Skirball's outdoor movie programming returns in June with a screening will host an Outdoor Movie screening of Galaxy Quest, paired with a special pre-screening talk by Star Trek expert Scott Mantz, as well as access to the museum's latest exhibits. Tickets cost $20 per person. More info here.
Levitt Pavilion Concerts (June 18-19, 24-26) -> A summer-long series of free concerts at Levitt Pavilion kicks off on June 18 with Mexican rock band El Gran Silencio, playing along with Buyepongo and Las Chikas. Four more concerts are schedule in June, and 50 in total through Sep. 4. All free to attend. No reservation required. More info here.
Off The 405 at The Getty (continuing June 18) -> Live outdoor music is back at The Getty this summer with the Off the 405 concert series, continuing with a performance by Bartees Strange on June 18. Free to attend with reservation. More info here.
The Broad: Now We're Here -> The Broad's new summer music series, Now We're Here, kicks off on June 18 with a gaze toward the new exhibition This Is Not America's Flag, and a consideration of identity and intersectionality. The lineup includes queer rapper Niña Dioz, local fave DJ Cocteautwink, and Mariachi Arcoiris de Los Angeles, the world's first and only LGBTQ+ mariachi band Tickets are $25 per person. More info here.
Pasadena Chalk Festival (June 18-19) -> The Pasadena Chalk Festival returns to The Paseo for a two day-long event featuring art and music featuring some 200 murals and over 500 artists This event is free to attend. More info here.
Juneteenth Prosperity Market @ CAAM (June 19) -> Head to CAAM for a special Juneteenth edition of Prosperity Market. Explore the farmers market, enjoy cooking demonstrations, sit in on a children's reading hour courtesy of the Los Angeles Public Library, partake in family centered arts and crafts, unwind with a morning sound bath by Sol & Sound and much more. Admission is free. More info here.
Concerts in The Dome (continuing June 19) Mount Wilson Observatory continues its 2022 season of classical concerts hosted inside the historic 100-inch telescope dome, where the acoustics are said to be some of the finest in the world. This month the program features Ravel's String Quartet, performed by the Salastina Music Society. There will be two musical performances, one at 3 p.m. and the other at 5 p.m. Tickets are $50 -> More information
JUNETEENTH: A Celebration of Freedom (June 19) -> This massive showcase at the Hollywood Bowl to celebrate Juneteenth includes contributions from Earth, Wind & Fire, The Roots, Lucky Daye, Jhené Aiko, Robert Glasper, Killer Mike, Billy Porter, Mary Mary, Anthony Hamilton, Michelle Williams, Mickey Guyton, the Debbie Allen Dance Academy, and more. Tickets start as low as $20. More info here.
Rodeo Drive Concours d'Elegance (June 19) -> Get up-close with some of the world's most luxurious vehicles at this annual free car show in the heart of Beverly Hills. The event also includes a slow-moving car rally that runs north on Crescent Dr, west on Sunset, then south on Beverly Dr. to arrive back in Downtown BH. Both the car show and the rally are free to attend. More info here.
Enter the Dojo: The Music of Cobra Kai Live (June 23) -> Cobra Kai composers Leo Birenberg and Zach Robinson come to The Troubadour for a one-night event highlighting music from the soundtrack of the hit Netflix series. GA Tickets start at $30. More info. here.
Shakespeare By the Sea (starting June 23) -> The 25th anniversary season of Shakespeare By the Sea kicks off in June at Point Fermin Park in San Pedro with productions of Much Ado About Nothing (June 23-25) and Romeo & Juliet (June 30 to July 2). All shows are free to attend, but donations are gladly accepted. Performances run at locations throughout L.A. and Orange County through Aug. 6. More info here.
Pier 360 (June 25-26) -> This two-day, all-ages, free festival hosted at the Santa Monica Pier features ocean sports competitions, interactive games, a beer garden, a "museum of beach life," and plenty of live music on both days. More info here.
Delicious Little Tokyo (June 25-26)-> Delicious Little Tokyo returns for a two-day culinary journey through the historic neighborhood. Activities include a History of Little Tokyo Food Tour, pop-up shopping, workshops, live art demos as well as a number of tours focused on matcha, snacks and cocktails. More info here.
Hollywood Bowl Jazz Festival (June 25-26) -> The Bowl's annual Jazz Festival is back in style over the weekend of June 25 and 26. The Roots headline day one, while Gregory Porter and Tower of Power will close out day two. Grab tickets starting as low as $23. More info here.
Pride Picnic (June 26) -> Join the Los Angeles LGBT Center for a Pride Picnic at Hollywood Forever Cemetery. The day includes drag performances, a live DJ, giveaways and cocktails by Tito's Handmade Vodka in the VIP lounge. GA tickets start at $25. More info here.
Topanga Vintage Market (June 26) -> Happening on the fourth Sunday of every month the Topanga Vintage Market is packed with close to 200 sellers from antiques to vintage clothing and local artisan goods.
---
Any notes or corrections? Want to suggest an event we should add to an upcoming list? Hit us up at [email protected].
---
Want to get the best things to do in L.A. sent straight to your inbox? Join over 60,000 Angelenos who subscriber to our twice weekly email newsletter!
By subscribing, you agree to our terms of use and privacy policy and consent to receive emails from We Like L.A. about news, events, offers, and partner promotions.