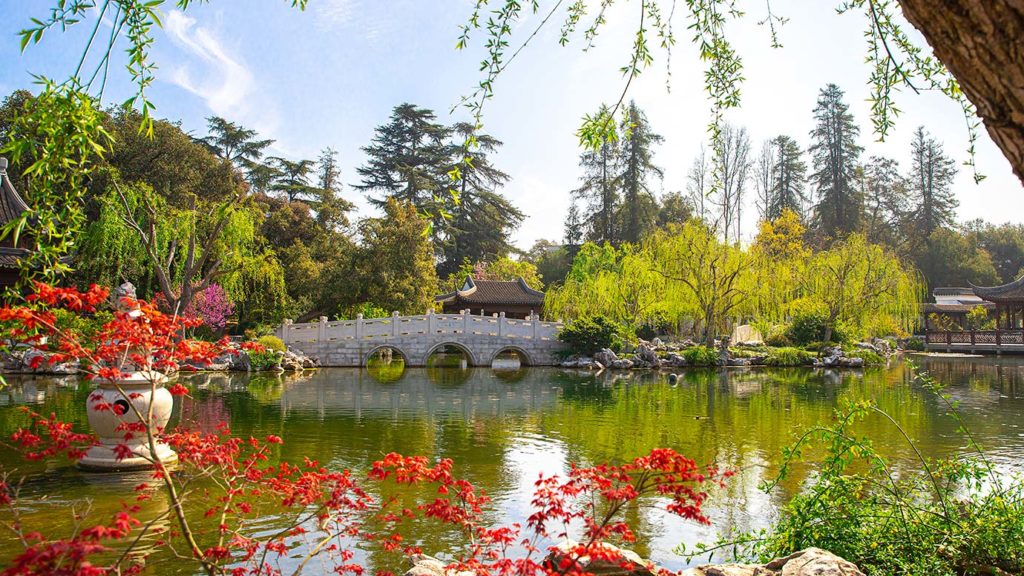 Lots going on this February in Los Angeles.
To start with, there's the SoCal Museums Free-For-All, the L.A. Art Show, Lovers Rock at Grand Park, Bob Baker Day, CicLAvia in The Valley, a KCRW dance party at CAAM, the Chinese New Year Festival at The Huntington, a celebration of life for P-22, the L.A. Travel & Adventure Show and more. Has to be something in the mix you're pumped about, right? Have a look, and enjoy your month!
Things To Do This February
---
#SPONSORED: Head to the Kia Forum on Feb. 4 for an unmatched evening of mixed martial arts action at BELLATOR MMA 290. The packed card includes two title fights, headlined by Heavyweight World Champion Ryan Bader defending his crown against MMA legend Fedor Emelianenko, who will be fighting in his final bout of his storied career. Tickets on sale now via Ticketmaster.
---
New Exhibitions at Hauser & Wirth (February 2) -> Hauser & Wirth's Arts District location welcomes two new exhibitions starting this Thursday. Chinese artist Zeng Fanzh presents his first Los Angeles solo exhibition, featuring a series of large-scale, abstract landscapes in the South Gallery. Also debuting at the H&W will be Rita Ackermann Vertical Vanish, which will be on view in the North Gallery. Both exhibitions run through April 30. Get more info here.
First Thursdays in Westwood (February 2) -> UCLA First Thursdays come in two parts: First there's the Westwood Village Farmers Market from noon to 4 p.m., then an evening block party from 7 to 10 p.m. This month, the nighttime portion includes Cosmos-themed activities including meteorites on display, telescopes to view the Moon and Mars, a photo booth, and more. Free to attend. More info here.
First Thursday Artwalk in San Pedro (February 2) -> The San Pedro Artwalk celebrates its 25th year on February 2 with open houses at studios and galleries on 6th and 7th street and live music on the corner of 6th and Mesa. The artwalk takes place from 5:30 to 9:30 p.m. Free to attend. More info here.
Try/Step/Trip at The Wallis (February 2-5) -> In Try/Step/Trip, Writer/Composer Dahlak Brathwaite takes inspiration from his own personal experience as a Black man exposed to the American criminal justice system to create a powerful and poetic spoken-word, musical told through the language of step dance. Part hip-hop and part dramatic performance, the show runs February 2-5 at The Wallis. Tickets start at $40. More info here.
11th Annual San Pedro Film Festival (February 2-5) -> This four-day event screens diverse films that celebrate the culture and community of San Pedro. Artist MOBY will also make his directorial debut during this time with Punk Rock Vegan. Free to attend. All tickets can be reserved online. More info here.
First Fridays at NHM (February 3) -> Natural History Museum's signature monthly series returns for 2023 on February 3 with Dragons, Lore, and More, a discussion between Dr. Yewande Pearse and Rebecca C. Thompson, author of Fire, Ice, and Physics; The Science of Game of Thrones. The pair dissect the fantasy world's made-up science and see how it matches up to the real-world. The evening also includes live music by Black Belt Eagle Scout and Ari Rivera, DJ sets in the nature garden, and pop-up experiences throughout the museum. Runs 5 to 9 p.m. Tickets are $20. Cosplay definitely encouraged! More info here.
"We The People" Billboard Exhibition (February 3-28) -> Starting February 3, The Billboard Creative opens a new exhibition curated by Mona Kuhn that turns billboard advertising spaces into an open-air art for all to enjoy. The project features the work of 30 emerging and established artists working in a broad range of media – photography, painting, drawing, mixed media, and collage. We The People runs February 3­–28. More info here.
San Gabriel Lunar New Year Festival (February 4) -> The City of San Gabriel celebrates the Lunar New Year with a packed slate of cultural events in the Mission District, including traditional lion dancing, live performances, balloon art, guided walks, over 80 food and artisanal booths, and a kids zone. Events and activities run from 10 a.m. to 9 p.m. Get more info here.
Chinese New Year Festival at The Huntington (February 4-5) -> Celebrate the Year Of The Rabbit in and around The Huntington's gorgeous Chinese Garden, alongside of an array of traditional entertainment. Enjoy lion dancers, mask-changing performances, martial arts demonstrations, live music, arts and craft demos, and dining specials throughout the two-day event. Tickets start at $29 for adults. More info here.
Puppy Bowl Pup Rally (February 4) -> The Wallis Annenberg PetSpace, Grounds & Hounds Coffee Co., and Animal Planet will host the official Los Angeles Puppy Bowl Pup Rally with sports-themed activations for dogs to enjoy ahead of Animal Planet's Puppy Bowl XIX Sunday airing. Grounds & Hounds Coffee Co. will also be providing complimentary coffee and pup cups for all attendees. Stadium snacks, dog bandanas and photo ops are in the mix as well. The event runs 11 a.m. to 3 p.m. Tickets start at $10. More info here.
Dumpling Day at Santa Anita Park (February 4) -> For one day only, Smorgasburg curates a unique dumpling experience at Santa Anita Park featuring popup dumpling vendors Shirley Chung, Mao's Bao, Cali Dumpling and dumpLins. A dumpling starter pack cost $34 and the VIP version coast $55. More info here.
Celebration of Life for P-22 (February 4) -> The community celebration of life for P-22 at the Greek Theater is sold out, but you can head to Angel City Brewery during the event to catch a livestream of the service (noon to 2 p.m.) and get $2 off all 12oz pours of P-22 beer. Sounds like a great way to toast to the most famous cat that ever prowled the streets of Los Angeles! More info here.
SoCal Museum Free-For-All (February 5) -> 30+ museums and cultural institutions around Southern California band together to offer a free day of admission on February 5 during the SoCal Museums Free-For-All. Participants include museums that are free year-round (The Getty, Hammer Museum, Fowler Museum) along with many others that normally charge admission fees (The Academy Museum, La Brea Tar Pits Museum, Descanso Gardens). Get more information here.
Listening By the Moonrise (February 5) -> Clockshop's quarterly cultural series Listening By Moonrise returns to the green space of L.A. State Historic Park as a collaboration with Earth Sessions. The February edition features readings by environmentalist writer Leah Thomas and multimedia artist Mandy Harris Williams, plus a performance by vocalist/bassist Tonina. Runs 3 to 5 p.m. Free to attend. More info here.
Lucha VaVOOM's Pasión de Fuego (February 8-9) -> Pasión de Fuego is Lucha VaVOOM's two-night engagement at The Mayan Theater just in time for Valentine's Day. Expect LVV's signature extravaganza of masked wrestling, impressive aerialists, and sexy burlesque. General admission tickets start at $45. More info here.
Eataly's Carnevale d'Amore Festa (February 9) -> Indulge in an evening of all inclusive bites, sips and Carnevale themed festivities. In celebration of Mardi Gras and amore, guests will have full access to savory and sweet stations as well as over 20 wines from sparkling, red to white. Tickets cost $70 a person. More info here.
Pan African Film & Art Festival (February 9-20) -> The Pan African Film Festival (PAFF) returns to Los Angeles for 12-days of showcasing over 200 new films and the talented artists who created them. Passes to the festival start at $65. More info here.
KCRW Open House Dance Party at CAAM (February 10) -> KCRW teams up with the California African American Museum for an evening of dance beats curated by KCRW DJs Francesca Harding and Tyler Boudreaux. Expect an outdoor beer garden, food trucks, and plenty of time to explore CAAM's lobby exhibitions. Runs 7 to 10 p.m. Free admission. Get more info here.
Bloody Valentines Screening at Million Dollar Theatre (February 10, 11 & 14) -> Street Food Cinema celebrates Valentine's Day with three bloody good movie screenings over three nights at the historic Million Dollar Theatre in DTLA. Slated films include Queen of the Damned, Bram Stoker's Dracula and Jennifer's Body. Advanced tickets cost $28 for general admission and $31 for reserved sections. More info here.
CASETiFY x ROW DTLA's Love Struck Gallery (February 10) -> Grab a partner and head to ROW DTLA for Creatives to Fall For: A Lovestruck Gallery. Free to attend and presented by CASETiFY the public is invited to experience a blooming art gallery brought to life by local floral designers using CASETiFY's clear case collection as their muse. In addition, the pop-up will offer guests complimentary latte art, access to Valentine's cases for friends and couples as well as a first-look at the brands new collection with the NY Times best-selling poet, Atticus. More info here.
Conga Patria Son Jarocho Collective at LA Plaza (February 10) -> LA Plaza de Cultura y Artes kicks off their 2023 season of free events with a concert by the Grammy-nominated Conga Patria Son Jarocho Collective. Starts at 7 p.m. Free to attend. More info here.
Culver City Arts District Valentine's Night Market (February 10) -> The monthly night market at Culver City's Ivy Station gets a Valentine's Day twist in February, offering date-nighters an array of local vendors, food trucks, drinks, games, and music. Free to attend. Runs 5 to 10 p.m. More info here.
California Antiquarian Book Fair (February 10-12) -> Attention book lovers! The 55th California International Antiquarian Book Fair pops up at the Pasadena Convention Center this February, bringing together thousands of book lovers, rare book dealers, and scholars. Tickets are $10-$15 for one-day admission, and there is also free admission for librarians, curators, and related non-profit cultural institution workers who register in advance at this link. For all other guests, get tickets and see more info here.
Spicy Green Book Food Market (February 11) -> Celebrate Black History Month by supporting Black-owned businesses at Spicy Green Book's upcoming Outdoor Food Market in Manhattan Beach. Over 40 vendors will be participation and there will be plenty of family friendly things to do including giveaways, games, inflatables, DJ tunes, and a photo booth. More info here.
Smorgasburg Super Vegan Sunday (February 12) -> This Super Bowl Sunday, Smorgasburg welcomes a special lineup of vegan food vendors and pop-ups to their weekly Arts District marketplace. The four finalists of LA Taco's Vegan Taco Madness will also be on hand. More info here.
Coded: Art Enters the Computer Age, 1952–1982 (opening February 12) -> Starting February 12, the Los Angeles County Museum of Art (LACMA) presents Coded: Art Enters the Computer Age, 1952–1982, and exhibition exploring the origins of digital art in the years leading up to the advent of the personal computer. The exhibition will be at the second level of BCAM through July 2. Included with museum admission. More info here.
Sunday Funday at The Wallis (February 12) -> The next edition of Sunday Funday at The Wallis offers another breezy morning of family-friendly entertainment. In February, catch children's musician Parker Bent, a performance by the Broadway Babies, followed by a Flamenco dance class. The event starts at 10 a.m. on the Promenade Terrace. Free to attend. No RSPV necessary. Get more info here.
Grand Park's Lovers Rock (February 14) -> Do Valentine's Day DTLA style with a romantic evening of entertainment at Grand Park. Expect live music, a photo booth, a pop-up art gallery by LA Plaza de Cultura y Artes, a flower market with Poppy Lavender Florals, and more. Runs 6 to 10 p.m. Free to attend. More info here.
Felix Art Fair (February 15-19) -> The fifth edition of Felix Art Fair takes over The Hollywood Roosevelt Hotel and will once again feature an international roster of 60+ galleries occupying both indoor and outdoor spaces of the iconic hotel. Tickets run $40-$50 per day and a run of the show pass cost $80. More info here.
L.A. Art Show (February 15-19) -> The L.A. Art Show offers 180,000 feet of exhibition space at in the Los Angeles Convention this center over a 5-day event in DTLA. 120 galleries, museums, and non-profit arts organizations will exhibit painting, sculpture, works on paper, installations, and photography from around the world. One-day admission is $30, and it'll run you $250 to attend the opening night premiere. Get more info here.
Frieze Los Angeles (February 16-19) -> Frieze Los Angeles is back for 2023 with a new location at the Santa Monica Airport. The three-day presentation of art features some of the most renowned galleries in the world, and also includes special activations and pop-ups from a few of L.A.'s most popular restaurants. Tickets start at $80.95 per adult. More info here.
Lizzie No at BroadStage (February 17) -> Singer-songwriter, harpist, and guitarist Lizzie No is one of the most talented emerging artists in contemporary folk music, and you can catch her on February 17 at BroadStage as part of the theater's blackbox series. GA tickets start at $40. Get more info here.
Pasadena Black History Parade and Festival (February 18) -> The Pasadena Black History Parade and Festival begins at 10 a.m. at Fair Oaks Avenue and Figueroa Drive and ends at Robinson Park, 1081 N. Fair Oaks Ave. The post-parade festival at Robinson Park includes live bands, dance performances, community booths, guest speakers, and food for purchase. Free to attend. Parade runs 10 a.m. to noon. Festival goes from noon to 4 p.m. Get more info here.
Photo Forward Los Angeles (February 18-19) -> The Photographic Arts Council Los Angeles will host Photo Forward Los Angeles a photo fair that features both vintage and contemporary works. Free to attend the fair takes place at Danziger Gallery located at Bergamot Station Arts Center. More info here.
Los Angeles Travel & Adventure Show (February 18-19) -> Hundres of the top travel brands from around the world head to the Los Angeles Convention Center for this two-day event packed with vacation tips, travel celebrities, show-only deals, destination ideas., and more. One-day tickets start at $11. Get more info here.
Broken Hearts Circus (February 19) -> If you're feeling the post-Valentine's Day blues, head to Angel City Brewery for an afternoon of aerialists, stilt-walkers, contortionists, jugglers, sword swallowers, and tarot card readers. There will be plenty of beers on tap, and guests can also enjoy specialty slushies along with flight and candy pairings (including vegan candy options). Doors open at noon, entertainment starts at 1 p.m. Free to attend. More info here.
Las Abuelitas Kitchen (February 19) -> Skirball Cultural Center's Las Abuelitas Kitchen is an evening of film, food, and conversation featuring USC Food Scholar Sarah Portnoy. Guests will watch a short documentary about ten Mexican elders, enjoy live food demos with three abuelitas from the film and view a small exhibition of Mexican culinary artifacts. Runs 4-6 p.m. Tickets cost $30 a person. More info here.
Bob Baker Day (February 25) -> UPDATE: Due to inclement weather, this event has been rescheduled to April 30. The 9th annual Bob Baker Day brings a festive carnival atmosphere to Los Angeles State Historic Park, including music, games, and puppets from the Bob Baker Marionette Theater. The event is free to attend, but suggested donations of $20 are happily accepted to support the theater's mission. Runs 10 a.m. to 5 p.m. RSVP is required. More info here.
African American Festival at AoP (February 25-26) -> The Aquarium of the Pacific's annual African American Festival celebrates African American and African culture through an two-day affair featuring Mardi Gras second line dancers, hip hop and break dancers, jazz musicians, interactive drum circles, West African dancers, and storytellers. All activities included with general admission, which starts at $36.95 for adults. More info here.
Mulyana: Modular Utopia (February 25) -> Mulyana's Modular Utopia comes to the USC Fisher Museum of Art starting February 25 as part of the Indonesian artist's first solo show in Los Angeles. Mulyana's large kinetic environments are made of intricately woven knit modules of marine life sculptures portraying the beauty and wonder of a pristine underwater environment. USCFM is open Tuesday to Saturday, and is free to visit. More info here.
CicLAvia – The Valley (February 26) -> L.A.'s biggest and longest running open streets initiative heads to the San Fernando Valley this February, with a car-free course that covers a 5-mile stretch of Sherman Way, connecting Canoga Park, Winnetka, and Reseda. Runs 9 a.m. to 3 p.m. Free to attend. More info here.
MOLAA's Afro-Latinx Festival (February 26) -> Come celebrate the cultural diversity of the Americas and the African influence in Latin America at MOLAA's Afro-Latinx Festival. Experiencing a mixture of customs from African and Mestizo peoples in the Americas including live performances, cultural exhibitions, local vendors, food, and more. Runs 11 a.m. to 5 p.m. Admission is free with reservation. More info here.
Dog Walking Hours at South Coast Botanic Garden (February 26) -> Once a month dogs are welcomed at the South Coast Botanic Garden for a morning garden stroll with their owners. Adult tickets are $15, and dogs are $5 each. More info here.
---
Want to get the best things to do in L.A. sent straight to your inbox? Join over 60,000 Angelenos who subscribe to our twice weekly email newsletter!
By subscribing, you agree to our terms of use and privacy policy and consent to receive emails from We Like L.A. about news, events, offers, and partner promotions.