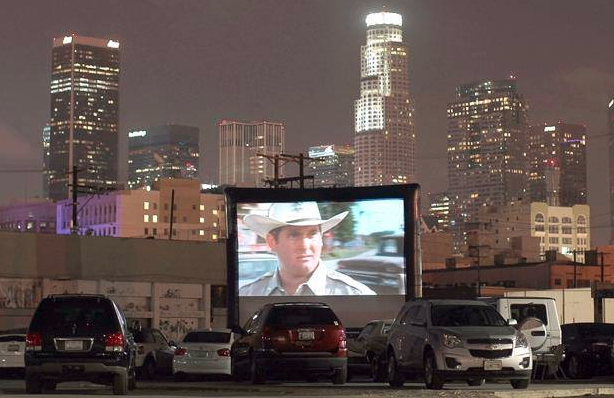 Numerous drive-in events have launched in Los Angeles since the onset of the pandemic. Not only is catching a flick inside your car is nostalgic, but also adheres to the social distancing rules we've implemented for our health. Most ask you to stay in your car unless you're going to the restroom or concession stand, during which you'll have to wear your facial covering and practice social distancing.
Here's a list of drive-ins you can check out now.
---
Mission Tiki Drive-In Theatre in Montclair is open nightly. It's $10 for adults and $1 for kids 5-9. For a single ticket, you can choose to see just one movie or watch both films playing on the same screen. Current double features include Becky/The Hunt, Groundhog's Day/Jumanji: The Next Level, and The Invisible Man/Arkansas. The snack bar includes candy, fountain drinks, Mexican fare, and more.
Van Buren Drive In in Riverside is open nightly. Like Mission Tiki, it's $10 for adults and $1 for children 5-9, which gets you two films on the same screen. They also have a snack bar.
Paramount Drive-In Theatres in Paramount is open nightly and will operate at 50% capacity. Tickets are $10 for adults, $3.50 for kids 5-8, free for children under 5.
Vineland Drive-In in City of Industry is open nightly. Tickets are $10 for adults, $4 for children 5-9, and free for kids under 5.
Rubidoux Drive-In Theatre in Riverside is open nightly. Tickets are $9 for adults and $1 for kids 5-9. Each ticket gets you both movies playing on the same screen.
The Electric Dusk Drive-In is located on top of the old Sears parking lot in Glendale and in downtown Los Angeles at Flower and Olympic. Tickets are $37/car for a double feature, which includes admission for one person, and additional passengers for $12. For a single feature, tickets are $23-28 per car, plus $8 per additional passenger. Pre-ordered snacks are available or you can bring your own food.
Carson's Drive-In Flix series is located at Dignity Health Sports Park and offers multiple screenings daily. Tickets start at $50 per car and benefit the Boys & Girls Club. The public is also welcome to buy tickets to donate to a Boys & Girls Club family in need so that they can enjoy an outing. Weekday screenings kick off at 6 p.m. and weekends start at 3 p.m. Make a reservation through Atom Tickets.
The LA Zoo hosts a drive-in movie series on select dates through Nov. 1 . Tickets start at $40 per vehicle with two guests. Concessions are available through mobile ordering.
Enjoy dinner and a movie poolside at JW Marriott Los Angeles L.A. LIVE every Friday and Saturday through November 14. Tickets are $45 per person and include a two-course meal plus the film.
Spooky Sundays at The Drive-In at The Hollywood Roosevelt runs every Sunday for the rest of the month.
Hollywood Legion Theater at Post 43's drive-in cinema is open seven days a week. Reservations include popcorn, soda, and candy for each guest. Tickets start at $65 for two people.