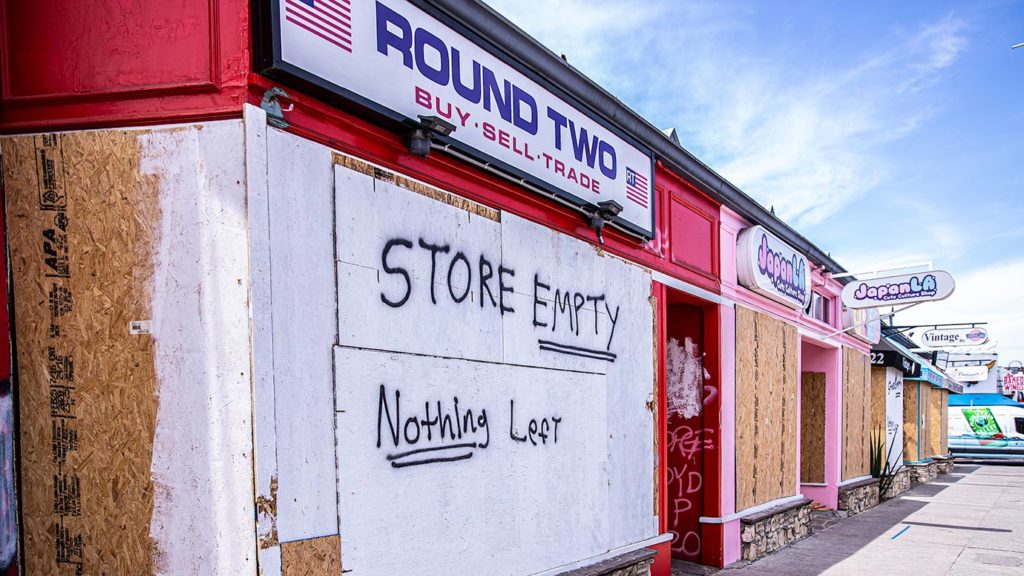 If you have a small business in Los Angeles affected by recent vandalism or looting, you may be wondering what your insurance will cover and what the city is doing to help. We've gathered some info below to help you assess the situation.
What's Covered?
While national chains' losses are usually covered by large insurance policies, it may vary widely when it comes to small businesses. The degree of coverage comes down to the policy purchased. The policy purchased likely depends on how deep the business owner's pockets are.
Many businesses are required by their lease agreements to have basic insurance. Most business owner policies cover property damage and loss, regardless of the cause. However, not all businesses hold insurance that covers inventory and equipment against loss. It may be helpful to look for language like "riots or civil commotion" in your policy to figure out what's covered. Businesses with no insurance at all will need to cover losses out of pocket.
Inventory and equipment are likely covered under a standard business operator's policy. Business interruption insurance typically covers lost revenue, but may come with conditions. In a 2015 article published in Insurance Business Magazine following unrest in Baltimore in response to the death of Freddie Gray, the magazine notes, "Business interruption coverage, however—which covers lost income—is only triggered when the insured business incurs direct physical damage or the government shuts down an area due to property damage caused by a peril covered by the company's insurance policy that prevents customers or employees gaining access to the premises." Recently, the California Department of Insurance urged businesses to go through their fact sheet on insurance coverage during civil unrest.
Chance of Some Relief From Your Insurance
California Insurance Commissioner Ricardo Lara has called on adjusters to be on the ground as soon as possible to help affected businesses quickly access their insurance benefits. Lara is also considering an emergency declaration that would allow insurers to use out-of-state adjusters to speed up the process.
Due to COVID-19, Lara ordered insurance companies to refund part of commercial premiums for businesses affected by the pandemic through May. He is now calling to also extend that grace period through mid-July. Businesses affected by looting should contact their insurance companies about the grace periods, possible premium rebates, and to check if they qualify for lower rates.
The Department of Insurance is also offering its assistance in submitting claims and answering questions about coverage. Businesses that need help can contact the office here.
L.A. Metro Loan
The Los Angeles County Development Authority (LACDA) announced the Transit Oriented Communities Small Business Recovery Loan Program to help small businesses impacted by COVID-19. Funded by L.A. Metro, the program offers up to $20,000 in loan funds to cover operating expenses for eligible small businesses located within a quarter-mile of a major transit stop in L.A. County. You can complete applications directly at TOCloans.lacda.org from noon on Monday, June 8 until 5 p.m. on Friday, June 19. The loans are on a first-come, first-served basis. Find more information on the program and eligibility here, or email [email protected] or call (626) 943-3818.
Help From the City
Los Angeles Mayor Eric Garcetti has offered affected Los Angeles business operators free building inspection and debris removal. L.A. Sanitation is providing roll-off dumpster services for debris as well. Garcetti noted he is also working on proposing additional financial assistance directly to affected businesses.
[Update, June 7, 4 p.m.:] The L.A. County Office of Emergency Management asks business owners with damages to register online so that the city can connect them with future disaster aid. You can fill out the short online survey here. If you know a business owner who doesn't have access to the internet or who doesn't speak English, you can direct them to call L.A. County's Disaster Help Center at (833) 238-4450, Monday through Friday from 8:30 a.m. to 5:30 p.m. or on Saturdays from 10 a.m. to 3 p.m. 
When Can I Reopen?
Businesses that were minimally damaged can reopen after repairs are made without permits. Those with heavier damage, such as fire damage, must apply for permits to reopen.
Crowdfunding Help
Several businesses around the city have launched their own crowdfunding campaigns to help with costs. Here are some local businesses we spotted on GoFundMe.
To create your own crowdfunding campaign, find more information here.