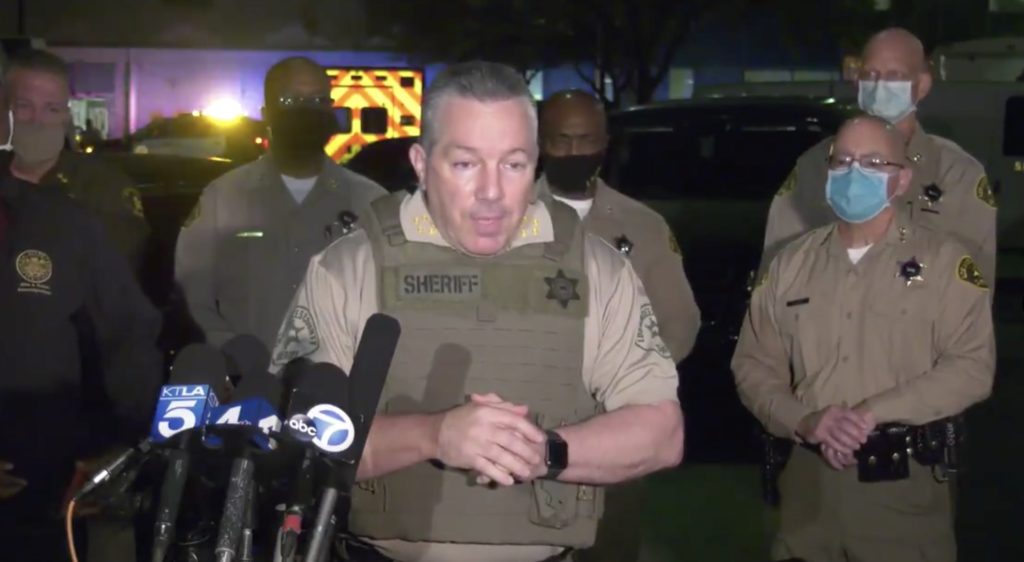 In an unprecedented move, a conservative member of the LASD's Civilian Oversight Commission tells the Sheriff to call it quits. Also this morning: COVID-19 infections continue a downward trend, a deadline to return your pre-pandemic library books, and reduced capacity (possibly) coming to Metro buses. Finally, are you still tipping extra when you go out to eat? First, some news stuff.
Morning News Rundown
Several members of the Civilian Oversight Commission that oversees the L.A. County Sheriff's Department have called for the resignation of Sheriff Alex Villanueva in the wake of continued obstinance over requests for information into the arrest of KPCC reporter Josie Huang. Among those calling for Villanueva to step down is Robert Bonner, a former federal prosecutor and head of the Drug Enforcement Administration. Bonner's criticism is particulary noteworthy as he is seen as one of the more conservative members of the board, according to L.A. Times reporter Alene Tchekmedyian. For its part, the LASD later released a statement rebuking calls for Villanueva's resignation. [CBS Los Angeles]
The LASD also. hosted a press conference yesterday where investigators detailed their account of the Dijon Kizzee shooting. Investigators presented video that shows Kizzee bending down moments before he is shot, but what he's reaching for—or if he's even reaching down to pick something up at all—is not clearly shown. Deputies fired a total of 19 shots at Kizzee during the incident. A 9mm semiautomatic handgun (Kizzee's alleged weapon) was recovered at the scene. [ABC 7]
COVID-19 infection data continues to trend in the right direction, and now Public Health officials are cautiously optimistic that we could move to the "red" tier of reopening in the coming weeks. This would allow businesses like movie theaters and gyms to potentially open their doors. But first, we need to see if public activity over Labor Day weekend shows any lagging impact on infection spread. [ABC 7]
Heads-up to those with overdue library books: Los Angeles Public Library materials checked out before the pandemic are due by the end of this month. Although LAPL no longer charges late fees, librarians will consider items not returned by Oct. 21 lost, and cardholders will then owe replacement fees. [KTLA]
This week, Metro is voting on a plan that would cut bus service by 20% in for the coming fiscal year, but at least one analysis says the cuts won't allow riders to practice social distancing. [Investing in Place]
Thank You For Tipping
This week, Yelp reported that 60% of business closures due to the coronavirus pandemic are now permanent. Earlier this month, Eater LA updated a list of permanent L.A. restaurant closures that includes some of our city's most cherished names like Patina, Jun Won, Pacific Dining Car, Broken Spanish, Swingers, and many more. I could list them all, but I think the point is made: the pandemic has made things rough for the food service industry.
Back in March, when the forecast for closures was already bleak, many customers responded with oversized tips or by making tips for pickups a regular part of their takeout routine. But now, it seems that spike of generosity only lasted so long. Anecdotal accounts of paltry tips are flooding in from all over Los Angeles, according to L.A. Magazine.
One possible reason: Even as customers come back for improvised outdoor dining, they simply aren't willing to pay a premium for a restaurant experience that doesn't match up with what they're used to. That, along with drastically reduced capacity, has left many restaurants wondering how much longer they can hold on.
In any case, my point is that your tips matter, which should be something to chew on next time you're eating (or picking up) food from your favorite neighborhood spot.