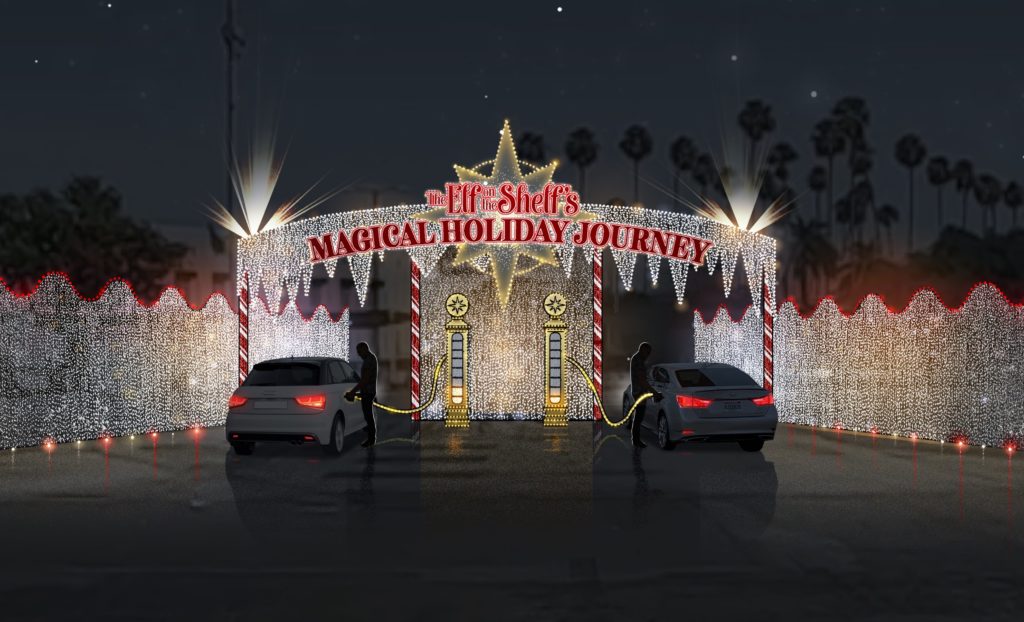 We haven't even been to our first Halloween drive-thru experience, and now we're hearing about Christmas ones! Opening November 12 at the Pomona Fairplex is The Elf on the Shelf's Magical Holiday Journey, a multi-sensory story that guests experience from within their cars. 
The Elf on the Shelf: A Christmas Tradition is a 2005 children's book by Carol Aebersold and her daughter, Chandra Bell. It tells the secret of how Santa knows whether you've been naughty or nice. Essentially, he sends an elf to your house to spy on you. Every night, the elf flies to the North Pole, where it reports the day's events to its boss. Every morning, it finds a new place to hide and the children must find it. This continues until Christmas when the elf is free to return home. It is… actually very terrifying when you think about it.
The Elf on the Shelf's Magical Holiday Journey does not take place in your house, however, which is great for families worried there'd be no real-life holiday events this year. In this story, Santa Claus's sleigh breaks down, and guests must travel by car through several beautiful dreamworlds to help him recover the magic he needs to fix it. Scenes include an arctic wonderland, a gingerbread village, a toy repair workshop, and something called "Santa's Magical Grotto." Each realm is filled with lights and music, and the whole thing concludes with a drive-thru retail experience—'tis the season, after all. 
The thing about this particular drive-thru is that it's helmed by a team that really knows its stuff when it comes to putting on spectacles and events. It's presented by The Lumistella Company (which Bell co-founded with her twin sister, Christa Pitts) and CAA's Constellation Immersive. It's designed by David Korins (Broadway's Hamilton, Beetlejuice, and Dear Evan Hansen) while Constellation Immersive Chief Creative Officer Vance Garrett directs. His previous credits include NYC's Sleep No More and 29 Rooms. 
The Elf on the Shelf's Magical Holiday Journey runs November 12 through January 3 at The Fairplex in Pomona. Tickets go on sale on September 22 at 11 a.m. Prices start at $19.95 for children and $24.95 for adults. Spanish narration is available.