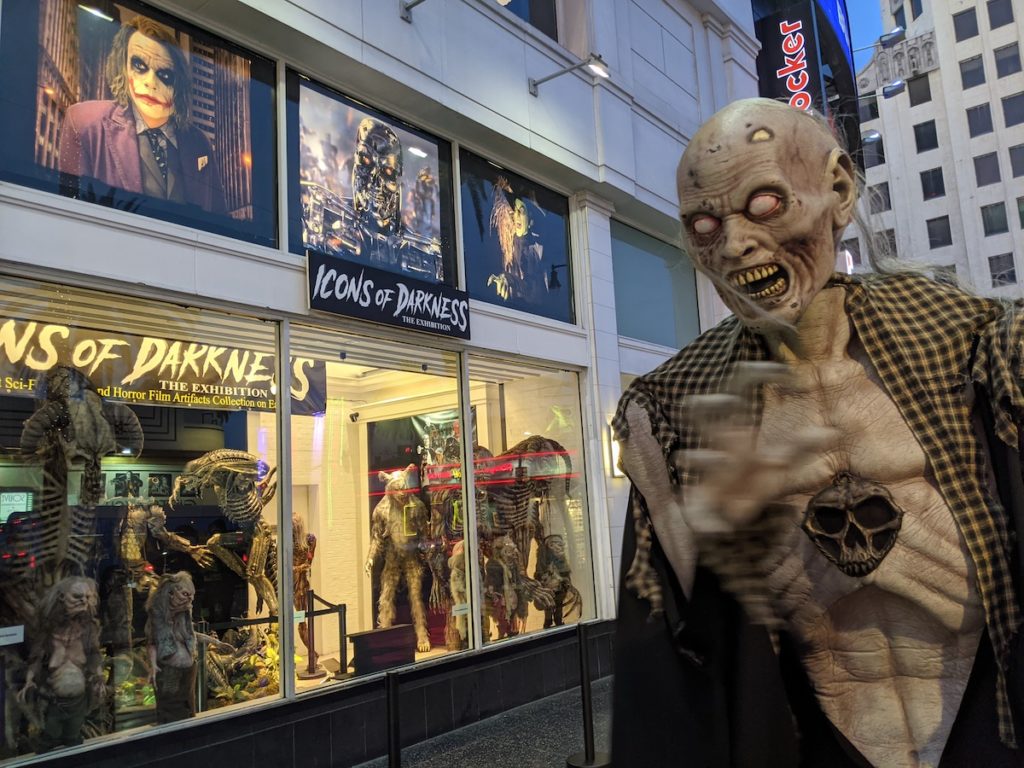 Rich Correll's obsession with movie memorabilia began when he was a child, acting as Beaver's best friend Richard Rickover on Leave It to Beaver. One day, he saw a head from Abbott and Costello Meet Dr. Jeckyll and Mr. Hyde in the trash on the Universal lot and asked if he could have it. He was told yes and the would-be garbage became the first item in Corell's lifelong collection.
These days, Correll's private trove is beyond massive and valued at $13 million. Only a portion of it can be seen at the 'Icons of Darkness' exhibit at the Hollywood and Highland Mall, but it's still a lot. The winding pathway and rogue gallery of monsters contain costumes, props, models, and more that you'll instantly recognize from dozens of blockbusters and horror classics.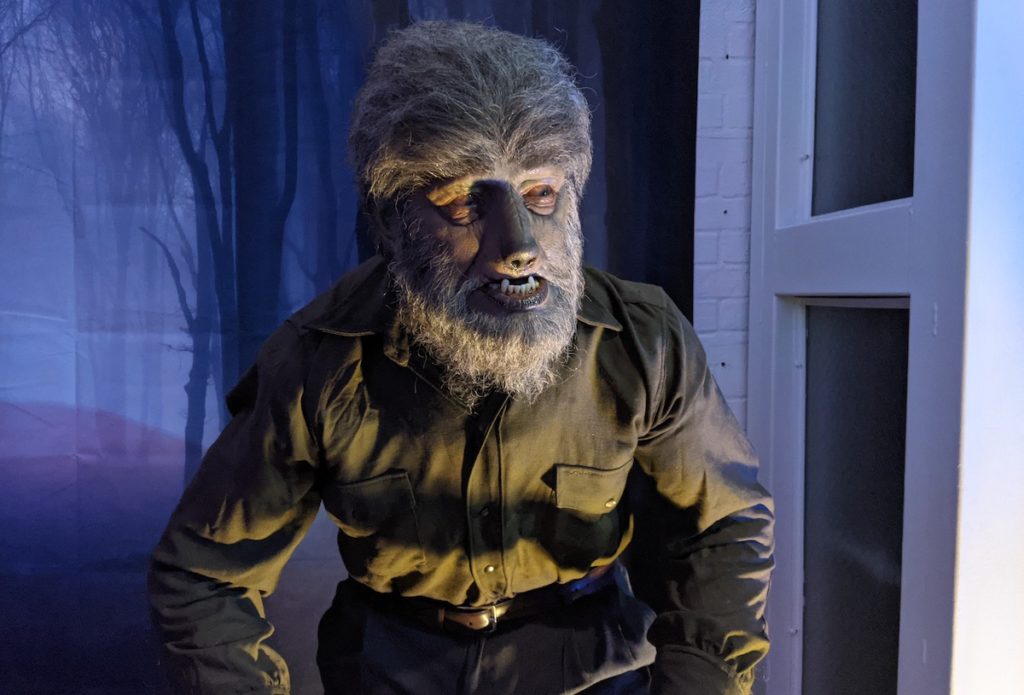 The exhibit was initially slated to open last year at the nearby Montalbán, but was unable to do so due to the pandemic. This version of Icons is a slightly smaller Halloween preview that will transform into a much larger "Sci-Fi, Fantasy and Horror Hall of Fame" in a 24,000 square-foot space next to the TCL Chinese Theater early next year.
Though the show does skew towards scary movies, you don't have to be a horror movie buff to enjoy it. There are costumes from sci-fi and fantasy fare including Star Wars and The Hunger Games, plus a cluster of dinosaurs from Jurassic Park.
There's a ton of superhero stuff in the mix, too, from Marvel to DC. Correll notes he isn't a Batman collector before saying, "But I have every Batman suit and every Batman villain there is."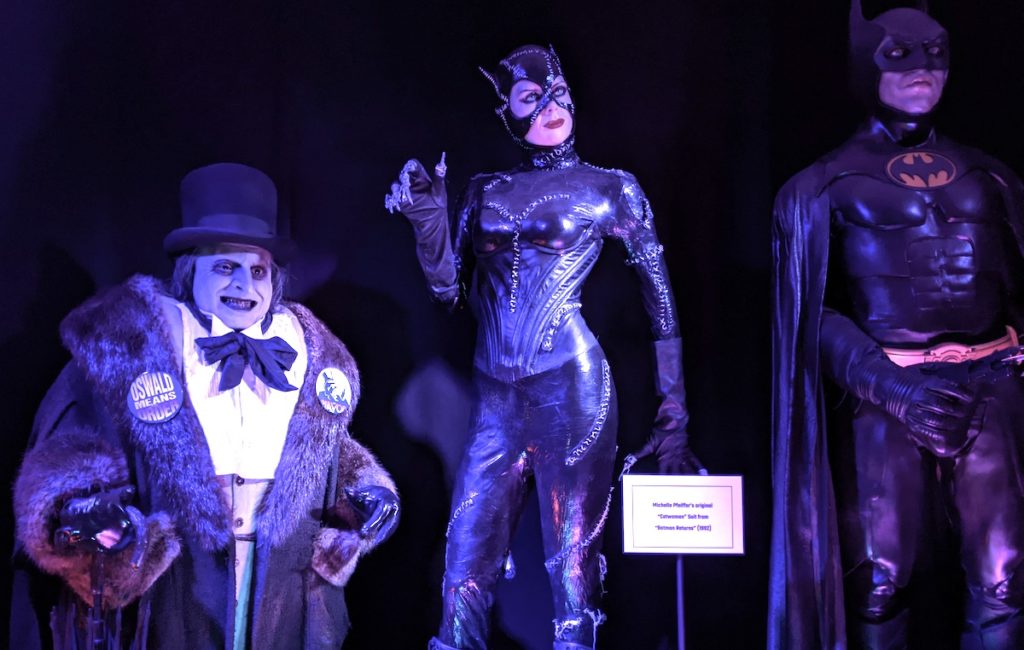 Correll also has the Superman suit Christopher Reeves wore in both Superman 1 and 2, revealing that all the flying scenes were shot at the same time and thus, using the same costume.
But, of course, if you are a horror fan, you're in for a treat. Items span from the classic monsters of Universal and Hammer films to the present. You'll find Hannibal Lecter's bite mask; Xenomorphs, their eggs, and face huggers; Jigsaw on his tricycle; and the first two zombies created for The Walking Dead—"Patient Zero" and "Bicycle Girl." IT's Pennywise (the Bill Skarsgård version) is found in an eerie rogues gallery with Twisty, portrayed by John Carroll Lynch in the American Horror Story franchise; Hellraiser's Pinhead, and the Nun from The Conjuring series.
We'll warn you now that some of these props may pop out at you thanks to classic haunted house trickery, so don't get too cozy.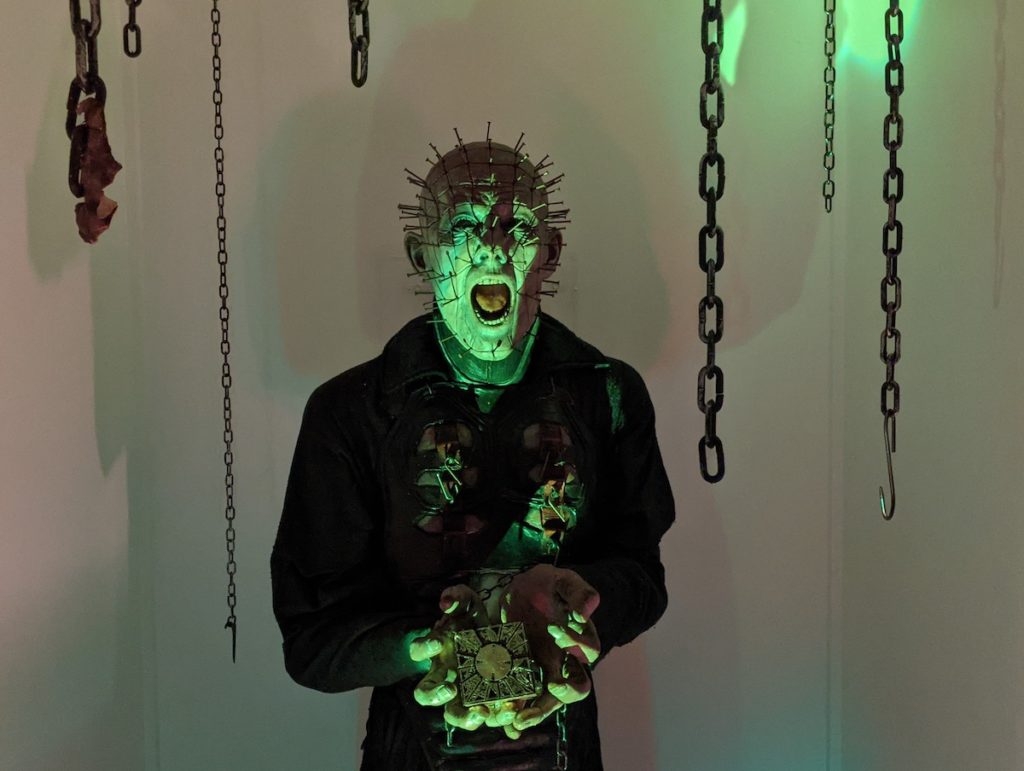 Icons of Darkness is open now at the Hollywood and Highland Mall in Hollywood. Tickets start at $25.