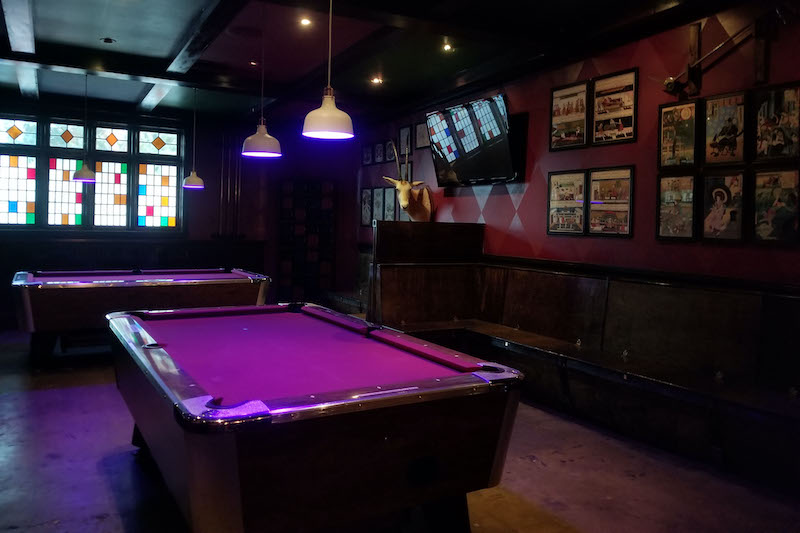 In a few weeks, the North Hollywood cocktail bar known as The Other Door plans to reopen as Risky Business, a private, members-only club that caters exclusively to vaccinated clientele. Guests will need to purchase a membership card, currently on sale for $10 per person, and show proof of their vaccine upon arrival. Anyone can buy a card now, but won't be allowed entry until two weeks after their final dose, which is how long it takes to be considered fully vaccinated.
"We have lots of friends, especially those on the front line in the medical field, who want a place where they can hang out and unwind," Ari Schindler, managing owner, told We Like L.A. "And we all know that the end of the pandemic and the return to our normal lives is when herd immunity is reached through vaccination. So we decided to create a place with herd immunity already in full effect, where essential workers—and eventually everyone—can return to normal now."
Risky Business will check vaccine credentials the same way bars have long checked IDs to ensure patrons are of legal drinking age, and may consider the use of health passports in the future. The bar also has an employee who keeps tabs on where and when vaccinations are available. That person will share tips with unvaccinated members looking to get their shots.
Inside, guests can freely enjoy cocktails, conversation, or a game of pool with their vaccinated peers. Eventually, Risky Business may bring back live entertainment, including music and burlesque. The menu will include a wide selection of beer, whiskies, and absinthes, plus cocktails mixed with house-made infusions. For those who don't drink, tea and kombucha are available. Those who sign up early will enjoy other privileges, too.
"To start, every member gets a special drink on their first visit, and the earlier you join the more incredible your drink will be. Most perks are to be revealed over time," Schindler said.
Schindler said the private club will last as long as it makes sense to exist, but the membership aspect could be permanent if the model is successful.

Though members-only clubs are certainly not new to L.A.—take Soho House or the Magic Castle—a bar free of strict COVID-19 protocols certainly is. And while some might jump at the chance to enjoy a night out sans mask, The Other Door's announcement post quickly racked up over 300 comments of varying opinions.
"Who knew that our little club was immanentizing the eschaton?" Schindler joked.
The arguments raged over whether or not the concept is safe, or if it's discriminatory against those who can't or who choose not to be vaccinated. We decided to look into those arguments ourselves.
Is a Private Club For the Vaccinated Safe?

The COVID-19 vaccine protects us by decreasing the chance we'll get it if we encounter the coronavirus, and by preventing serious illness, hospitalization, and death if we do. The primary concern would be that a vaccinated person gets COVID-19 and passes it to an unvaccinated person who is at risk for developing a severe illness. With these considerations in mind, the CDC has said vaccinated people are allowed to visit with one another inside, without masks or social distancing. They can also visit with unvaccinated people from a single household, assuming the unvaccinated people (and those with whom they have close contact) are low-risk. When it comes to the general public, vaccinated people should continue doing what they've done for the past year: wear masks, social distance, and avoid crowds.

During a recent media briefing, we reached out to Dr. Paul Simon, Chief Science Officer with the L.A. Dept. of Public Health, about the club. He said so long as it was a small group of fully vaccinated individuals, it'd probably be "fine."
"We're not endorsing this practice, but we understand that in the private sector…there will be growing measures like this that private companies are taking," he said.
So, from a safety perspective, it would appear that if you are indeed fully vaccinated, don't have unmasked close contact with unvaccinated people (especially those who are at-risk), keep to small groups, and follow guidelines when in public, you may be in the clear.
Is it Discriminatory?
Health officials say most people are eligible for the vaccine, including people who are pregnant, breastfeeding, and have weakened immune systems. But for some people, such as children and those with certain allergies, it might not be an option. Children can't drink, so they wouldn't be going to a private bar in the first place, but what about an adult with a disability that prevents them from getting vaccinated? Would such an establishment be discriminatory against them?

We checked in with the California Department of Fair Employment and Housing (DFEH). That's the department that works to "prohibit discrimination in employment, housing, and business establishments." According to Fahizah Alim, Dept. Director of Communications, the department "cannot comment on this at this time." So, that's neither a yes or a no, but the department has put out other relevant guidance.
The Unruh Civil Rights Act "specifically outlaws discrimination in housing and public accommodations based on sex, race, color, religion, ancestry, national origin, disability, medical condition, genetic information, marital status, sexual orientation, citizenship, primary language, or immigration status." DFEH provides several examples of behaviors that would violate this act, such as if a hotel charged a $100 service fee to guests of one race but not others, if a same-sex couple was denied a table at a restaurant, or if a doctor refused to treat a patient who was HIV positive.
The question here would be does being unvaccinated or unable to be vaccinated qualify as a "medical condition"? And there is some guidance for that when it comes to an employer requiring an employee to be vaccinated.
An employer may require employees to receive an FDA-approved COVID-19 vaccine. And while DFEH doesn't provide any guidance on whether or to what extent an employer should mandate vaccination, it does address how an employer can comply with Fair Housing and Employment Act if it does.
Essentially, if an employer mandates the vaccine, employees may object due to a disability or a "sincerely held religious belief." In that case, the employer must work with the employee to reasonably accommodate them, and can't retaliate against the employee for asking for that accommodation. For example, let's say an employee has an allergic reaction to the vaccine and is advised not to get a second dose. That person could request to continue to work from home and—assuming their job could be done from home—that would be a reasonable accommodation.

On the flip side, the employer may exclude the employee from the workplace if the employer can show the accommodation imposes an undue hardship, prevents the employee from performing their duties, or would endanger the health and safety of themselves or others.
When it comes to sincerely held religious beliefs, the definition can be broad, but would typically be rooted in a religious tradition—not a 5G conspiracy theory. According to the Equal Employment Opportunity Commission, if an employee requests a religious accommodation "and an employer has an objective basis for questioning either the religious nature or the sincerity of a particular belief, practice or observance, the employer would be justified in requesting additional supporting information."

Outside of a disability or sincerely held religious belief, employers do not have to accommodate employees who refuse a vaccine, so it'd stand to reason that businesses have the same permissions.
Attorney Mark Dycio, who represents hospitality clients in Washington, D.C. told WTOP, "The bottom line is, unless you're a protected class, under federal law, restaurants can use any COVID protocols they want to keep customers and employees safe. While a restaurant or music venue can't refuse service based on race, color, religion, sex or national origin, those restrictions don't apply to businesses enforcing their own COVID protocols."
The L.A. Times also consulted with attorneys for an article about employee vaccination, who said a business may have to try to accommodate those customers in the same way before refusing service. We reached out to a few attorneys, too, but considering the newness of this issue, there's really not a lot of concrete guidance out there yet.
Schindler said Risky Business would consider safe options for anyone who "truly cannot be vaccinated, and truly wants to enjoy our hospitality," but they haven't figured out any yet. Currently, unvaccinated people can get pickup or delivery of bottled cocktails, beer, wine, and liquor as well as curated boxes of drinks and snacks, no membership required.
There may also be some concern over people who want a vaccine, but who can't readily access an appointment. (I can personally attest that getting one without a car is a bit tricky.) Hopefully, Risky Business's dedicated employee would be able to step in and help those people secure their doses.
Meanwhile, in the U.K., government officials have suggested mandatory vaccine checks at pubs could encourage younger people to get vaccinated. And in Denver, a bar is offering indoor service to only vaccinated people, while the unvaccinated can sit on the patio or get take out. The owner stated they've received backlash, including one-star reviews on Yelp, but said, "I'm not an essential service. If you don't feel comfortable doing that, don't come."