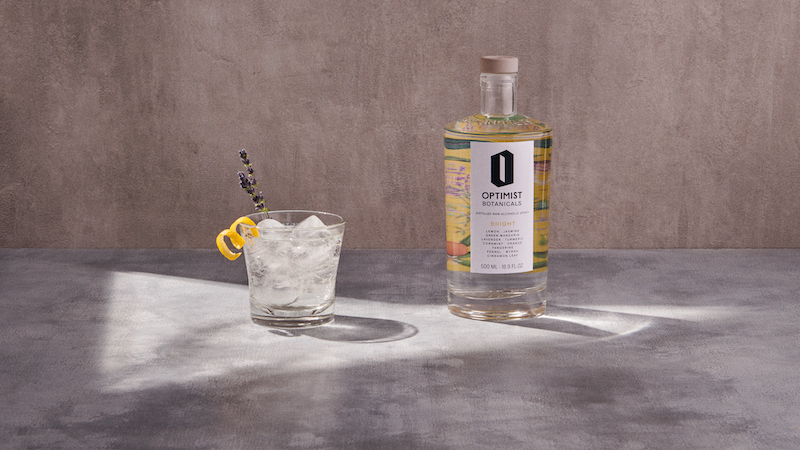 I've never been much of an at-home drinker, but when the pandemic began, I found myself drinking at home quite often. With my social life gone, I was inspired by the newfound ability to order cocktails or bottles to-go while feeling like I was supporting local restaurants. For many, this sort of behavior has been common over the past year, but it can also be dangerous.

Since the onset of the pandemic, retail alcohol sales have gone up, and studies have shown that many people are drinking far more than they did before. One study found that women, who are feeling more stress than men due in part to increased household duties with less outside help, have increased heavy drinking days by as much as 41%. Yet another study, which included all genders, showed that hazardous alcohol use rose from 21% of respondents in April to 40.7% in September. Health experts say the dangers are many, including an increased risk of cancer, liver disease, mental health problems, and early death, not to mention negative impacts on family and work.
For me, the thrill of to-go cocktails wore off in a couple weeks. And while I didn't miss having an alcoholic drink, I did miss the process of making myself a drink after work—a signifier that my day was done and I could relax. Sugary juices and sodas make me feel sick, so I switched to putting bitters in flavored soda water. Then I saw a friend in the Midwest who'd decided to quit drinking altogether was experimenting with various non-alcoholic gins, posting her favorites to social media. That made me curious. What is a non-alcoholic gin? Who's making them, and do people really like them?
Morgan McLachlan is the co-founder, CPO, and Master Distiller at AMASS, a Los Angeles-based distillery that makes both liquor and a new non-alcoholic spirit they call Riverine. McLachlan said that during the pandemic, people—exactly like me, it turns out—have been searching for a new way to separate their day from their night, as our work and private lives now frequently occupy the same space.
"I think a drink has become that for a lot of people. The rise in non-alcoholic beverages comes from a desire for a nightly ritual that aligns with the ways in which we want to take care of ourselves," she said. "For us, drinking is a way to connect, both with others and ourselves. We believe in the power of plants for ritual, and that ritual of slowing down, pouring a drink, and savoring it at the end of the day is the same regardless of proof."
Lisa Farr-Johnstone is the co-founder of Optimist Drinks, based in DTLA. Optimist makes three different non-alcoholic spirits that she says "don't compromise your physical or mental well-being but still allow you to enjoy your end-of-day ritual [or] be part of a social occasion." She had a similar response about her products' appeal.
"Right now it can be a way of creating a metaphorical 'third space' when our lives are one big undefined blur of work/life," she said. "The most important part of 'drinking' is for us is the act of pausing, the buzz of connecting and conversing. And, of course, good flavors. We aren't anti-alcohol, but we are about making mindful choices rather than drinking booze by default."
Both companies package their spirits in attractive bottles that look at home in any liquor cabinet, and produce them via similar means. Various botanicals are steam-distilled or, in some cases for Optimist, undergo a C02 extraction to bring out their flavors. Each Optimist spirit uses between 10 to 15 botanicals, with Riverine has 14. 
"Sorrel adds an element of bitterness to the spirit, while sumac lends necessary structure. The tart berry's subtle piquancy and tannin quality come through on the rear palate to mimic the burn of an alcoholic beverage," McLachlan said. 
Layman's terms? It's an herbaceous blend that will remind you of gin, but not quite so harsh as actual alcohol. You could have it on the rocks, in tonic or soda water, or in a cocktail. That could mean a completely non-alcoholic cocktail (McLachlan recommends a Tom Collins-style concoction with simple syrup and lemon juice), or in a traditional cocktail where Riverine replaces a spirit and thus produces a low-alcohol option. For example, McLachlan says she mixes it in a Negroni with Campari and sweet vermouth, swapping out gin.  
Optimist's three blends are inspired by parts of Southern California. "Bright" is like a citrusy vodka and is inspired by Venice, where Farr-Johnstone lives. "Smokey" is like a mezcal, drawing inspiration from desert-scapes in Yucca Valley. "Fresh" drinks like a gin, and takes its cues from hiking in Topanga. Optimist blends are ideally mixed one part spirit to two parts mixer, such as soda water or ginger ale, and maybe a squeeze of lemon or lime. Other customers have told Farr-Johnstone they mix it in kombucha or even plain water just to give it extra flavor. It helps that none of these particular non-alcoholic spirits have a bunch of sugar, so you won't be crashing after enjoying one.
People have been drinking non-alcoholic beers for years, though they weren't always trendy and many bars only had O'Doul's if they had an NA option at all. Yet in recent years, manufacturing and sales of NA beers have seen an uptick, appearing more often in hip stores and bars to cater to health-conscious and sober customers who want to go out, but who don't want to drink. In a 2019 Esquire article, Jonnie Cahill, Heineken's chief marketing officer, said the company had noticed this new market especially in younger people, who were more concerned with wellness than previous generations.

"There are tons of moments in your life where you would absolutely love a beer, but don't necessarily want the alcohol," he said.
In 2019, Farr-Johnstone said she received quizzical looks when she tried to describe Optimist products. But after launching in early 2020, they tripled their sales expectations. She believes the shift is part of an organic trend led by people who are interested in drinking less and moving away from a society where booze is central to our social lives. She also thinks the trend has been sped up by the pandemic, and that non-alcoholic brands are meeting the demand, not creating it. 
"Many of us have (over) used alcohol as a means of coping with anxiety and stress during the pandemic, and we are coming to realize that isn't a solution," she said. "There is lots of talk about the new 'roaring 20s' and some wild partying as we leave the pandemic behind. [W]e will all be craving parties and people, but we believe that will also be balanced out by a desire to spend meaningful time with people and to safeguard our mental and physical health."
In fact, she wonders why we call these alternative beverages "non-alcoholic" at all.

"Perhaps a more interesting way to consider the category is 'adult beverage.' Let's blow it open. Why are we defining ourselves by what we don't have, rather than what we do?" she said.
Both companies are growing. Optimist has plans to add more products this summer. AMASS pivoted last year to also produce hand sanitizer, something McLachlan struggled to find on store shelves last March. They've also launched new scents, soaps, lotion, and bath salts.
If you're interested in adding an alcohol-free cocktail to your nightly ritual, you can check out AMASS here. Riverine retails for $35 for a 750 ml bottle. Check out Optimist Drinks here. Each blend retails for $35 per 500 ml bottle or $90 for all three.