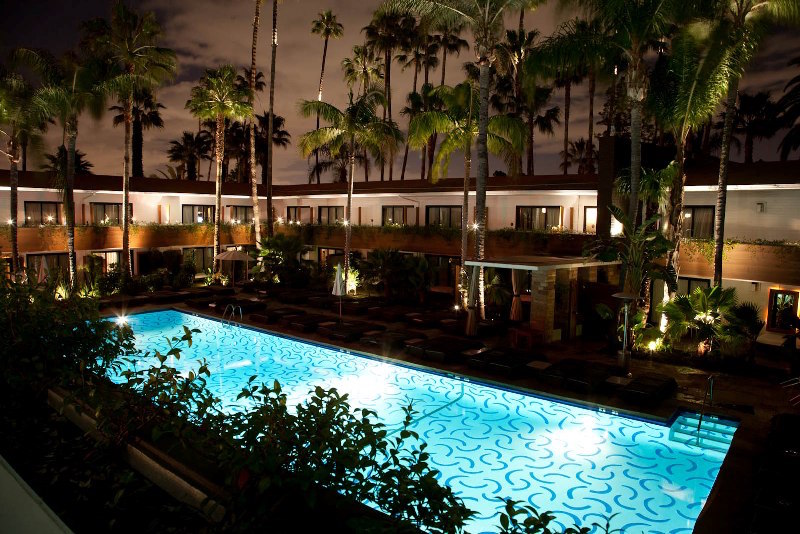 We used to tell you about all the things you could go out and do in Los Angeles on a daily, weekly, and monthly basis. Then, COVID-19 changed life for all of us, in a thousand small and massive ways. Until the pandemic is behind us, we'll post events that adhere to Public Health's current protocols—including plenty of at-home and online events—every Monday and Thursday. We hope they keep you busy, make you laugh, teach you something, or help you feel less alone.
This week, we've got the Outfest Fusion QTBIPOC Film Festival, a Songkran dinner for charity, an audio play from Native Voices, a beauty pop-up with free sandwiches and samples, a new KBBQ drive-thru, and more. Have something you want to submit for next week? Hit us up: [email protected].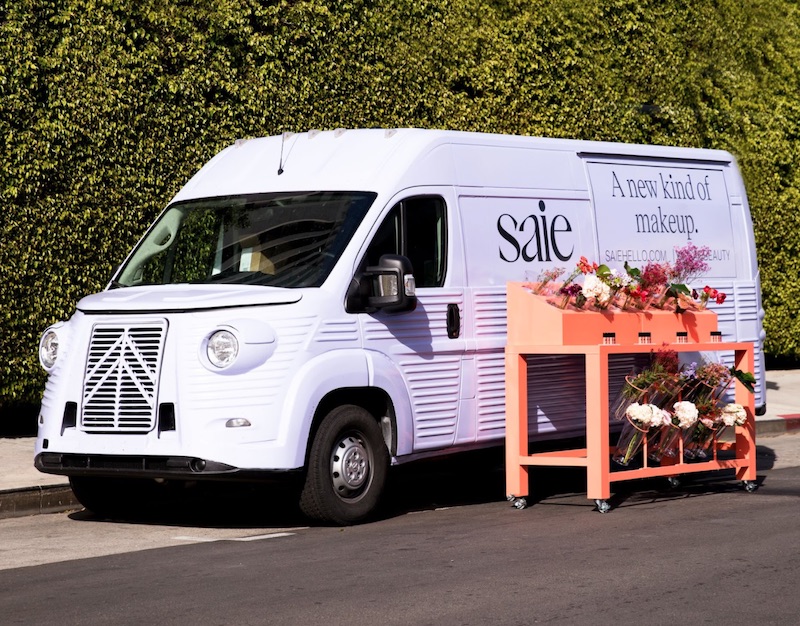 In-Person Events
The 2021 Outfest Fusion QTBIPOC Film Festival kicks off April 16 and features five days of online screenings and outdoor drive-in celebrations. The program includes 10 features and over 40 shorts from 18 countries, including nine premieres. A dozen community workshops, industry masterclasses, a One Minute Movie Contest, and live performances are all in the mix, too. View a list of the curated programming here.
There's a charitable dinner series happening on April 14 at Summer Social Club featuring Chefs Justin Pichetrungsi of Anajak Thai, June Intrachat of OTUS Thai Kitchen & Coffee, and Dan Rabilwongse of Tartine. The lively evening will celebrate Songkran, the Thai New Year, and raise money for AAPI non-profits. The a la carte menu includes papaya salad, roasted tiger prawns, and pan-fried dishes. Employees Only's Tom Sopit will also create two Asian-inspired cocktails to complement the chefs' menu. Part of the proceeds from cocktail sales will go towards an Asian American and Pacific Islanders designated charity. White Bark Workwear will be on-site creating limited-edition aprons and T-shirts to benefit the AAPI community. Make your reservation on Resy.
Tired of your home office? Hermanito has a new coffee program from Amigo Roasters from Tues.-Fri., 8 a.m. to 2:30 p.m. Enjoy the free WiFi on the front or back patio, plus pastries from Sugarbloom Bakery and breakfast tacos from Executive Chef Abraham Lemus.
Clean beauty brand Saie will celebrate the launch of its latest Dew Blush with a carbon neutral road trip around Los Angeles. On April 13 from 11 a.m. to 2:30 p.m., they'll stop by Uncle Paulie's Deli at 8369 Beverly Boulevard to give out free Saie collaboration sandwiches to the first 20 guests as well as bouquets of flowers, Saie merch, and beauty samples.
Savoca, a Sicilian restaurant now open at The Ritz-Carlton Los Angeles, offers limited indoor dining, plus outdoor seating in individual cottages. The menu includes inventive Italian dishes, including burrata with coccoli bread (delicious fried dough), an eggplant and braised beef lasagna where the noodles are layered vertically for extra crisp, and a bombolini filled with vanilla gelato.
The LA Choral Lab presents SOUNDWALK in Griffith Park. Guests wear headphones as they explore the park, and the choral music they hear will change based on their location. SOUNDWALK will remain available for the next few weeks. Tickets are $0-$25.
Artist Ben Sakoguchi's new show "Chinatown" at the Bel Ami gallery in Chinatown focuses on the violence and discrimination against Asian Americans for centuries in the U.S. Sakoguchi spent a few years as a child in a Japanese internment camp in Arizona during World War II. The works in his exhibit remind viewers that xenophobia isn't something new and predates the recent shootings in Atlanta and the on-going attacks on Asian Americans during the pandemic.
Hollywood Roosevelt's Tropicana Movie Nights welcomes guests to a unique movie screening experience on April 12 and 13 in and around the iconic David Hockney-painted pool. A ticket comes with complimentary popcorn and if you dress up to the theme of the movie, you'll also receive a free cocktail or candy bar. This week, they'll screen Mamma Mia! (Sing Along) and Mad Max: Fury Road.
Jeffrey Deitch gallery in Hollywood is open for in-person viewing with advance reservations. Its exhibit "Shattered Glass" is a group exhibition of 40 artists of color who explore questions of power, surveillance, and justice. On view till May 22.
Through April, Alo Yoga will host outdoor yoga sessions at The Grove every Wednesday at 9 a.m. Open to all experience levels. $10, bring your own mat.
Bar Bohémien has opened in Culver City on the rooftop of Citizen Public Market, offering cocktails, wine, and beer. Food is available at one of the many vendors downstairs.
In honor of Earth Day, La Monarca Bakery is partnering with ECOLIFE Conservation, a nonprofit that protects butterfly habitats in Michoacán, Mexico, and the Natural History Museum of Los Angeles's Butterfly Pavilion to Save The Monarchs. For every in-person and online purchase of La Monarca's packaged goods, including the bakery's popular Café de Ollo and Mexican Wedding Cookies, 1% of all the sales will go to the ECOLIFE Conservation. The Natural History Museum of Los Angeles and La Monarca are also selling California Milkweed seeds to the public. Milkweed feeds and attracts monarch butterflies to a garden.
Kohn Gallery presents a solo exhibition by New Haven-based artist Chiffon Thomas. Titled Antithesis, Thomas's exhibition of figurative assemblages examine the hardships faced by defining one's identity in modern society. Opening hours this weekend will be extended, Friday 10 a.m. to 8 p.m., and Saturday 11 a.m. to 8 p.m.
South Coast Botanic Garden's butterfly experience SOAR is now open to the public featuring a new pavilion with live tropical butterflies. Advance reservations are required and can be made online now.
Wallis Annenberg PetSpace has reopened with free reservations for small, socially-distanced groups. Guests are welcomed back to enjoy an hour-long PetSpace Experience that includes a behind-the-scenes presentation of the workings of Annenberg PetSpace, activities for kids, a visit to the all-new Critter Corner, and a live Pet Encounter! Bookings are available now.
Cinespia is going the drive-in route this season with weekend movie screenings at the Greek Theatre. Selena screens this Friday.
JAPAN HOUSE reopens its Level 2 Gallery to the public on Monday, April 5. Visitors can experience the NATURE/SUPERNATURE exhibition in person using a complimentary timed ticket entry system. Walk-ins are also accepted, but priority will be given to guests who have booked their visit ahead of time.
Bill Esparza's taco festival Taqueando pivoted last year to a multi-week pop-up in DTLA featuring rotating guest chefs and their most popular tacos. For 2021, Taqueando continues with a four-week pop-up (March 10 – April 25) by Chef Priscilla Curiel of San Diego's famed Tuétano Taquería, Ricky Piña of Ricky's Fish Tacos, and tamales (to-go) from Tamales Elena y Antojitos. Wine, beer, and cocktails will also be on the menu. The Taqueando pop-up is open Wednesday through Sunday from 5-10 p.m. for takeout, delivery, and outdoor dining on the restaurant's patio (first-come, first-served basis). Note that Ricky's Fish Tacos will only be serving Thursday through Saturday.
JW Marriott Los Angeles Live's poolside dinner & a movie is $45 per guest and includes one appetizer, one entree, unlimited popcorn, and the screening. This Friday, catch Mamma Mia! Here We Go Again. Other snacks, beer, wine, and cocktails are also available for purchase. Tickets and more info are here.
ROW DTLA is giving back to frontline workers with a "Buy A Meal, Give A Meal" campaign from March 20-April 16. For every meal purchased on-site at one of ROW DTLA's culinary concepts, one meal will be donated to essential workers at Keck Hospital of USC. Participating restaurants include Hayato, Rappahannock Oyster Bar, Go Get 'Em Tiger, Pikunico and Café Dulce with meals donated from a different restaurant each week.
Desert X's biannual public art show continues through May 16. Artists have been commissioned to use the desert landscape as their canvas with breathtaking results. You'll find the works spread throughout the Coachella Valley in various outdoor locations.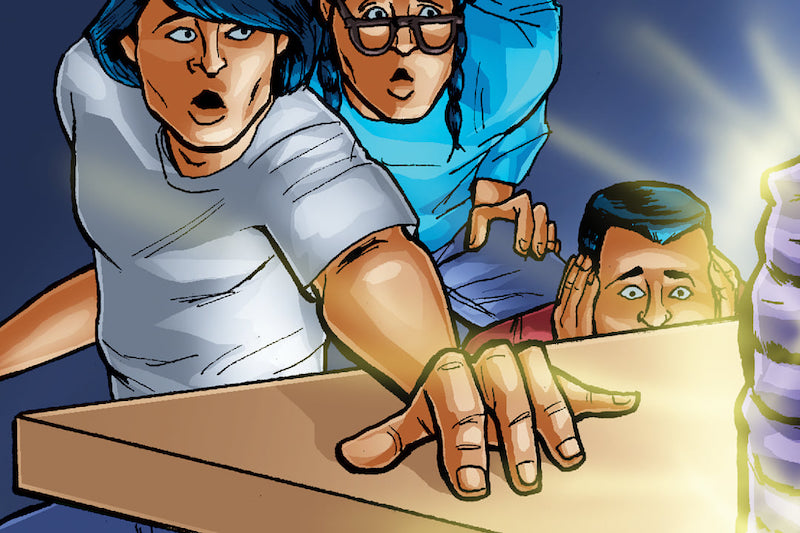 At-Home & Online Events
Native Voices presents a new audio play, The New Adventures of Super Indian by Arigon Starr (Kickapoo Tribe of Oklahoma). The play is based on Starr's graphic novels, Super Indian, and consists of three episodes that "tell the comic exploits of Super Indian and the residents of the fictional Leaning Oak Tribe Reservation. Hubert Logan, an ordinary reservation boy turned superhero faces off against three of his biggest foes—Wampum Baggs, the ringleader of the Circle of Evil; Blud Kwan'Tum, a cursed vampire determined to become a full-blooded Indian by any means necessary; and Karlie Keane, a scheming social media diva." The first episode drops on April 14 at 4 p.m.
The LA Times' Festival of Books is the nation's largest in-person literary event. Due to the pandemic, events will be held virtually this year from April 17-23. The lineup includes Guy Raz, Mindy Thomas, Terry and Rebecca King Crews, Don Lemon, Gustavo Arellano, and many more. Most of the events are free with registration with a few requiring a book purchase.
On April 14, join KCRW's Behind the Screens with Elvis Mitchell in conversation with production designer Donald Graham Burt and set decorator Jan Pascale of Netflix's "Mank."
Join Zócalo Public Square on April 13 at 1 p.m. for "Do investors Bear Responsibility for the Effects of Their Inventions?" Per a release: "Are inventors responsible for the societal ramifications of their creations? Ainissa Ramirez, a scientist who did research at Bell Labs before writing The Alchemy of Us: How Humans and Matter Transformed One Another, and Issues in Science and Technology senior editor Lisa Margonelli visit Zócalo to discuss why great breakthroughs in innovation demand greater understanding." Register here.
On April 15 at 5 p.m., join The Fowler for a conversation with LA Commons' Karen Mack, comedian and performance artist Kristina Wong, and Chicana feminist Martha Gonzalez of rock band Quetzal about "how one can powerfully organize, and engage hearts and minds, by creating a narrative about struggles to promote justice through art." Free, register here.
NewFilmmakers LA presents a discussion with Dayna Lynne North (Insecure) on April 16 at 7 p.m. She'll discuss her career as a producer and showrunner. Register here.
KCET's Fine Cut Speakers Series is on April 13 at 7 p.m. Host Melissa Blake will cover how to "harness your unique perspective and skillset in order to develop material and craft projects that serve you and promote your material." Register here.
CaltechLive! Presents a discussion with neuroscientist and opera singer Indre Viskontas on her book, How Music Can Make You Better, on April 12 at 5 p.m. Register here.
CAP UCLA hosts a free virtual performance from Ukrainian folk band DakhaBrakha on April 15 at 7 p.m. Free here.
KCET, PBS SoCal, and Link TV's annual Earth Focus Environmental Film Festival is online this year, kicking off Monday, April 12 with Playing with Sharks. Tickets are $10 for a single film or $45 for all nine, plus discussions.
On April 16 at 11 a.m., Craft in America hosts Craft in Action: Invasion of the Biosphere by Synthetic Polymers with Captain Charles Moore. Per a release: "Watch as the dynamic Captain Charles Moore, passionate ocean activist and founder of the Algalita Marine Research Foundation, uses compelling visuals and scientific facts to raise awareness of the plastic sludge that is taking over our oceans. Captain Moore educates and empowers people to think critically about plastic consumption and spurs them into action. Fiber artist Blue McRight, will introduce Captain Moore and discuss his influence on her work, which addresses the devastating issue of ocean pollution." Register here.
Grand Park's Our L.A. Voices: A Pop-up Arts+Culture Fest continues with virtual programming on April 15, 22, and 29 at 6 p.m. here. This week features a live performance from DJ Lani Love, who will spin Vietnamese hip-hop; the workshop Creation Stories of the Los Angeles Basin presented by the City of Los Angeles Department of Cultural Affairs and the NEA BIG Read, featuring Meztli Projects; and the film Changing Landscapes, a documentary short by Arthur King filmed in the Scottish Hebrides.
Learn how to bake a pear galette with the Institute of Culinary Education on April 13. The virtual class is $50.
On April 14 at 5 p.m., the Lucas Museum of Narrative Art hosts a virtual conversation with artist Judy Baca, Lucas Museum Director Sandra Jackson-Dumont, and Lucas Museum Chief Curator Pilar Tompkins Rivas about Baca's art practice and her plans to extend her mural The History of California. Free, register here.
Take a virtual tour of everything Friends with On Location Tours. Host Roseanne Almanzar leads a 40-minute tour of 18 locations from the series. A ticket includes access to On Location Tours' monthly Friends trivia night, and you can also add on a Friends box that includes a Central Perk mug and other keepsakes. Tickets for the tour and trivia are $29. Tickets that include the gift box are $68.
Linked Dance Theatre has partnered with the Alzheimer's Charity, Hilarity for Charity founded in 2012 by Seth Rogen and Lauren Miller Rogen, on She Sends Herself / Elle S'Envoie. It's an interactive virtual experience that uses multiples teams of performers across two continents to tell the story of Elle, a woman who is struggling with memory loss and how it affects her family. View-only tickets are $30, while interactive tickets, which include a box of curated materials to enhance the experience, are $200. Proceeds benefit Hilarity for Charity. Tickets are available through April 25.
Murder at Winterberg Manor is a new streaming comedic play written and directed by Meghan Pleticha. The play follows Jessica (Elizabeth Guest) as she hosts a virtual murder mystery party for her friends on Zoom. Tickets are through April 18 for $15 here.
Bake the Change is a virtual raffle to benefit Safe Place for Youth in Venice, taking place now through April 28. Enter a raffle, maybe win a pie, and join a virtual cooking class with Giada De Laurentiis. More info here.
The Japan Foundation presents the online exhibit 11 Stories on Distanced Relationships: Contemporary Art from Japan through May 5. It features 11 new works from Japanese artists on the theme "translating distance."
Underneath the Freeways of Los Angeles is a virtual interactive murder-mystery experience by Matthew Paul Olmos and directed by Michael Alvarez. The show is set in 1960s L.A., where two bodies have been discovered in Hollenbeck Park in East L.A. The audience must ask the right questions to find the guilty party. Show dates are April 2-28. Tickets are $15-25 here.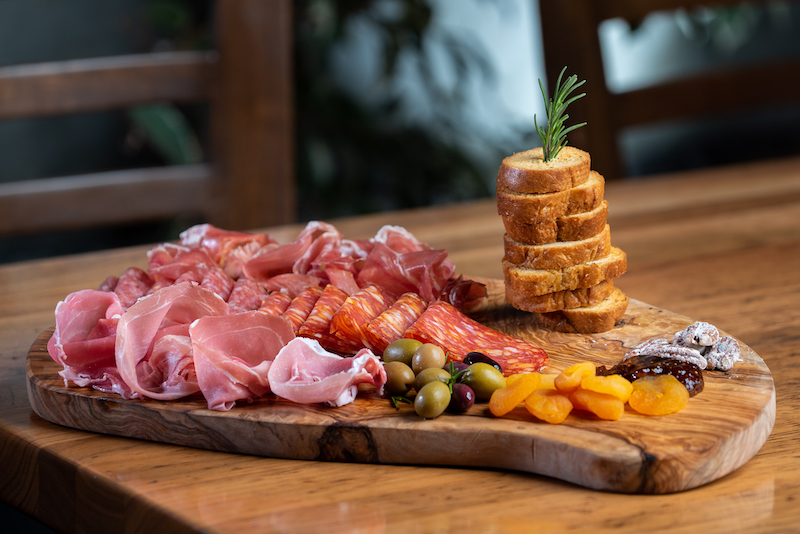 Pickup & Delivery
Orange County's MGD Korean BBQ has expanded its footprint to Chinatown with a scaled-down menu of traditional KBBQ and unique creations like loaded tots served with large portions of shaved brisket, bulgogi chicken, or Loco Moco with a Korean twist. They've also built a drive-thru, which is the only existing drive-thru in Chinatown.
It's always charcuterie board season but now that Spring brings warm weather and lush greenery, look to Haute Mess for grab-and-go platters that include an assortment of meats, cheeses, toast, jam, and accompaniments. You can also get a charcuterie board delivered to you through GrubHub, Postmates, and DoorDash.
Need more delivery and takeout options? Check out our latest comprehensive guide here.