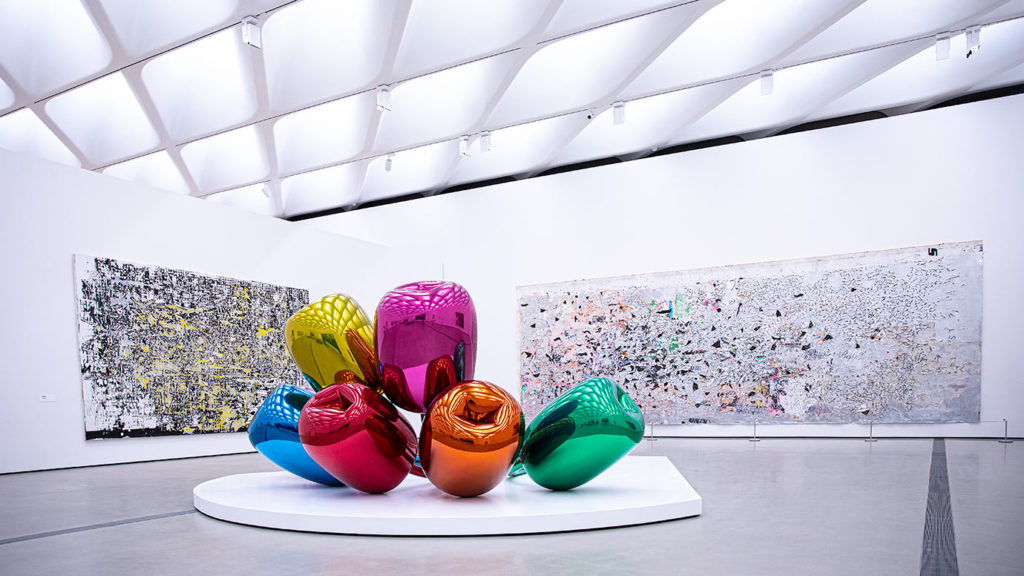 As Los Angeles finds its way out of the pandemic and restrictions gradually ease, we're continuing our bi-weekly round-ups of fun to-dos, mixing in the occasional online/virtual event with an ever-growing list of in-person experiences.
This week, from May 24 to May 28, features the reopening of The Broad, a tap dance pop-up at the Music Center, Plaza, all-ages rollerskating, a new horror experience at Zombie Joe's, new work from the L.A. Dance Project, outdoor movies, and more!
All Week
1. The Super Villainz Tap Dance Park -> To celebrate National Tap Dance Day (May 25), the Music Center has created a week-long "tap dance playground" at Jerry Moss Plaza. Dance-related films will play on giant LED projected screens while guests puts their bodies in motion on five different types of specially constructed dance boards and receive guidance from on-hand tap dance instructors. Runs from May 24 through May 30. Attendance is free, but advance reservations are required. Get more info here.
2. California African American Museum -> CAAM is open for in person visits Tuesdays through Sundays. The museum currently has three exhibitions on view including Men of Change: Power. Triumph. Truth. which profiles revolutionary men—including Muhammad Ali, James Baldwin, Ta-Nehisi Coates, W.E.B. Du Bois, and Kendrick Lamar. All visitors are required to reserve in advance. Admission is free.  
3. SoFi Stadium Tours – > SoFi Stadium has a new behind-the-scenes tour program that kicked off this past weekend. Guests can visit the team store, peep the locker rooms, run through the tunnel, and test their skills on the field. Standard tour packages start at $30 per person. Get more info or book a tour here.
4. Love Note -> Rogue Ensemble has a new interactive audio expedition that invites guests to Plummer Park in WeHo, now through June 30. Per a release, Love Note is an "in-real-life audio experience that guides audiences through a twisted collection of love stories, meditative romance and lost connections." The experience is free, but a smartphone and headphones are required. Plummer Park is open from 6 a.m. to 10 p.m. daily. More info and instructions for attendees can be found here.
5. Specials AAPI Heritage Month -> In May, four local establishments have banded together for Shake the Hate LA, a cocktail fundraiser benefiting AAPI nonprofits. For every special AAPI cocktail sold through May, Pernod Ricard will donate $1 to an AAPI non-profit or charity selected by each participating restaurant. Cocktails include: a Pear Martini with Absolut Vanilla, sake, Asian pear juice, and passion fruit from Connie & Ted's; "Just Vibe" made with Altos Reposado Tequila, Yellow Chartreuse, lime, agave, and hellfire bitters from Bar Bohemien; "Thai Fighter" with Beefeater Gin, lemongrass, Makrut lime leaves, ginger, and nigori sake at Good Times at Davey Wayne's; and "Ready for this Jelly?" made of Absolut Vodka, green tea, sweet condensed milk, house-made lychee liqueur, and grass jelly from Phorage.
6. Two New Exhibitions at L.A. Louver -> Rebecca Campbell: Infinite Density, Infinite Light and Heather Gwen Martin: Nerve Lines and Fever Dreams begin showing at L.A. Louver starting on Monday, May 24. Viewing is by appointment only. Book a slot here.
7. Celebration Spectrum -> A month-long public art installation produced by dublab for Art Rise in collaboration with artist Tanya Aguiñiga and curator Mark "Frosty" McNeill for The Music Center and Grand Park. The month-long audio-visual exhibition will showcase the work of over 34 local artists, fusing art, music, and cultural identity experiences into art installations on the grounds of Grand Park, as well as digital programming accessible via werise.la/grandpark. 
8. The Skirball -> The museum is now reopened with Ai Weiwei's Trace, an exhibition of portraits made entirely from LEGO® blocks that reflects the artist's experience of being arrested and interrogated by the Chinese government for 81 days in 2011. Visit info can be found here.
9. South Coast Botanic Garden's butterfly experience SOAR is now open to the public featuring a new pavilion with live tropical butterflies. Advance reservations are required and can be made online now.
Tuesday
10. All-ages Rollerskating-> Tuesday is all-ages night at Moonlight Rollerway in Glendale. $15 gets you in the door, but skate rental is sold separately. More info and tickets here.
11. Dan McCleary: OAXACA -> Previously a virtual-only exhibition, visitors are now welcome to the USC Fischer Museum to check out more than two decades of Oaxacan prints created by artist Dan McCleary. Entry is free, but advance reservations are required. More info and timed slots available here.
Wednesday
12. The Broad Reopens -> The Broad's return to in-person visitors this Thursday will include the debut of a new exhibition called Invisible Sun, which was conceived last summer as a response to the issues of gender and race-based violence, capitalism, and colonialism. The new collection features 59 works from artists including El Anatsui, Alexander Calder,Keith Haring, Jenny Holzer, Julie Mehretu, Nathaniel Mary Quinn, and Cindy Sherman, and many of the works will be on view for the first time. Advance reservations to visit can be made here.
13. Lunar Eclipse -> Griffith Observatory will broadcast a feed of the total lunar eclipse on Wednesday, May 26, from 1:45 to 6 a.m. If conditions are clear, the eclipse should be visible to the naked eye anywhere in Southern California. The Observatory's video will be streamed here.
14. Judson Studios: Stained Glass from Gothic to Street Style -> Forest Lawn Museum's latest exhibitions features nearly 100 original stained glass artworks, preparatory drawings, archival photographs, oil paintings, and watercolors. A mix of contemporary and historic stained glassworks in the exhibit include a hand-crafted window from Frank Lloyd Wright's 1924 Ennis House, a fused glass portrait of Kobe Bryant by Tim Carey and Judson Studios, and The Muralist by David Flores. Capacity is limited, reservations are encouraged. More info here.
15. The Grove -> Alo Yoga host outdoor yoga sessions at The Grove every Wednesday at 9 a.m. Open to all experience levels. Sign up cost $10, bring your own mat.
Thursday
16. Urban Death Trail of Torment -> Zombie Joe's Underground Theatre has a new walk-thru attraction kicks off this Thursday. Per a release, the 20-minute experience takes visitors on a journey through "dimly-lit labyrinth straight into our phantasmagoria." A $35 ticket is good for entry for two. Runs Thursdays, Fridays, and Saturdays starting at 7:20 p.m. Get tickets here.
17. Elsewhere At the Madcap Motel  -> The retro space features over a dozen rooms full of interactive and photo-friendly moments interwoven with a sci-fi narrative. Runs Thursday through Friday through the end of June. Read We Like L.A.'s full right up on the experience here.
18. Dances in the Open -> L.A. Dance Project returns with in-person performance starting this Thursday, featuring two works: New Taylor, choreographed by former NYCB Principal dancer Janie Taylor, and Solo at Dusk, choreographed by Bobbi Jene Smith, in collaboration with Or Schraiber. Tickets start at $50 per person, $25 for students, and $175 for benching seating that accommodates 4-5. More info and tickets here.
19. Made in L.A. 2020 -> The ongoing exhibition takes place at the Hammer and The Huntington and features commissioned works by 30 Los Angeles-based artists. Advance reservations (free) are required.
20. The Hammer -> Take a 30-minute Mindful Awareness Meditation online via Zoom at 12:30 p.m.
Friday
21. Rooftop Cinema Club -> It's a 90s weekend at RCC with Friday screenings of 10 Things I Hate About You and The Fifth Element kicking off the Memorial weekend lineup. More info here.
22. Japanese American National Museum – JANM in Little Tokyo is now open for in-person visits on Fridays, Saturdays and Sundays. The current exhibit, Transcendients: Heroes at Borders, by Taiji Terasaki, in collaboration with JANM, honors individuals who advocate against discrimination, prejudice, and inequality at borders. The museum also presents Transcendients: 100 Days of COVID-19 and Memorial to Healthcare Workers, a work created during the pandemic that tells a wide range of stories on topics including race and class, food sustainability, art, scientific innovations, and climate adaptation. Advance reservations (free) are required.
23. Drive In At The Park -> Cruise into the Kenneth Hahn Disc Golf Course in Culver City for a drive-in movie night every Friday and Saturday now until August 28. This weekend, they'll screen Beethoven and Selena. Tickets car $33 a car.
24. Electric Dusk Drive-in -> The Glendale drive-in will screen Jumanji (1995) this Friday. Tickets for all Electric Dusk Drive-in shows are here.
Dining
25. Off The Menu -> The iconic roadside burger stand Irv's Burgers founded in 1946 closed back in 2018 but the app Off The Menu is bringing it back for one-day-only to celebrate National Burger Day on Friday, May 28 From 11 a.m. to 4 p.m. at Employee's Only. On the menu are Irv's famous double cheeseburger and fries along with limited-edition merchandise and Stella Artois.
26. Chuy's Soft Pretzels -> Get freshly baked soft pretzels delivered straight to your door this week by Chuy's Soft Pretzels. On the menu are vegan pretzels topped with vegan cheese & jalapeño, "Fun Onion" aka Funyuns flavored, sesame, salt, plain and everything seasoning. Each pretzel runs $2.50 – $4.00 and delivery is free with a $12 minimum.
27. PARMBOYZ -> The parm pop up has a residency at The Corner Door in Culver City serving chicken and eggplant parm alongside tiki cocktails and Italian wines. Try the Parm For 2 special where $55 gets you antipasto, Ceasar salad, your choice of chicken or eggplant parm with spaghetti and Tiramisu.
---
Any notes or corrections? Want to suggest an event we should add to an upcoming list? Hit us up at [email protected].