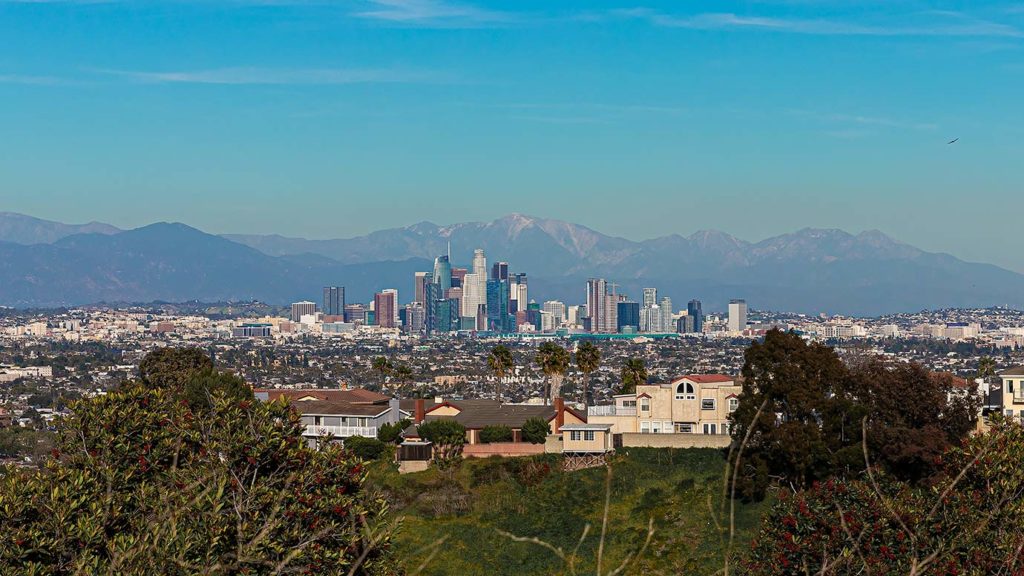 We used to tell you about all the things you could go out and do in Los Angeles on a daily, weekly, and monthly basis. Then, COVID-19 changed life for all of us, in a thousand small and massive ways. Until the pandemic is behind us, we'll post events that adhere to Public Health's current protocols—including plenty of at-home and online events—every Monday and Thursday.
This weekend, we've got Ai Weiwei's Trace at the Skirball, pop-up markets, a '20s-themed lawn party, NHM's virtual bug fair, fun restaurant mashups, and more. Have something you want to submit for next week? Hit us up: [email protected].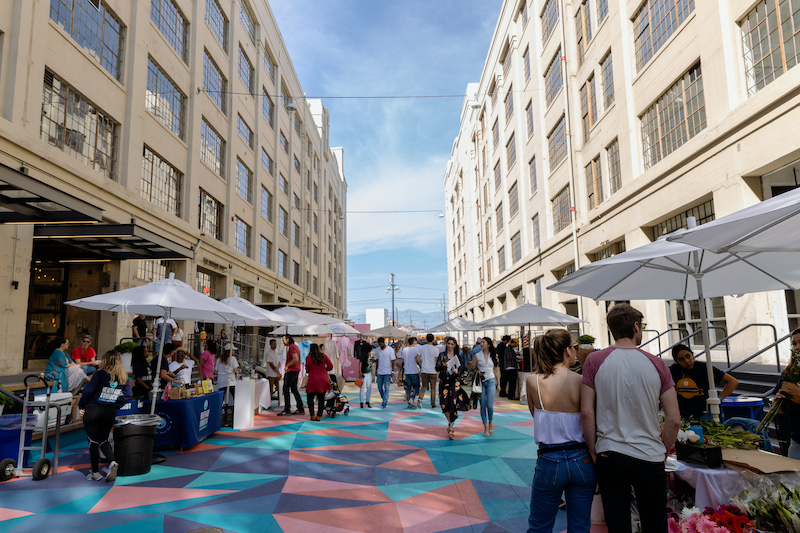 In-Person Events
The Skirball reopens on May 15 with Ai Weiwei's Trace, an exhibition of portraits made entirely from LEGO® blocks.
Unique Markets Spring Pop-Up returns to ROW DTLA May 15-16 for a curated shopping experience. This pop-up features one-of-a-kind gifts from modern, independent designers, artists, and emerging brands. Aside from shopping, the market will feature a photo booth, complimentary beverages, and live music.
Don't Tell Comedy is back this weekend with shows in Venice and Redondo Beach. The shows are held outdoors and masks are required at entry and in common areas. BYOB and snacks. Tickets cost $25 a person.
On May 15, head to vegan eatery Jewel in Virgil Village for Makers Market LA, featuring over 20 vendors from jewelry to vinyl and sustainable goods. Live music and food from Jewel will also be part of the day. Reserve a free ticket here.
Elsewhere At the Madcap Motel is currently accepting tourists seeking an escape from reality. The retro space features over a dozen rooms full of interactive and photo-friendly moments interwoven with a sci-fi narrative.
Drive In At The Park cruises into the Kenneth Hahn Disc Golf Course in Culver City with Friday and Saturday movie screenings now until August 28. This weekend, they'll screen Toy Story, The Notebook, Cloudy With A Chance Of Meatballs and Freaky.
Danny Heller's Palm Springs Weekend opens at the George Billis Gallery on May 15, with an opening reception from 4-7 p.m. The show features Heller's oil paintings of mid-century architecture in Palm Springs.
Emma Chamberlain's coffee brand, Chamberlain Coffee, is taking over Carrera Cafe May 14 – 16. Carrera Cafe will serve Chamberlain Coffee's Family Blend and latte art designs that include the brand's four core characters: a bird, cat, dog, and owl. There will also be a Chamberlain Coffee mural over the pink wall all the influencers love.
Douglas Allen's solo exhibition Keep on Trucking opens at Tierra Del Sol Gallery on May 15 through July 3. Per a release: "Keep on Trucking highlights Allen's bold colored pen and pencil drawings, inspired by his long-held desire to be a truck driver. He imagines big rig trucks in pop colored landscapes with hills and roads depicting Southern California cities and towns that he often references by name."
The Roaring Twenties Street Party is a vintage lawn party at Lionsgate Manor in Pasadena on May 16 from noon to 6 p.m. Dress up, pack a picnic, and enjoy live music from Dave Stuckey & the Hot House Gang, ragtime dance classes, games, photo ops, and more. Tickets are $75.
Cult filmmaker Richard Elfman will present a double feature drive-in at Regency Theaters on May 15 with Aliens, Clowns & Geeks and Forbidden Zone. More info here.
Street Food Cinema launches its 10th season on May 15 with a drive-in screening of Jurassic Park at the King Gillette Ranch in Malibu. Expect food trucks including Stout Burger, Dreamy Creations, and more. Car entry is $20, then $8 per person. More info here.
123 Farm at Highland Springs Ranch & Inn's A Walk Through the Lavender Fields kicks off on May 14. Visitors can stroll through organic lavender fields, take guided wagon tours, learn about how lavender is turned into an essential oil or used in food, and browse the farm's marketplace. Admission varies ($0-$15) and parking is $10. Open through Aug. 1.
Dance group Kinjaz will offer community dance classes on the ROW DTLA rooftop each Saturday in May. Free one-hour beginners' classes will take place at 11 a.m., followed by a paid advanced class at 1 p.m. for $15. On-site donations will be accepted at the free classes in support of the AAPI community. More information here.
May is AAPI Heritage Month and four local establishments have banded together for Shake the Hate LA, a cocktail fundraiser benefiting AAPI nonprofits. For every special AAPI cocktail sold through May, Pernod Ricard will donate $1 to an AAPI non-profit or charity selected by each participating restaurant. Cocktails include: a Pear Martini with Absolut Vanilla, sake, Asian pear juice, and passion fruit from Connie & Ted's; "Just Vibe" made with Altos Reposado Tequila, Yellow Chartreuse, lime, agave, and hellfire bitters from Bar Bohemien; "Thai Fighter" with Beefeater Gin, lemongrass, Makrut lime leaves, ginger, and nigori sake at Good Times at Davey Wayne's; and "Ready for this Jelly?" made of Absolut Vodka, green tea, sweet condensed milk, house-made lychee liqueur, and grass jelly from Phorage.
Rooftop Cinema Club El Segundo continues with multiple outdoor screenings this weekend. Movies include Coming To America, The Goonies, Dirty Dancing and much more.
Changing Landscapes (Isle of Eigg) is an immersive audio/visual gallery "that extrapolates a sound experiment conducted on the Scottish Isle of Eigg to the Silver Lake neighborhood of Los Angeles" through projected video, amplified sound, and spatial design. On view through May 28. Tickets are $10.
UCR ARTS will reopen its doors to the public on May 13 with free admission to all visitors. Guests can explore six wide-ranging exhibitions, including California wildfires, the documentary photography of Bruce Davidson, and textile art from the Social Justice Sewing Academy.
Picturistik is a new photo studio is now open in Burbank, offering fun backdrops by local artists using recycled materials.
From May 6-18, anonymous street artist Listen will debut his work in collaboration with Artsy at TheStyleGuyde Gallery in Santa Monica. Curated by Steve Galindo, the artist's debut will showcase 18 of their canvas pieces. More info here.
FORT:LA's May trail is the John Elgin Woolf Hollywood Regency trail, presented in partnership with the City of West Hollywood's One City One Pride LGBTQ Arts Festival. The trail shows off five homes designed Woolf. Per a release: "John Elgin Woolf had a major role in creating our idea of Golden Era Hollywood glamour, the homes he designed for movie and television major players set a new standard for luxury. Hollywood Regency, a style he is known for pioneering, is recognized by its blend of British architectural traditions (mansard roofs) and neoclassical motifs with the imaginative scale and set design approach." You can take a self-driven, self-led tour using FORT:LA's PDF here, which contains a map of the trail and the history of the homes. Available through May.
The Melrose Flea Market is back at Fairfax High School every Sunday. Tickets are $5.
Celebration Spectrum is a month-long public art installation produced by dublab for Art Rise in collaboration with artist Tanya Aguiñiga and curator Mark "Frosty" McNeill for The Music Center and Grand Park. The month-long audio-visual exhibition will showcase the work of over 34 local artists, fusing art, music, and cultural identity experiences into art installations on the grounds of Grand Park, as well as digital programming accessible via werise.la/grandpark.
Dreamscape Immersive at the Century City Mall is offering four immersive virtual reality adventures including The Blu: Deep Rescue, Alien Zoo, The Curse of the Lost Pearl: A Magic Projector Adventure, and Dragons Flight Academy.
Through May 23, El Capitan Theater is screening classic movies. This weekend, it's Toy Story. Tickets are available at the Box Office or at elcapitantheatre.com.
The LA Choral Lab presents SOUNDWALK in Griffith Park. Guests wear headphones as they explore the park, and the choral music they hear will change based on their location. SOUNDWALK will remain available through May 16. Tickets are $0-$25.
Universal Studios Hollywood is open and the amusement park has a brand new The Secret Life of Pets ride. Guests can also check out Jurassic World—The Ride, which includes a brand new dino, the Indominus rex, who will fight a T-Rex in the ride's finale. Other reopened attractions include The Wizarding World of Harry Potter, Transformers™: The Ride-3D, Revenge of the Mummy: The Ride, Despicable Me's Super Silly Fun Land, and the Simpsons-themed Springfield, U.S.A. The Studio Tour, which takes guests through the backlot and includes the Fast & Furious—Supercharged and King Kong 360 3D rides, is also back.
The Craft in America Center reopens on May 4 with the exhibit Making Waves: Ocean Ecology and Craft, on view through Aug. 21. More info here.
Japanese American National Museum in Little Tokyo is now open for in-person visits on Fridays, Saturdays and Sundays. The current exhibit, Transcendients: Heroes at Borders, by Taiji Terasaki, in collaboration with JANM, honors individuals who advocate against discrimination, prejudice, and inequality at borders. The museum also presents Transcendients: 100 Days of COVID-19 and Memorial to Healthcare Workers, a work created during the pandemic that tells a wide range of stories on topics including race and class, food sustainability, art, scientific innovations, and climate adaptation. Advance reservations (free) are required.
Desert X's biannual public art show continues through May 16. Artists have been commissioned to use the desert landscape as their canvas with breathtaking results. You'll find the works spread throughout the Coachella Valley in various outdoor locations.
Electric Dusk Drive-In will screen Finding Nemo this Sunday. Get tickets here.
At-Home & Online Events
The Natural History Museum of Los Angeles County (NHM), celebrates 35 years of Bug Fair on Sunday, May 15. Join NHM for Bug Fair Connected, a virtual edition of the festival featuring an up-close look at some of the most unique specimens in the museum's collection. You can also sit in on a discussion about eating bugs, enjoy talks with educators, and more. This event is free to attend.
The Music Center and Dance Magazine present a conversation between American Ballet Theatre (ABT) principal dancer Misty Copeland and South African dancer/choreographer Dada Masilo in INSIDE LOOK: misty copeland & dada masilo—changing narratives in dance. Per a release: "With the artists asking each other about their personal experiences, the two compare their schedules and struggles, and the differences in their journeys as Black women in dance in the U.S. versus South Africa. Their candid conversation discusses discrimination and body image issues in dance as well insights on stage fright and their love for ballet." Watch on-demand on musiccenter.org starting May 10.
Eschaton reopens its virtual doors on May 15, offering a mix between an online nightclub and an interactive performance venue. The space is comprised of a maze of rooms for guests to explore, each one leading to unexpected performers, including drag queens, DJs, burlesque dancers, and more. The one-hour experience takes place from 7-8 p.m. Tickets run $18-$23.
This week's RISK! livestream is on Friday, May 14 at 6:30 p.m. Kevin Allison (MTV's The State) will host true stories from J. Rohr, Ryan Estrada, Jenn Montooth, and Tianna Kerg. Tickets are $15.
Antaeus Theatre's Zip Code Plays are back, featuring a new season of six episodes that drive into Echo Park, West Hollywood, Inglewood, Pacoima, North Hollywood, and Monterey Park. Listen here.
Join NewFilmmakers Los Angeles (NFMLA) for their InFocus: Asian Cinema film festival on May 15. All feature films are directed by Asian filmmakers.
I Swing, You Swing is a two-hour Zoom mystery game that revolves around a swingers party in the 1970s. The guests are not attending this party for romance, but to determine a complicated paternity mystery. Guests will get their characters and materials in advance to allow them to dress up and get into the spirit.
Worst Summer Ever is a fundraiser for the Asian Prison Support Community in which comics will share stories from their own worst summers. It's hosted by Jared Goldstein and Hannah Pilkes, and includes Alex English, Alyssa Limperis, Ayo Adebiri, Jinx Monsoon, Yassir Lester, and many more. Watch on Saturday, May 15 at 6 p.m. RSVP here.
CAP UCLA presents Dorothea, "a kaleidoscopic, lushly explosive post-pop song cycle embodying the viscerally tender, pathos riddled, darkly funny poems of Dorothea Lasky" from artist Ted Hearne on May 15 at 7 p.m. Free.
Tickets are available now for the Geffen Stayhouse's The Door You Never Saw Before, a family-friendly show that's part-musical, part-adventure. Per a release: "After entering a door they've never seen before, the kids are tasked with saving a faraway city from a villain known only as "The Stench." Kids will receive a suitcase full of surprises to aid in their quest, and will get to choose where their Zoom story takes them. Filled with musical whimsy and quirky characters, this show is sure to delight kids and parents alike." Suitable for kids 6-9. Open May 14 through June 27.
From the Getty on May 14 at noon, Art Break: What Makes People Laugh? Ancient Greek Comedy and its Filipino Legacy: "Join Mary Louise Hart, associate curator of antiquities at the Getty Museum, and director Jon Lawrence Rivera, founder of LA's Playwright's Arena, as they decode a comedic scene on a fourth-century BC Greek vase. Using masks, costumes, and active staging to upend classical myths for laughs, ancient Greek comedy set a standard for humor millennia before the invention of today's television sitcoms. Hart and Rivera discuss how Filipino comedy and pageantry play into many of the same themes, demonstrating the enduring features of comic performance across cultures and time." Register in advance here.
Los Angeles LGBT Center's Advocate & Gochis Galleries presents Arrested Movement, an inclusive portrait series by Anthony Patrick Manieri celebrating and promoting positive body images for men. The online guided tour is up now until the end of the year.
San Francisco Ballet will stream Helgi Tomasson's Romeo & Juliet May 6-26. Tickets are $26 for 72-hour access, or get viewings of both Romeo & Juliet and Swan Lake for $48. Purchase online at sfballet.org.
Check out the history Los Angeles' Chinatown through a new online exhibition titled "Stories and Voices from L.A. Chinatown." The project is the first in the series Archive Alive, a collaboration of The Huntington Library, Art Museum, and Botanical Gardens; the Library Foundation of Los Angeles (LFLA); and the Los Angeles Public Library (LAPL).
On Friday, May 14, The Hammer presents a virtual conversation about the work of artists Mario Ayala and Monica Majoli, both of whom are featured in Made in L.A. 2020: a version.
The Latin American Cinemateca of Los Angeles (LACLA) and UCLA Film & Television Archive co-present a virtual screening of American Spanish-language classic film Verbena trágica (Block Party), starring late actor Fernando Soler. Available from May 13 at 4 p.m. through June 3. Register here to watch.
Get crafty with Makers Mess. This month, they are offering an embroidery kit and tutorial at a discounted rate.
The Los Angeles County Department of Mental Health's WE RISE is hosting a month of community programs for Mental Health Awareness Month, May 1-31. Programming includes art experiences, community pop-ups, and digital experiences. Check out the calendar here.
The Groundlings Theatre and School will host its annual Master Class Fundraiser May 1-30. Classes will be taught by Groundlings alumni, instructors, and professionals. Offerings include Empower Your Partner: The Importance of Teamwork in Scene Work led by Jason Alexander (Seinfeld), Writing/Performing/Acting from a Character Point of View led by Cathy Shambley (United States of Tara), and Writing for TV led by Brett Baer (New Girl). Each class is $40.
The 20th Annual Russian Arts and Culture Festival takes place throughout May. See events and programming here.
The Barnsdall Art Center Student Advisory Committee presents the Barnsdall Virtual Arts Fair from May 1 through July 31. The fundraising event is online, showcasing work from students in mediums including jewelry, ceramics, fiber arts, painting, sculpture, photography, and more.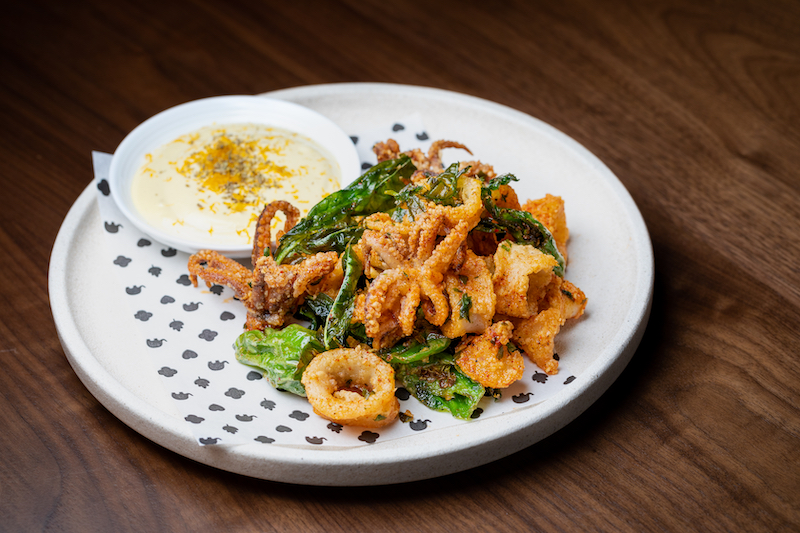 Dining
Some of the most beloved L.A. chefs are collaborating on one-of-a-kind takeout dishes for Pop Off LA May 16-23. Mashup collaborations include Secret Lasagna x Anajak Thai , Seoul Sausage x Parm Boyz, Speak Cheezy x Kuya Lord x RiceBox x Estrano, and many more. Bookings are now live on OpenTable. Pop Off LA will donate funds to support Off Their Plate, a 501(c)3 nonprofit that will distribute money to struggling AAPI restaurants that make meals for AAPI community organizations across the country.
Soulmate is now open in West Hollywood, offering Spanish-Mediterranean dishes from Rudy Lopez (The Nomad) and cocktails from Naomi Schimek (The Spare Room). Expect dishes like Santa Barbara Uni Toast, Kenpachi Ceviche, Grilled Iberico Secreto Skewers, and more.
West Hollywood's E.P. Restaurant is back with a new concept and a new head chef: Nicholas Russo, formerly of Mei Lin's Nightshade and Michael Voltaggio's Ink. The reimagined Modern American meets New World-inspired menu includes Dry Aged Baja Tuna Crudo, Steamed Lock Etive Trout, Spicy Twice-Cooked Organic Chicken, and much more.
Lunetta's Shake It Off Fridays feature a cocktail-and-a-half during Friday lunch. All are made with tequila or mezcal and feature house-made shrubs and farmers market produce, shaken table side and poured generously. It's like when you get the rest of the milkshake in the cup, except for adults.
Need delivery and takeout options? Check out our latest comprehensive guide here.