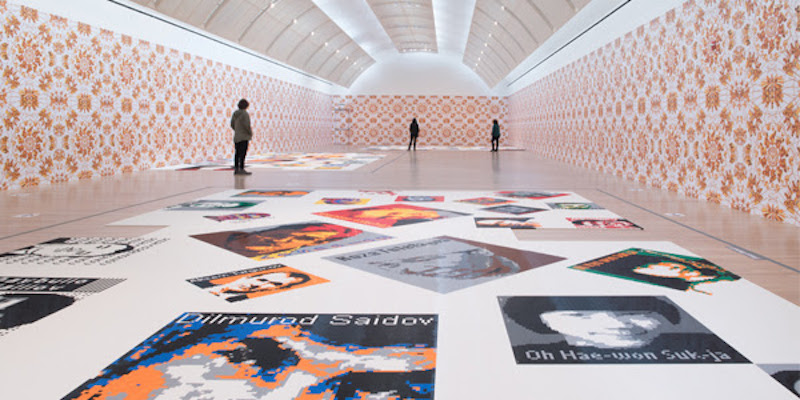 As Los Angeles finds its way out of the pandemic and restrictions gradually ease, we're continuing our bi-weekly round-ups of fun to-dos, mixing in the occasional online/virtual event with an ever-growing list of in-person experiences.
This week, from May 17 to May 21, features a foodie fundraiser for the AAPI community, free audio plays, Skirball's new Ai Weiwei exhibition, the reopening of the GRAMMY Museum, a drive-in movie night at Kenneth Hahn, and more.
All Week
1. Pop Off LA -> Some of the most beloved L.A. chefs are collaborating on one-of-a-kind takeout dishes May 16-23 to raise money for the AAPI community. Mashup collaborations include Secret Lasagna x Anajak Thai , Seoul Sausage x Parm Boyz, Speak Cheezy x Kuya Lord x RiceBox x Estrano, and many more. Bookings are now live on OpenTable. Pop Off LA will donate funds to support Off Their Plate, a 501(c)3 nonprofit that will distribute money to struggling AAPI restaurants that make meals for AAPI community organizations across the country. More info here.
2. Antaeus Theatre's Zip Code Plays -> Explore the neighborhoods that make up Los Angeles County with The Zip Code Plays Tour, the free audio plays drive into Echo Park, West Hollywood, Inglewood, Pacoima, North Hollywood, and Monterey Park. Listen here.
3. Specials AAPI Heritage Month -> In May, four local establishments have banded together for Shake the Hate LA, a cocktail fundraiser benefiting AAPI nonprofits. For every special AAPI cocktail sold through May, Pernod Ricard will donate $1 to an AAPI non-profit or charity selected by each participating restaurant. Cocktails include: a Pear Martini with Absolut Vanilla, sake, Asian pear juice, and passion fruit from Connie & Ted's; "Just Vibe" made with Altos Reposado Tequila, Yellow Chartreuse, lime, agave, and hellfire bitters from Bar Bohemien; "Thai Fighter" with Beefeater Gin, lemongrass, Makrut lime leaves, ginger, and nigori sake at Good Times at Davey Wayne's; and "Ready for this Jelly?" made of Absolut Vodka, green tea, sweet condensed milk, house-made lychee liqueur, and grass jelly from Phorage.
4. Celebration Spectrum -> This a month-long public art installation produced by dublab for Art Rise in collaboration with artist Tanya Aguiñiga and curator Mark "Frosty" McNeill for The Music Center and Grand Park. The month-long audio-visual exhibition will showcase the work of over 34 local artists, fusing art, music, and cultural identity experiences into art installations on the grounds of Grand Park, as well as digital programming accessible via werise.la/grandpark.
5. [U]nity of America by LISTEN STREET ART -> From May 6-18, anonymous street artist Listen will debut his work in collaboration with Artsy at TheStyleGuyde Gallery in Santa Monica. Curated by Steve Galindo, the artist's debut will showcase 18 of their canvas pieces. More info here.
6. The Skirball -> The museum is now reopened with Ai Weiwei's Trace, an exhibition of portraits made entirely from LEGO® blocks that reflects the artist's experience of being arrested and interrogated by the Chinese government for 81 days in 2011. Visit info can be found here.
7. South Coast Botanic Garden's butterfly experience SOAR is now open to the public featuring a new pavilion with live tropical butterflies. Advance reservations are required and can be made online now.
8. Rooftop Cinema Club El Segundo -> The outdoor movie screening experience continues this week with multiple outdoor screenings. Movies include Back to the Future, Eternal Sunshine of the Spotless Mind, The Princess Bride, 500 Days of Summer, The Notebook, Love Jones, E.T., Superbad, The Great Gatsby, and Friday the 13th. More info here.
Tuesday
9. The Academy Museum of Motion Pictures -> The museum will host an online conversation with Oscar winning composer Hildur Guðnadóttir (Joker, 2019) and Academy Museum Exhibitions Curator Jenny He. The two will discuss Guðnadóttir's work and her approach to designing the Museum's Composer's Inspiration gallery.
Wednesday
10. The Petersen Automotive Museum -> The museum will debut a special exhibition featuring the new Tesla Roadster prototype from May 19 through June 2, 2021. The vehicle will be displayed on the museum's second floor alongside the original 2006 Tesla Roadster prototype. Advance tickets to the museum are required.
11. The Grove -> Alo Yoga host outdoor yoga sessions at The Grove every Wednesday at 9 a.m. Open to all experience levels. Sign up cost $10, bring your own mat.
Thursday
12. Tattoos and Rescues -> V Burger in Long Beach is hosting a special charity photo event to celebrate tattooed humans and their rescue dogs. On Thursday, inked pup parents and their fury rescues can get professionally photographed for a $20 donation that benefits Long Beach Animal Care Services. Though walk-ins may be accommodated, appointments are recommended. Get more info and reserve a slot here.
13. Amazon Studios Presents 'VOICES: API Representation in Film & Media" -> The virtual event will include group panels, talks, musical performances and conversations that examine Hollywood's complicity in anti-Asian racism and actions on how to drive change. VOICES will feature Daniel Dae Kim, Hari Kondabolu, Nina Yang Bongiovi, Sophia Ali, Stephanie Hsu, AJ Rafael & Alyssa Navarro and Amber Liu. RSVP to the event here.
14. Elsewhere At the Madcap Motel -> The retro space features over a dozen rooms full of interactive and photo-friendly moments interwoven with a sci-fi narrative. Runs Thursday through Friday through the end of June. Read We Like L.A.'s full right up on the experience here.
15. Made in L.A. 2020 -> The ongoing exhibition takes place at the Hammer and The Huntington and features commissioned works by 30 Los Angeles-based artists. Advance reservations (free) are required.
16. The Hammer -> Take a 30-minute Mindful Awareness Meditation online via Zoom at 12:30 p.m.
Friday
17. The GRAMMY Museum Reopens -> The GRAMMY Museum welcomes the public back on May 21 with three brand new special exhibits, including retrospectives on Motown Records, Dave Matthews Band, and the life and career of Marco Antonio Solís. Adult admission starts at $15 per person, and can be booked in advance here.
18. Drive In At The Park -> Cruise into the Kenneth Hahn Disc Golf Course in Culver City for a drive-in movie night every Friday and Saturday now until August 28. This weekend, they'll screen Beethoven and Selena. Tickets car $33 a car.
19. Changing Landscapes (Isle of Eigg) -> An immersive audio/visual gallery "that extrapolates a sound experiment conducted on the Scottish Isle of Eigg to the Silver Lake neighborhood of Los Angeles" through projected video, amplified sound, and spatial design. On view through May 28. Tickets are $10.
20. Electric Dusk Drive-In -> The series will screen Star Wars: The Last Jedi on Friday. Get tickets here.
Dining
21. Holy Cow BBQ Tax Day Special -> On Monday score a rack of ribs or a whole chicken plus a side, house salad and Holy rolls that feed three to four people for $29.95. Available at all Holy Cow locations.
22. Louise's Trattoria Tax Day Special -> On Monday order chicken (parmigiana, marsala or picatta) or penne (marinara, arrabiata, bolognese or pesto) and your order will be doubled to feed three to four people for $29.95. The meal comes with Caesar or house salad and Louise's focaccia. Available at all Louise's Trattoria locations.
23. Manuela -> Manuela expanded into the restaurants garden in April for weekend drinks and bites. Recently the Garden Bar also introduced Tropical Nights, a Tiki-inspired cocktail menu available every Friday from 5:30-9pm.