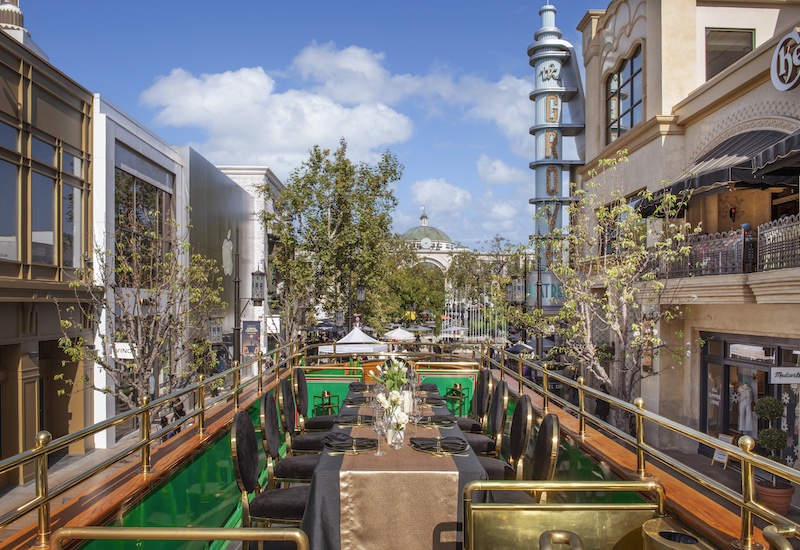 As Los Angeles finds its way out of the pandemic and restrictions gradually ease, we're continuing our bi-weekly round-ups of fun to-dos, mixing in the occasional online/virtual event with an ever-growing listen of in-person experiences.
This weekend features special food pop-ups, outdoor markets, drive-in movies, new gallery exhibits, an outdoor escape room in Chinatown, the reopening of the GRAMMY Museum, and more.
Friday / All Weekend
1. Pikunico x Still Life Ceramics -> From May 22 through June 5, Japanese fried chicken concept Pikunico and ceramics studio and shop Still Life Ceramics at ROW DTLA are teaming up to raise money to support India during its surge in Covid-19 cases. Stop into Still Life Ceramics to purchase a bowl and receive a voucher to bring to Pikunico to redeem Egg Drop Soup served in the newly purchased bowl. The cost for the bowl plus the soup is $29, and all of the proceeds will be donated to GiveIndia. This collaboration is inspired by the Empty Bowls Project, a national grassroots campaign in which participants host similar fundraisers in their own homes by preparing and selling soup and donating the proceeds to local organizations.
2. The GRAMMY Museum Reopens -> The GRAMMY Museum welcomes the public back on May 21 with three brand new special exhibits, including retrospectives on Motown Records, Dave Matthews Band, and the life and career of Marco Antonio Solís. Adult admission starts at $15 per person, and can be booked in advance here.
3. Changing Landscapes (Isle of Eigg) -> An immersive audio/visual gallery "that extrapolates a sound experiment conducted on the Scottish Isle of Eigg to the Silver Lake neighborhood of Los Angeles" through projected video, amplified sound, and spatial design. On view through May 28. Tickets are $10.
4. Pop Off LA -> Some of the most beloved L.A. chefs are collaborating on one-of-a-kind takeout dishes May 16-23 to raise money for the AAPI community. Mashup collaborations include Secret Lasagna x Anajak Thai , Seoul Sausage x Parm Boyz, Speak Cheezy x Kuya Lord x RiceBox x Estrano, and many more. Bookings are now live on OpenTable. Pop Off LA will donate funds to support Off Their Plate, a 501(c)3 nonprofit that will distribute money to struggling AAPI restaurants that make meals for AAPI community organizations across the country. More info here.
5. South Coast Botanic Garden's butterfly experience SOAR is now open to the public featuring a new pavilion with live tropical butterflies. Advance reservations are required and can be made online now.
6. Japanese American National Museum -> JANM in Little Tokyo is now open for in-person visits on Fridays, Saturdays and Sundays. The current exhibit, Transcendients: Heroes at Borders, by Taiji Terasaki, in collaboration with JANM, honors individuals who advocate against discrimination, prejudice, and inequality at borders. The museum also presents Transcendients: 100 Days of COVID-19 and Memorial to Healthcare Workers, a work created during the pandemic that tells a wide range of stories on topics including race and class, food sustainability, art, scientific innovations, and climate adaptation. Advance reservations (free) are required.
7. For The Record: The Brat Pack Reunion -> The Wallis will open for in-person performances starting next month, but this weekend you can check out a streaming performance of 80's teen-inspired musical The Brat Pack Reunion as it weaves stories together of the teen archetypes made famous by films like The Breakfast Club. $20 per household to stream. Get more info here.
8. Celebration Spectrum -> A month-long public art installation produced by dublab for Art Rise in collaboration with artist Tanya Aguiñiga and curator Mark "Frosty" McNeill for The Music Center and Grand Park. Showcases the work of over 34 local artists, fusing art, music, and cultural identity experiences into art installations on the grounds of Grand Park, as well as digital programming accessible via werise.la/grandpark.
9. The Skirball -> The museum is now reopened with Ai Weiwei's Trace, an exhibition of portraits made entirely from LEGO® blocks that reflects the artist's experience of being arrested and interrogated by the Chinese government for 81 days in 2011. Visitor info can be found here.
10. Love Note -> Rogue Ensemble has a new interactive audio expedition that invites guests to Plummer Park in WeHo, now through June 30. Per a release, Love Note is an "in-real-life audio experience that guides audiences through a twisted collection of love stories, meditative romance and lost connections." The experience is free, but a smartphone and headphones are required. Plummer Park is open from 6 a.m. to 10 p.m. daily. More info and instructions for attendees can be found here.
11. Drive In At The Park -> Cruise into the Kenneth Hahn Disc Golf Course in Culver City for a drive-in movie night every Friday and Saturday now until August 28. This weekend, they'll screen Beethoven and Selena. Tickets car $33 a car.
12. Electric Dusk Drive-In -> The Glendale-based series screens Star Wars: The Last Jedi on Friday, Sicario on Saturday, and Moana on Sunday. Get tickets here.
13. Poolside Dinner and a Movie -> Catch a flick on the rooftop pool deck of the JW Marriott L.A. LIVE, with an entree, appetizer and unlimited popcorn included. This weekend they're screening a couple of Marvel films: Ironman on Friday and Captain America The First Avenger on Saturday. Packages start at $45 per person. Get more info here.
Saturday
14. Block the Hate Rally -> Join in solidarity to Stop Asian Hate and celebrate AAPI Heritage Month at this rally/block party featuring live art, food vendors, special guests, artists, and small businesses. Block the Hate Rally is presented by Compassion in SGV a volunteer organization that supports and protects Asian communities in San Gabriel Valley.
15. Jewels of the White Tiger -> Escape Room LA is launching an outdoor escape room that takes players on a quest through Chinatown, and the first go-around starts this Saturday. Runs for two weeks only. Tickets are $30 per person. More info here.
16. Distilled California -> On Saturday The Bowers Museum welcomes Dylan Almendral (Gentleman Historian) and Ryan Friesen (from Blinking Owl Distillery in Santa Ana) for a special presentation on the boozy history of Orange County, including its former life as a wine region. Tickets are $45 for non-museum members and including the presentation, exhibit access and one Camino Viejo cocktail. More info here.
17. New Works at Cactus Gallery -> Another Body, a collection of mixed media drawings by Argentine artist Patricia Krebs, comes to the Cactus Gallery starting May 22. A virtual meet-and-greet with the artist will take place Saturday on Zoom, and vaccinated guests are welcome to visit the show by appointment. Get more info and contact the gallery here.
18. New Works at Corey Helford -> This Saturday the Corey Helford Gallery in DTLA debuts a new exhibition features the works of five artists: aica, Fafi, Kristen Liu-Wong, Messy Desk and ONEQ. On the same day, the second part of a 15-year anniversary exhibition opens in the main gallery. The opening celebration for both new exhibitions will be held virtually on IG live, but for those who want to view/in person, please note the gallery is open for partial visiting hours, from noon to 6 p.m. on Thursday through Saturday. Get more info on the new exhibition here.
19. Street Food Cinema -> The 10th season of SFC continues with a screening of La La Land at L.A. State Historic Park. Tickets will be sold for socially distanced pods of 2, 4, or 6 attendees. A two-person GA pod starts at $46. Get tickets and more information here.
20. Angel City Market -> Outdoor market in Inglewood that brings 50+ vendors together and offers outdoor games, a live DJ, a photo booth, and more. Pet friendly. Free to attend. More info here.
Sunday
21. Creative Communal Market -> An open-air market featuring 20+ local vendors, plus live music, kids entertainment, and food. Goes from 11 a.m. to 6 p.m. on Sunday at 2nd & PCH in Long Beach. More info here.
22. Torrance Antique Street Faire -> 150+ antique, vintage, handmade, and collectible vendors plus food for sale, and DJ-spun tunes. Free parking. More info here.
23. Hollywood Heritage Special Sale -> If Hollywood history is your bag, check out some of the DVD's, Blu-ray's, books, and other memorabilia for sale at the Hollywood Heritage Museum this Sunday. $5 gets you inside, and capacity is limited. RSVP here.
Dining
24. Bistro 1759 -> The Grove turned the top deck of their green trolly into an all-new private dining experience where guests can enjoy a four-course meal and drinks curated by Blue Ribbon Sushi Bar & Grill while riding through The Grove's famed pedestrian street. The private experience starts at $1,000 for two people and can accommodate up to 10 guests. More info here.
25. Celebrate International Tea Day -> Spend Friday, May 21 at a number of afternoon tea spot in Los Angeles, including Chado Tea Room, Ye Olde King's Head, The Peninsula Beverly Hills , or Rose & Blanc Tea Room & Venue
26. Uptown Commons Long Beach -> The food hall will grand open on Saturday May 22 at noon with live DJs and giveaways to the first 50 people. The tenets open for business include: Portside Fish Co (Baja inspired seafood) Shomi Noods (Fusion ramen and handroll bar) Main Chick (Nashville Hot Chicken) and Oi Asian Fusion (Filipino rice bowls) More info here.
---
Any notes or corrections? Want to suggest an event we should add to an upcoming list? Hit us up at [email protected].