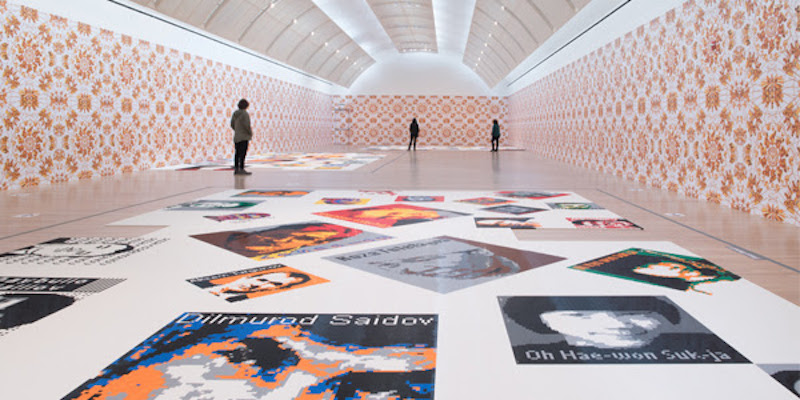 The Skirball Cultural Center will reopen on May 15 with a new exhibit from artist and activist Ai Weiwei that features portraits made out of thousands of LEGO® bricks.
According to a release, Ai Weiwei: Trace reflects on Ai's experience of being arrested and interrogated by the Chinese government for 81 days in 2011. For the next four years, Ai was kept under surveillance and was not allowed to travel outside of the country.
The exhibit was initially commissioned in 2014 as part of @Large: Ai Weiwei, which took over the former Alcatraz Federal Penitentiary in San Francisco. Ai completed 176 LEGO® portraits total, and the Skirball will display 83 of them in the 8,000-square-foot gallery space, including images of Nelson Mandela, Martin Luther King, Jr., Edward Snowden, and Chelsea Manning. All told, they include individuals from over 25 countries. The walls on either side will be covered in "The Animal That Looks Like a Llama But Is Really an Alpaca," a wallpaper art piece that forms patterns out of surveillance equipment.
"Like Ai Weiwei, the individuals in Trace have been incarcerated or exiled because of their convictions and activism," Jessie Kornberg, Skirball President and CEO, said via a statement. "We are honored to present this monumental work, which, by way of a disarmingly playful medium, examines courage and conscience in the face of authoritarianism and challenges us to recommit to the work of safeguarding our most basic democratic ideals."

The show will be accompanied by a mobile guide and a virtual conversation with the artist, among other online offerings.
The Skirball has been closed since last March due to the pandemic. At the time, the museum was planning two exhibits: Star Trek: Exploring New Worlds and "I'll Have What She's Having": The Jewish Deli. The museum confirmed with We Like L.A. today that both exhibits will still get their debut sometime in 2021. For right now, you can check out the Skirball's online exhibit, Tightrope: Americans Reaching for Hope.
To visit the Skirball, you'll need to buy timed-entry tickets in advance, which will be released in early May. Like all museums reopening this spring, expect limited capacity, mandatory masks, temperature checks, social distancing, and hand sanitization stations. For the time being, Audrey's Museum Store and Zeidler's Café will remain closed.