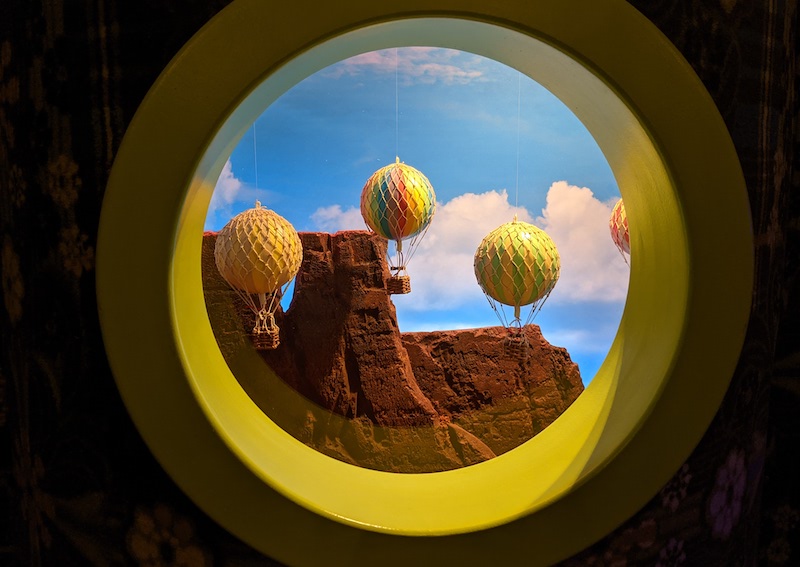 The Madcap Motel is finally accepting tourists seeking an escape from reality after a very long delay. The retro space features over a dozen rooms full of interactive and photo-friendly moments interwoven with a sci-fi narrative.
Elsewhere At the Madcap Motel would have opened last March, but remained closed up until now due to the Stay at Home order and ongoing pandemic. At times, founder Paige Solomon felt like it would never open at all. But now, she says things have been put into perspective and the delayed opening feels better, in some ways, than the one she'd planned.
"Before, when the world was normal, it would have just been another Friday or Saturday night where you had a fun thing planned, but now, this is the first time people are getting to have fun in a year. It feels more intentional now and we feel more prepared as a team," she said. "'Escape reality' has always been our company motto, but now, we actually all need to escape reality because it's been a dark year."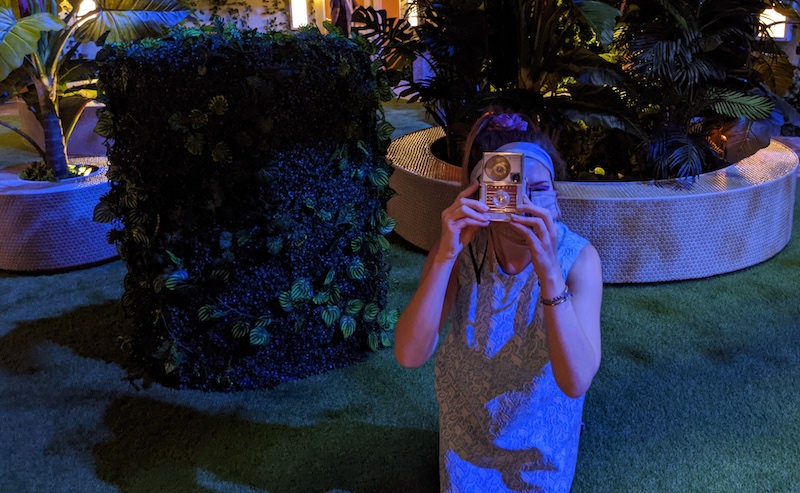 Guests to the 17,000-square-foot Madcap Motel enter through the lobby, where a coat check is available, and are then invited to hang out in a spacious waiting room. Everything points to the '60s, from the music and the staff's outfits to the patterned carpeting and wallpaper.
A bellhop ushers guests to their "room" when it's ready, where a maid's sudden appearance kicks off the start of the narrative. J.P. Sando opened the motel in the 1940s, but vanished in 1966. The motel sat silent for half a century until his grandchildren decided to refurbish it, at which point postcards from their supposedly missing grandfather began to arrive. He had seemingly slipped into another dimension, which he calls "Elsewhere." 
Guests will then meander through a portal and into this Elsewhere place, where several motel rooms surround a courtyard full of living hedges and mysterious characters. Guests can ask those characters questions and follow the narrative, or jump straight into exploring the many rooms.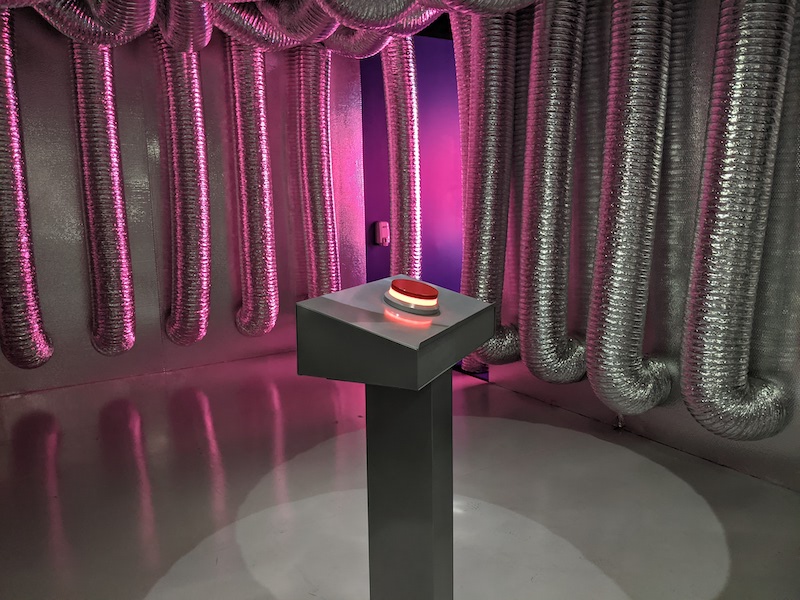 One room seems to be built on a slant, while in another, everything is oversized. Yet another features a big, red button begging to be pressed. We'll leave what happens when you do a surprise. Another motel room is full of portholes, each one offering a different scene: a playable video game, a spiral wishing well, hot air balloons that rise and fall, and a miniature version of the motel complete with a train that loops around a track, among others. In one of our favorite rooms, spotlights turn on whenever a guest steps into a circle on the floor. It's great for photos and also makes you feel a bit like Fox Mulder about to finally be beamed up by aliens.
The overall feel is reminiscent of the roadside attractions that still dot American highways, begging roadtrippers to waste an hour and a few dollars. You know the ones: your Mystery Spots, Gravity Hills, and World's Largest Ball of Twines. But Madcap is more stylish than those attractions, and it has more depth than your average Instagram factory. In fact, going just for pics to post on social media would actually rob you of some of the more interesting elements of the whole installation.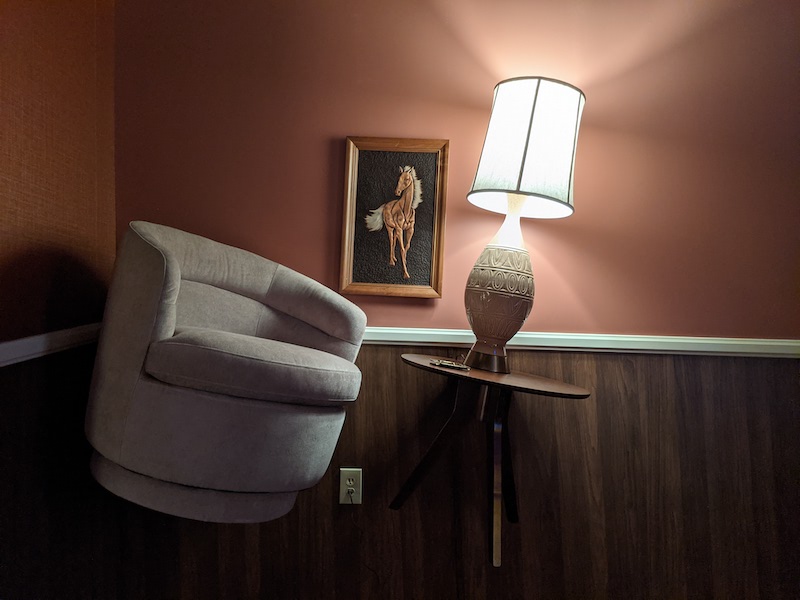 There's a science lab near the front of the exhibit that features dioramas that reference each of the rooms you're about to see. Definitely take some time to peer into each one. Also, there's an Instagram account that reveals more of the ongoing narrative. You could choose to spend time with the actors, inquiring about Elsewhere and why they live in it or following the narrative threads they drop. For example, one character asked me to tell her if I'd seen something, which I later found in one of the rooms.
When you're done with the rooms, there's one more surprise. Then, the experience ends, like most do, with a gift shop and a photo booth.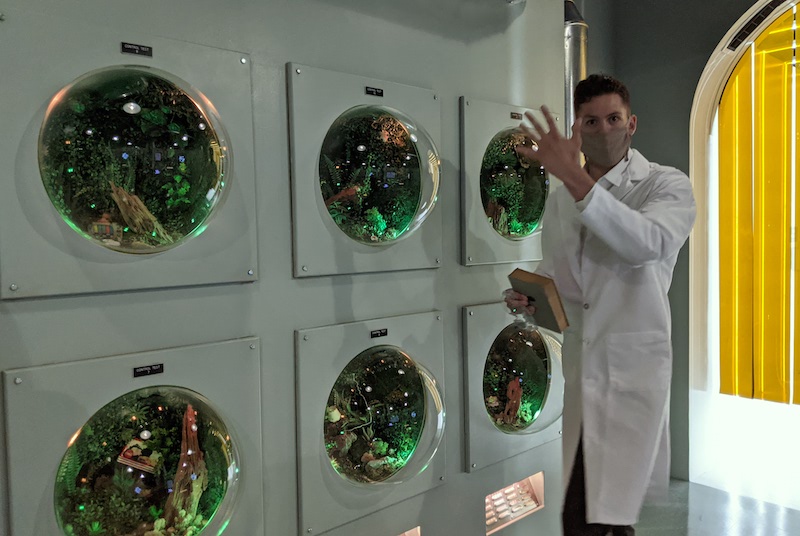 Solomon had previously opened an experience in New York in 2018 called Dream Machine. It came at the height of selfie palaces, though Solomon's vision imagined more shareable video moments than photos. Dream Machine's most popular room was a laundromat where you could pull cotton candy out of a washing machine or enter an infinity room through a dryer. Given that space's appeal, Solomon knew she wanted her next project to be retro and have a lot of doors. 
"And when you say retro and a lot of doors, that's a motel," she said. 
She was also partially inspired by Sleep No More's McKittrick Hotel, though it's certainly a much different tone (Sleep No More is an immersive take on Macbeth), and the amount of "immersive theater" you receive will be up to you. 
"It's not like someone will trap you and make you interact with them for 20 minutes if you don't want that," she said. "There will be some people that come to get a beautiful piece of content, but then there are going to be some people who are like, 'no, I want to check out of reality for an hour or whatever.' If people want to go and lay in the Surveillance Room—the grassy room with all the projections—and just hang out, [or if they] just want to sit and fish [in the fountain in the atrium], go ahead. I just want everyone to make it their own and be part of the story the way they want to be."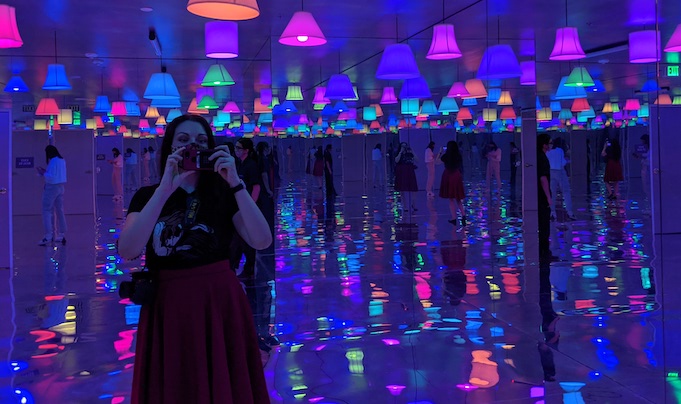 Solomon is also considering other uses of the space, such as putting on a murder mystery game around Halloween. After a year without much of a Halloween, yes, please.

Elsewhere at the Madcap Motel officially opens on Friday, April 30. It's located at 940 E. 4th St. in the Arts District. Timed tickets are only sold online in advance here. They're $40 for ages 12+, $30 for ages 4-11, and free for children 3 and under. The usual COVID-19 precautions are in effect. You can expect reduced capacity, mandatory masks, and plenty of sanitization stations.