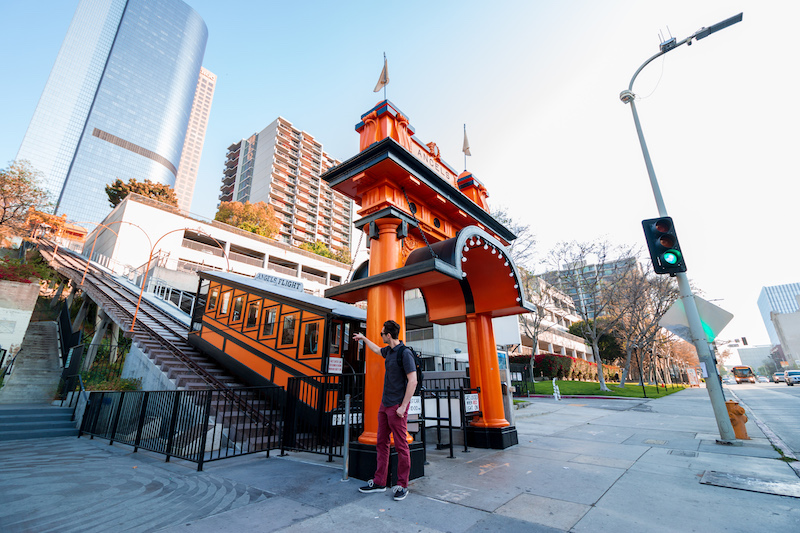 We used to tell you about all the things you could go out and do in Los Angeles on a daily, weekly, and monthly basis. Then, COVID-19 changed life for all of us, in a thousand small and massive ways. Until the pandemic is behind us, we'll post events that adhere to Public Health's current protocols—including plenty of at-home and online events—every Monday and Thursday.
This week, we've got Cinco de Mayo specials, the brand-new Madcap Motel, outdoor fitness classes, Mental Health Awareness Month events, and more. Have something you want to submit for next week? Hit us up: [email protected].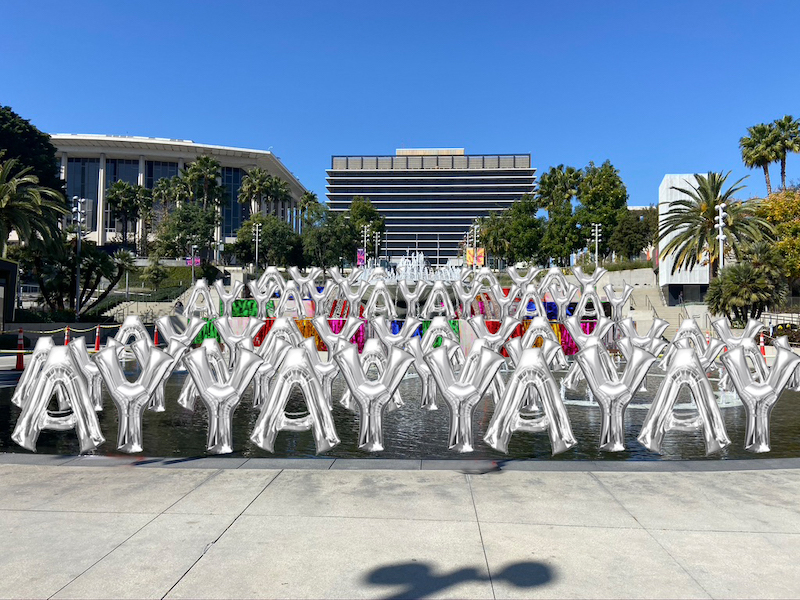 In-Person Events
Elsewhere At the Madcap Motel is currently accepting tourists seeking an escape from reality. The retro space features over a dozen rooms full of interactive and photo-friendly moments interwoven with a sci-fi narrative.
Celebration Spectrum is a month-long public art installation produced by dublab for Art Rise in collaboration with artist Tanya Aguiñiga and curator Mark "Frosty" McNeill for The Music Center and Grand Park. The month-long audio-visual exhibition will showcase the work of over 34 local artists, fusing art, music, and cultural identity experiences into art installations on the grounds of Grand Park, as well as digital programming accessible via werise.la/grandpark.
Dreamscape Immersive at the Century City Mall will reopen on May 6, offering four immersive virtual reality adventures including The Blu: Deep Rescue, Alien Zoo, The Curse of the Lost Pearl: A Magic Projector Adventure, and Dragons Flight Academy. Tickets are now available for presale.
Rooftop Cinema Club El Segundo opens on May 6 at the Santa Monica Airport. Films this week include Selena, Dazed and Confused, La La Land, and Friday. Tickets are here.
Through May 23, El Capitan Theater is screening classic movies. This week, it's The Little Mermaid. Tickets are available at the Box Office or at elcapitantheatre.com.
Changing Landscapes (Isle of Eigg) is an immersive audio/visual gallery "that extrapolates a sound experiment conducted on the Scottish Isle of Eigg to the Silver Lake neighborhood of Los Angeles" through projected video, amplified sound, and spatial design. On view through May 28. Tickets are $10.
The Healing Garden allows guests to reserve private gardens by the hour. For Mother's Day, several area gardens are offering a special tea package that includes a tea spread, planting activities, a bouquet, and an opportunity to pick vegetables, herbs, and edible flowers. Costs vary, but start at $75 for three people up to $100 for six for a two-hour experience. Available through May 10.
Forest Lawn Museum and the Hall of Crucifixion-Resurrection reopened on April 28 with a new exhibition, Judson Studios: Stained Glass from Gothic to Street Style, featuring nearly 100 original stained glass artworks, preparatory drawings, archival photographs, oil paintings, and watercolors. A mix of contemporary and historic stained glassworks in the exhibit includes a hand-crafted window from Frank Lloyd Wright's 1924 Ennis House, a fused glass portrait of Kobe Bryant by Tim Carey and Judson Studios, and The Muralist by David Flores. Capacity is limited, reservations are encouraged.
The Hollywood Legion Theater has reopened for indoor screenings with a "Back to the Movies" series. This week they'll screen Speed, Napoleon Dynamite, and A Nightmare on Elm Street.
The Getty Villa is now open for timed entry. On view is Mesopotamia: Civilization Begins, organized by the Musée du Louvre in Paris and the J. Paul Getty Museum. The exhibit covers three millennia, from 3200 BC to Alexander the Great's conquest of Babylon in 331 BC. Reservations are always free but must be made in advance.
Thinkspace Projects has two new shows: Millo: At the Crack of Dawn from Italian muralist Millo, and Mando Marie: Tell Me All About It, whose works conjure childhood adventure. On view through May 22.
Universal Studios Hollywood is open and the amusement park has a brand new The Secret Life of Pets ride. Guests can also check out Jurassic World—The Ride, which includes a brand new dino, the Indominus rex, who will fight a T-Rex in the ride's finale. Other reopened attractions include The Wizarding World of Harry Potter, Transformers™: The Ride-3D, Revenge of the Mummy: The Ride, Despicable Me's Super Silly Fun Land, and the Simpsons-themed Springfield, U.S.A. The Studio Tour, which takes guests through the backlot and includes the Fast & Furious—Supercharged and King Kong 360 3D rides, is also back.
Hauser & Wirth presents Brazilian artist and founding member of Brazil's Neo-Concrete movement Lygia Pape in her first solo Los Angeles show, Tupinambá. Guests will get a chance to view Pape's red-feathered sculptures from the Tupinambá series, a Ttéia, her emblematic installation work, and more. Free entry to the gallery. No booking is necessary.
Painter Kim DeJesus has a new show, Erasures, Washes, and Memory, at Whale and Star Studio. The abstract works will remain on view through May 14.
LACMA and Snap Inc. present LACMA × Snapchat: Monumental Perspectives. Per a release: "This multi-year initiative brings together local artists and technologists to create virtual monuments that explore just some of the histories of Los Angeles communities in an effort to highlight perspectives from across the region." The first batch of augmented reality monuments are available to see now.
Japanese American National Museum in Little Tokyo is now open for in-person visits on Fridays, Saturdays and Sundays. The current exhibit, Transcendients: Heroes at Borders, by Taiji Terasaki, in collaboration with JANM, honors individuals who advocate against discrimination, prejudice, and inequality at borders. The museum also presents Transcendients: 100 Days of COVID-19 and Memorial to Healthcare Workers, a work created during the pandemic that tells a wide range of stories on topics including race and class, food sustainability, art, scientific innovations, and climate adaptation. Advance reservations (free) are required.
Hollywood Roosevelt's Tropicana Movie Nights welcomes guests to a unique movie screening experience on May 3-7 in and around the iconic David Hockney-painted pool. A ticket comes with complimentary popcorn and if you dress up to the theme of the movie, you'll also receive a free cocktail or candy bar. This week, they'll screen The Wizard of Oz and Reality Bites.
HannaH Hanson Gallery's inaugural show is Megan Lindeman's Hey Lover Letters, a mixed-media installations that explores concepts and imagery relating to family, origins, patriarchy, death, and love. On view through May.
South Coast Botanic Garden's butterfly experience SOAR is now open to the public featuring a new pavilion with live tropical butterflies. Advance reservations are required and can be made online now.
Radiant MindBody is offering 10 yoga classes per week on the Santa Monica Pier, ranging from 45- to 75-minute sessions. Classes are $22 each, with a portion donated to MVP Veterans Wellness Non-Profit. Membership is $99 per month for unlimited classes, including online Zoom classes. See the schedule and bookings here.
The Craft in America Center reopens on May 4 with the exhibit Making Waves: Ocean Ecology and Craft, on view through Aug. 21. More info here.
FORT:LA's May trail is the John Elgin Woolf Hollywood Regency trail, presented in partnership with the City of West Hollywood's One City One Pride LGBTQ Arts Festival. The trail shows off five homes designed Woolf. Per a release: "John Elgin Woolf had a major role in creating our idea of Golden Era Hollywood glamour, the homes he designed for movie and television major players set a new standard for luxury. Hollywood Regency, a style he is known for pioneering, is recognized by its blend of British architectural traditions (mansard roofs) and neoclassical motifs with the imaginative scale and set design approach." You can take a self-driven, self-led tour using FORT:LA's PDF here, which contains a map of the trail and the history of the homes. Available through May.
The Huntington Library, Art Museum, and Botanical Gardens has reopened the first floor of the Huntington Art Gallery, the MaryLou and George Boone Gallery, and a portion of the Virginia Steele Scott Galleries of American Art. Guests will get to view the exhibit Made in L.A. 2020: a version and a recently restored The Blue Boy, Thomas Gainsborough's 18th-century portrait. Advance reservations are required.
Made in L.A. 2020: a version also continues in person at the Hammer Museum. The exhibition takes place at the Hammer and The Huntington and features commissioned works by 30 Los Angeles-based artists. Advance reservations (free) are required.
FLOW STATE, a solo exhibition by Mikael B runs May 1-31 at Maddox Gallery. Per a release: "Inspired by Dalí, Kay Sage, Pollock, Peter Saul and Albert Oehlen, Mikael B works his visual magic with street art passion and sensibility absolutely taking over the gallery space with gesture, shape and color."
LA Plaza de Cultura y Artes reopened to the public on April 15, with exhibits including Carlos Almaraz: Evolution of Form, the LA Plaza Village Murals show, and afroLAtinidad: mi casa, my city. Open Thursdays through Sundays, noon to 4 p.m. The museum will also mount a large-scale neon mural installation by artist Patrick Martinez as part of Art Rise 2021, titled, Only Light Can Do That, 2021 starting May 7.
JW Marriott Los Angeles Live's poolside dinner & a movie is $45 per guest and includes one appetizer, one entree, unlimited popcorn, and the screening. This Friday, catch Pretty Woman. Other snacks, beer, wine, and cocktails are also available for purchase. Tickets and more info are here.
The LA Choral Lab presents SOUNDWALK in Griffith Park. Guests wear headphones as they explore the park, and the choral music they hear will change based on their location. SOUNDWALK will remain available through May 16. Tickets are $0-$25.
Desert X's biannual public art show continues through May 16. Artists have been commissioned to use the desert landscape as their canvas with breathtaking results. You'll find the works spread throughout the Coachella Valley in various outdoor locations.
Wallis Annenberg PetSpace has reopened with free reservations for small, socially-distanced groups. Guests are welcomed back to enjoy an hour-long PetSpace Experience that includes a behind-the-scenes presentation of the workings of Annenberg PetSpace, activities for kids, a visit to the all-new Critter Corner, and a live Pet Encounter! Bookings are available now.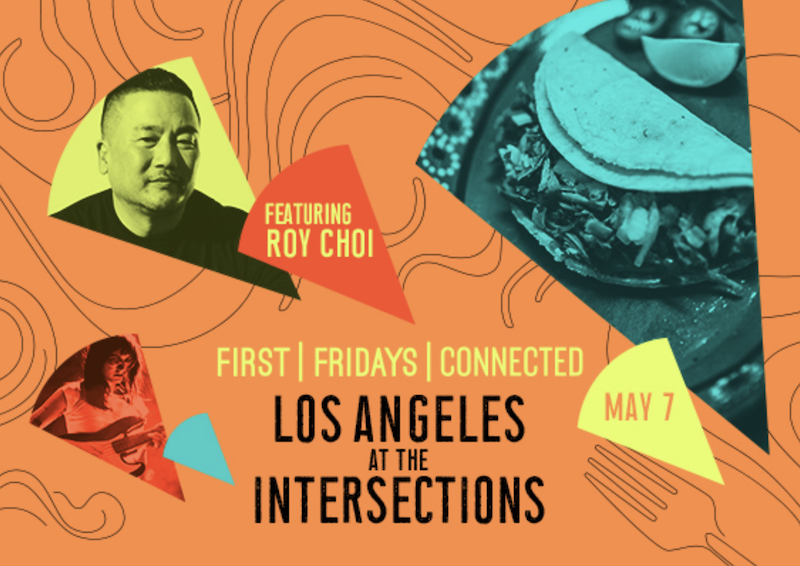 At-Home & Online Events
NHM presents First Fridays Connected on May 7. The virtual event will focus on exploring L.A. culture through its food. Panelists this month include street food advocate and Kogi BBQ co-founder Roy Choi, and Food, Health, and Culture in Latino Los Angeles author Sarah Portnoy. Live music, DJs, and a cocktail tutorial will also be part of the event.
On May 5 at 7 p.m., LA Plaza de Cultura y Artes presents El Cinco de Mayo: An American Tradition. Learn about the historical and cultural aspects of Cinco de Mayo with panelists including David Hayes-Bautista, Director of the Center for the Study of Latino Health and Culture (CESLAC); Raquel Ramirez, Founder and Director of Ballet Folklórico Flor de Mayo; Jesús Gúzman, Director, Music of Mexico Ensemble, UCLA; and Paola Arzate, Playwright and Assistant Producer, Cinco de Mayo: An American Tradition. Register to view on Zoom or watch on Facebook.
The 20th Annual Russian Arts and Culture Festival takes place throughout May. See events and programming here.
San Francisco Ballet will stream Helgi Tomasson's Romeo & Juliet May 6-26. Tickets are $26 for 72-hour access, or get viewings of both Romeo & Juliet and Swan Lake for $48. Purchase online at sfballet.org.
On Friday, May 7, The Hammer presents a virtual conversation about the work of artists Diane Severin Nguyen and Jeffrey Stuker, both of whom are featured in Made in L.A. 2020: a version. 
Through May 9, you can explore a virtual Mother's Day market on streetlet.com featuring goods from local businesses including Elique Organics, Goo Salon, Luca, Hereafter.LA, and more.
On May 4 from 5 – 6:30 p.m., check out CAAM Poetry Suite: Tina Turner. Per a release: "In conjunction with Nikita Gale: PRIVATE DANCER, writer, dancer, and archivist Harmony Holiday performs her latest poems inspired by the exhibition and the work of Tina Turner, an icon referenced in Gale's installation." RSVP for Zoom details. 
Check out the history Los Angeles' Chinatown through a new online exhibition titled "Stories and Voices from L.A. Chinatown." The project is the first in the series Archive Alive, a collaboration of The Huntington Library, Art Museum, and Botanical Gardens; the Library Foundation of Los Angeles (LFLA); and the Los Angeles Public Library (LAPL).
The Los Angeles County Department of Mental Health's WE RISE is hosting a month of community programs for Mental Health Awareness Month, May 1-31. Programming includes art experiences, community pop-ups, and digital experiences. Check out the calendar here.
The Barnsdall Art Center Student Advisory Committee presents the Barnsdall Virtual Arts Fair from May 1 through July 31. The fundraising event is online, showcasing work from students in mediums including jewelry, ceramics, fiber arts, painting, sculpture, photography, and more.
The Museum of Wild and Newfangled Art hosts its first online biennial show April 30 through Sept. 22. International artists from 44 countries have submitted work that can be viewed online, including VR installations, performances, gif comics, music videos, and more.
The Groundlings Theatre and School will host its annual Master Class Fundraiser May 1-30. Classes will be taught by Groundlings alumni, instructors, and professionals. Offerings include Empower Your Partner: The Importance of Teamwork in Scene Work led by Jason Alexander (Seinfeld), Writing/Performing/Acting from a Character Point of View led by Cathy Shambley (United States of Tara), and Writing for TV led by Brett Baer (New Girl). Each class is $40.
Though it won't officially kick off until May 14, tickets are on sale now for Sherwood & Nottingham: Season 2. The interactive, online roleplaying game is set in a world inspired by the tales of Robin Hood, and allows guests to navigate a custom-built website and interact with characters on Zoom, Twitch, and Gather.town. Unravel a story and solve secrets over the course of a four-week narrative.
Venice Family Clinic's Venice Art Walk & Auction will be held online this year from April 28 through May 12. This year's auction features over 200 works by nationally recognized contemporary artists. Each winning bid provides essential health care services to Venice Family Clinic's community of 27,000 patients within Los Angeles County. In addition to the auction, Venice Family Clinic will also hold complementary art talks on select days.
Poet Rupi Kaur's debut film, Rupi Kaur Live, will screen virtually on Veeps.com from April 30 to May 2.
The Japan Foundation presents the online exhibit 11 Stories on Distanced Relationships: Contemporary Art from Japan through May 5. It features 11 new works from Japanese artists on the theme "translating distance."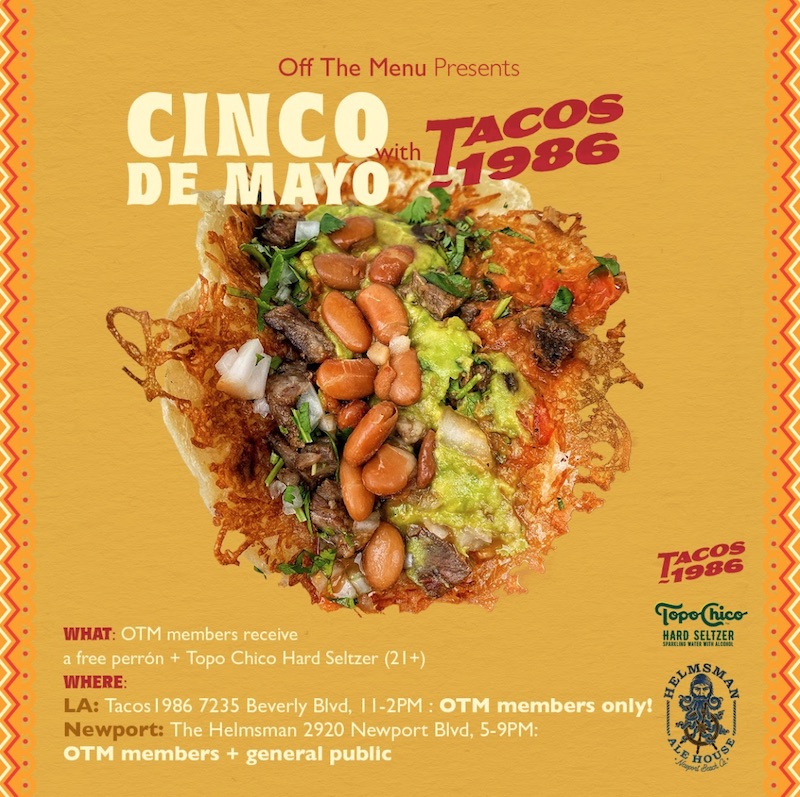 Dining
Madre is bringing in a mariachi band for Cinco de Mayo at its Torrance and West Hollywood locations from 7-10 p.m. All-day drink specials include $5 tequila and mezcal shots, $9 margaritas, and five one-ounce mezcal pours for $40. All-day food specials include three barbacoa tacos for $12; Chile relleno with chile pasilla for $7; Chile Pasilla stuffed with quesillo, epazote, and shrimp for $5; and a Cinco de Mayo Paleta for $5.
Off The Menu is teaming up with Tacos 1986 and Topo Chico Hard Seltzer for Cinco De Mayo. Members will receive a complimentary perrón, filled with either carne asada or mushrooms, and a Topo Chico Hard Seltzer. Off The Menu members must show their app when they arrive to redeem their taco and drink. If you're not yet an Off The Menu member, use the code 'taco' to get $10 off your first month.
Lanea in Santa Monica celebrates Cinco de Mayo with All-You-Can-Eat street tacos and two Cazadores cocktails for $20. Valid for dine-in service from 4-9:30 p.m. (60-minute table limit).
Caravan Swim Club at Hotel June is throwing a ticketed poolside Cinco de Mayo celebration on May 5. Festivities include an all-day pool pass, tunes by DJ Osamu, and a four-course tasting menu featuring wines by Valle de Guadalupe producers. Tickets are $100 a person.
Cinco de Mayo specials at Big Bar include Let The Mango!, made with Cazadores tequila and mango-infused Cointreau, and Mezcal Margarita kits for a single serving or a pitcher that makes 12 at home.
Hermanito's Cinco de Mayo special is a half Pead & Barnetts pork pibil, smoked and wrapped in banana leaves for $28 (makes five pibil tacos).
The h.wood Group's Petite Taqueria celebrates Cinco de Mayo with 2-for-1 margaritas, $3 crispy tacos, $10 carne asada tacos, and $6 Petite Sundaes.
Little Llama Peruvian Tacos has a new happy hour for dine-in guests, featuring deals on beer, wine, tacos, apps, and more every Mon.-Fri., 4:30-6:30 p.m.
On May 6, all healthcare workers will receive 50% off their order at Ike's Love & Sandwiches in honor of National Nurses Day.
Dunkin' honors National Nurses Day on May 6 by giving all healthcare workers a free medium hot or iced coffee. No purchase necessary to redeem this promo.
Pasta Mondays returns to Della Terra this week with select pasta specials for $12 and $8 glasses of wine. With over 17 pasta dishes on the menu, Pasta Mondays will feature a rotating selection every week.
Chris Amirault's parm-focused concept PARMBOYZ currently has a residency at The Corner Door in Culver City, from Thursday through Sunday they host a Power Hour menu from 5-6 p.m. with drink and starter specials including $8 Old Fashioneds and spicy margaritas, $10 Parm Nuggies, $8 garlic bread pizza, and $7 antipasto.
Need delivery and takeout options? Check out our latest comprehensive guide here.