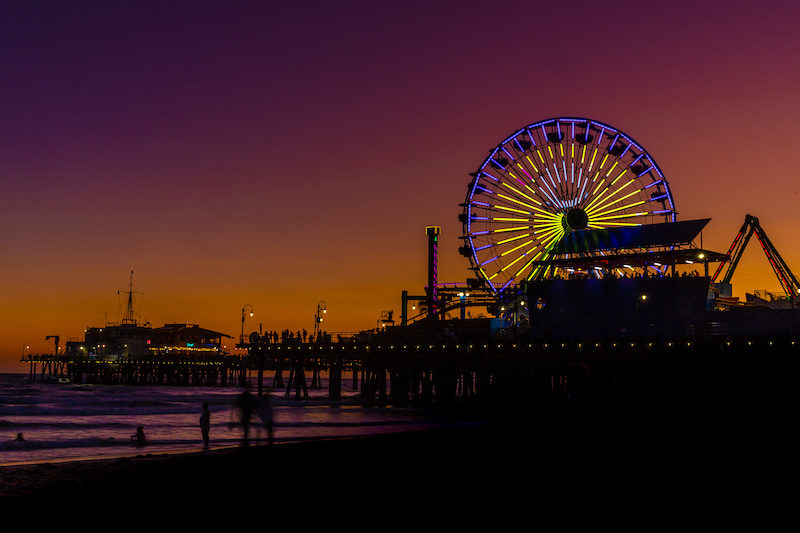 We used to tell you about all the things you could go out and do in Los Angeles on a daily, weekly, and monthly basis. Then, COVID-19 changed life for all of us, in a thousand small and massive ways. Until the pandemic is behind us, we'll post events that adhere to Public Health's current protocols—including plenty of at-home and online events—every Monday and Thursday. We hope they keep you busy, make you laugh, teach you something, or help you feel less alone.
This weekend, we've got new exhibits at the Japanese American National Museum and Hauser & Wirth, virtual cooking classes, Oscars panels and dining events, a market with baked goods and vintage clothing, and more. Have something you want to submit for next week? Hit us up: [email protected].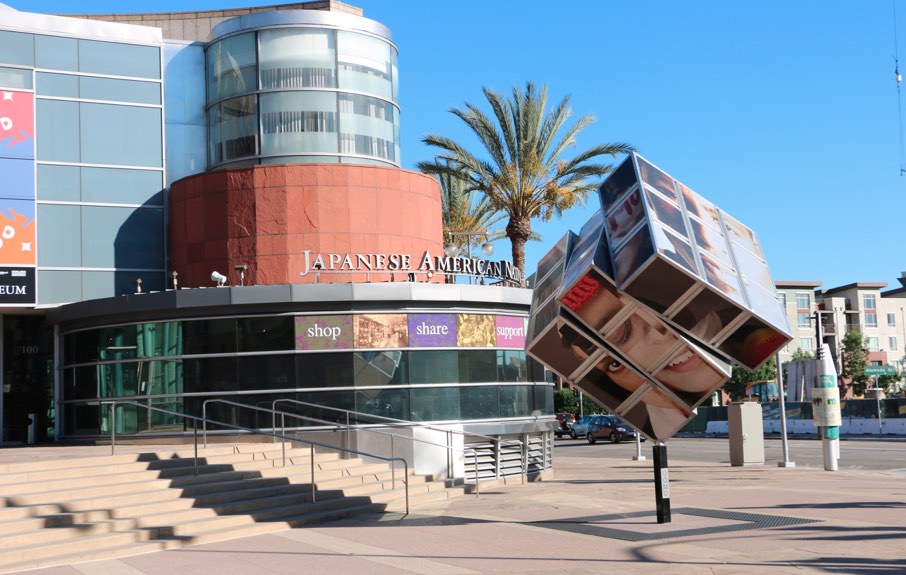 In-Person Events
Japanese American National Museum in Little Tokyo is now open for in-person visits on Fridays, Saturdays and Sundays. The current exhibit, Transcendients: Heroes at Borders, by Taiji Terasaki, in collaboration with JANM, honors individuals who advocate against discrimination, prejudice, and inequality at borders. The museum also presents Transcendients: 100 Days of COVID-19 and Memorial to Healthcare Workers, a work created during the pandemic that tells a wide range of stories on topics including race and class, food sustainability, art, scientific innovations, and climate adaptation. Advance reservations (free) are required.
Hauser & Wirth presents Brazilian artist and founding member of Brazil's Neo-Concrete movement Lygia Pape in her first solo Los Angeles show, Tupinambá. On view starting April 24, guests will get a chance to view Pape's red-feathered sculptures from the Tupinambá series, a Ttéia, her emblematic installation work, and more. Free entry to the gallery. No booking is necessary.
Clean beauty brand Saie Beauty will pop up at ROW DTLA on April 23 from 11 a.m. to 3 p.m. to celebrate the launch of its new Dew Blush. Stop by jewelry store Dylan Lex for flower arrangements, Saie products, exclusive collabs, and gifts.
Magic Asphalt, the stand-up comedy drive-in in the Magic Castle's parking lot, has just three performances left! Tickets for the April 24 performance are here.
Taste of the Eastside returns this year as a dine-in, takeout, and delivery event in Silver Lake, Echo Park, Los Feliz, Atwater Village, Highland Park, and Eagle Rock. From April 23-25, over a dozen restaurants will offer limited-time dishes like Bé Ù's "Chubby Baby," a cold-cut bánh mì sandwich with house-made headcheese and house-braised rolled pork cheek. Vinovore is also hosting a virtual "WINEsplaining" class on April 24 to discuss all things wine with women winemakers from around the world. 25% of every order will be donated to No Us Without You and Silver Lake's Rose Scharlin Cooperative Nursery School.
Texino will host a Saturday Market Block Party at its camp store in Silver Lake this Saturday with a local lineup of vendors selling vintage clothing, baked goods by She Baked Me, ice cream from Sad Girl Creamery, flowers, house goods, frozen pizzas to-go, and more.
LACMA and Snap Inc. present LACMA × Snapchat: Monumental Perspectives. Per a release: "This multi-year initiative brings together local artists and technologists to create virtual monuments that explore just some of the histories of Los Angeles communities in an effort to highlight perspectives from across the region." The first batch of augmented reality monuments are available to see now.
South Coast Botanic Garden's butterfly experience SOAR is now open to the public featuring a new pavilion with live tropical butterflies. Advance reservations are required and can be made online now.
Cinespia is going the drive-in route this season with weekend movie screenings at the Greek Theatre. Alien screens this Friday and Parent Trap on Saturday.
JW Marriott Los Angeles Live's poolside dinner & a movie is $45 per guest and includes one appetizer, one entree, unlimited popcorn, and the screening. This Saturday, catch Pulp Fiction. Other snacks, beer, wine, and cocktails are also available for purchase. Tickets and more info are here.
The public will finally get to view Made in L.A. 2020: a version in person at the Hammer Museum. The exhibition takes place at the Hammer and The Huntington and features commissioned works by 30 Los Angeles-based artists. Advance reservations (free) are required.
The Huntington Library, Art Museum, and Botanical Gardens has reopened the first floor of the Huntington Art Gallery, the MaryLou and George Boone Gallery, and a portion of the Virginia Steele Scott Galleries of American Art. Guests will get to view the exhibit Made in L.A. 2020: a version and a recently restored The Blue Boy, Thomas Gainsborough's 18th-century portrait. Advance reservations are required.
Electric Dusk Drive-in expanded it's locations to include Bergamot Station in Santa Monica, this Saturday they'll screening Rear Window and Blue Velvet and Tickets for all Electric Dusk Drive-in shows are here.
The LA Choral Lab presents SOUNDWALK in Griffith Park. Guests wear headphones as they explore the park, and the choral music they hear will change based on their location. SOUNDWALK will remain available for the next few weeks. Tickets are $0-$25.
Desert X's biannual public art show continues through May 16. Artists have been commissioned to use the desert landscape as their canvas with breathtaking results. You'll find the works spread throughout the Coachella Valley in various outdoor locations.
At-Home & Online Events
On Saturday, April 24, join Christina Xenos from Sweet Greek and the Center for Culinary Culture for a live virtual cooking demonstration. You'll learn how to make Spanakorizo and Avgolemono Soup with chicken. Admission is free when you RSVP.
American Cinematheque, the Art Directors Guild, and Set Decorators Society of America present "The Art of Production Design Panel," featuring Oscar-nominated production designers and set decorators from Mank, Ma Rainey's Black Bottom, News of the World, Tenet, and The Father. Moderated by Thomas A. Walsh and Jan Pascale. Join on April 24 at 1 p.m. RSVP here.
Secret Sky Festival returns on April 24 with a 14-hour livestream featuring performances by Porter Robinson, Boys Noize, End of the World, Kero Kero Bonito, and many others inside a virtual auditorium. This event is free.
Check out a virtual opening reception for artist Kendra Larson's Otherworldly Light on April 24 at 3 p.m. Per a release: "The haunting magic of the woods and incomprehensible vastness of the universe give perspective to our human experience. Ultimately, Larson's work reignites childhood wonderment, sheds light on the sublime, and calls on the viewer to protect natural spaces." Register here.
The 18th Street Arts Center presents new compositions from pianist Paul Cornish, livestreamed from the World Stage in Leimert Park on April 25 at 7 p.m. Cornish is 18th Street Arts Center's 2021 Make Jazz Fellow. More info here.
The Los Angeles Center of Photography presents its Seventh Annual STREET WEEK in LA festival April 18-24. Programing includes presentations by street photographers, webinars on street photography, an opening reception for the "Street Photography Around the World" exhibition, and much more. All programs will be held virtually on Zoom.
On April 24, CAP UCLA presents Brooklyn Youth Chorus' She Is Called: Dear Stranger. The experience is a letter between friends and strangers and an exploration of gender that unfolds via song, poetry, and theater across a media-rich website. Check it out here.
Pasadena Heritage's Spring Home Tour is back in a new virtual format. Kicking off April 25, catch virtual tours of two homes designed by Wallace Neff.
The LA Times' Festival of Books is the nation's largest in-person literary event. Due to the pandemic, events will be held virtually this year from April 17-23. The lineup includes Guy Raz, Mindy Thomas, Terry and Rebecca King Crews, Don Lemon, Gustavo Arellano, and many more. Most of the events are free with registration, while some require a book purchase.
Underneath the Freeways of Los Angeles is a virtual interactive murder-mystery experience by Matthew Paul Olmos and directed by Michael Alvarez. The show is set in 1960s L.A., where two bodies have been discovered in Hollenbeck Park in East L.A. The audience must ask the right questions to find the guilty party. Show dates are April 2-28. Tickets are $15-25 here.
Bake the Change is a virtual raffle to benefit Safe Place for Youth in Venice, taking place now through April 28. Enter a raffle, maybe win a pie, and join a virtual cooking class with Giada De Laurentiis. More info here.
Linked Dance Theatre has partnered with the Alzheimer's Charity, Hilarity for Charity founded in 2012 by Seth Rogen and Lauren Miller Rogen, on She Sends Herself / Elle S'Envoie. It's an interactive virtual experience that uses multiples teams of performers across two continents to tell the story of Elle, a woman who is struggling with memory loss and how it affects her family. View-only tickets are $30, while interactive tickets, which include a box of curated materials to enhance the experience, are $200. Proceeds benefit Hilarity for Charity. Tickets are available through April 25.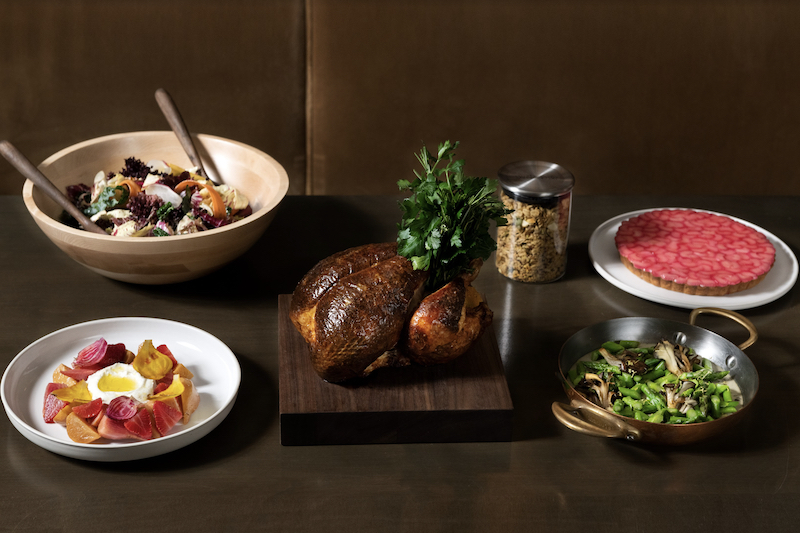 Dining
The Spielberg family's kosher restaurant The Milky Way will reopen for indoor dining just in time to host a viewing event for the Oscars on April 25. Executive Chef Phil Kastel has curated a five-course Awards Night Wine Dinner menu with highlights including Truffled Fettuccine, Pan-Crisped Barramundi, and more. The event starts at 5 p.m. and the awards show will be projected on a screen for all attendees to watch. Guests can make their prepaid dinner reservation ($90 per person including tax & gratuity) for parties up to six through Resy. This event is limited to 35 people, reservations are now live.
Vespertine is partnering with New York's Eleven Madison Park for their next 'Vespertine – At Home' experience. Angelenos will get a taste of some of Eleven Madison Park's staples, including Green Circle Chicken stuffed with black truffle, rhubarb tart with cheesecake custard, and much more. Bookings for the limited menu will be available on Tock beginning Friday, April 23 with meals starting at $115 per person for pickup (minimum of two people required). Delivery will also be available for $40 within a 10-mile radius of the restaurant.
Krispy Rice is celebrating its birthday all month long with 13 new menu items that include combo boxes and individual dishes. The highlight is the Birthday Box, which includes a mix of Krispy Rice, handrolls, Nigiri, rolls and salad for $40. Two items on the new menu (Krispy Chicken Gyoza and Tuna Tartare) are also exclusively offered on the CITIZENS GO app, a new delivery app is powered by Lunchbox and created by C3 and sbe. All users who download the app will also receive a free Umami Burger with their first in-app purchase. The CITIZENS GO app allows customers to place orders from multiple restaurants in a single cart, without any delivery or hidden fees.
Maple Block Meat Co. is serving Birria Tortas all weekend, made with Smoked Beef Brisket, Griddled White Cheddar, Pinto Beans, Onion, and Cilantro with a side of salsa and consomè. Get it all day Saturday and Sunday for $18.
On April 23, the Pie Hole is offering a National Picnic Day special, valid at all locations. It includes two slices of pie, one side salad, four pie holes, and two large beverages for $25. Both sweet and savory pie options are available.
Chefs Phillip Frankland Lee and Margarita Kallas-Lee's new culinary endeavor Pasta|Bar will officially open on Friday, April 16 with a 13-course tasting menu inspired by the flavors of California. The intimate experience seats eight guests at a time and features four pasta dishes and nine seasonal dishes prepared by Chef Nathan Tauer (Coi, Petit Crenn, Bouchon). The menu will shift frequently and can include cavatelli with lobster and peas or sunflower agnolotti with duck and wagyu ragu. Desserts will be imagined by Kallas-Lee, such as goat milk mousse with strawberry and Meyer lemon granita or candied pistachios and brioche donuts with Castelvetrano powdered sugar and bergamot whipped cream. The tasting menu costs $125 per person with beverage pairings available for an additional cost. Reserve on Tock.
Need more delivery and takeout options? Check out our latest comprehensive guide here.