We used to tell you about all the things you could go out and do in Los Angeles on a daily, weekly, and monthly basis. Then, COVID-19 changed life for all of us, in a thousand small and massive ways. Until the pandemic is behind us, we'll post events that adhere to Public Health's current protocols—including plenty of at-home and online events—every Monday and Thursday.
This week, we've got a stained glass exhibit, free pretzels and $1 burgers, the annual City Nature Challenge, virtual lectures and plays, outdoor yoga, and more. Have something you want to submit for next week? Hit us up: [email protected].
In-Person Events
Forest Lawn Museum and the Hall of Crucifixion-Resurrection will reopen on April 28 with a new exhibition, Judson Studios: Stained Glass from Gothic to Street Style, featuring nearly 100 original stained glass artworks, preparatory drawings, archival photographs, oil paintings, and watercolors. A mix of contemporary and historic stained glassworks in the exhibit include a hand-crafted window from Frank Lloyd Wright's 1924 Ennis House, a fused glass portrait of Kobe Bryant by Tim Carey and Judson Studios, and The Muralist by David Flores. Capacity is limited, reservations are encouraged.
The Getty Villa is now open for timed entry. On view is Mesopotamia: Civilization Begins, organized by the Musée du Louvre in Paris and the J. Paul Getty Museum. The exhibit covers three millennia, from 3200 BC to Alexander the Great's conquest of Babylon in 331 BC. Reservations are always free but must be made in advance.
LACMA and Snap Inc. present LACMA × Snapchat: Monumental Perspectives. Per a release: "This multi-year initiative brings together local artists and technologists to create virtual monuments that explore just some of the histories of Los Angeles communities in an effort to highlight perspectives from across the region." The first batch of augmented reality monuments are available to see now.
Hollywood Roosevelt's Tropicana Movie Nights welcomes guests to a unique movie screening experience on April 12 and 13 in and around the iconic David Hockney-painted pool. A ticket comes with complimentary popcorn and if you dress up to the theme of the movie, you'll also receive a free cocktail or candy bar. This week, they'll screen Pitch Perfect 2 and Terminator: Dark Fate.
On Monday, April 26, Wetzel's will celebrate National Pretzel Day by giving away free Wetzel's Original pretzels from 3 p.m. to close at over 50 participating locations around L.A.
Troma Films' Slashening: The Final Beginning will have a small, in-person premiere at Laemmle Noho 7 on April 29 at 7:30 p.m. followed by a virtual premiere and Q&A on April 30. If you're familiar with Troma's work then this low-budget horror-comedy is, well, pretty much what you'd expect. Tickets for the in-person screening are $15 here, while the virtual programming is available on Troma's YouTube and Facebook.
Rooftop Cinema Club returns to the Santa Monica Airport on April 28. Tickets range from $32-$48 per vehicle, except for Community Screenings on select Wednesdays, which are $10. Concessions are available, delivered by servers on roller skates. This week's screenings include Clueless, Pulp Fiction, La La Land, Poltergeist, The Sandlot, and Friday. More info here.
Japanese American National Museum in Little Tokyo is now open for in-person visits on Fridays, Saturdays and Sundays. The current exhibit, Transcendients: Heroes at Borders, by Taiji Terasaki, in collaboration with JANM, honors individuals who advocate against discrimination, prejudice, and inequality at borders. The museum also presents Transcendients: 100 Days of COVID-19 and Memorial to Healthcare Workers, a work created during the pandemic that tells a wide range of stories on topics including race and class, food sustainability, art, scientific innovations, and climate adaptation. Advance reservations (free) are required.
Hauser & Wirth presents Brazilian artist and founding member of Brazil's Neo-Concrete movement Lygia Pape in her first solo Los Angeles show, Tupinambá. On view starting April 24, guests will get a chance to view Pape's red-feathered sculptures from the Tupinambá series, a Ttéia, her emblematic installation work, and more. Free entry to the gallery. No booking is necessary.
Through April, Alo Yoga will host outdoor yoga sessions at The Grove every Wednesday at 9 a.m. Open to all experience levels. $10, bring your own mat.
The Huntington Library, Art Museum, and Botanical Gardens has reopened the first floor of the Huntington Art Gallery, the MaryLou and George Boone Gallery, and a portion of the Virginia Steele Scott Galleries of American Art. Guests will get to view the exhibit Made in L.A. 2020: a version and a recently restored The Blue Boy, Thomas Gainsborough's 18th-century portrait. Advance reservations are required.
Made in L.A. 2020: a version also continues in person at the Hammer Museum. The exhibition takes place at the Hammer and The Huntington and features commissioned works by 30 Los Angeles-based artists. Advance reservations (free) are required.
JW Marriott Los Angeles Live's poolside dinner & a movie is $45 per guest and includes one appetizer, one entree, unlimited popcorn, and the screening. This Friday, catch Good Fellas. Other snacks, beer, wine, and cocktails are also available for purchase. Tickets and more info are here.
South Coast Botanic Garden's butterfly experience SOAR is now open to the public featuring a new pavilion with live tropical butterflies. Advance reservations are required and can be made online now.
LA Plaza de Cultura y Artes reopened to the public on April 15, with exhibits including Carlos Almaraz: Evolution of Form, the LA Plaza Village Murals show, and afroLAtinidad: mi casa, my city. Open Thursdays through Sundays, noon to 4 p.m.
The LA Choral Lab presents SOUNDWALK in Griffith Park. Guests wear headphones as they explore the park, and the choral music they hear will change based on their location. SOUNDWALK will remain available for the next few weeks. Tickets are $0-$25.
Desert X's biannual public art show continues through May 16. Artists have been commissioned to use the desert landscape as their canvas with breathtaking results. You'll find the works spread throughout the Coachella Valley in various outdoor locations.
Wallis Annenberg PetSpace has reopened with free reservations for small, socially-distanced groups. Guests are welcomed back to enjoy an hour-long PetSpace Experience that includes a behind-the-scenes presentation of the workings of Annenberg PetSpace, activities for kids, a visit to the all-new Critter Corner, and a live Pet Encounter! Bookings are available now.
At-Home & Online Events
The Hammer presents a virtual conversation with recording artist and producer Miguel and artist Christina Quarles about art, identity, and mental health on April 29.
The Civilian Oversight Commission will host Community Listening Session: Reflections on the Criminal Justice System on April 27 at 5:30 p.m. The public is invited to share their thoughts on the criminal justice system in L.A. County and how it could be improved. Register here.
Kicking off April 30 is NHMLA and California Academy of Sciences' City Nature Challenge. Through May 3, participants are encouraged to document the biodiversity in their neighborhoods and upload their findings to iNaturalist.
The Museum of Wild and Newfangled Art hosts its first online biennial show April 30 through Sept. 22. International artists from 44 countries have submitted work that can be viewed online, including VR installations, performances, gif comics, music videos, and more.
Venice Family Clinic's Venice Art Walk & Auction will be held online this year from April 28 through May 12. This year's auction features over 200 works by nationally recognized contemporary artists. Each winning bid provides essential health care services to Venice Family Clinic's community of 27,000 patients within Los Angeles County. In addition to the auction, Venice Family Clinic will also hold complementary art talks on select days.
The Get Salty stand-up comedy show is online this year on Friday, April 30 at 6:30 p.m. The show raises funds for the Cystic Fibrosis Foundation and this year features Ron Funches, The Sklar Brothers, and Caleb Hearon. Tickets start at $35.
Poet Rupi Kaur's debut film, Rupi Kaur Live, will screen virtually on Veeps.com from April 30 to May 2.
The Santa Monica Conversancy presents Santa Monica Mosaic: Stories of Jewish Life by the Bay on April 28 at 5 p.m. Learn about the Jewish migration to Santa Monica and the lasting impact it has had on the commerce, politics, and creativity of the city.
Theatre 40 presents a free Zoom reading of The Correspondent on April 26 at 7 p.m. The play, written by Ken Urban, is about a man who hires a dying woman to deliver a message to his deceased wife in the afterlife. He soon begins receiving letters containing details only his wife could know. Register here.
On Weds., April 28 at 7 p.m, LA Plaza de Cultura y Artes will host "Crossing Borderlines with Dr. Gloria Arjona." Arjona will highlight the instances in which Frida Kahlo, who was born to a German-Hungarian father and a Mexican mother with a strong indigenous heritage, frequently "crossed the line" by mixing languages, genres, disciplines, and her own life and art. Register to view on Zoom or watch on Facebook.
Bake the Change is a virtual raffle to benefit Safe Place for Youth in Venice, taking place now through April 28. Enter a raffle, maybe win a pie, and join a virtual cooking class with Giada De Laurentiis. More info here.
The Japan Foundation presents the online exhibit 11 Stories on Distanced Relationships: Contemporary Art from Japan through May 5. It features 11 new works from Japanese artists on the theme "translating distance."
Underneath the Freeways of Los Angeles is a virtual interactive murder-mystery experience by Matthew Paul Olmos and directed by Michael Alvarez. The show is set in 1960s L.A., where two bodies have been discovered in Hollenbeck Park in East L.A. The audience must ask the right questions to find the guilty party. Show dates are April 2-28. Tickets are $15-25 here.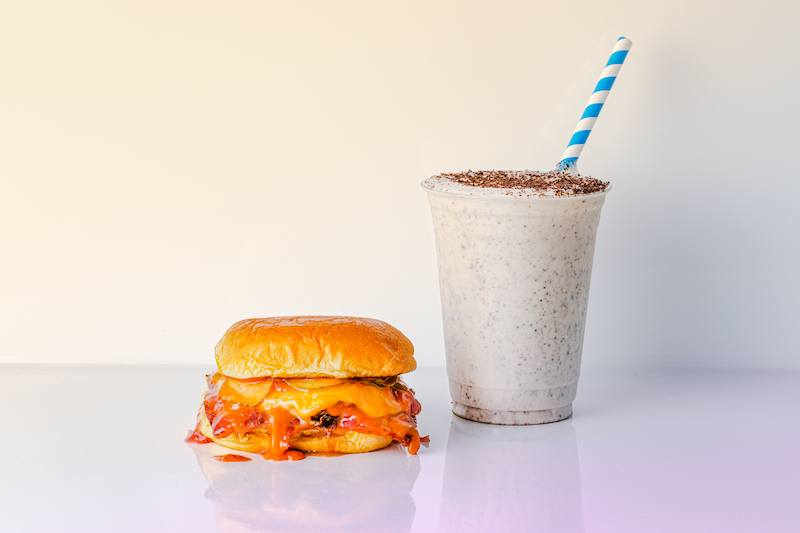 Dining
Uncool Burgers is kicking off Burger Month with $1 burgers from April 30 through May 2, plus the chance to win fries for life every hour. Both the "Uncool Burger" with uncool sauce, onion jam, a cheese crisp, American cheese, and house pickles, and the "Party in My Plants Burger" a vegan burger featuring an Impossible smashburger, onion jam, vegan American cheese, truffle island sauce, lettuce, tomato, and house pickles will be available for $1.
Chris Amirault's parm-focused concept PARMBOYZ currently has a residency at The Corner Door in Culver City, serving their chicken parmesan, eggplant parmesan, and spaghetti & meatballs, all of which are smothered in an East Coast-style red sauce. On Thursday, April 29 they'll launch a Power Hour menu Thurs.-Sun., 5-6 p.m. Drink and starter specials include $8 Old Fashioneds and spicy margaritas, $10 Parm Nuggies, $8 garlic bread pizza, and $7 antipasto.
Pasta Mondays returns to Della Terra this week with select pasta specials for $12 and $8 glasses of wine. With over 17 pasta dishes on the menu, Pasta Mondays will feature a rotating selection every week.
The Tasting Kitchen in Venice has reopened their indoor dining area. Chef Travis Passerotti's Spring menu includes striped bass in brown butter, Spring pea cacio e pepe, asparagus with burrata and chive, and much more.
Need delivery and takeout options? Check out our latest comprehensive guide here.