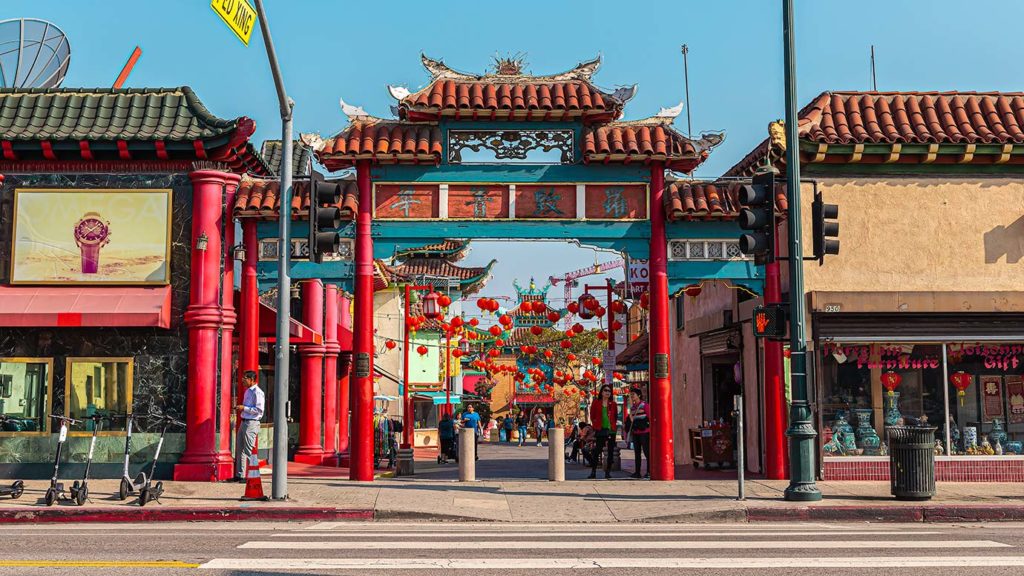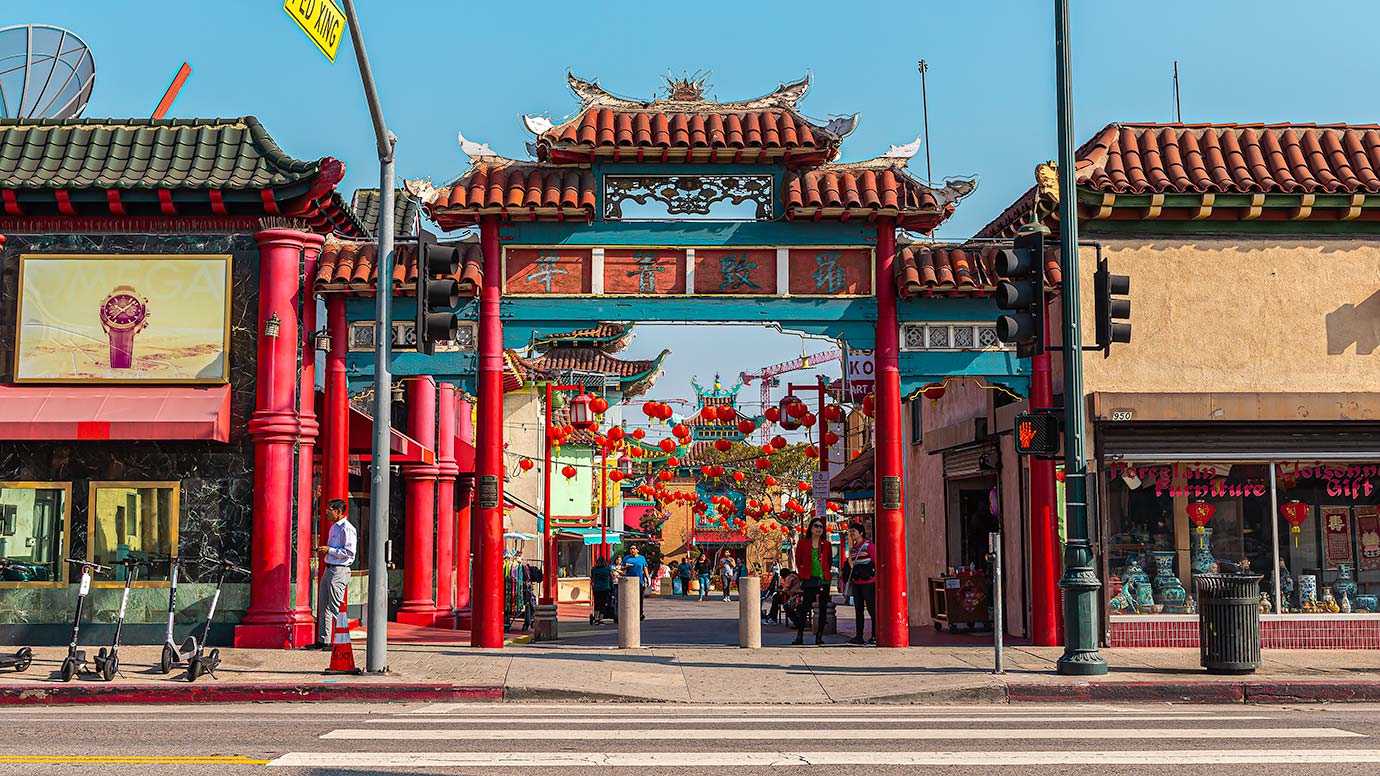 We used to tell you about all the things you could go out and do in Los Angeles on a daily, weekly, and monthly basis. Then, COVID-19 changed life for all of us, in a thousand small and massive ways. Until the pandemic is behind us, we'll post events that adhere to Public Health's current protocols—including plenty of at-home and online events—every Monday and Thursday. We hope they keep you busy, make you laugh, teach you something, or help you feel less alone.
This weekend, we've got several new gallery openings, a one-night-only walk-through art experience, outdoor yoga, a new cocktail bar, a virtual comedy fest, online tours and lectures, and more. Have something you want to submit for next week? Hit us up: [email protected].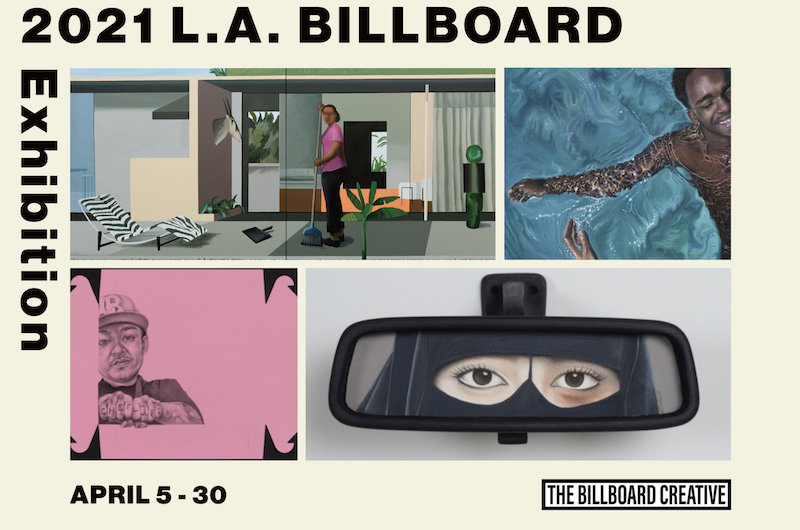 In-Person Events
Artist Ben Sakoguchi's new show "Chinatown" at the Bel Ami gallery in Chinatown focuses on the violence and discrimination against Asian Americans for centuries in the U.S. Sakoguchi spent a few years as a child in a Japanese internment camp in Arizona during World War II. The works in his exhibit remind viewers that xenophobia isn't something new and predates the recent shootings in Atlanta and the on-going attacks on Asian Americans during the pandemic.
LUMINEX: Dialogues of Light is a free outdoor digital art event happening for just one night, April 10, from 7:30-11:30 p.m. in downtown L.A. Curated by the NOW Art Foundation, the show includes work from seven L.A. artists, including Refik Anadol, Nancy Baker Cahill, Sarah Rara, The Art Department, Carole Kim, Luciana Abait, and Akiko Yamashita. The art is projected on L.A. buildings, and guests can engage with it by walking within a five-block radius. No tickets are required, but there is a QR code you can download to access a map and audio messages from the artists, so bring your headphones!
Jeffrey Deitch gallery in Hollywood is open for in-person viewing with advance reservations. Its exhibit "Shattered Glass" is a group exhibition of 40 artists of color who explore questions of power, surveillance, and justice. On view till May 22.
Galerie XII Los Angeles in Santa Monica presents the solo exhibit Mona Kuhn: Works April 10 through May 29. The show features a retrospective of the art photographer's career. There will be a book signing on April 10 from 2-4 p.m.
The Corey Helford Gallery presents its 15-Year Anniversary Group Exhibition on April 10, featuring work from over 100 artists. The show remains on view through May 15. Check out a livestream of the opening on April 10 on Instagram Live @CoreyHelfordGallery.
The Billis Gallery has two shows opening on April 10. Shawn Huckins: The Birds Will Sing takes its name from a Cajun murder ballad, while the paintings similarly depict "what appears at first glance to be simply breathtaking landscapes but which are overlaid with wistfully dark statements about contemporary love." Sarah Williams: Southeast of Home features nightscapes that are "simultaneously inviting and eerily mysterious."
Rele Gallery, Los Angeles presents Life After Life, a debut solo exhibition from contemporary Nigerian artist Ameh Egwuh. Per a release: "Drawing its title from psychiatrist Raymond Moody's 1975 book Life After Life, the exhibition explores the idea of human mortality and the afterlife, presenting death as a liminal and transmutative process of movement between worlds, a performative threshold between disparate but closely connected ways of being." On view through May 8.
Through April, Alo Yoga will host outdoor yoga sessions at The Grove every Wednesday at 9 a.m. Open to all experience levels. $10, bring your own mat.
The LA Choral Lab presents SOUNDWALK in Griffith Park. Guests wear headphones as they explore the park, and the choral music they hear will change based on their location. The SOUNDWALK's grand opening event is on April 11, but the piece will remain available for the next few weeks. Tickets are $0-$25.
Market Tavern, located at the Original Farmers Market, is now offering a weekend brunch menu from 11 a.m. to 5 p.m. every Saturday and Sunday. The new globally-inspired menu includes dishes like Spicy Fried Chicken and Waffles, Japanese Souffle Pancakes, Full English Breakfast, MT Loco Moco, and more. Chef Brendan Collins' ongoing Sunday Roast special is also available starting at noon, which includes dishes like Roast Beef and Horseradish, Half Roast Chicken with Sage and Onion Stuffing, and Lamb Leg with all the trimmings.
Bar Bohémien has opened in Culver City on the rooftop of Citizen Public Market, offering cocktails, wine, and beer. Food is available at one of the many vendors downstairs.
Sunlight Tea Studio has two new locations in Little Tokyo and on Sawtelle Blvd., offering a variety of tea and coffee drinks, include boba, cheese tea, lattes, and more with lots of fun flavors and toppings.
The Billboard Creative's L.A. Billboard Project returns with 30 billboards transformed into large-format art by emerging and established artists, including Ramiro Gomez, Phung Huynh, Narsiso Martinez, and Calida Rawles. The art will be on view through April 30, and you can find it with this interactive map.
The Aquarium of the Pacific's exhibits and galleries have reopened, including the Sea Otter Habitat, Shark Lagoon, and Pacific Visions. Advance reservations are required.
Kohn Gallery presents a solo exhibition by New Haven-based artist Chiffon Thomas. Titled Antithesis, Thomas's exhibition of figurative assemblages examine the hardships faced by defining one's identity in modern society. Opening hours this weekend will be extended, Friday 10 a.m. to 8 p.m., and Saturday 11 a.m. to 8 p.m.
The award-winning Baldwin Hills restaurant Post & Beam has reopened for dine-in service with new Chef de Cuisine Martin Draluck, formerly of Hatchet Hall. Diners will see the return of favorite dishes such as vegan crab cakes, shrimp grits, jerk catfish, and beef short ribs, alongside new additions including an oyster menu.
South Coast Botanic Garden's butterfly experience SOAR is now open to the public featuring a new pavilion with live tropical butterflies. Advance reservations are required and can be made online now.
Magic Asphalt, the standup comedy drive-in in the Magic Castle's parking lot, returns this weekend. For the lineup and tickets, go here.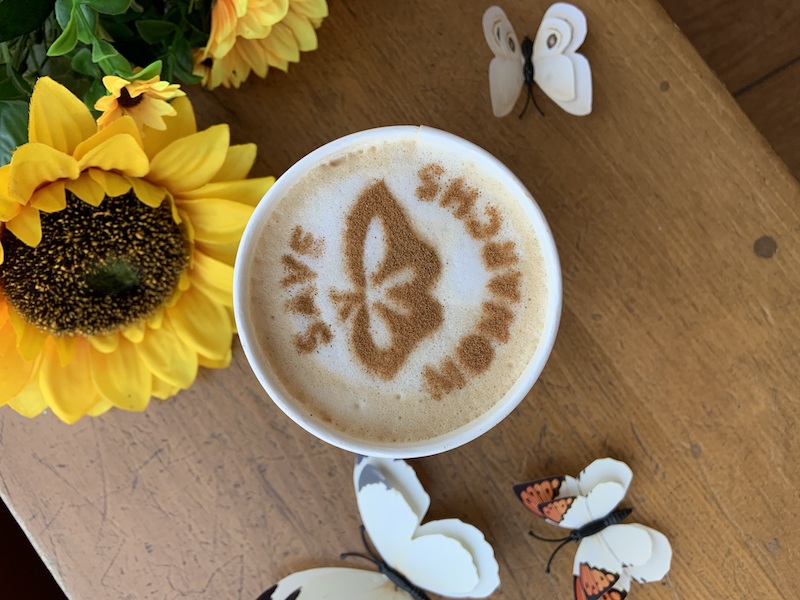 In honor of Earth Day, La Monarca Bakery is partnering with ECOLIFE Conservation, a nonprofit that protects butterfly habitats in Michoacán, Mexico, and the Natural History Museum of Los Angeles's Butterfly Pavilion to Save The Monarchs. For every in-person and online purchase of La Monarca's packaged goods, including the bakery's popular Café de Ollo and Mexican Wedding Cookies, 1% of all the sales will go to the ECOLIFE Conservation. The Natural History Museum of Los Angeles and La Monarca are also selling California Milkweed seeds to the public, the Milkweed plant feeds and attract monarch butterflies to a garden!
The Natural History Museum of Los Angeles County has reopened with two new exhibitions Rise Up L.A.: A Century of Votes for Women and Spiky, Hairy, Shiny: Insects of L.A. In addition, sister museum,The La Brea Tar Pits and Museum will reopen on April 8. Advance reservations are required for both museums and can be made online now.
Employees Only turned its parking lot into Summer Social Club last year featuring a roster of weekly culinary pop-ups paired with refreshing cocktails. Every Monday through Sunday, find a different pop-up, such as hand-made pasta from Orso Pasta, Metztli Taqueria, LaSorted's Pizzeria, The Bad Jew, and Filipino street food pop-up Tagalong Takeover.
Dugan's Backyard Playhouse in Woodland Hills offers an outdoor performance of the play The Ghosts of Mary Lincoln. Show dates are Fridays and Saturdays at 8 p.m. from April 2 through May 1. The suggested donation is $20. Reserve tickets by emailing [email protected].
Dine Out Long Beach is April 1-15, featuring deals for dine-in and takeout at 60 Long Beach restaurants. No tickets are needed, just visit any participating restaurant and ask for the Restaurant & Cocktail Week menu.
Wallis Annenberg PetSpace has reopened with free reservations for small, socially-distanced groups. Guests are welcomed back to enjoy an hour-long PetSpace Experience that includes a behind-the-scenes presentation of the workings of Annenberg PetSpace, activities for kids, a visit to the all-new Critter Corner, and a live Pet Encounter! Bookings are available now.
Cinespia is going the drive-in route this season with weekend movie screenings at the Greek Theatre. Raising Arizona screens this Saturday.
JAPAN HOUSE reopens its Level 2 Gallery to the public on Monday, April 5. Visitors can experience the NATURE/SUPERNATURE exhibition in person using a complimentary timed ticket entry system. Walk-ins are also accepted, but priority will be given to guests who have booked their visit ahead of time.
Bill Esparza's taco festival Taqueando pivoted last year to a multi-week pop-up in DTLA featuring rotating guest chefs and their most popular tacos. For 2021, Taqueando continues with a four-week pop-up (March 10 – April 25) by Chef Priscilla Curiel of San Diego's famed Tuétano Taquería, Ricky Piña of Ricky's Fish Tacos, and tamales (to-go) from Tamales Elena y Antojitos. Wine, beer, and cocktails will also be on the menu. The Taqueando pop-up is open Wednesday through Sunday from 5-10 p.m. for takeout, delivery, and outdoor dining on the restaurant's patio (first-come, first-served basis). Note that Ricky's Fish Tacos will only be serving Thursday through Saturday.
On April 1, LACMA reopened its indoor galleries, including six brand new exhibits, for public viewing in accordance with Public Health guidelines. For now, there will be no in-person screenings or events, but the LACMA Store and the LACMA Café airstream will be open. Ray's & Stark Bar and Coffee + Milk will also reopened on April 7. Advance reservations are required and can be made online now.
JW Marriott Los Angeles Live's poolside dinner & a movie is $45 per guest and includes one appetizer, one entree, unlimited popcorn, and the screening. This Friday, catch Thor Ragnarok. Other snacks, beer, wine, and cocktails are also available for purchase. Tickets and more info are here.
The Autry has reopened with a handful of new exhibits, including the museum-favorite Masters of the American West. Advance reservations are required and can be made online now.
ROW DTLA is giving back to frontline workers with a "Buy A Meal, Give A Meal" campaign from March 20-April 16. For every meal purchased on-site at one of ROW DTLA's culinary concepts, one meal will be donated to essential workers at Keck Hospital of USC. Participating restaurants include Hayato, Rappahannock Oyster Bar, Go Get 'Em Tiger, Pikunico and Café Dulce with meals donated from a different restaurant each week.
The Petersen Automotive Museum is now to the public featuring three new exhibits including Supercars: A Century of Spectacle and Speed. The exhibit highlights the evolution of the "supercar," showcasing over 30 high-performance vehicles. Advance reservations are required and can be made online now.
The Andaz West Hollywood's Late Night Drive-In series takes place on the third level of the hotel's parking garage. On April 10, they'll screen Cinema Paradiso.
HBO Max is hosting Genera+ion Un-Fashion Showcase, a pop-up installation with FIDM and costume designer Shirley Kurata to celebrate the first season of Genera+ion, a new dramedy series "following a diverse group of high school students whose exploration of modern sexuality (devices and all) tests deeply entrenched beliefs about life, love and the nature of family in their conservative community." The event takes place April 2-21 at The LAB in Orange County and features "custom-made fashion looks inspired by each of the central characters on the show, created by up-and-coming student and alumni designers."
The 36th annual Santa Barbara International Film Festival runs March 31 through April 10 this year, offering both free beachfront drive-in screenings and online screenings. Choose from 47 world premieres and 37 U.S. premieres. Select films include Invisible Valley, Trees of Peace, The Conservation Game, and more. Get your passes at sbiff.org.
Desert X's biannual public art show continues through May 16. Artists have been commissioned to use the desert landscape as their canvas with breathtaking results. You'll find the works spread throughout the Coachella Valley in various outdoor locations. On April 9, Desert X will unveil a new work by New York-based artist Christopher Myers titled The Art of Taming Horses.
Knott's Taste of Boysenberry Festival features over 80 boysenberry-inspired savory and sweet bites and themed beverages. The festival takes place at the theme park on select dates through May 2. Tickets are $45.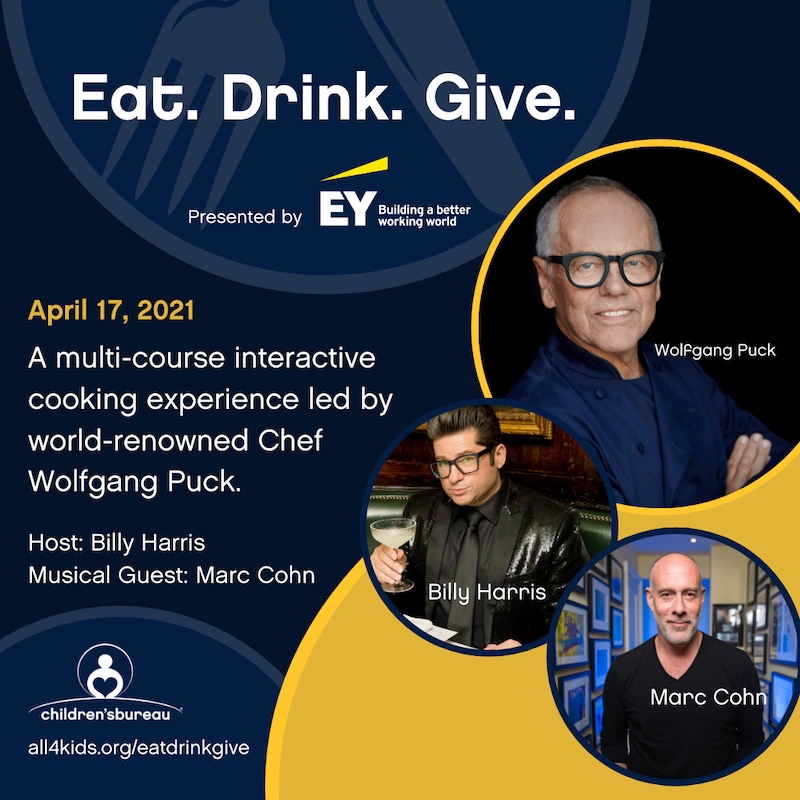 At-Home & Online Events
To bring greater awareness around Child Abuse Prevention Month, join Eat. Drink. Give. With Wolfgang Puck, a virtual interactive dinner party hosted by Iron Chef judge Billy Harris with meal kits prepared by Puck. The online charity event takes place on Saturday, April 17, but we're telling you this week because tickets are on sale until April 8. It's $50 to attend the party without food and drinks. To add the meal kit—which includes a four-course dinner for two, cocktails, and bottle of wine—it's $500. All proceeds from this event will go directly towards Children's Bureau's prevention and treatment programs for at-risk children and their parents. Children's Bureau hopes to raise funds to assist 300 families in need for an entire year.
USC Comedy Festival goes virtual this year (April 9-11) with free streamings of panels and Q& A's featuring Bill Hader, Aidy Bryant, Patton Oswalt, and show creators and producers from What We Do In Shadows, Shrill, M.O.D.O.K, and more.
Artist Patrisse Cullors performed F*ck White Supremacy, Let's Get Free to a live audience at Frieze Los Angeles back in February 2020. On April 11 from noon to 6 p.m., Cullors will once again perform this work to a virtual audience hosted by The Hammer Museum. This event includes DJ sets by collectives Everyday People in New York City and Cumbiatón in Los Angeles, and a conversation between Cullors and Hammer Museum associate curator Erin Christovale. Free.
Take a virtual tour of everything Friends with On Location Tours. Host Roseanne Almanzar leads a 40-minute tour of 18 locations from the series. A ticket includes access to On Location Tours' monthly Friends trivia night, and you can also add on a Friends box that includes a Central Perk mug and other keepsakes. Tickets for the tour and trivia are $29. Tickets that include the gift box are $68.
The Whitefire Theatre presents Valentine, a virtual play written, directed, and performed by Tracy Ann Chapel, on April 9 at 7 p.m. The show revolves around Chapel's burgeoning relationship with a celebrity crush with whom she connects online. Tickets are $15.99.
Linked Dance Theatre has partnered with the Alzheimer's Charity, Hilarity for Charity founded in 2012 by Seth Rogen and Lauren Miller Rogen, on She Sends Herself / Elle S'Envoie. It's an interactive virtual experience that uses multiples teams of performers across two continents to tell the story of Elle, a woman who is struggling with memory loss and how it affects her family. View-only tickets are $30, while interactive tickets, which include a box of curated materials to enhance the experience, are $200. Proceeds benefit Hilarity for Charity.
Pepperdine Theatre presents a virtual performance of Shakespeare's As You Like It April 9-11. Tickets are free, but must be reserved here.
The Culinary Historians of Southern California present The Strangest Cooking methods in the World with historian-author Richard Foss on April 10 at 10:30 a.m. The virtual lecture will explore how people cooked when a fire or oven wasn't available. Methods include volcanoes, auto engines, weapons, and more. Reserve a free ticket here.
On April 11 at 4 p.m., join the Art Deco Society for Art Deco Entertainment Venues of the Post-Prohibition Years: A Postcard Pictorial. The program explores five theater and entertainment complexes build in the 1930s, plus vintage postcards and other ephemera from each. The event includes three cocktail recipes plus a cocktail demo. Tickets are $14 for non-members or $10 for members.
Murder at Winterberg Manor is a new streaming comedic play written and directed by Meghan Pleticha. The play follows Jessica (Elizabeth Guest) as she hosts a virtual murder mystery party for her friends on Zoom. Tickets are $15 here.
Join Arena Cinematheque for a Q&A with Another Round director Thomas Vinterberg and star Mads Mikkelsen on April 9 at 6 p.m. The Q&A is moderated by Rian Johnson. Register here.
Mexican jazz artist Tino Contreras will perform a livestream concert from the Frida Kahlo Museum in Casa Azul, Mexico on April 10 and 11. The performance will remain available on-demand for 24 hours. Tickets are $17.
Join a free virtual Klezmer workshop on April 11 & 15, featuring trombonist Dan Blacksberg and violinist Deborah Strauss. Register for the free, two-part event here.
Charles Phoenix and The Catalina Island Museum will take guests on a virtual tour of Catalina Island's landmarks in Catalinaland, available on April 10 at 6 p.m. According to a release, Phoenix will share "share the stories and glories of the S.S. Avalon, glass bottom boat, flying fish, bird park, Catalina Pottery, vintage graphics, souvenirs, Wrigley family, the mysterious Catalina-shaped swimming pool, iconic 1929 Casino, and much more." Tickets are $25-$40, and will include access to the program for 48 hours.
Bake the Change is a virtual raffle to benefit Safe Place for Youth in Venice, taking place now through April 28. Enter a raffle, maybe win a pie, and join a virtual cooking class with Giada De Laurentiis. More info here.
Riot Games' League Championship Series will stream live from the Greek Theatre April 10-11. The esports competition will also include a performance from the heavy metal band Pentakill.
The Japan Foundation presents the online exhibit 11 Stories on Distanced Relationships: Contemporary Art from Japan through May 5. It features 11 new works from Japanese artists on the theme "translating distance."
Delejos is an immersive theater experience conducted over Zoom from writer/actor/comedian Julia Piñero. When her partner, Jose Zambrano, died unexpectedly in 2019, Piñero turned to Zambrano's unfinished virtual reality game about long-distance love, Delejos. Though Delajos was originally about Zambrano's forced immigration from Venezuela, it took on a new meaning for Piñero after his death. This two-hour performance is "a true story that weaves together standup comedy, live music, and a virtual reality experience." Tickets are currently available through May 1. They're free, but you'll need to reserve them here.
Underneath the Freeways of Los Angeles is a virtual interactive murder-mystery experience by Matthew Paul Olmos and directed by Michael Alvarez. The show is set in 1960s L.A., where two bodies have been discovered in Hollenbeck Park in East L.A. The audience must ask the right questions to find the guilty party. Show dates are April 2-28. Tickets are $15-25 here.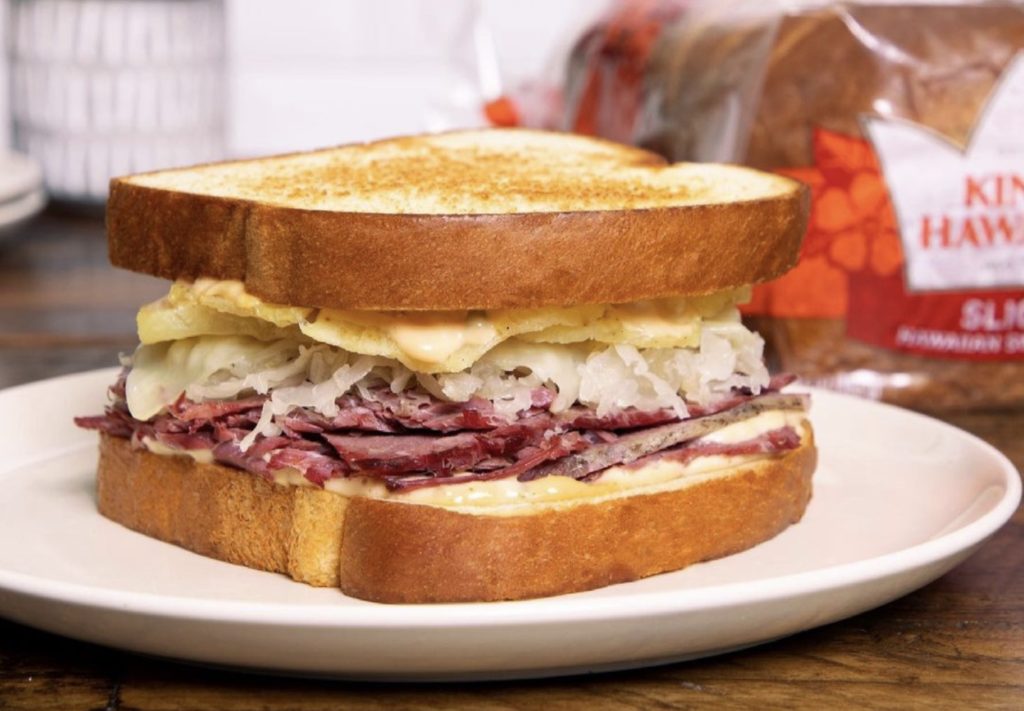 Pickup & Delivery
Nikuman-ya, located at the Tokyo Central & Main Food Court in Gardena, is where you can get handmade dim sum and steamed buns. Recently, they've added a Boager to the menu. It's a massive double cheeseburger sandwiched between white fluffy bao buns. Available for takeout. Delivery can be requested through Grubhub, Postmates, and Doordash.
King's Hawaiian and Wexler's Deli have partnered on the "Aloha Reuben," a hearty sandwich with corned beef, sauerkraut, Swiss cheese, Russian dressing, and pineapple on King's Hawaiian Sliced Bread. It's a perfect combination of sweet and savory, available now through April 30 at both Wexler's locations or through Goldbelly.
Umami Burger is teaming up with twin sister DJ duo NERVO for a limited-time-only burger to celebrate their new single "Pickle," featuring Paris Hilton and Tinie Tempah. The NERVO Pickle Burger features the new Umami burger patty, provolone cheese, fried pickles, and jalapeño pickle ranch on a brioche bun. The burger comes in a branded box with a QR code to stream the video for NERVO's "Pickle." Available through May 9 at all Umami Burger locations and delivery platforms Postmates, UberEats, and Doordash, and GrubHub.
Need more delivery and takeout options? Check out our latest comprehensive guide here.