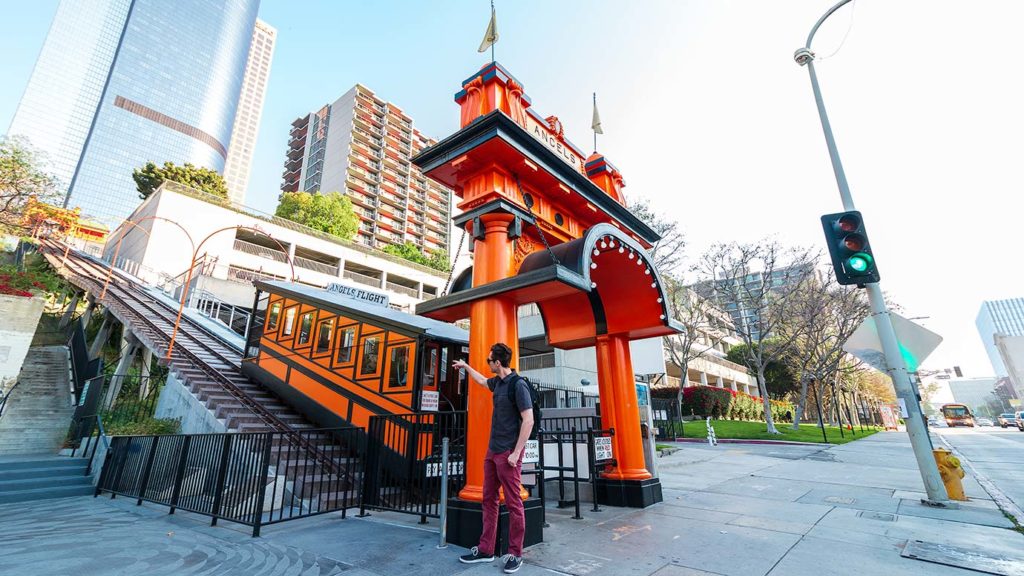 We used to tell you about all the things you could go out and do in Los Angeles on a daily, weekly, and monthly basis. Then, COVID-19 changed life for all of us, in a thousand small and massive ways. Until the pandemic is behind us, we'll post events that adhere to Public Health's current protocols—including plenty of at-home and online events—every Monday and Thursday.
This week, we've got a bake sale for a good cause, a pop-up fashion installation, the reopening of the Wallis Annenberg PetSpace, outdoor theater, virtual programming for Paleyfest 2021 and The Other Art Fair online, The Santa Barbara International Film Festival online and via drive-in, and more. Have something you want to submit for next week? Hit us up: [email protected].
In-Person Events
A bake sale at Grand Central Market to support Children's Hospital Los Angeles Make March Matter Campaign runs March 29 through April 4. Vendors include The Donut Man, Fat & Flour, Go Get Em Tiger, Just What I Kneaded, Republique, and more. More info here.
HBO Max is hosting Genera+ion Un-Fashion Showcase, a pop-up installation with FIDM and costume designer Shirley Kurata to celebrate the first season of Genera+ion, a new dramedy series "following a diverse group of high school students whose exploration of modern sexuality (devices and all) tests deeply entrenched beliefs about life, love and the nature of family in their conservative community." The event takes place April 2-21 at The LAB in Orange County and features "custom-made fashion looks inspired by each of the central characters on the show, created by up-and-coming student and alumni designers."
Wallis Annenberg PetSpace is reopening with free reservations for small, socially-distanced groups starting March 31. Guests are welcomed back to enjoy an hour-long PetSpace Experience that includes a behind-the-scenes presentation of the workings of Annenberg PetSpace, activities for kids, a visit to the all-new Critter Corner, and a live Pet Encounter! Bookings are available now.
Dugan's Backyard Playhouse in Woodland Hills offers an outdoor performance of the play The Ghosts of Mary Lincoln. Show dates are Fridays and Saturdays at 8 p.m. from April 2 through May 1. The suggested donation is $20. Reserve tickets by emailing [email protected].
On April 1, LACMA will reopen its indoor galleries, including six brand new exhibits, for public viewing in accordance with Public Health guidelines. For now, there will be no in-person screenings or events, but the LACMA Store and the LACMA Café airstream will be open. Ray's & Stark Bar and Coffee + Milk will also reopen on April 7. Advance reservations are required and can be made online now.
TBS is celebrating the return its gameshow Wipeout with an experiential activation called "Big Balls Are Bac," on the Santa Monica Pier March 31 – April 4 from 10 a.m. to 10 p.m. The installation includes the giant red balls you'll see on the Wipeout obstacle course, measuring 25 feet tall and 70 feet long. Fans can take a picture and participate in mock contestant-style interviews with the Wipeout "sideline reporter." Fans can also scan a QR code and enter the Wipeout Bracket Battle for a chance to win the grand prize of a $1000 gift card and Wipeout swag.
The Autry will welcome guests back with a handful of new exhibits, including the museum-favorite Masters of the American West. Members of the museum can visit starting March 30 and the general public will gain access on April 6. Advance reservations are required and can be made online now.
If you happen to swing by the Beverly Center, you'll notice a few free art opportunities. They include two large-scale installations by artists Pae White located at the escalators facing Beverly and La Cienega, and two murals by James Goldcrown and Stevie Hannigan at the 3rd and La Cienega valets. See everything that's going on here.
The Natural History Museum of Los Angeles County will reopen to the public on April 1 with two new exhibitions Rise Up L.A.: A Century of Votes for Women and Spiky, Hairy, Shiny: Insects of L.A. Advance reservations are required and can be made online now.
Employees Only turned its parking lot into Summer Social Club last year featuring a roster of weekly culinary pop-ups paired with refreshing cocktails. Every Monday through Sunday, find a different pop-up, such as hand-made pasta from Orso Pasta, Mediterranean rice dishes and dips from Golden Rice Company, and wok-fried Asian street food by Pigeon.
Universal Studios Hollywood reopened March 12 for Taste of Universal, which will continue every weekend this month. The ticketed event gives guests access to shops and outdoor dining from restaurants in the theme park's upper lot, including The Wizarding World of Harry Potter and Springfield, USA areas. The experience includes your choice of five classic and new culinary items, photo ops, offers at several themed shops, and a preview of the Secret Life of Pets: Off the Leash shop. No rides yet, and don't forget your mask! Tickets are $48 on Fridays and $53 on Saturdays and Sundays.
Knott's Taste of Boysenberry Festival features over 80 boysenberry-inspired savory and sweet bites and themed beverages. The festival takes place at the theme park on select dates through May 2. Tickets are $45.
Desert X returns for its biannual public art show March 12 through May 16. Artists have been commissioned to use the desert landscape as their canvas with breathtaking results. You'll find the works spread throughout the Coachella Valley in various outdoor locations.
The Andaz West Hollywood's Late Night Drive-In series takes place atop the third level of the hotel's parking garage. On March 31, they'll screen Tie Me Up! Tie Me Down!
Cinelounge Sunset in Hollywood has reopened with limited capacity. This week's films include Tenet, Nomadland, Promising Young Woman, The Boonies, and Godzilla vs. Kong.
WE Drive-Ins in Santa Monica screens Godzilla vs. Kong this week.
JW Marriott Los Angeles Live poolside dinner & a movie is $45 per guest and includes one appetizer, one entree, unlimited popcorn, and the screening. This Friday, catch Rocketman. Other snacks, beer, wine, and cocktails are also available for purchase. Tickets and more info are here.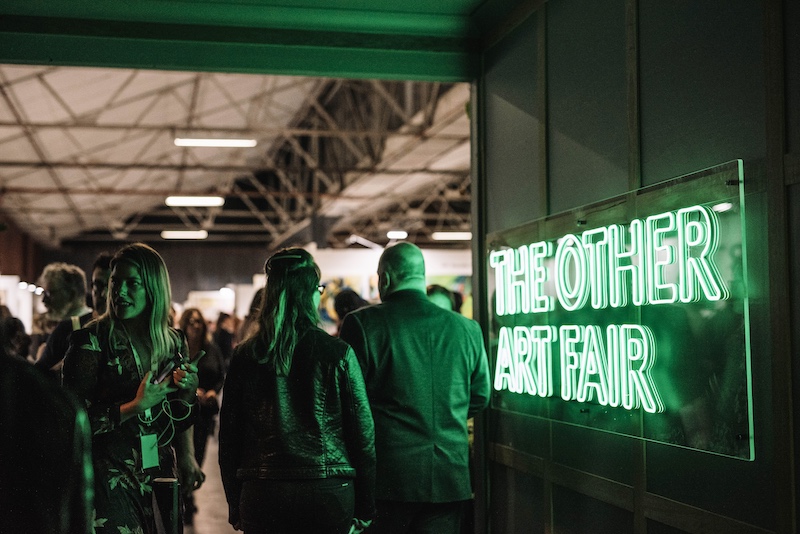 At-Home & Online Events
Paleyfest 2021 is online this year, featuring behind-the-scenes panels with the cast, creators, and crew of Ted Lasso, Lovecraft Country, The Queen's Gambit, What We Do in the Shadows, Six Feet Under, Big Sky, The Good Doctor, Evil, and more. Programming goes live on March 30, 31, and April 1 on Paley's Center channel on Yahoo Entertainment. For more info, check out paleyfest.org.
Underneath the Freeways of Los Angeles is a virtual interactive murder-mystery experience by Matthew Paul Olmos and directed by Michael Alvarez. The show is set in 1960s L.A., where two bodies have been discovered in Hollenbeck Park in East L.A. The audience must ask the right questions to find the guilty party. Show dates are April 2-28. Tickets are $15-25 here.
The Other Art Fair is virtual this year from March 30 – April 4. It features over 100 top emerging artists from around the globe within a 3D virtual fair environment. Registration for the event is free.
Metro Art presents "Moving Through," a series of dance and movement lessons featuring a diverse group of teaching artists. The first episode is on Thursday, April 1, at 7 p.m. on Metro's Facebook, Metro Art's Facebook, and Union Station's Facebook and YouTube channels. Other dates include April 8, 15, and 22.
Show Box L.A. presents Queerings!, a series of workshops led by queer L.A.-based artists and speakers. The series begins on April 1 and will continue every Thursday at 6:30 p.m. The first program features Steve Rosa, who will teach an introductory salsa lesson. Suggested donation $5-15. Register here.
NHM presents First Fridays Connected: L.A. at the Intersections on April 2. The virtual event features DJ Francesca Harding, a cocktail demo from Elle Nucci, and a livestream discussion about Climate Crisis, moderated by Dr. Knatokie Ford, founder and CEO of Fly Sci® Enterprise and featuring panelists Leah Thomas, intersectional environmental activist and eco-communicator, and Nick Shapiro, assistant professor of biology and society at UCLA. A performance from violinist and vocalist Sudan Archives will follow.
The 36th annual Santa Barbara International Film Festival runs March 31 through April 10 this year, offering both free beachfront drive-in screenings and online screenings. Choose from 47 world premieres and 37 U.S. premieres. Select films include Invisible Valley, Trees of Peace, The Conservation Game, and more. Get your passes at sbiff.org.
On Monday, March 29 at 4 p.m., The Groundlings Theatre hosts 99 Seats Later, a virtual panel discussion with the women who helped launch the theater. The event is moderated by Allison Dunbar (Dave) and Annie Sertich (Superstore) and features panelists Laraine Newman (Coneheads) and Lynne Marie Stewart (It's Always Sunny in Philadelphia). Tickets are $10.
In honor of Women's History Month, Holocaust Museum LA presents "Inside the (Acid-Free) Box: Female Founders of Holocaust Museum LA," on Tuesday, March 30, at 4 p.m. This virtual viewing of the museum's archives, led by Jordanna Gessler, VP of education and exhibits, and Christie Jovanovic, collection manager, will "explore the stories and artifacts of two of the co-founders, Esther (Anna) Przeworski Pratt and Masha Loen." A minimum $12 donation is requested. Register here.
The City of Los Angeles Department of Cultural Affairs (DCA) presents Reimagine Public Art, a virtual exhibition produced by DCA's Public Art Division that highlights how artists respond to and reimagine Los Angeles amid social, economic, and healthcare emergencies. View the exhibit here.
Sleep Squad is an interactive virtual experience that prepares kids ages 4-12 for bedtime with a story and music. Get a viewing pass for $19 or order a dreamtime travel kit starting at $34. The kit includes a dream journal, eye mask, stickers, and a star projector.
Self Care Comedy streams every Monday through Friday at 7 p.m. with a rotating cast of comics. Check out the lineup and find more info here.
Delejos is an immersive theater experience conducted over Zoom from writer/actor/comedian Julia Piñero. When her partner, Jose Zambrano, died unexpectedly in 2019, Piñero turned to Zambrano's unfinished virtual reality game about long-distance love, Delejos. Though Delajos was originally about Zambrano's forced immigration from Venezuela, it took on a new meaning for Piñero after his death. This two-hour performance is "a true story that weaves together standup comedy, live music, and a virtual reality experience." Tickets are currently available through May 1. They're free, but you'll need to reserve them here.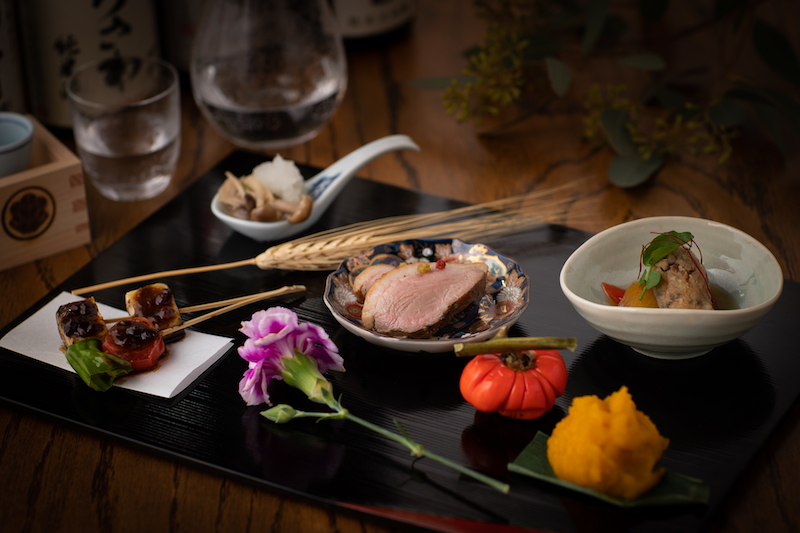 Dining Events, Pickup & Delivery
Gozen Japanese Sake Bistro will make its culinary debut this Tuesday, March 31 in West Hollywood. The kaiseki only seasonal menu includes prix fixe courses in brightly tiered bento boxes featuring sashimi, smoked duck, Chawanmushi, wagyu katsu sandwich, and other unique kaiseki items. Sake offerings at Gozen feature small-batch varieties exclusive only to the restaurant. Open for outdoor and indoor dining Tuesdays through Sundays.
Sam's Crispy Chicken is a new delivery/takeout concept from the same team behind Umami Burger. All chicken sandwiches are $8.50, including the Original with slaw, pickles, and special sauce and the spicy Diablo, which does not skimp on the heat. Pair your sandwiches with waffle fries, mac & cheese, or frozen lemonades in fun, fruity flavors.
Maestro in Pasadena will close out Women's History Month with a Las Maestras Takeover dinner on March 29 featuring a four-course meal designed by Chef Jari Gonzalez (Maestro Restaurant) and Chef Naima Wilson (formerly the Executive Chef for Scopa and Dama). The evening will be punctuated with a live performance by Whitney Hernandez, a vocalist and trombone player from Cuba. Reservations are strongly advised.
Du-Par's Restaurant at the Original Farmers Market has an Easter menu available for dine-in or takeout April 1-4. Adults can get soup, bourbon-glazed salmon or ham, charred asparagus, mashed potatoes, and a slice of pie for $29.95. Children's meals are $17.95.
Maple Block is offering Easter Sunday packages suitable for 4-6. They include wood-smoked meats by the pound, plus sides and sweets. The Easter Ham package is $146 and includes 2.5 pounds of sliced peach wood-smoked ham, two classic sides, a pint of pickles, six buttermilk biscuits or six slices of cornbread, and market chopped salad. Pre-order by April 2 for pickup on April 4.
Dine Out Long Beach is April 1-15, featuring deals for dine-in and takeout at 60 Long Beach restaurants. No tickets are needed, just visit any participating restaurant and ask for the Restaurant & Cocktail Week menu.
Bianca is celebrating Easter with a variety of pastries from around the world, including Colomba, Rosca de Pascua, Hot Cross Buns, and Carrot Cake. You can also snag an egg decorating kit for $21. Pre-order by March 31.
Delucatessen at EMILIA is a new sandwich concept from Chef Tancredi DeLuca. Get Italian sandwiches and sides including chicken parmesan, turkey lasagna, tiramisu, and more. Available for pickup or delivery.
Rustic Canyon Family restaurants Huckleberry and Birdie G's both have Passover menus available for pickup March 27-April 4. Huckleberry's Passover menu includes items like Braised Beef Brisket, Potato Pancakes with organic sour cream & housemade apple sauce, Egg Noodle Kugel, and Strawberry Rhubarb Crisp. Birdie G's Passover Seder menu includes Smoked California Brisket with heirloom tomato agrodolce, Sauerkraut Lakes with apple sauce, crème fraîche & chive, boxes of Artisan Matzo, pints of Schmaltz or Gribenes, whole Apple-Sunchoke Butter Cakes, and Matzo Ball Soup.
Experimental ice cream company Salt & Straw has brought back its "Cereal-sly" menu featuring five ice cream flavors inspired by nostalgic cereals like Lucky Charms, Corn Flakes, and Captain Crunch. Available now through April 22 in local scoop shops, for local delivery, and via nationwide shipping.
ROW DTLA is giving back to frontline workers with a "Buy A Meal, Give A Meal" campaign from March 20-April 16. For every meal purchased on-site at one of ROW DTLA's culinary concepts, one meal will be donated to essential workers at Keck Hospital of USC. Participating restaurants include Hayato, Rappahannock Oyster Bar, Go Get 'Em Tiger, Pikunico and Café Dulce with meals donated from a different restaurant each week.
Need more delivery and takeout options? Check out our latest comprehensive guide here.